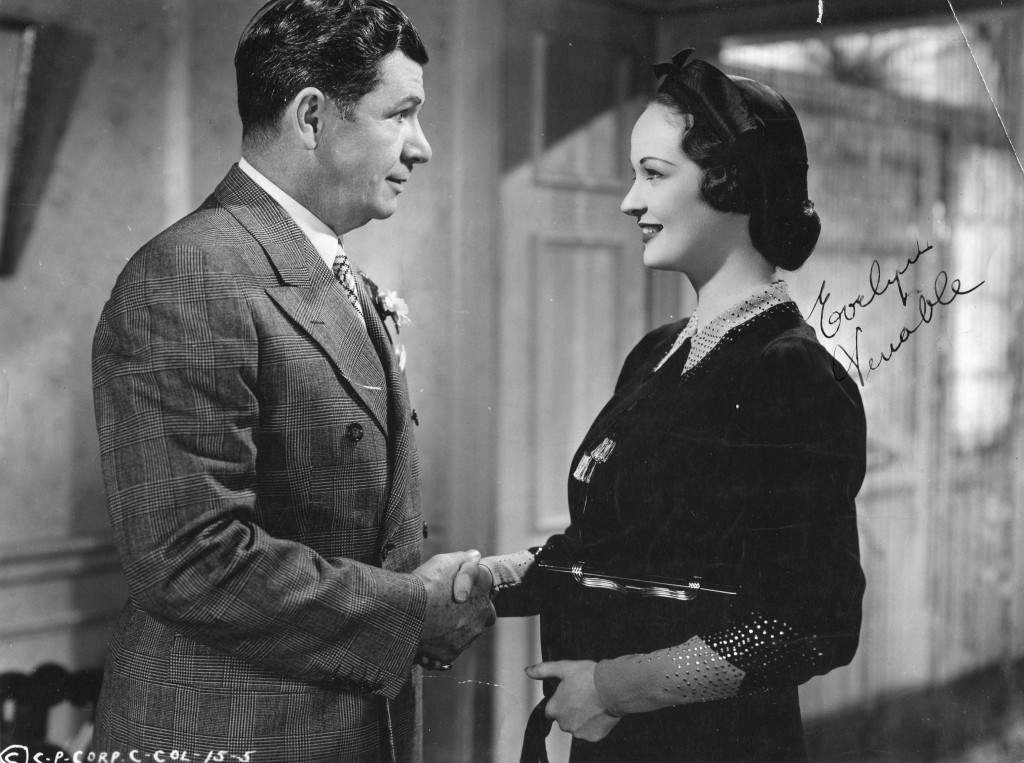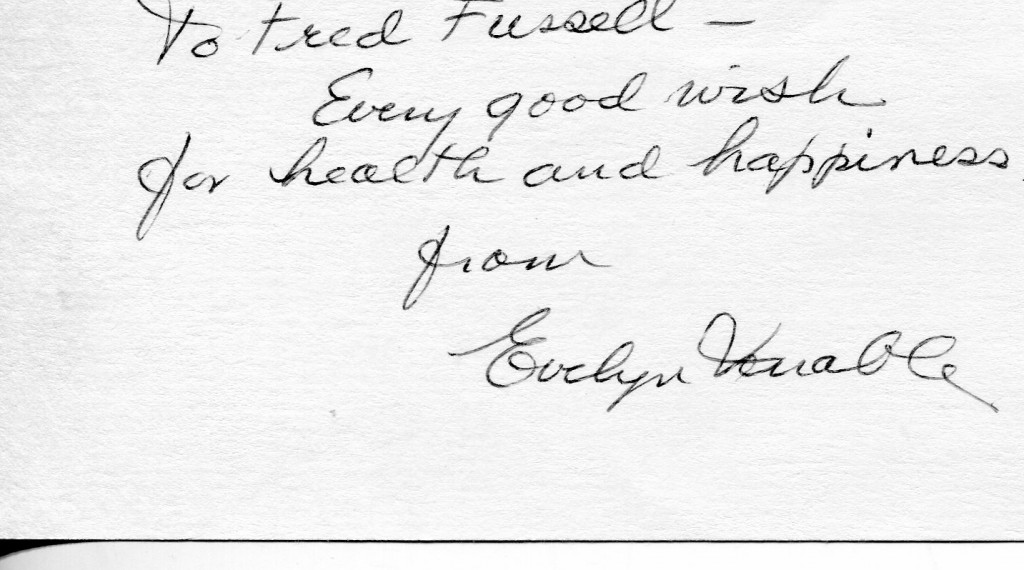 Evelyn Venable was born in 1913 in Cincinnati, Ohio and made her film breakthrough in "Death Takes a Holiday" in 1934 opposite Fredric March. Her other film of note is "Cradle Song". She retired in 1943 to spend more time with her family. Evelyn Venable died in 1993 at the age of 80.
Gary Brumburgh's entry:
Lovely and ethereal in looks, and quite unassuming in nature, 1930s actress Evelyn Venable was born in 1913 in Cincinnati, Ohio, where she grew up and received her schooling. Both her father, Emerson Venable, and grandfather were writers/teachers. In her high school drama department, Evelyn played the top leads in their productions of "Romeo and Juliet" (Juliet) and "As You Like It" (Rosalind). Critics were so bowled over by her performances that she was cast in a professional production of "Dear Brutus" in the nearby area. Following graduation, she earned a four-year non-acting scholarship to Vassar but left after the first year to study at the University of Cincinnati. After college the acting bug returned. Encouraged by classical actor/director Walter Hampden, who was a family friend, he invited her to join his touring company where she eventually performed Ophelia to his Hamlet and Roxanne to his Cyrano. Film scouts at Paramount caught these productions and invited her to Hollywood.
Evelyn made her film debut with Cradle Song (1933) and proceeded to take on sensitive, soft-spoken leads or second leads in a number of "A" class fare including Mrs. Wiggs of the Cabbage Patch (1934) with Pauline Lord; the classic fantasy Death Takes a Holiday(1934) starring Fredric March, which is deemed her best role; David Harum (1934) andThe County Chairman (1935), both Will Rogers' vehicles; and Alice Adams (1935) starringKatharine Hepburn in the title role. In each of these Evelyn looked simply luminous and proved most able, but perhaps her modest, rather delicate nature didn't carry off enough weight to make her a star. In any event, she was thereafter relegated to working at "poverty-row" studios. She started appearing in movies with titles that indicated a downhill slide was imminent — Vagabond Lady (1935), Streamline Express (1935), North of Nome (1936), Racketeers in Exile (1937), The Headleys at Home (1938) and Hollywood Stadium Mystery (1938). One bright spot would be her sooth voicing of the "Blue Fairy" in the Disney animated classic Pinocchio (1940).
By this time, Evelyn had married Hal Mohr, the Oscar-winning cinematographer she had met on the set of one of Will Rogers' films, and bore him two daughters, Dolores and Rosalia. Interest waned for the actress, who decided that family came first and completely retired after appearing opposite Stuart Erwin Jr. in the light comedy He Hired the Boss (1943). Evelyn gamely returned to college (UCLA) where she studied Greek and Latin and attained a Master's degree. Invited to join the UCLA staff as a drama instructor, she stayed there contentedly for decades. She and Mohr lived in Brentwood, California in later years and enjoyed a 40-year marriage that lasted until his death in 1974. Evelyn died in Idaho of cancer in 1993.
– IMDb Mini Biography By: Gary Brumburgh / gr-home@pacbell.net
Independent obituary in 1993:
Evelyn Venable, actress: born Cincinatti, Ohio 8 October 1913; married 1934 Hal Mohr (died 1974; two daughters); died Post Falls, Idaho 16 November 1993.
Evelyn Venable, actress: born Cincinatti, Ohio 8 October 1913; married 1934 Hal Mohr (died 1974; two daughters); died Post Falls, Idaho 16 November 1993.
ALTHOUGH she retired after only 10 years on the screen, Evelyn Venable was seen in more films than most superstars; she was the first model for Columbia Pictures' Statue of Liberty logo.
Her father was Emerson Venable, a college professor and noted Shakespearean authority. Evelyn began acting in high school plays, and at 15 played Juliet at the Cincinatti Civic Theater. She attended Vassar, but stayed only briefly at the University of Cincinatti, leaving to join a stock company run by the actor Walter Hampden, with whom she appeared in Cyrano de Bergerac and Hamlet. When the company played Los Angeles, her Ophelia impressed a talent scout, and she was signed to a Paramount contract. In her first film, Cradle Song (1933), she was liked as the foster daughter of a nun (Dorothea Wieck, the German star of Madchen in Uniform). In Death Takes a Holiday (1934), she played the sensitive Grazia, with whom Death (Fredric March) falls in love. Mordaunt Hall wrote in the New York Times: 'Miss Venable lends to her acting a praiseworthy earnestness.' A loan-out to Fox for David Harum (1934) changed her life; she and Hal Mohr, the film's cinematographer, fell in love and were married that same year.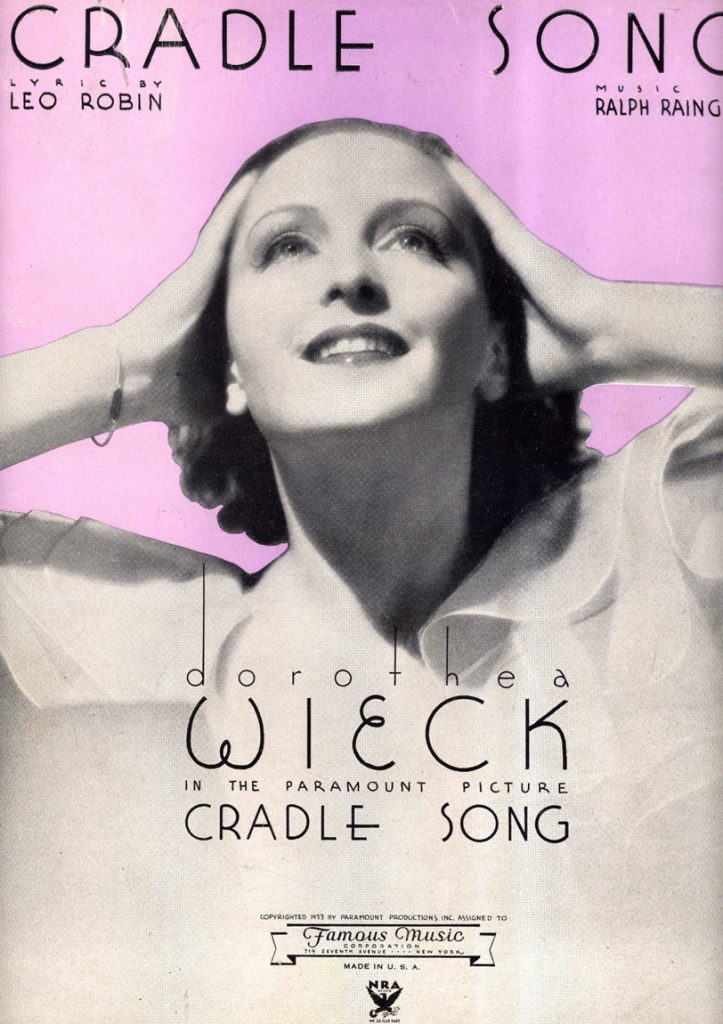 After austere roles in Mrs Wiggs of the Cabbage Patch (1934), Will Rogers's The County Chairman (1935), The Little Colonel (1935), Alice Adams (1935) and the Stephen Foster biopic Harmony Lane (1935), she was given a rare chance to let her hair down in Hal Roach's farcical Vagabond Lady (1935). Variety enthused: 'She plays with a dash and genuine comedy spirit that will amaze those who have seen her in her previous assignments. She's entitled to the right sort of parts.' She didn't receive them, but her mellifluous tones made her the ideal for the voice of the Blue Fairy in Disney's Pinocchio (1940). 'I recorded it line by line, emphasising different words each time,' she said. 'Then they chose whichever recording captured the dramatic feeling they wanted.' She retired from the screen in 1943 to concentrate on her growing family. Mohr died in 1974, after which his widow finally completed her college education. She spent her last years teaching at the University of Southern California.