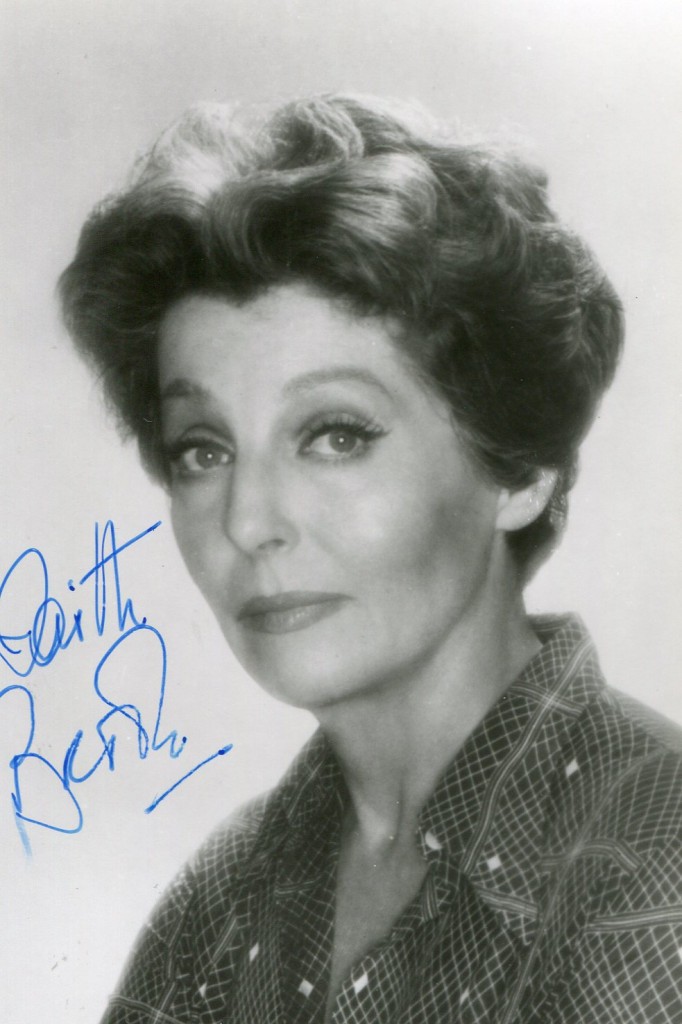 Faith Brook was born in 1922 in York.   Her father Clive Brook and her brother Lyndon Brook were both actors.   Her film debut was in "The Jungle Book" in 1942.   Other films of note include "Chase A Crooked Shadow" in 1958, "The 39 Steps" and "North Sea Hijack" in 1979.   She died in 2012.
Michael Billington's "Guardian" obituary:
Faith Brook, who has died aged 90, was an actor of remarkable elegance, poise and beauty. She was the daughter of Clive Brook, a pillar of the so-called Hollywood Raj, the British acting community that settled in Los Angeles in the 1930s. He appeared opposite Marlene Dietrich in Shanghai Express. Even if she was never a star on the scale of her father, Faith enjoyed a rich and productive career in theatre, film and television on both sides of the Atlantic.
She was born in York and moved with Clive and her mother, Mildred, to California, where her father had already put down roots. Her brother,Lyndon, was born four years after Faith and also became a successful actor.
She was educated in Los Angeles, London and Gstaad, Switzerland. She made her stage debut in Santa Barbara in September 1941 in Enid Bagnold's Lottie Dundass and a few months later appeared on the New York stage. She returned to Britain in the middle of the second world war, serving with the Auxiliary Territorial Service and joining the Stars in Battledress unit that brought drama to the troops. Among the roles she played was that of the anguished wife, Patricia, who forsakes her film-star lover for her fighter-pilot husband in Terence Rattigan's intensely moving Flare Path.
In 1946 Brook joined the Bristol Old Vic, which shared with Birmingham Rep premier league status among regional theatres and offered all the benefits of a permanent company. In one season alone, she played Dorinda in George Farquhar's The Beaux' Stratagem, Olivia in Twelfth Night and Pauline in Jenny Villiers. Back in London, she joined the Old Vic company at the New theatre. She was much praised, once again, for her aristocratic Olivia in a Twelfth Night directed by Alec Guinness; for her flirtatious Millamant in William Congreve's The Way of the World; and for her performance as the eccentric governess Charlotta in an exquisite revival of The Cherry Orchard, starring Edith Evans and Cedric Hardwicke.
Had she chosen, Brook might have become a leading classical player in the Peggy Ashcroft mould. But her American upbringing enabled her to appear freely in the US, where she spent much of the early 1950s. She took over the role of the martyred missionary Celia Coplestone, crucified "very near an ant-hill", in the Broadway production of TS Eliot's The Cocktail Party. She also played Shaw and Shakespeare in summer stock, was the scissor-wielding Sheila in Frederick Knott's Dial M for Murder and had a leading role in an American TV series, Claudia: The Story of a Marriage. But a slight mystery remains as to why, with her looks and talent, she did not seize the moment to become a dominant force in British theatre.
Instead, she continued to commute between New York and the West End, where she appeared in a great variety of plays: sometimes challenging stuff such as Sartre's Vicious Circle or Charles Morgan's The Burning Glass, at other times quilted divertissements such as Roar Like a Dove or Licence to Murder. Occasionally she vouchsafed glimpses of something remarkable. She was Dalila opposite Michael Redgrave's towering Samson in a revival of Milton's Samson Agonistes that opened the Yvonne Arnaud theatre, Guildford, in 1965. She was also a memorably sensuous and drink-fuddled Gertrude to Ian McKellen's Hamlet in a revival that came to the Cambridge theatre in London in 1971. And she was excellent playing opposite Guinness, her old friend, in 1975 in Alan Bennett's The Old Country, about a public-school Marxist living in Russian exile. In her 80s, she returned to York to perform an extended monologue, The Colour of Poppies, based on a novel by Noëlle Châtelet.
Alongside her stage work, Brook appeared in a great number of films, starting with Alfred Hitchcock's Suspicion (1941) and including The 39 Steps (1959), To Sir, With Love (1967) and Eileen Atkins's version of Mrs Dalloway (1997). She appeared in many classic TV series such as the BBC's War and Peace (1972-74) and Channel 4's The Irish RM (1983-84). In private, she was a longtime member of the British Humanist Society. While it may be ungrateful to wish that she had spent more time conquering the commanding heights of the classic repertory, she brought class, style, vocal clarity and an enduring beauty to everything she did.
She was married twice: first to Charles Moffett and then to Michael Horowitz, with whom she had a son, Brook. Both marriages ended in divorce. She is survived by her son.
• Faith Brook, actor, born 16 February 1922; died 11 March 2012
The above "Guardian" obituary can also be accessed online here.