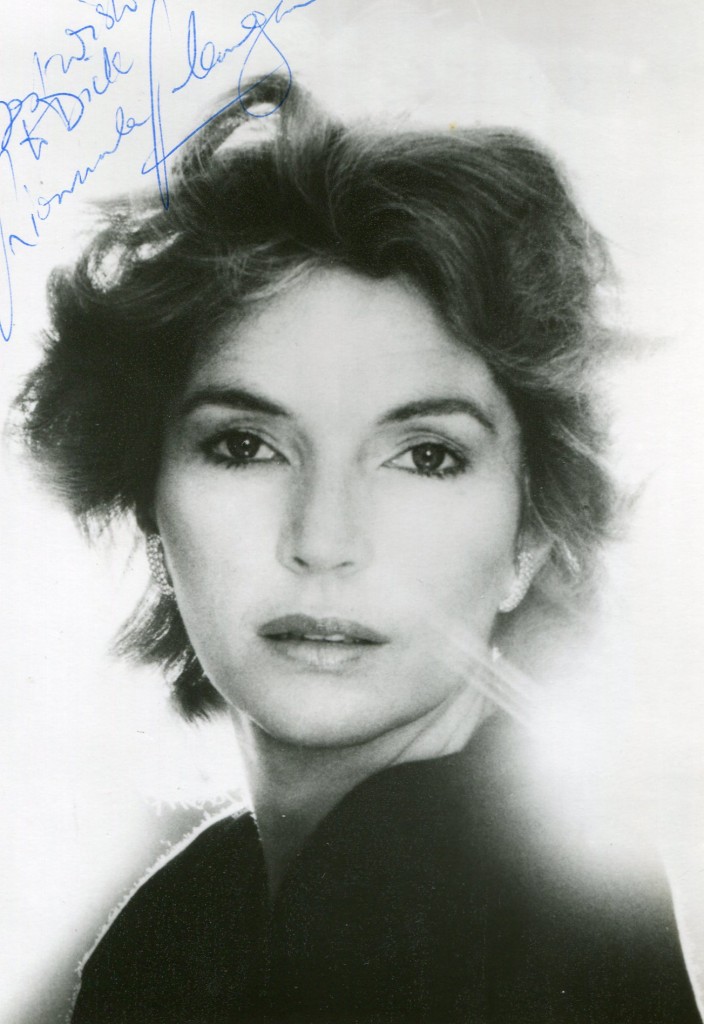 Fionnuala Flanagan.
Fionnaula Flanagan was born in Dublin in 1941. She made her film debut in 1967 in the Irish made "Ulysses". The same year she was on Broadway in Brian Friel's "Lovers". She concentrated her career in the U.S. and settled in Hollywood. Throughout the 1970's and 80's she was featured in many of the major television series such as "Bonanza", "Mannix", "Shaft", "The Streets of San Francisco", "Kojack" and "Marcus Welby M.D. She won particular acclaim for her performance in the mini-series "Ricxh Man, Rich Man Poor Man". From the 1990's onwards she has become a wonderful presence on film are "Some Mother's Son", "Waking Ned", "The Others", "Transamerica" and "The Guard".
TCM Overview: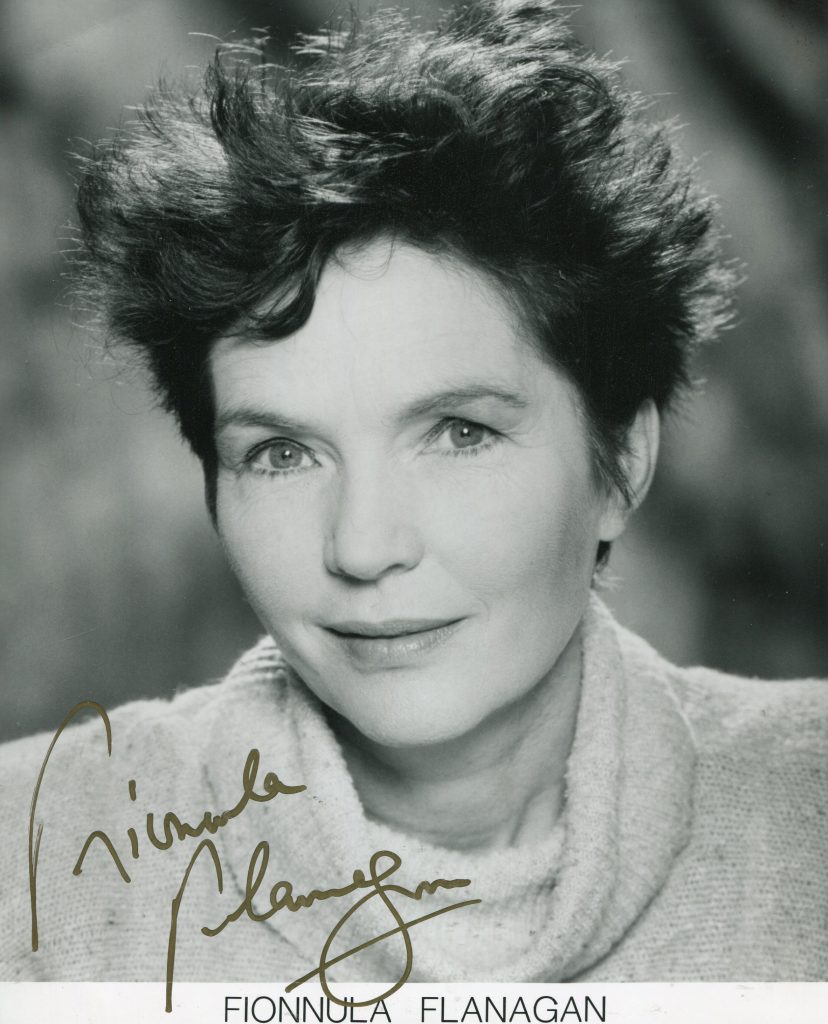 Before moving to the USA from her native Ireland, the intense, attractive Fionnula Flanagan made her feature debut as Gerty McDowell in Joseph Strick's fascinating but uneven filming of James Joyce's "Ulysses" (1967). On Broadway, she won critical acclaim and a Tony nomination as Molly Bloom in "Ulysses in Nighttown" (1974), co-starring Zero Mostel and staged by Burgess Meredith. Flanagan has also toured in her one-person show, "James Joyce's Women," in which she played among others, Nora Barnacle Joyce, Sylvia Beach, Harriet Shaw Weaver, and Molly Bloom. The play was adapted as a feature film in 1984, produced by Flanagan and her husband, Garrett O'Connor.
Her career, though, has not been limited to appearing in works by her countryman, but has also encompassed stage, screen and television. In 1968, the petite, auburn-haired Flanagan moved to America and landed her first stage role in "Lovers." She segued to the small screen where she has had the most success to date. Flanagan has appeared in numerous TV longforms, beginning with the 1973 ABC remake of "The Picture of Dorian Gray." She was the Irish maid of the famed, but acquitted suspected murderess in "The Legend of Lizzie Borden" (ABC, 1975), won an Emmy for a supporting role in the ratings winner "Rich Man, Poor Man" (ABC, 1976), and was the wife to writer William Allen White, mourning their teenaged daughter's death "Mary White" (ABC, 1977). That same year, she created the role of Molly, a widow finding her way on the frontier in "How the West Was Won," a role she reprised in the series spin-off. Flanagan was mother to Valerie Bertinelli in "Young Love, First Love" (CBS, 1979) and starred in George Lucas' TV-movie, "The Ewok Adventure" (ABC, 1984). She played mother again, this time to one-armed baseball player Pete Gray (Keith Carradine) in "A Winner Never Quits" (ABC, 1986). Other notable roles include the tough-talking lieutenant in the short-lived drama series "Hard Copy" (CBS, 1987), was a smooth-talking madam in "Final Verdict" (TNT, 1991), and portrayed a widow seeking answers about her husband's death in a rafting accident in "White Mile" (HBO, 1994).
While her feature film work has been sporadic, Flanagan did receive particular notice as a nun in the Oscar-winning short "In the Region of Ice" (1976). Her other credits have ranged from John Huston's "Sinful Davey" (1969), as the daughter of the Duke of Argyll, to several maternal roles. Among the latter are as Molly Ringwald's mom in "P.K. and the Kid" (lensed 1982, released in 1987), as Mary Stuart Masterson's overbearing parent in "Mad at the Moon" (1992) and as John Cusack's mother in "Money For Nothing" (1993). She had one of her best screen roles in another motherly part, as a gruff Irish Catholic whose son is imprisoned for terrorist activities in Northern Ireland in "Some Mother's Son" (1996). After returning to series TV as the matriarch of an Irish-American family on the CBS drama series "To Have and To Hold" (1998), Flanaghan garnered additional praise as the morally grounded wife of a scheming villager (Ian Bannen) in the genial comedy "Waking Ned Devine" (1998). She offered perhaps one of her best turns as the slightly creepy housekeeper in "The Others" (2001). She added memorable humor to the role of Teensy Melissa Whitman in the independent feature "Divine Secrets of the Ya-Ya Sisterhood" (2002), a light-hearted film about a group of women who set out to mend a broken relationship between their "Ya-Ya Sister" and her daughter.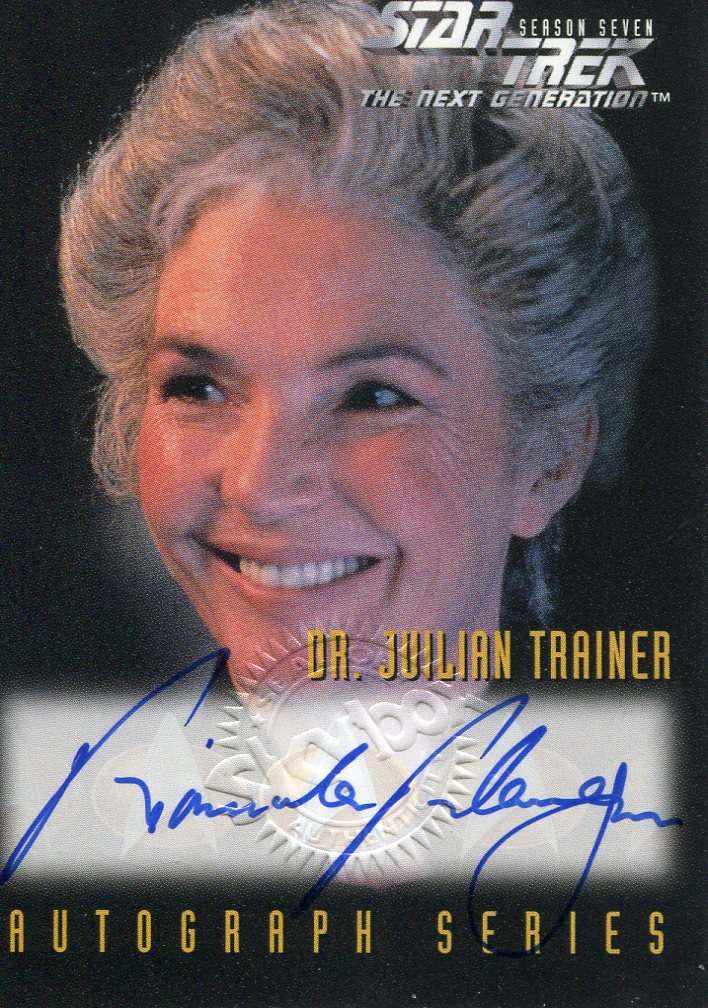 The following year, Flanagan displayed her serious side by taking on the role of Nurse Grace in Antione Fuqua's "Tears of the Sun" (2003). An epic tale dedicated to, as director Fuqua stated, "all the men and women you protect us and go into places and do great things about which too little is said." She then played the adoptive mother of four boys (two black, two white) seeking revenge for her murder after a grocery store robbery in "Four Brothers" (2005). Directed by John Singleton and starring Mark Wahlberg, Andre 3000, Tyrese Gibson and Garrett Hedlund as the avenging sons, "Four Brothers" was a straight-forward and often violent revenge thriller that either pleased or disappointed critics for its simplistic narrative. She then had a terrific supporting turn as the domineering, disapproving mother of a preoperative transexual (Felicity Huffman) who seeks shelter with her estranged family while traveling cross-country with the newly discovered son she fathered in her early life as a man in "Transamerica" (2005).
The above TCM Overview can also be accessed online here.