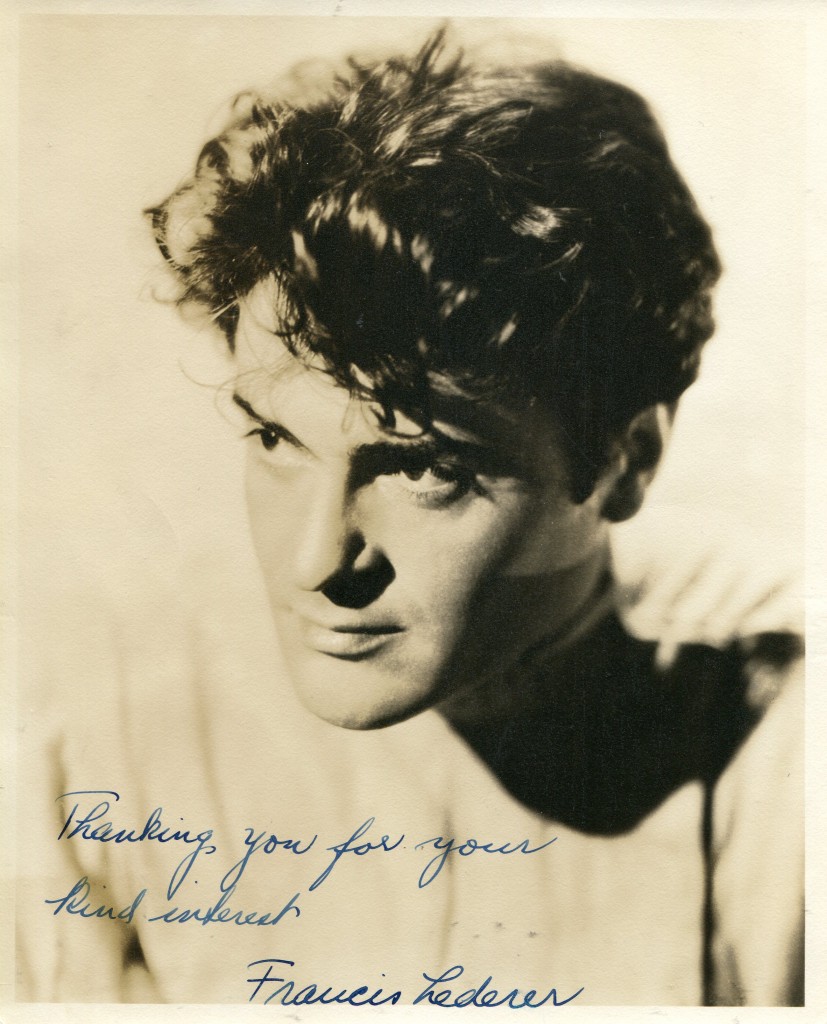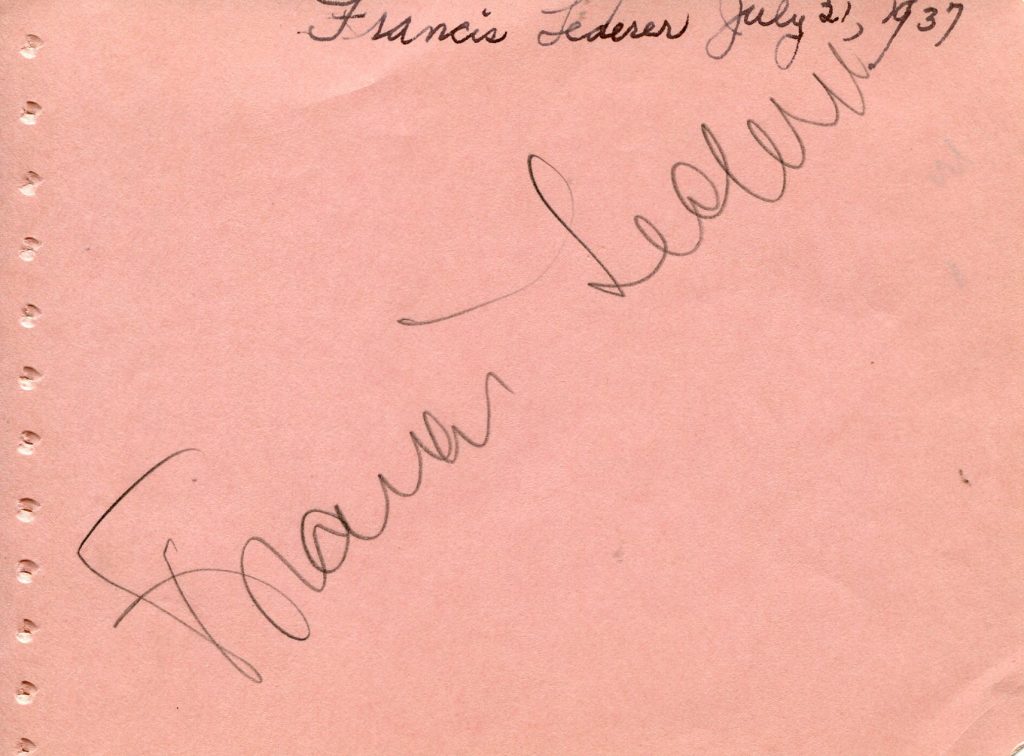 Francis Lederer obituary in "The Guardian".
Francis Lederer was born in 1899 in Prague. After serving World Ward One he began acting with the New German Theatre. In 1931 he won great success in London in "Volpone" and then Dodie Smith's "Autumn Crocus" when he then performed in on Broadway. He remained in the U.S. and went on to Hollywood and appeared in "Men of Two Worlds" in 1934, "Midnight", "Confessions of a Nazi Spy", "The Bridge of San Luis Rey" and "Diary of a Chambermaid". His film career wound down in the early 1950's by which time he had become very wealthy through real estate investments. Francis Lederer died in 2000 at the age of 100.
Ronald Bergan's obituary of Francis Lederer in "The Guardian":
It could be argued that a pair of lederhosen made the Czech-born actor Francis Lederer, who has died aged 100, into a Hollywood star. He wore them in Dodie Smith's play, Autumn Crocus, first in London, and then on Broadway in the role of a young married Tyrolean innkeeper with whom an English schoolteacher falls in love. James Agate, reviewing it at the Lyric theatre in April 1931, wrote: "The whole piece hangs or falls by the innkeeper's charm, and the amount of this commodity produced by Mr Lederer is colossal. In addition, he is an extremely fine actor."
Unfortunately, being a foreign actor, Lederer never really fulfilled his potential in America. "The studios didn't know how to handle him or how to buy stories for him," wrote Ginger Rogers, his co-star in Romance In Manhattan (1934). "Hollywood was a very parochial place, and once classified, actors could not easily break out of the mould." Lederer believed his inherent shyness – he hated to do publicity for his films – worked against his becoming as big a romantic star as, say, Charles Boyer.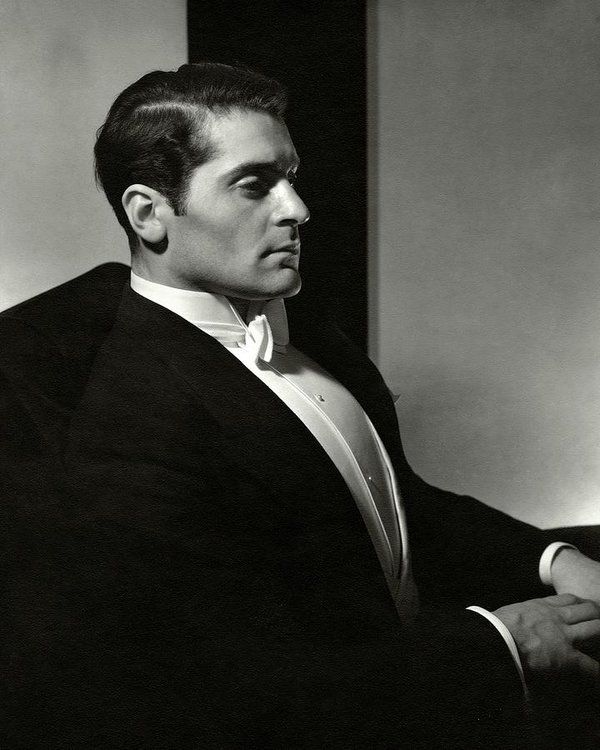 Born Frantisek Lederer in Prague, the son of a leather merchant, he won a scholarship to the city's academy of music and dramatic art before he was 18, and began a stage career while still in his teens. By the late 1920s, he was a matinee idol in Berlin, Vienna and other European capitals, notably as Romeo to Elisabeth Bergner's Juliet in a celebrated Max Reinhardt production.
In 1930, Lederer, who could sing and dance, came to London to appear in Meet My Sister, for which he learned his part phonetically, as he had little English. After it flopped he went into Autumn Crocus, opposite Fay Compton, which ran for 18 months. His success on Broadway in the same play in 1934 led to a contract with RKO studios.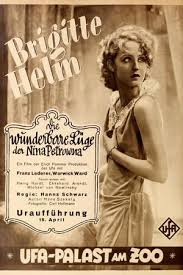 He had made around half a dozen films in Europe previously, including Pandora's Box (1929), a classic of the German silent cinema, in which he played the young writer Alva, one of many men destroyed by femme fatale Lulu (Louise Brooks). There was an intimate scene between Lederer and Brooks, in which the director GW Pabst insisted she wear nothing underneath her dress. "Who would know?" Brooks asked. "Lederer," Pabst replied.
In The Wonderful Life Of Nina Petrova (also 1929), he made it perfectly clear to audiences why Brigitte Helm should give up her jewels, villa and rich lover to live modestly with him, a penniless young lieutenant.
Lederer's Hollywood debut in Man of Two Worlds (1934), was, strangely for someone bought by RKO as a romantic European lead, as an Eskimo introduced into the complexities of western civilisation, a role he played with an ingratiating blend of naivete and bemusement.
In many of his following films, he showed a deftness for light comedy, playing an illegal immigrant helping chorus-girl Ginger Rogers in Romance In Manhattan (1935); a prince posing as a bellboy in William Wyler's The Gay Deception, (also 1935), and an actor who causes a scandal by accidentally kissing Ida Lupino in the cinema while under the spell of the picture in One Rainy Afternoon (1936). In 1938, he took the title role in The Lone Wolf In Paris, as a jewel thief turned detective – perhaps the only time he appeared as a true American.
After playing a gigolo on whom Claudette Colbert uses her charms to distract him from John Barrymore's wife in Midnight (1939), Lederer demonstrated more range and depth than he had been able to hitherto in three anti-Nazi movies.
I n Confessions Of A Nazi Spy (1939), as a downtrodden German-American who steals secrets and becomes a Nazi agent to support his family, he managed to imbue this unsympathetic weasel with humanity. In The Man I Married (1940), he played an initially lovable German-American who becomes a rabid Nazi after visiting his father in Germany, and in Voice In The Wind (1944) he was a Czech pianist who is tortured by the Nazis and looses his memory. He was also superb in Jean Renoir's The Diary Of A Chambermaid (1946) as Joseph, the sadistic valet, given to piercing the throats of geese with a needle. Lederer then returned to the stage for a few years, appearing in Noel Coward's Relative Values in Germany, and as Anne Frank's father in The Diary Of Anne Frank in America. When he went back to the screen, his image had eased into a narrower range of character parts.
However, he was still able to be both a charming and sinister vampire in The Return Of Dracula (1958). "They wanted me to wear fangs," he explained, "but I refused, saying it was old hat and I would have looked foolish." Neither did he use a cape, but merely wore his overcoat over his shoulders. In his last feature, Terror Is A Man (1958), a Filipino horror film, he was a mad doctor who turned a leopard into a leopard man.
Aside from his stage and screen work, Lederer did a great deal of television, for which he adapted Ibsen's A Doll's House, and was the chief villain in the first Mission Impossible (1967). He also taught acting for many years, helped found the American National Academy of Performing Arts and the Holly wood museum, was active in civic affairs, and made a fortune from property.
Since 1942, he lived on a ranch in the San Fernando valley with Marion Irving, his third wife.
• Francis Lederer, actor, born November 6 1899; died May 25 2000
The above "Guardian" obituary can also be accessed on lune here.