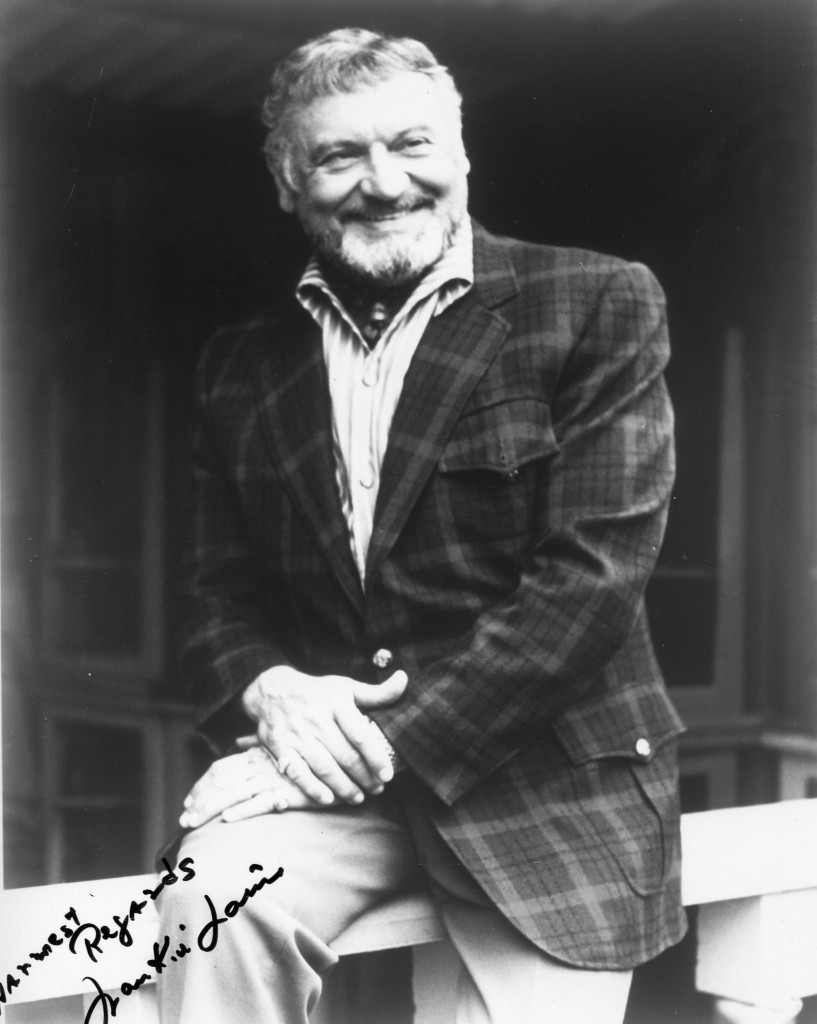 Frankie Laine was born in 1913 in Chicago.   He was especially popular as a singer during the 1940's and 50's.   His songs include "That Lucky Old Son", "Mule Train", "Cry of the Wild Goose", "Jezebel", "High Noon", "Answer Me" and "Rawhide".He made a number of films mostly for Columbia Studios and they include "Make Believe Ballromm" in 1949 and "Sunny Side of the Street".    He was married to actress Nan Gray.   Frankie Laine died in 2007 at the age of 93.
His "Independent" obituary  by Spencer Leigh:
Bob Hope once called Frankie Laine "a foghorn with lips", an amusing but accurate description, as Laine is best-known for his powerful, full-blooded treatment of tales of ill-fated romantic liaisons, religious ballads and western songs, such as "Jezebel", "I Believe" and "Rawhide". Although he displayed more range in his lesser-known singles and album tracks (such as the racial lament "Black and Blue"), the public preferred him bellowing out ballads with supreme confidence. If ever a singer could be called a man's man, it was Frankie Laine.
Like many of his show-business contemporaries, Laine came from an Italian background. He was born Francesco Paolo LoVecchio in 1913 to Sicilian immigrants in Chicago's Little Italy. His father was a barber who had cut Al Capone's hair and his grandfather had been the victim of a mob killing. The young LoVecchio was a choirboy at the Immaculate Conception church. When he saw the film The Singing Fool (1928), starring Al Jolson, he determined to become an entertainer.
Although he did make some club appearances, his first success came in 1932 when he took part in a marathon dance contest. "I had 45 minutes on and 15 minutes off in every hour," he said:
It went on like that for 24 hours a day for four and a half months. It sounds ridiculous but I had nothing else to do and there were no expenses. My partner and I won $1,000 between us, which was a lot of money then. We also collected tips from the people who came to see us.
He was not exaggerating: he and Ruth Smith danced for 3,501 hours over 145 consecutive days to create a world record.
In 1937, Perry Como left his job as the vocalist with the Freddy Carlone orchestra and LoVecchio replaced him. After that, he became a singer on a New York radio station, teaming up with the pianist Carl Fischer for a night-club act. In 1946 the songwriter Hoagy Carmichael heard LoVecchio perform one of his songs, "Rocking Chair", at Billy Berg's club in Vine Street, Hollywood. He recommended him to Mitch Miller at Mercury Records and also told LoVecchio to adopt a simpler name. As Frankie Laine, he won a gold disc with his first record, "That's My Desire" (1947). Laine recalled, "That record started selling in Harlem first of all because everyone assumed I must be black." All his fan-club members received a miniature gramophone record which either said "Hello, baby" or "Hi ya, guy", before going into six bars of "That's My Desire".
Laine had further successes with "S-H-I-N-E", "On the Sunny Side of the Street" and "We'll Be Together Again", which featured his own lyric. Another of his songs from this period, "It Only Happens Once", was recorded by Nat "King" Cole. When he was talking with Mel Tormé, one of them said, "It ain't gonna be like that", which prompted them to write a song of the same title that Laine recorded.
Laine's bellowing style was heard to good effect on "Mule Train" (1949), which he sang to a whip-cracking accompaniment. He made his film début in When You're Smiling (1950) and sang the title song. Although he made several romantic comedies, Laine never appeared with his second wife, Nan Grey, a leading lady from the 1930s, whom he married in 1950.
In 1950 Laine followed Mitch Miller to Columbia Records and Miller found him one hit song after another. Songs like "Jezebel" and "Satan Wears a Satin Dress" were regarded as controversial for their religious references. "I didn't pay much attention to all the fuss being made over them," Laine told me in 1978:
I was being given great songs to sing and I'd have been a fool to turn them down. "Jezebel" is still a great song. It's the sort of song you've got to close on. How can you top a finish like that?
When the first UK record sales chart was published in November 1952, Laine was at No 7 with the theme song from the Gary Cooper film High Noon and at No 8 with "Sugarbush", a romantic duet with Doris Day. Speaking of High Noon, he commented, "I didn't sing that song in the film, although I'd have been glad to have done so. Tex Ritter did the soundtrack, but I had the hit."
Because of its success, Laine was then asked to sing western soundtracks including Gunfight at the O.K. Corral (1957), 3.10 to Yuma (1957) and The Hanging Tree (1959) as well as the theme song for Rawhide, which was Laine's final Top Ten hit in the UK in 1959. "I was very grateful for that TV series as it kept me on the air for seven and a half years," Laine said:
I also had a part in one of the episodes. Clint Eastwood was in the series, but no one dreamed that he'd ever make it big, least of all Clint himself.
Despite his own rugged demeanour and his love of western songs, Laine never made any westerns himself. "It's simply that I was never offered anything suitable," he said:
I can see with hindsight that it might have been a good thing to have made some westerns, but I never plan my life. I drift along. I'm the sort of person who considers what comes in rather than the type who goes out to make things happen. I'm willing to have a go at most things. If someone saw me as a New York detective or as the King of Spain, I'd do it.
The religious ballad "I Believe" was Laine's biggest success, topping the UK charts for 18 weeks in 1953.
The song accomplished an awful lot in its day because it said all the things that needed to be said in a prayer, and yet it didn't use any of the holy words – Lord, God, Him, His, Thine, Thou. It said it all and it changed the whole spectrum of faith songs.
Astonishingly, Laine topped the UK charts for 27 weeks in 1953, "Hey Joe" occupying one week and "Answer Me" another eight. The last-named was another "God-botherer". The singer, to an organ accompaniment, is asking God what has gone wrong with his relationship. Because many US radio stations refused to play the record, Nat "King" Cole shrewdly recorded an amended version, "Answer Me, My Love". Laine himself recorded the revised lyric for South Africa and both lyrics are well-known today.
With the advent of rock'n'roll in the mid-Fifties, Laine began to appear old-fashioned, although his style influenced Tom Jones. He sought songs from the new Brill Building writers, the best example being "Don't Make My Baby Blue" (1963). His contract with Columbia ended in 1963. "I spent some time considering offers and I signed with Capitol," he said:
We spent two months getting the material ready for an album, but before it came out, Capitol received the masters of some group from Liverpool. That was the Beatles. They started selling like crazy and I was ignored.
Laine switched to ABC Records and returned to the US charts in 1967 with "I'll Take Care of Your Cares". He followed it in 1969 with the very successful "You Gave Me a Mountain". "Marty Robbins was a friend of mine and he gave that song to me," Laine recalled:
I knew right away that it was going to do well. He then wrote "My Woman, My Woman, My Wife" for me, but his wife wouldn't let me have it and made him keep it for himself.
In 1974 Laine recorded the theme song for the spoof western Blazing Saddles. The film's director, the actor Mel Brooks, had heard Laine singing "Cry of the Wild Goose" on the Merv Griffin Show. "He'd just finished his picture and so he asked me to sing the theme song," Laine said. "I did the song straight because I had no idea that the film was a comedy. As it turned out, it worked fine."
Although Laine continued to tour, he was plagued with health problems and had quadruple bypass heart surgery in 1985. It didn't affect his performance and he still favoured songs with big endings. With the exception of Jazz Spectacular in 1956, Laine never concentrated on albums, but this changed in the 1980s, with albums like Country Laine (1987), which included a beautiful, whimsical ballad, "She Never Could Dance", and New Directions (1988) among his best.
He contributed three songs to a western album, Roundup (1987), with Eric Kunzel and the Cincinnati Pops Orchestra and was surprised to find himself on the US classical chart. He also recorded a CD of standards, Wheels of a Dream (1998) and a CD of songs "for people who have reached the age of retirement", It Ain't Over 'Til It's Over (also 1998). A video filmed in Las Vegas, Live at the Orleans, was released in 1999, but, in his later years, Laine took more interest in the value of his investments.
Laine wrote his autobiography, That Lucky Old Son, in 1993 and, although he had not written many songs, he was inducted into the Songwriters Hall of Fame in 1996. He was proud when the compilation album Lyrics by Laine was released in 1999.
Spencer Leigh
The above "Independent" obituary can also be accessed online here.