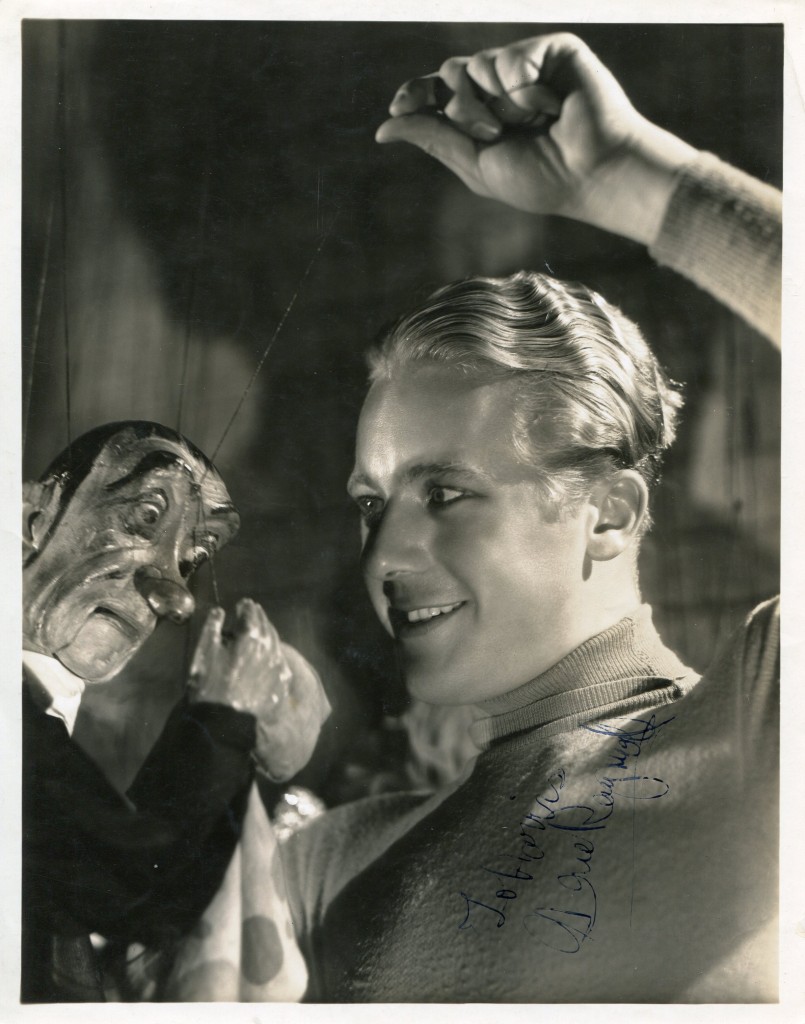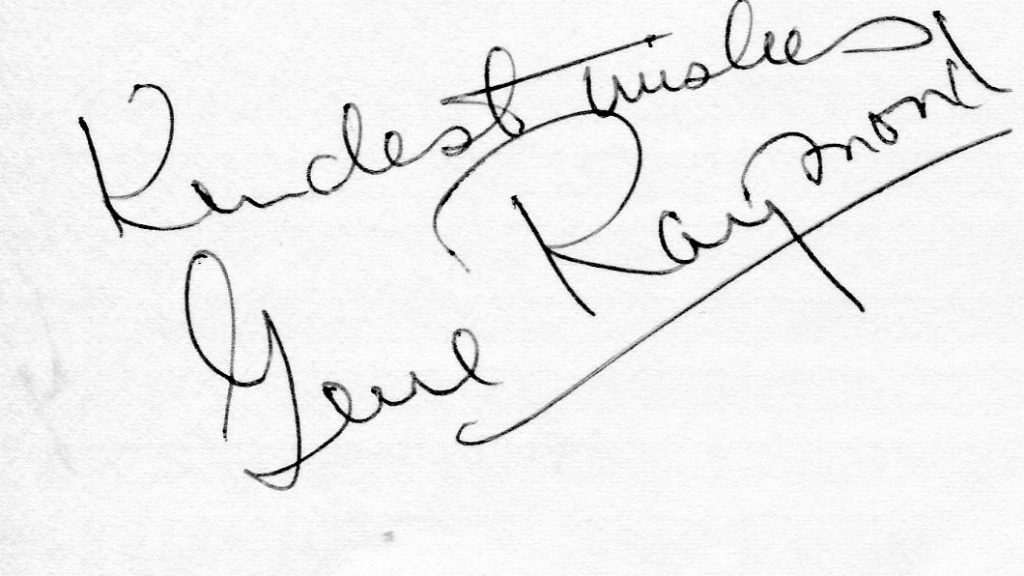 Gene Raymond was born in 1908 in New York City.   In 1931 he made his film debut in "Personal Maid".   Other films include "Zoo in Budapest" with Loretta Young, "Flying Down to Rio" with Dolores Del Rio, Fred Astaire and Ginger Rogers and "Smilin Through" with his wife Jeanette MacDonald".   He died in 1998 at the age of 89.
Tom Vallance's obituary in "The Independent";
An actor who had a long career in film, television and theatre, Gene Raymond will nevertheless be best remembered as the husband of the singing star Jeanette MacDonald. Though Raymond made over 40 films, his career never equalled his wife's in stature.   
Blond and dashingly handsome, he was a capable leading man in many movies, but tended to play second-leads in the really big ones – he was Mary Astor's cuckolded husband in the Gable-Harlow Red Dust (1932) and third billed to Robert Montgomery and Carole Lombard in Hitchcock's Mr and Mrs Smith (1941).   
One of the biggest hits in which he starred, Flying Down to Rio (1933), is notable more for the first teaming of Fred Astaire and Ginger Rogers, in supporting roles. The actor's most fondly remembered film is Smilin' Through (1941), the only time he played opposite his wife.
Born Raymond Guion in New York City in 1908 and educated at the Professional Children's School, he made his theatrical debut at the age of five and had his first Broadway role at the age of 12. By the time he was 21 he had played major roles in five Broadway shows, including Cradle Snatchers (1925), in which young Humphrey Bogart was the juvenile lead.   He was billed under his real name in all these shows, but Paramount rechristened him Gene Raymond in 1931 when they brought him out to Hollywood. His first two films, Personal Maid (1931), with Nancy Carroll, and Ladies of the Big House (1931), with Sylvia Sidney, set a pattern in which he was frequently overshadowed by strong leading ladies.   In Ann Carver's Profession (1933) he was the weakling husband of a lawyer (Fay Wray), who ends up defending him for murder; in Brief Moment (1933) a rich loafer reformed by the love of nightclub singer Carole Lombard, and he was also teamed with Bette Davis in Ex-Lady (1933), and Barbara Stanwyck in both The Woman In Red (1934) and the featherweight comedy The Bride Walks Out (1936).   Among his best films were the lyrical, beautifully photographed Zoo in Budapest (1933), in which he displayed a rarely tapped sensitivity as an animal-loving young man who lives in the zoo where he works and falls in love with a runaway waif (Loretta Young) hiding there, and two films with Ann Sothern, the perky musical Hooray for Love (1935) and a comedy The Smartest Girl in Town (1936).
Raymond had a pleasant tenor voice, and introduced on screen two minor standards, Brown and Freed's "All I Do Is Dream of You" in the Joan Crawford vehicle Sadie McKee (1933), and with Harriet Hillyard, "Let's Have Another Cigarette" by Magidson and Wrubel.   Smilin' Through, shot in lush colour, was his last film before war service, during which he served as a pilot in the B-17 bomber group that inaugurated precision bombing.   Resuming his career, he was the fiance of the kleptomaniac Laraine Day in the complex film noir The Locket (1946), then produced and directed a modest mystery movie, Million Dollar Weekend (1947), in which he played the starring role as an embezzler. The film was not a success, and Raymond concentrated on television and theatre.   He was host, panellist or actor on many television shows including Fireside Theatre, Ironside and The Girl from U.N.C.L.E. and had appeared in touring or summer stock productions of popular plays like The Voice of the Turtle, Private Lives and the musical Kiss Me Kate.   He also wrote several songs for his wife to perform on her concert tours. He returned to films with the thankless role of an ageing actor trying to seduce Jane Powell in the musical Hit The Deck (1957), but had a good role in the fine political drama written by Gore Vidal and directed by Franklin Schaffner, The Best Man (1964).
In 1967, as a colonel in the Air Force Reserve, he flew jets into South Vietnam on high- priority missions and won the Legion of Merit. His last film credit came in 1969 when he provided the Voice of Death in the western Five Bloody Graves.   Apart from an occasional character role on television he concentrated during his final years on his investments and business interests. Always involved in the affairs of the industry, he was at various times a board member of the Screen Actors Guild and Academy of Television Arts and Sciences, president of the Motion Picture and Television Fund, president of the Los Angeles chapter of the Air Force Association and vice president of the Arthritis Foundation.   He married Jeanette MacDonald in 1937 (her famous co-star Nelson Eddy sang "O Promise Me" at their wedding) and he was at her bedside when she died in 1965, her last words allegedly being "I love you". Raymond married a second time in 1974 and was widowed again in 1995.
Raymond Guion (Gene Raymond), actor: born New York 13 August 1908; twice married; died Los Angeles 3 May 1998.
The above "Independent" obituary can also be accessed online here.