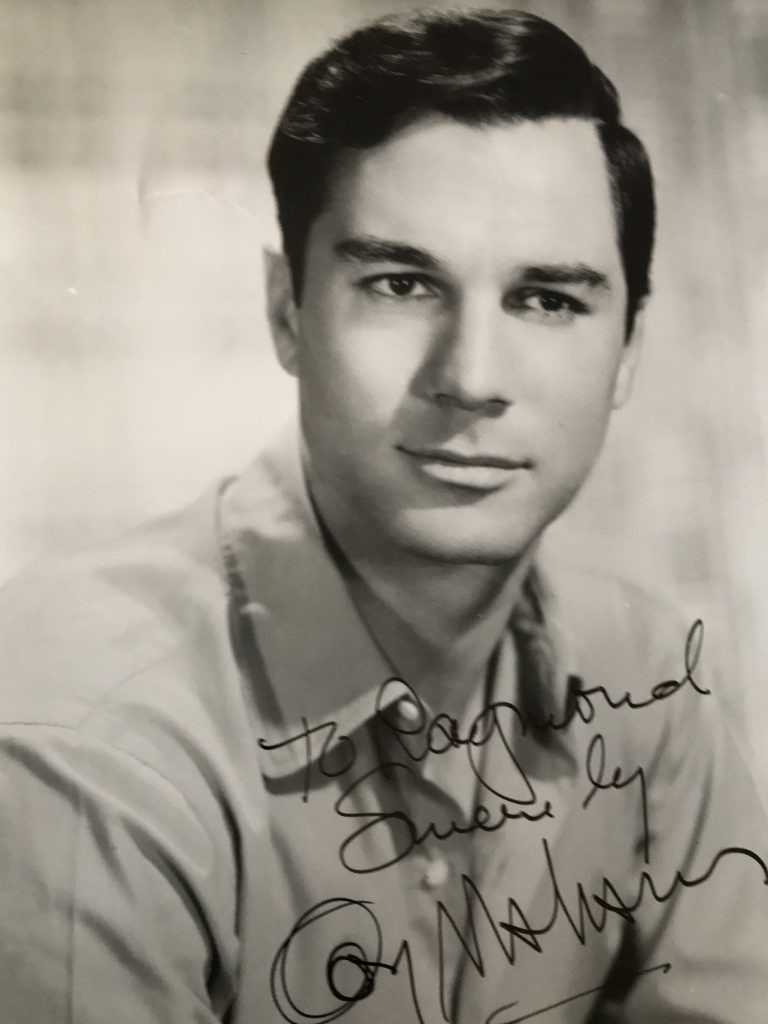 George Maharis. Wikipedia.
George Maharis is best known for his role in the cult TV series of the 1960's "Route 66". He was born in 1928 in Astoria, New York of Greek parentage. He studied at the Actor's Studio and acted on the stage in New York. His fil debut was in 1960 in Otto Preminger's "Exodus". That same year he was cast as Buz Mordock in "Route 66" with Martin Milner. He left the series midway through the third year and was replaced by Glenn Corbett. He made some further movies including in 1964 "Quick Before It Melts", "The Satan Bug" a thriller with Anne Francis, "Sylvia" with Carroll Baker and "A Covenant With Death" with Katy Jurado. He guest-starred in may television series, one of the last was "Murder She Wrote" with Angela Lansbury in 1990.
Gary Brumburgh's entry:
Tall, dark and handsome, not to mention a charismatic rebel of 60s Hollywood, actor George Maharis (real Greek family name is Mahairas) was born in 1928 in Astoria, New York as one of seven children. His immigrant father was a restaurateur. George expressed an early interest in singing and initially pursued it as a career, but extensive overuse and improper vocal lessons stripped his chords and he subsequently veered towards an acting career.
Trained at the Neighborhood Playhouse with Sanford Meisner and the Actor's Studio withLee Strasberg, the "Method" actor found roles on dramatic TV, including a few episodes of "The Naked City," and secured an early name for himself on the late 1950s's off-Broadway scene, especially with his performances in Jean Genet's "Deathwatch" andEdward Albee's "Zoo Story". Producer/director Otto Preminger "discovered" George for film, offering the actor a choice of five small roles for his upcoming film Exodus (1960). George chose the role of an underground freedom fighter.
One of the episodes George did on the police drama "The Naked City" series ("Four Sweet Corners") wound up being a roundabout pilot for the buddy adventure series that would earn him household fame. With the arrival of the series Route 66 (1960), the actor earned intense TV stardom and a major cult following as a Brandoesque, streetwise drifter named Buzz Murdock. Partnered with the more fair-skinned, clean-scrubbed, college-educated Tod Stiles (Martin Milner, later star of Adam-12 (1968)), the duo traveled throughout the U.S. in a hotshot convertible Corvette and had a huge female audience getting their kicks off with "Route 66" and George. During its peak, the star parlayed his TV fame into a recording career with Epic Records, producing six albums in the process and peaking with the single "Teach Me Tonight".
For whatever reason, Maharis left. His replacement, ruggedly handsome Glenn Corbett, failed to click with audiences and the series was canceled after the next season. Back to pursuing films, the brash and confident actor, with his health scare over, aggressively stardom with a number of leads but the duds he found himself in — Quick Before It Melts(1964), Sylvia (1965), A Covenant with Death (1967), The Happening (1967), and The Desperados (1969) prime among his list of disasters — hampered his chances. The best of the lot was the suspense drama, The Satan Bug (1965), but it lacked box-office appeal and disappeared quickly. Moreover, a 1967 sex scandal (and subsequent one in 1974) could not have helped.
Returning to TV in the 70s, George returned to series TV with the short-lived The Most Deadly Game (1970) co-starring fellow criminologists Ralph Bellamy and Yvette Mimieux(who replaced the late Inger Stevens who committed suicide shortly before shooting was about to start). The decade also included a spat of TV-movies including the more notableThe Monk (1969) and Rich Man, Poor Man (1976). In between he appeared in Las Vegas nightclubs and summer stock, and was one of the first celebrities to pose for a nude centerfold in Playgirl (July 1973).
His last years brought about the occasional film, most notably as the resurrected warlock in The Sword and the Sorcerer (1982) and an appearance in the horror thrillerDoppelganger (1993). Maharis' TV career ended with guest parts on such popular but unchallenging shows such as "Fantasy Island" and "Murder, She Wrote".
Maharis' later years were spent focusing on impressionistic painting. He has been fully retired since the early 1990s.
– IMDb Mini Biography By: Gary Brumburgh / gr-home@pacbell.net
New York Times obituary in 2023:
George Maharis, TV Heartthrob of 'Route 66,' Is Dead at 94
He appeared in Off Broadway roles before starring on CBS as one of two young men who find adventure crossing the country in a Corvette convertible.
By Anita Gates and Alex Traub
May 28, 2023
George Maharis, the ruggedly handsome New York-born stage actor who went on to become a 1960s television heartthrob as a star of the series "Route 66," died on Wednesday at his home in Beverly Hills, Calif. He was 94.
His longtime friend and caretaker, Marc Bahan, confirmed the death.
Mr. Maharis's greatest fame arose from the role of Buz Murdock, one of two young men who traveled the country in a Corvette convertible finding a new adventure and drama (and usually a new young woman) each week on CBS's "Route 66."
"Route 66" began in 1960, and Mr. Maharis left the show in 1963. His co-star, Martin Milner, got a new partner, played by Glenn Corbett, and the series continued for one more season.
Mr. Maharis attributed his departure to health reasons (he was suffering from hepatitis), but Karen Blocher, an author and blogger who interviewed him and other principal figures on the show, wrote in 2006 that the story was more complex.
Herbert B. Leonard, the show's executive producer, "thought he'd hired a young hunk for the show, a hip, sexy man and good actor that all the girls would go for," Ms. Blocher wrote.
"This was all true of Maharis," she went on, "but not the whole story, as Leonard discovered to his anger and dismay. George was gay, it turned out."
Ms. Blocher attributed Mr. Maharis's departure to a number of factors. "The producers felt betrayed and duped when they learned of Maharis's sexual orientation, and never trusted him again," she wrote, adding, "Maharis, for his part, started to feel that he was carrying the show and going unappreciated."
Mr. Maharis was arrested in 1967 on charges of "lewd conduct" and in 1974 on charges of "sex perversion" for cruising in men's bathrooms.
He did not discuss his sexuality in interviews, but he proudly described being the July 1973 nude centerfold in Playgirl magazine in an interview with Esquire in 2017.
Story continues below advertisement
"A lot of guys came up to me and asked me to sign it for their 'wives,'" he said.
Mr. Maharis had done well-received work in theater before becoming a television star. In 1958 he played a killer in an Off Broadway production of Jean Genet's "Deathwatch." Writing in The Times, Louis Calta described Mr. Maharis's performance as "correctly volatile, harsh, soft and cunning."
Two years later, he appeared in Edward Albee's "Zoo Story" in its Off Broadway production at the Provincetown Playhouse. That year he was one of 12 young actors given the Theater World Award. The other winners included Warren Beatty, Jane Fonda, Patty Duke and Carol Burnett. In 1962, he was nominated for an Emmy Award for his work on "Route 66."
Mr. Maharis told a writer for The Times in 1963 that he treated the TV series like a job in summer stock theater.
"The series taught me how to maintain my integrity and not be sucked in by compromise," he said.
George Maharis was born in the Astoria section of Queens on Sept. 1, 1928, the son of a Greek restaurateur. He attended Flushing High School and later served in the Marines.
Before succeeding as an actor, he told interviewers, he had worked as a mechanic, a dance instructor and a short-order cook. But he had aspired to a singing career first, and after he became a television star he recorded albums, including "George Maharis Sings!," "Portrait in Music" and "Just Turn Me Loose!" At least one single, "Teach Me Tonight," became a hit.
After leaving "Route 66," Mr. Maharis appeared in feature films, including "Sylvia," with Carroll Baker, and "The Satan Bug," a science-fiction drama, both from 1965. He tried series television again in 1970 as the star of an ABC whodunit, "The Most Deadly Game," with Ralph Bellamy and Yvette Mimieux, but the show lasted only three months.
Story continues below advertisement
In the 1970s and early '80s, he made guest appearances on other television series, including "Police Story," "The Bionic Woman" and "Fantasy Island." He did occasional television films, including a poorly reviewed 1976 "Rosemary's Baby" sequel. He worked infrequently in the 1980s and made his final screen appearance in a supporting role in "Doppelganger," a 1993 horror film starring Drew Barrymore.
Information about his survivors was not immediately available.
Because of his filming schedule when the shows aired, Mr. Maharis did not have a chance to watch "Route 66" until it was rereleased on DVD in 2007, he told the website Route 66 News that year.
"I was really surprised how strong they were," he said. "For the first time, I could see what other people had seen."
In a 2012 reappraisal of the show in The New York Times, Neil Genzlinger praised the literary quality of the scripts and commented, "This half-century-old black-and-white television series tackled issues that seem very 21st century."
Several actors who went on to greater renown appeared on the show, including Martin Sheen, Robert Redford, Robert Duvall and Barbara Eden.
In an interview in 2007 with The Chicago Sun-Times, he reflected on his "Route 66" days and on how the country had changed since then. "You could go from one town to the next, maybe 80 miles away, and it was a totally different world," he said. "Now you can go 3,000 miles and one town is the same as the next