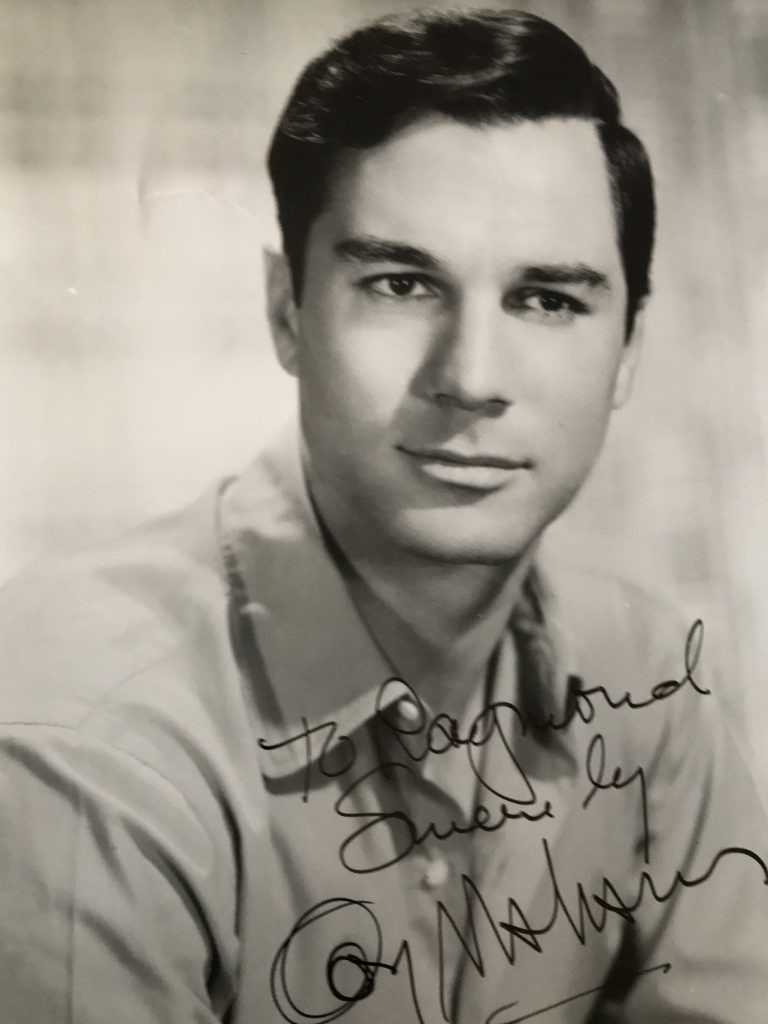 George Maharis. Wikipedia.
George Maharis is best known for his role in the cult TV series of the 1960's "Route 66". He was born in 1928 in Astoria, New York of Greek parentage. He studied at the Actor's Studio and acted on the stage in New York. His fil debut was in 1960 in Otto Preminger's "Exodus". That same year he was cast as Buz Mordock in "Route 66" with Martin Milner. He left the series midway through the third year and was replaced by Glenn Corbett. He made some further movies including in 1964 "Quick Before It Melts", "The Satan Bug" a thriller with Anne Francis, "Sylvia" with Carroll Baker and "A Covenant With Death" with Katy Jurado. He guest-starred in may television series, one of the last was "Murder She Wrote" with Angela Lansbury in 1990.
Gary Brumburgh's entry:
Tall, dark and handsome, not to mention a charismatic rebel of 60s Hollywood, actor George Maharis (real Greek family name is Mahairas) was born in 1928 in Astoria, New York as one of seven children. His immigrant father was a restaurateur. George expressed an early interest in singing and initially pursued it as a career, but extensive overuse and improper vocal lessons stripped his chords and he subsequently veered towards an acting career.
Trained at the Neighborhood Playhouse with Sanford Meisner and the Actor's Studio withLee Strasberg, the "Method" actor found roles on dramatic TV, including a few episodes of "The Naked City," and secured an early name for himself on the late 1950s's off-Broadway scene, especially with his performances in Jean Genet's "Deathwatch" andEdward Albee's "Zoo Story". Producer/director Otto Preminger "discovered" George for film, offering the actor a choice of five small roles for his upcoming film Exodus (1960). George chose the role of an underground freedom fighter.
One of the episodes George did on the police drama "The Naked City" series ("Four Sweet Corners") wound up being a roundabout pilot for the buddy adventure series that would earn him household fame. With the arrival of the series Route 66 (1960), the actor earned intense TV stardom and a major cult following as a Brandoesque, streetwise drifter named Buzz Murdock. Partnered with the more fair-skinned, clean-scrubbed, college-educated Tod Stiles (Martin Milner, later star of Adam-12 (1968)), the duo traveled throughout the U.S. in a hotshot convertible Corvette and had a huge female audience getting their kicks off with "Route 66" and George. During its peak, the star parlayed his TV fame into a recording career with Epic Records, producing six albums in the process and peaking with the single "Teach Me Tonight".
For whatever reason, Maharis left. His replacement, ruggedly handsome Glenn Corbett, failed to click with audiences and the series was canceled after the next season. Back to pursuing films, the brash and confident actor, with his health scare over, aggressively stardom with a number of leads but the duds he found himself in — Quick Before It Melts(1964), Sylvia (1965), A Covenant with Death (1967), The Happening (1967), and The Desperados (1969) prime among his list of disasters — hampered his chances. The best of the lot was the suspense drama, The Satan Bug (1965), but it lacked box-office appeal and disappeared quickly. Moreover, a 1967 sex scandal (and subsequent one in 1974) could not have helped.
Returning to TV in the 70s, George returned to series TV with the short-lived The Most Deadly Game (1970) co-starring fellow criminologists Ralph Bellamy and Yvette Mimieux(who replaced the late Inger Stevens who committed suicide shortly before shooting was about to start). The decade also included a spat of TV-movies including the more notableThe Monk (1969) and Rich Man, Poor Man (1976). In between he appeared in Las Vegas nightclubs and summer stock, and was one of the first celebrities to pose for a nude centerfold in Playgirl (July 1973).
His last years brought about the occasional film, most notably as the resurrected warlock in The Sword and the Sorcerer (1982) and an appearance in the horror thrillerDoppelganger (1993). Maharis' TV career ended with guest parts on such popular but unchallenging shows such as "Fantasy Island" and "Murder, She Wrote".
Maharis' later years were spent focusing on impressionistic painting. He has been fully retired since the early 1990s.
– IMDb Mini Biography By: Gary Brumburgh / gr-home@pacbell.net