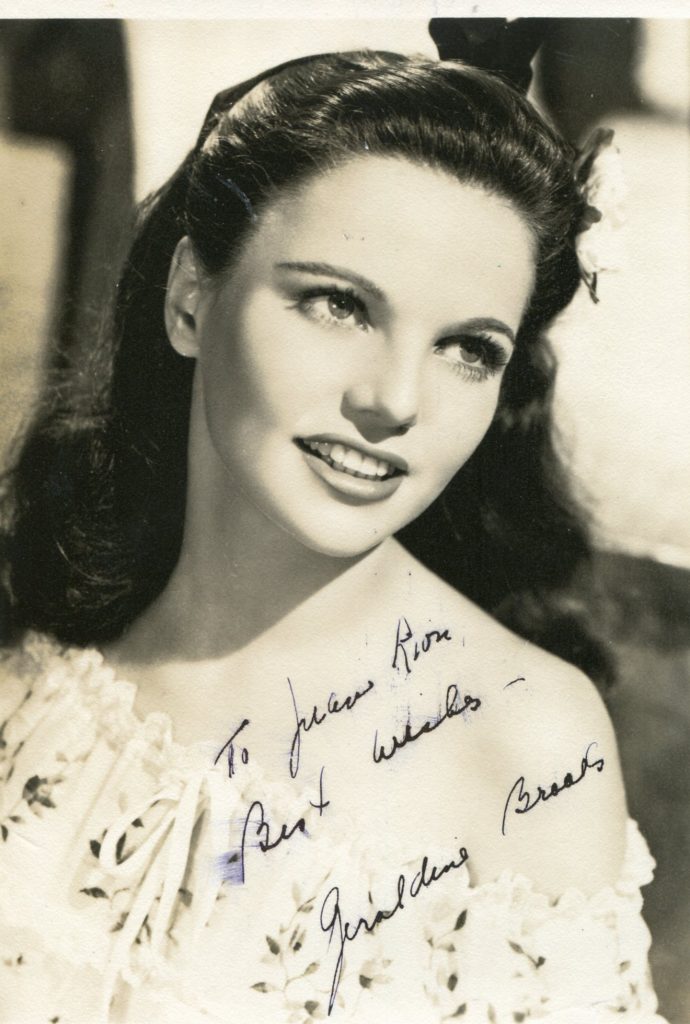 Geraldine Brooks IMDB
Geraldine Brooks was a lovely talented actress who landed a starring role in her first movie. She was born in 1925 in New York City to Dutch parents. She acted for a time on Broadway and then in 1947 went to Hollywood to film for Warner Brothers "Cry Wolf" with Errol Flynn and Barbara Stanwyck. She hel her ground against Joan Crawford in "Possessed" and w ent on to make "Embracable You", "Challenge to Lassie" and "Johnny Tiger" with Robert Taylor in 1966. She was married to author and playwright Budd Schulburg. Geraldine Brooks died in 1977 at the early age of 52.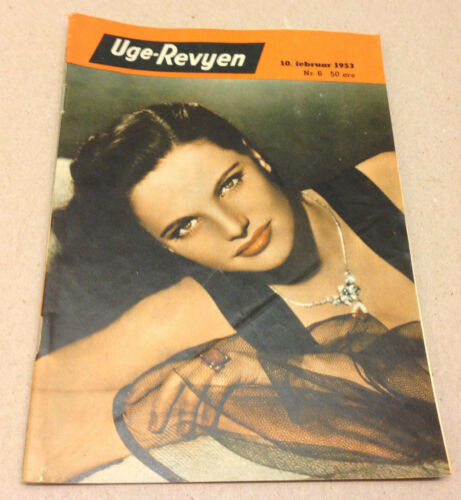 "Hollywood Players : The Forties" by James Robert Parish:
In the flood of new faces at 1940s Warner Brothers there were among others, Dorothy Malone, Joan Leslie, Martha Vickers, Janis Paige, Andrea King, Faye Emerson, Joan Lorring, Geraldine Brooks and Lauren Bacall. Unquestionably Miss Bacall had such a unique screen charisma that she would have surfaced without even the studio support of husband Humphrey Bogart. But how does one account for the non-emergence of Geraldine Brooks, a petite 5ft 2″ blue-eyed brown-haired beauty. She displayed a particularly radiant smile and even more importantly demonstrated such a marvelous ability at powerhouse acting. Had she checked in to the Burbank studio earlier in the 1940s she might just have won the coveted role of Veda in "Mildred Pierce", taking it away from Ann Blyth and established herself as the talented lady she was. Instead Geraldine was cast by the post-World War Two Warners into conventional roles, publicised as just another starlet, subject to over-makeup for the camera, and then dumped by the company in their recession shuffle. It has remained for television to provide her with recurring showcases to exhibit her persistent clear beauty and her know for adding dimension to emotionally framatic roles.
Gary Brumburgh's entry:
A resolute, blue-eyed brunette with attractive, slightly pinched features, Geraldine Brooks was born to a Dutch couple on October 29, 1925, in New York City. Her parents had a theater-based background — father, James Stroock, owned a top costume company and mother, Bianca, was a costume designer and stylist. In dance shoes from age 2, her closer relatives were also extensively involved in theater — one aunt being a former Ziegfeld Follies girl and another a contralto with the Metropolitan Opera. Growing up surrounding by these theatrical types, it was only natural that it rubbed off on her. She attended the Hunter Modeling School as a young teen and graduated from Julia Richman High School in 1942 as president of her drama club. Older sister, Gloria Stroock, also became an actress, primarily on TV.
In New York, Geraldine studied at the American Academy of Dramatic Art and the Neighborhood Playhouse before apprenticing in summer stock productions. In a pre-Broadway tryout of "Follow the Girls" in 1944, Geraldine subsequently went with the show to Broadway in May of that same year and enjoyed a nine-month run. Following her role as "Perdita" in "A Winter's Tale" at the Theatre Guild, she was signed by Warner Bros. and made her film debut promisingly as a second femme lead in the mystery thrillerCry Wolf (1947) starring Barbara Stanwyck and Errol Flynn. At this time, she shunned her odd-sounding last name of "Stroock" in favor of the more complementary marquee name of "Brooks", which was the name of her father's costume company. Playing Flynn's cool, conniving niece who gives trouble to Stanwyck, she gave added suspense to the film. In her second movie, Possessed (1947), she is again at odds with another powerhouse star, this time Joan Crawford, but shows more sensitivity against the manic Crawford character in this film-noir chiller.
Geraldine moved to dramatic lead status with Embraceable You (1948) opposite Dane Clark, and played daughter to real wife-and-husband team Fredric March and Florence Eldridge in An Act of Murder (1948), a drama that dealt with the topic of euthanasia. Less impressive was the standard Warner Bros. "B" western The Younger Brothers (1949) and her MGM loanout appearance in Challenge to Lassie (1949). Floundering a bit at this time and failing to strike a star-making chord with audiences, she attempted a few continental film assignments, one in which she played Anna Magnani's younger sister, but grew quickly disillusioned there as well and returned to America.
Focusing instead on stage and TV, including a Broadway stint in "Time of the Cuckoo" starring Tony-winning Shirley Booth, Geraldine eventually went back to studying acting again. In 1956, she became a member of the Actor's Studio and became a strong exponent of its method style. Despite this renewed, enlightening acting technique, her film career found no momentum at all. In fact, she appeared in only two films in the oncoming years as brittle, harder-core ladies in Street of Sinners (1957) and Johnny Tiger(1966). Her greater notices were to be found guesting on various popular TV series. Particularly noteworthy were her roles on Perry Mason (1957), The Defenders (1961), Bus Stop (1961) (for which she earned an Emmy nomination), the pilot of Ironside (1967) and the last final climactic episode of The Fugitive (1963). A regular as Dan Dailey's secretary on the mildly received Faraday and Company (1973), she also appeared in the 70s episodes of Kung Fu (1972), Cannon (1971), Barnaby Jones (1973) and McMillan & Wife(1971), the last in which sister, Gloria Stroock, had a recurring role as Rock Hudson's secretary.
Geraldine's later theater included her Tony-nominated role in "Brightower" (1970) (despite it closing after only one performance) on Broadway and as wife "Golde" in the musical "Fiddler on the Roof". Her final movie part came in the rather ho-hum crimer Mr. Ricco (1975) alongside Dean Martin. A short-lived series regular as the matriarch of The Dumplings (1976), a rare comedic venture for her, and a stage production of Jules Feiffer's "Hold Me!" in 1977 capped her capable but somewhat unsatisfying career. She deserved much better attention than she got, especially in films. Divorced from TV writerHerbert Sargent after only three years (1958-1961), she married author Budd Schulberg(best known for his screenplay of On the Waterfront (1954)), in 1964. The couple moved to Los Angeles and opened a writers' workshop together for the underprivileged. She also collaborated with Schulberg on the book Swan Watch (1975), a study on the elegant birds in which she also took photographs. In addition, she wrote poetry for children although she herself never had any. Sadly, Geraldine died in 1977 at age 51 of a heart attack while battling cancer, thus depriving the entertainment industry of a valuable talent. She was survived by her husband, mother and sister.
– IMDb Mini Biography By: Gary Brumburgh / gr-home@pacbell.net