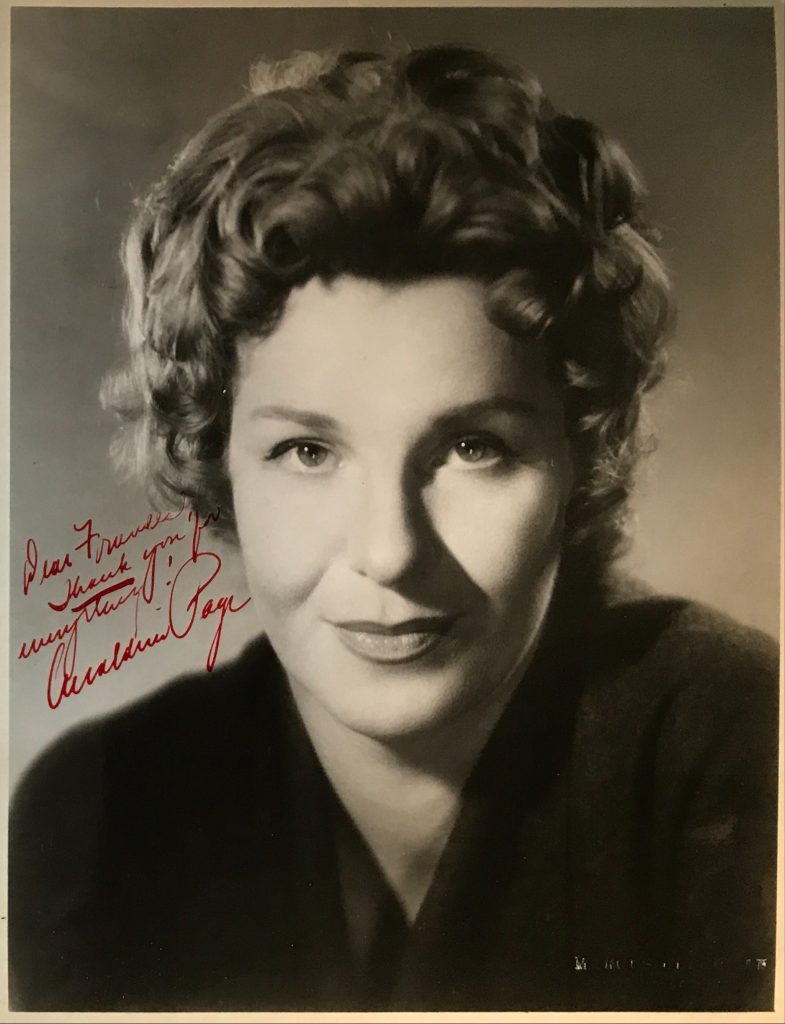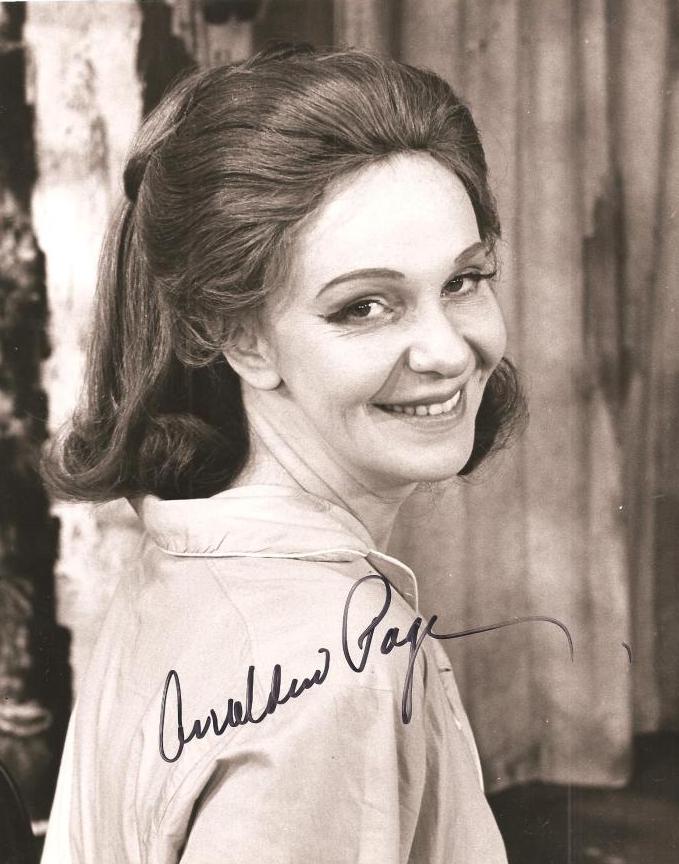 Geraldine Page. TCM Overview.
It can only be a matter of surmise how Geraldine Pge might have fared on screen in the days of long-term contracts and build-ups. As it happens she was there . fleetingly in the old days and nothing much did happen to her. She returned intermittently once her Broadway demonstrated her ability. She was a star of the new breed, working in films, TV and the theatre, ith no great fuss about status" – David Shipman – "The Great Movie Stars – The International Years" (1972).
Geraldine Page was born in 1924 in Kirksville, Missouri. She trained in method acting with Lee Strasberg. She is a reknowned interpreter of the work of Tennessee Williams and won rave reviews for her performance in the Boradway 1952 production of "Summer and Smoke" as Alma, a role she repeated in the 1962 film adaptation with Laurence Harvey. Her movie breakthrough role had been in "Hondo" with John Wayne in 1953. Her other films include "Sweet Bird of Youth", "Dear Heart" with Glenn Ford and Angela Lansbury, "The Beguiled" with Clint Eastwood, "The Pope of Greenwich Village" and "The Trip to Bountiful" for which she won the Oscar. Geraldine Page died suddenly in New York in 1987 while appearing in "Blithe Spirit". Her husband was actor Rip Torn.
TCM Overview: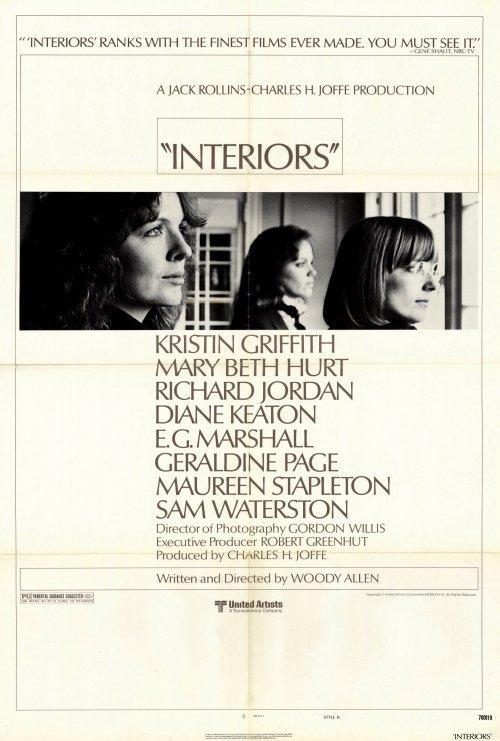 Described by playwright Tennessee Williams, whose troubled heroines she often portrayed on stage and screen, as "the most disciplined and dedicated of actresses," Geraldine Page burst upon the NYC theatrical scene as the Southern spinster hoping for one last chance at love in a highly celebrated 1952 revival of Williams' "Summer and Smoke", which put both Page and off-Broadway on the map. On the strength of that performance, she secured roles in two movies released in 1953, "Taxi" and "Hondo", receiving her first of eight Oscar nominations for her supporting turn as an abandoned ranch wife who falls for John Wayne in the latter.
Despite this formidable introduction to movies, Page returned to her first love to make her Broadway debut in "Midsummer" in 1953. The following year, she appeared in Broadway productions of "The Immoralist" (with James Dean and Louis Jordan) and "The Rainmaker" (opposite Darren McGavin). No great beauty, Page displayed an unparalleled repertoire of tics and mannerisms that sometimes marred otherwise fine performances and other times enhanced them. After an eight-year absence from features, Page's highly-strung, eccentric persona finally broke through in the 1961 film version of her star-making "Summer and Smoke", which she followed by reprising her Broadway success as Williams' fading screen star Alexandra Del Lago in "Sweet Bird of Youth" (1962), earning back-to-back Best Actress Oscar nominations.
Offered the female lead in Edward Albee's "Who's Afraid of Virginia Woolf?" on Broadway in the 60s, the Method-trained Page insisted that Lee Strasberg be present during the rehearsals, a demand which cost her the role and branded her with the reputation as somewhat difficult. Choosy about what parts she accepted, Page frequently turned down work that did not suit her taste. Her forte was sexually guarded and/or repressed women or women who just hadn't had a chance at the brass ring, and her ability to project the deep emotions of these characters guaranteed her standing as one of the best actresses of her generation. Brilliant as the spinster sister whose love for brother Dean Martin borders on the incestuous in "Toys in the Attic" (1963), she was a desperate wooer of Glenn Ford in "Dear Heart" (1965) before earning her fourth Oscar nomination (as Best Supporting Actress) as the doting mother (opposite husband Rip Torn) of Peter Kastner in Francis Ford Coppola's "You're a Big Boy Now" (1966). Memorable (and Oscar-nominated) for her no-holds barred, comic fight with friend Carol Burnett in "Pete 'n' Tillie (1972), she also contributed a performance of exquisite, enclosed self-pity to Woody Allen's first dramatic effort, the Bergmanesque "Interiors" (1978), earning her third Academy Award nomination as Best Actress.
Like many New York actors, Page was a regular performer during television's Golden Age in the 50s, but she became more selective regarding small screen roles after her movie career took off. She played Xantippe in NBC's "Hallmark Hall of Fame" adaptation of Maxwell Anderson's Pulitzer Prize-winning play "Barefoot in Athens" (1966), about the early days of Socrates, and a month later delivered an Emmy-winning performance as Aunt Sookie in ABC's "A Christmas Memory" (adapted from the story by Truman Capote), a role she would reprise for "A Thanksgiving Visitor" (ABC, 1968) earning a second Emmy Award. She appeared infrequently during the 70s (i.e., "Live Again, Die Again" ABC, 1974; "Something For Joey" CBS, 1977) but stepped up her output considerably during the 80s, acting in acclaimed vehicles like the miniseries "The Blue and the Gray" (CBS, 1982) and "The Dollmaker" (ABC, 1984). She also portrayed Sally Phelps in the "American Playhouse" presentation of "Adventures of Huckleberry Finn" (PBS, 1986) and closed out her TV career impressively as a concentration camp survivor in "Nazi Hunter: The Beate Klarsfield Story" (ABC, 1986).
Despite her screen success, Page never turned her back on the theater. She was a great proponent of off-Broadway and regional theater, appearing throughout her career with repertory companies like the Academy Festival Theatre (Lake Forest, Illinois), where she was able to play another choice Williams' role in 1974, that of Blanche in "A Streetcar Named Desire". She performed in two Actors Studio productions ("Strange Interlude" 1963 and "Three Sisters" 1964, which was filmed) and continued to appear on Broadway in such productions as "Black Comedy" (1967), "Absurd Person Singular" (1974) and "Agnes of God" (1982). She smoked like a chimney for her Oscar-nominated role as the mother of a slain policeman in "The Pope of Greenwich Village" (1984) and finally took home a Best Actress statue for "A Trip to Bountiful" (1985), luminously portraying an elderly woman who fulfills her fervent desire of visiting the small Texas town of her youth. Page capped her big screen career as the maid of the house in which Bigger Thomas goes to work in "Native Son" (1986) and was appearing on Broadway as the eccentric medium Madame Arcati in a revival of Noel Coward's "Blithe Spirit" at the time of her death.
The above TCM overview can also be accessed here.