Gina McKee
Gina McKee was born in 1964 in Durham. She made her film debut in 1988 in "The Lair of the White Worm". In 1996 she made a strong impression in the excellent television series "Our Friends From the North" with Mark Strong and Daniel Craig. Her other films include "Croupier", "Notting Hill" and "The Blackwater Lightship" with Angela Lansbury. She played Irene in the re-make of the series "The Forsyte Saga".
TCM Overview:
Actress Gina McKee lent an ethereal presence to dozens of British film and television projects over the course of a three-decade career, including the award-winning "Our Friends in the North" (BBC 1996), "Notting Hill" (1996), "Divine Secrets of the Ya-Ya Sisterhood" (2002) and numerous episodic series. The daughter of a coal miner, McKee began acting on television, and proceeded directly into guest roles without any actual dramatic training. Her striking visage and thoughtful performances attracted the attention of major directors like Mike Leigh ("Naked," 1993), Mike Hodges ("Croupier," 1998), Michael Winterbottom ("Wonderland," 1999) and writer Richard Curtis, who provided McKee with her biggest project to date in "Notting Hill." McKee remained an in-demand presence on UK features and in television, which underscored her status as one of the British entertainment industry's most respected if somewhat unsung talents.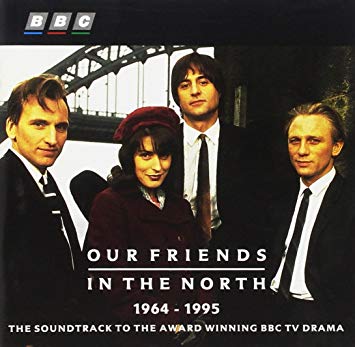 Born Georgina McKee on April 14, 1964 in the English mining town of Peterlee, County Durham, Gina McKee was descended from a long line of coal miners, which included her father. A teacher who encouraged her students to experiment with improvisation introduced her to acting in primary school. Later, as a teenager, she joined a local drama group run by theater director Ros Rigby, which led to appearances in various plays. A talent scout of Tyne Tees, the ITV television franchise for North East England, spotted McKee during one of the group's productions and cast her in a children's adventure series called "Quest of Eagles" (Tyne Tees Television, 1979). From there, she spent three summers with the National Youth Theatre before applying to study at the Bristol Old Vic Theatre School, the London Academy of Music and Dramatic Art and the Central School of Speech and Drama. Though all three schools rejected her, she had earned her Equity card from "Quest of Eagles" and began appearing on UK television and in features.
McKee worked steadily in bit and supporting roles throughout the 1980s and 1990s, most notably in Ken Russell's psychedelic horror fantasy "The Lair of the White Worm" (1988) and Mike Leigh's intense drama "Naked" (1993). Three years later, she earned her breakout role in the TV drama "Our Friends in the North," which followed four friends over three decades of turbulent British history. The film established all four of its stars – McKee, Daniel Craig, Christopher Eccleston and Mark Strong – as major talents and earned McKee Best Actress Awards from both the BAFTAs and Royal Television Society Awards. She soon divided her time between television and feature efforts, earning strong critical praise for her performances in the satirical news program "Brass Eye" (Channel 4 1997-2001) and as Clive Owen's neglected girlfriend in the noirish "Croupier" (1998) for director Mike Hodges. In 1999, McKee was introduced to international audiences as the paraplegic lawyer Bella in "Notting Hill." Despite that film's blockbuster status, McKee remained a fixture of English drama, enjoying character roles in such acclaimed efforts as an adaptation of "The Forsyte Saga" (ITV/WGBH 2002-03), the Oscar-nominated drama "Atonement" (2007), blackly comic satire "In the Loop" (2009) and "The Borgias" (Showtime 2011-2013) as the fierce Catherine Sforza. In 2012, she made a rare return foray to comedy in the series "Hebburn" (BBC Two 2012- ) as the mother of a young man who marries a middle-class Jewish girl during a drunken spree in Las Vegas.
The above TCM overview can also be accessed online here.