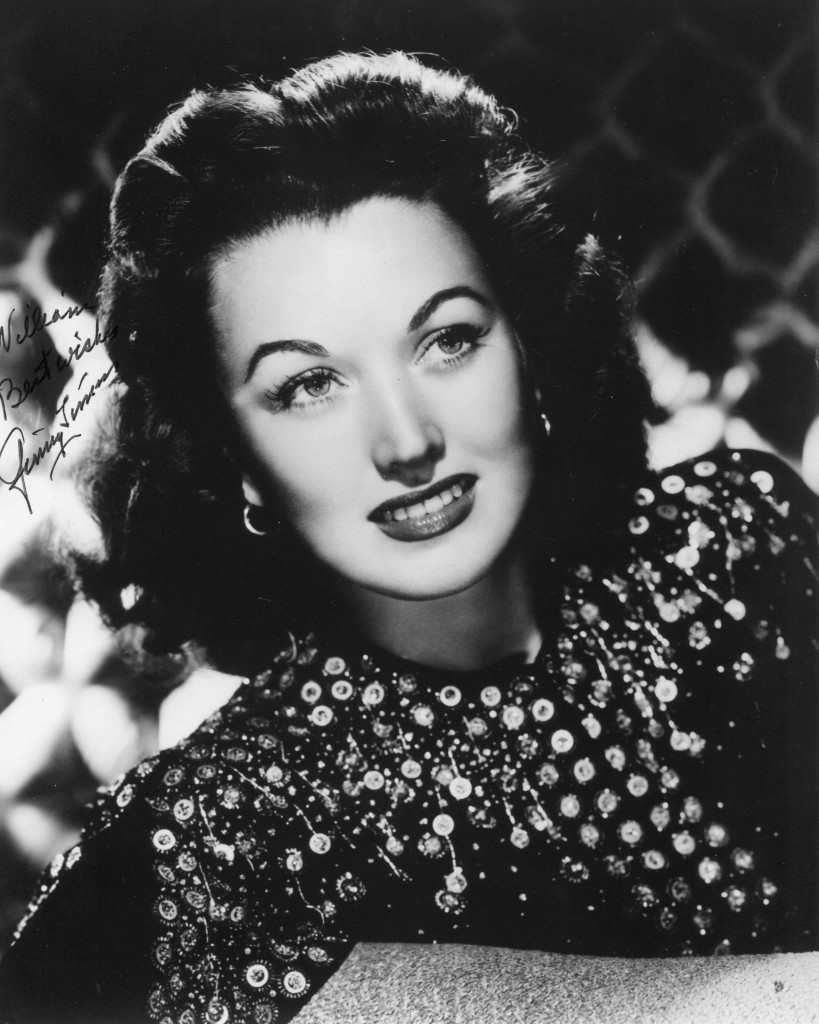 Ginny Simms was born in 1915 in San Antonio ,Texas.   She was a big band singer who also acted on film.   Her films include "Here We Go Again" with Edgar Bergen and Charlie McCarthy, "Hit the Ice" with Abbott and Costello and "Night and Day" with Cary Grant, Alexis Smith and Dorothy Malone in 1946.   S
War-era songstress Ginny Simms was born Virginia Simms on May 23, 1913, in Texas but was raised in California, which accounts for her lack of a Southern accent in her speaking/singing voice. Though she studied piano as a child, it was her vocal gifts that launched her career, which started when she formed a singing trio while studying at Fresno State Teachers College. Ginny was performing at a club in San Francisco when she was heard by bandleader/radio star Kay Kyser. She became his featured singer and the big attraction of Kay Kyser's Kollege of Musical Knowledge, a comedy revue done in the style of a quiz show with music. They also became a romantic item. In addition to radio, she kept busy recording swing and pop albums.
After Ginny broke into films as a guest vocalist in three of Kyser's films for RKO–That's Right – You're Wrong (1939), You'll Find Out (1940) and Playmates (1941), she decided to stay in Hollywood, abandon the tour scene with Kyser, and seek solo fame and fortune. Kyser would replace Ginny with Georgia Carroll both professionally and personally and they later married. Ginny earned her own popular radio show and involved herself deeply in the war effort, earning praise for her tireless work. Some of her well-known recordings (with and without Kyser) include "Deep Purple," "Indian Summer," "I'd Like to Set You to Music," "I Can't Get Started," "I Love Paris," and "Stormy Weather." A dazzling beauty with high cheekbones and megawatt smile, Ginny seemed made for the screen. She co-starred with Bud Abbott and Lou Costello in one of their earlier and funniest comedies, Hit the Ice (1943), and scored some important second-lead roles over at MGM with Broadway Rhythm (1944) with George Murphy and Gloria DeHaven, in which she played a movie star who sang "All the Things You Are," and the Cole Porter biopicNight and Day (1946) starring Cary Grant and Alexis Smith, in which she sang some of Porter's best loved standards ("I've Got You Under My Skin," "Just One of Those Things," "I Get A Kick Out of You" and "You're the Top"), but her career lost momentum rather quickly (the story at the time was that she had turned down a marriage proposal by newly divorced MGM head Louis B. Mayer, who retaliated by immediately dropping her contract at the studio).
Ginny left Hollywood altogether in 1951 and her recording career ended not long after. She subsequently retired and ran a travel agency for a time while developing an interest in interior decorating (her first husband, Hyatt Dehn, was the man who started the Hyatt Hotel chain, for which she did much of the interior decorating). She also was involved in real estate with third husband Donald Eastvold. The mother of two sons from her first marriage, Ginny died of a heart attack in 1994 at age 78.
– IMDb Mini Biography By: Gary Brumburgh / gr-home@pacbell.net
She died in 1994.
Gary Brumburgh's entry: