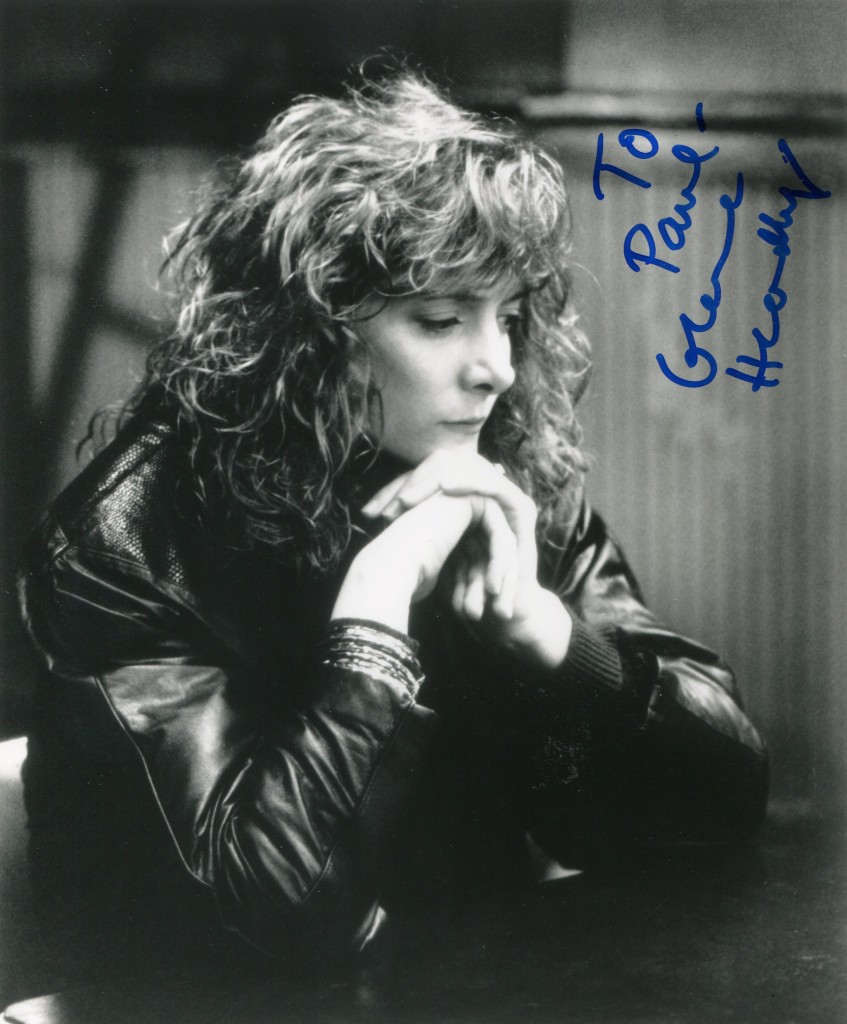 Glenne Headly was born in 1955 in Connecticut. She joined the reknowned Steppenwolf Theatre in Chicago and acted in such plays as "Waiting for Lefty" and "Loose Ends". On film she was featured in such films as "Mr Holland's Opus" and "2 Days in the Valley".
TCM Overview:
A versatile presence in features and television since the late 1980s, actress Glenne Headly moved from broad comedies like "Dirty Rotten Scoundrels" (1989) to action epics like "Dick Tracy" (1990) and character-driven fare like "Mortal Thoughts" (1992) with effortless believability that netted her two Emmy nominations over the course of a multi-decade career on screen. An acclaimed stage actress in Chicago, she won praise and awards for her work on and off-Broadway before segueing into movies and television, with her big break coming in 1989 and 1990 with "Scoundrels," "Dick Tracy" and an Emmy nod for "Lonesome Dove" (CBS, 1989). Headly was best used in sympathetic character parts, where her soft voice and expressive features drew audiencesâ¿¿ attention in projects like "Bastard Out of Carolina" (Showtime, 1996) and "On Golden Pond" (CBS, 2001). The birth of her son in 1997 slowed her output somewhat, but she remained a reliable presence in independent films and television for the next decade, which preserved her status as one of the most dependable character talents in the business.
Born Glenne Aimee Headly in New London, CT on March 13, 1955, she spent her first years shuttling between her motherâ¿¿s home in San Francisco and her maternal grandmother in Pennsylvania. Headly eventually settled with her mother in Greenwich Village during her elementary school years, which were filled with introductions to the arts and classes for gifted students. Acting took prominence among her many interests, and she soon graduated with honors from the High School of Performing Arts. Rather than immediately devote herself to a four-year drama program in college, Headly traveled to Switzerland to study at an American College to study literature and art history while gaining valuable life experience. After graduation, she relocated to New York City to study drama at the Herbert Berghof Studios, but a chance trip to Chicago introduced her to the cityâ¿¿s thriving theater scene. Headly joined the New Works Ensemble at the St. Nicholas Theatre before joining the famed Steppenwolf Theatre Company for a production of Sam Shepardâ¿¿s "Curse of the Starving Class." Her co-star was actor John Malkovich, whom she would marry in 1982. While in Chicago, she would earn four Joseph Jefferson Awards for performances between 1980 and 1985 while earning her Actors Equity Card. In 1981, she landed her first screen role in Arthur Pennâ¿¿s low-key character drama "Four Friends."
In 1985, she returned with Malkovich to New York, where she appeared in several well-regarded productions, including revivals of "The Philanthropist," which earned her a Theatre World Award, and "Balm in Gilead" with Steppenwolf. Her film and television career soon expanded from bit roles in Woody Allenâ¿¿s "The Purple Rose of Cairo" (1985) to sympathetic character turns in "Seize the Day" (PBS, 1987) opposite Robin Williams and Susan Seidelmanâ¿¿s "Making Mr. Right" (1987) with Malkovich. A steady stream of supporting roles preceded her breakout part in "Dirty Rotten Scoundrels" (1989), a wry remake of "Bedtime Story" (1964), with Steve Martin and Michael Caine as international con men who meet their match in Hedleyâ¿¿s seemingly naïve heiress. That same year, she earned an Emmy nomination as Elmira Johnson, the cold-hearted wife of Chris Cooperâ¿¿s ill-fated sheriff, in the miniseries "Lonesome Dove" (CBS, 1989).
Her knack for both sly comedy and convincing drama attracted the attention of director Warren Beatty, who cast her as Tess Trueheart, long-suffering girlfriend to comic strip hero Dick Tracy, in his big-budget 1990 film adaptation. The heights of the filmâ¿¿s success were somewhat dampened by her divorce from Malkovich that same year, though she quickly rebounded with a co-starring turn opposite Demi Moore in Alan Rudolphâ¿¿s thriller "Mortal Thoughts," as an abused wife who allegedly conspired to dispatch her abusive husband (Bruce Willis) with the help of a friend (Willisâ¿¿ then-spouse, Demi Moore). After playing real-life physician and scientist Mary Guinan, who was an integral part of early research into AIDS, in the HBO drama "And the Band Played On" (1993), Headly met her second husband, electrical grip and editor Byron McCulloch, on the set of the Canadian drama "Ordinary Magic."
Headly would enjoy a long spate of appearances in features like "Mr. Hollandâ¿¿s Opus" (1995), as Richard Dreyfussâ¿¿ faithful wife, and Anjelica Huston's "Bastard Out of Carolina" (Showtime, 1996), which earned her a second Emmy nomination as the kindly aunt of an abused child. During this period, she also appeared in the third season of "ER" (NBC, 1994-2009) as pediatrician Dr. Abby Keaton. In 1997, she gave birth to a son, who became the focus of Headly's life; projects were chosen based on whether they were filmed near the familyâ¿¿s home, or if they took place during summer vacations or school breaks. Though her appearances were fewer, they remained substantive. She was a thinly veiled version of actress and saloon owner Texas Guinan, who funneled Broadway gossip to columnist Walter Winchell (Stanley Tucci), in the HBO biopic "Winchell" (1998), then returned to the stage after a 10-year absence to co-star with Miranda Richardson in a London production of "Aunt Dan and Lemon" in 1999. Because she was a fan of the TV series, she also made an uncredited cameo as a bartender who cuts off Agent Mulder (David Duchovny) in the successful film adaptation of "The X-Files: Fight the Future" (1998).
On television, she played Christopher Plummer and Julie Andrewsâ¿¿ daughter in a live adaptation of "On Golden Pond." There were also brief stints as a series regular on "Encore! Encore" (NBC, 1998) as the sister of vain opera star Nathan Lane, and a recurring turn as Tony Shalhoubâ¿¿s environmentally conscious ex-wife on "Monk" (USA, 2002-09). In 2003, she starred with David Hyde Pierce in a Los Angeles production of "The Guys," then traveled that same year to Ireland to appear in the one-woman play, "My Brilliant Divorce." Headly soon balanced regular work as maternal figures in Hollywood product like "Confessions of a Teenaged Drama Queen" (2004) and "Kit Kittredge: An American Girl" (2008) with edgier work in independent features like "The Amateurs" (2005), Mira Nairâ¿¿s "The Namesake" (2007) and "The Joneses" (2010), which reunited her with her "Mortal Thoughts" co-star, Demi Moore.
IMDB entry:
For the past fourteen years, she has said that family has been the most important thing to her and she has set most of her time aside to be a "present" mother to her son. Movies, plays and television are chosen, for the most part, when they occur in town or on a school break. She has taken the current year to homeschool her son for his seventh grade. But it wasn't always this way. She was raised in New York City and wanted to be an actress from the time she was a child, graduating with acting honors from the High School of Performing Arts. She chose to opt out of studying acting in college and attended a small college in Europe, majoring in art history and literature, knowing that acting would take up a great deal of her life and that her college years would be her only real time to learn about something else. Upon graduation, she returned to New York City but a chance trip to Chicago inspired her to move there and become a part of its budding theatre community. It was in a production of "Curse of The Starving Class", directed byRobert Falls and co-starring John Malkovich, that she was first seen by the Steppenwolf Theatre Company and, subsequently, asked to join their troupe. She did and learned what it really was to be an actress on her feet, performing in all kinds of roles in both comedy and drama. During this time, she won four Joseph Jefferson awards for best supporting actress.
With a return move to New York, she received a Theatre World Award for "best newcomer" for her role in "the Philanthropist" at the Manhattan Theatre Club and appeared in "Extremities" with Susan Sarandon. This was followed by her appearance in the very successful Steppenwolf production in New York of "Balm in Gilead". She then starred on Broadway opposite Kevin Kline and Raul Julia in "Arms & the Man", directed byJohn Malkovich, her husband at the time. She was cast in several smaller films includingNadine (1987), Making Mr. Right (1987) and Paperhouse (1988) as well as Lonesome Dove (1989) for television for which she received her first of two Emmy nominations for best supporting actress. But her breakout film performance was in Dirty Rotten Scoundrels (1988), in which she played the cunning "victim", who gets the best of con artists Michael Caine and Steve Martin. This led to her being cast in the blockbuster comic strip parody, Dick Tracy (1990), in which she portrayed the girlfriend, "Tess Trueheart", to Warren Beatty's lead.
She went on to appear in the films Mr. Holland's Opus (1995) opposite Richard Dreyfuss,Mortal Thoughts (1991) opposite Demi Moore, 2 Days in the Valley (1996), What's the Worst That Could Happen? (2001), Breakfast of Champions (1999), Around the Bend(2004) and Confessions of a Teenage Drama Queen (2004).
On television, she had a recurring part on ER (1994) and Monk (2002) and was in the short-lived sit-com Encore! Encore! (1998) with Nathan Lane and Joan Plowright. She was in the live theatrical presentation of "On Golden Pond" as the troubled daughter ofChristopher Plummer and Julie Andrews and also appeared in the telefilms Women vs. Men (2002), My Own Country (1998) and Pronto (1997), among others. She received her second Emmy nomination for best supporting actress for Bastard Out of Carolina (1996), directed by Anjelica Huston.
Her most recent appearances were in the films The Amateurs (2005) (aka "The Amateurs"), The Namesake (2006), Comeback Season (2006), Kit Kittredge: An American Girl (2008) and The Joneses (2009).
– IMDb Mini Biography By: Tony Trujillo
The above IMDB entry can also be accessed online here.