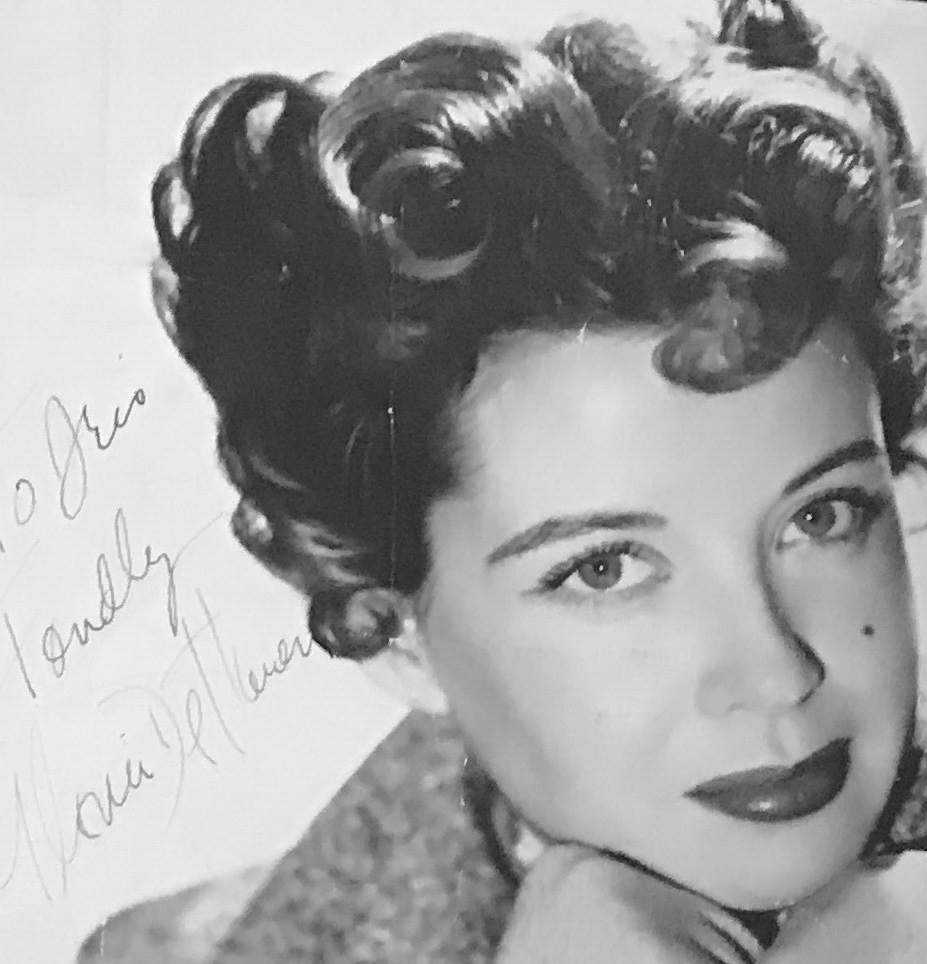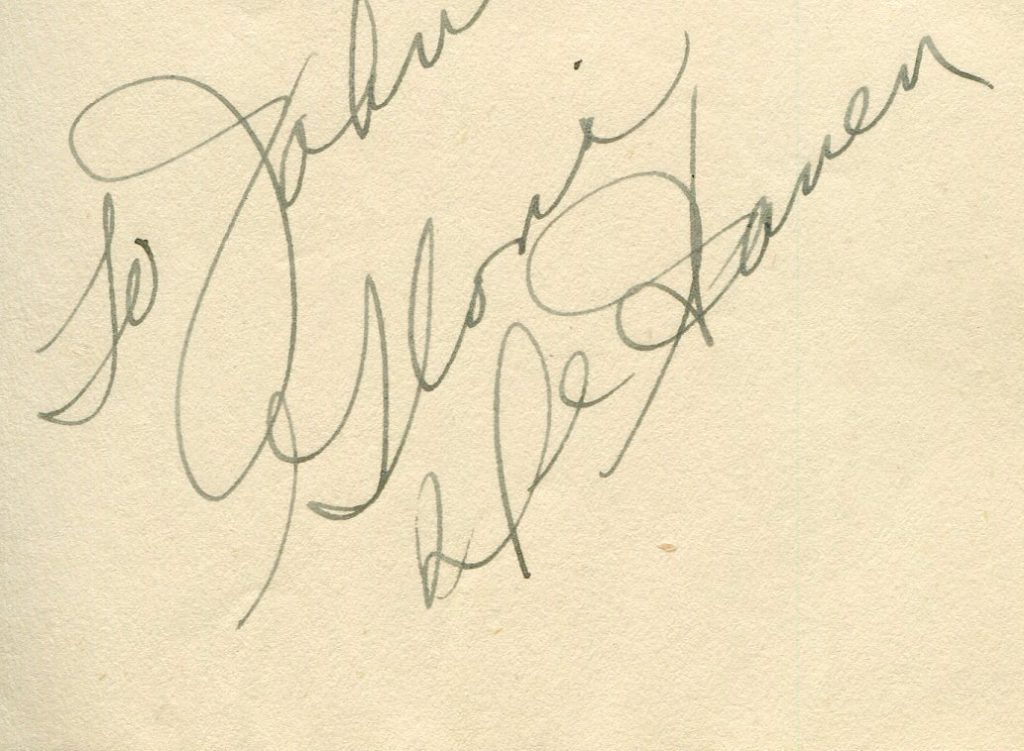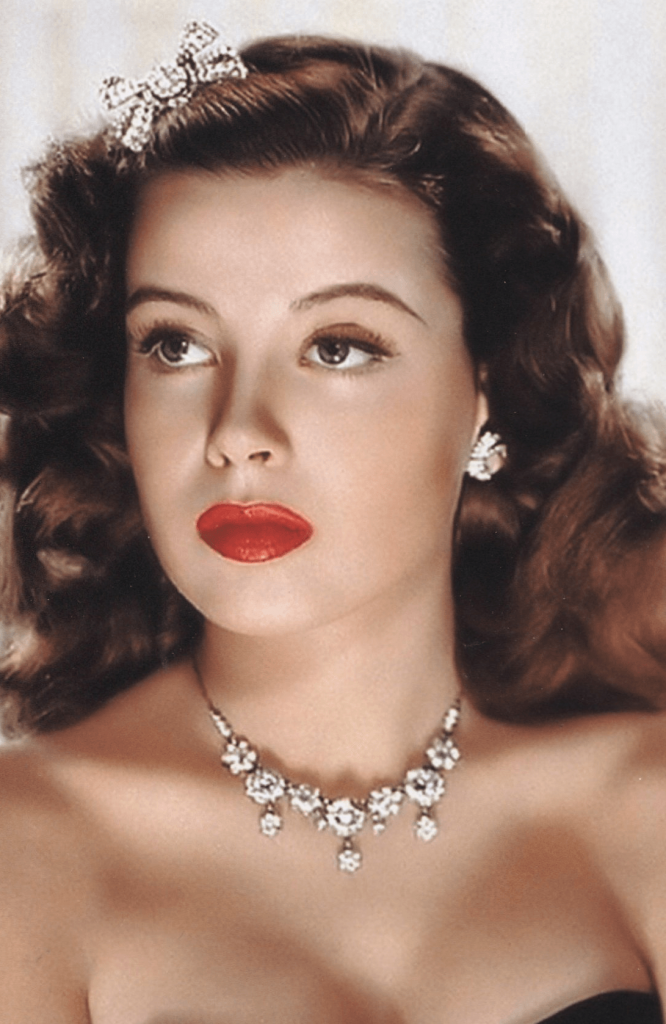 Gloria DeHaven was born in 1925 in Los Angeles. She starred in movies with MGM including "Summer Stock" in 1950 with Judy Garland and Gene Kelly and "Three Little Words" with Fred Astaire. She died in 2016.
TCM Overview:
Gloria DeHaven never made it to the front ranks of film stardom and none of her credits can be considered a major classic, but she was in her own modest way one of the signature perky soubrettes of the 1940s, a hometown sweetheart for many GIs. A good singer and a highly vivacious screen presence, her career has had its ups and downs, but TV and stage work and the very occasional film have nonetheless kept her busy for over half a century.
Ronald Bergan's "Guardian" obituary:
Gloria DeHaven, who has died aged 91, was a cherished but minor member of a glittering roster that made the MGM musical into one of the glories of Hollywood in the 1940s and 50s. Attractive, with a pleasant singing voice, DeHaven remained the studio's favourite ingenue for more than a decade, almost her entire screen career.
Besides being frequently called upon to play the star's sister, DeHaven had the distinction of being the first woman to kiss Frank Sinatra on screen which, according to one critic, "sent thousands of bobbysoxers into swoons". It happened in Step Lively (1944), where DeHaven played a showgirl who falls for Sinatra's shy singer-playwright.
DeHaven could be said to have been born in the proverbial trunk (in Los Angeles) as her parents, Carter DeHaven and Flora Parker, were popular vaudevillians. Gloria paid homage to her mother by impersonating her in Three Little Words (1950), warbling Who's Sorry Now? in an anachronistic style. Carter DeHaven also appeared in silent movies and assisted Charlie Chaplin in Modern Times (1936), in which the 11-year-old Gloria appeared as an extra. She was an extra again in Chaplin's The Great Dictator and had a small speaking role in Susan and God, both in 1940.
Before singing on screen, DeHaven had made a name as a vocalist from the age of 14 with the Muzzy Marcellino, Bob Crosby and Jan Savitt big bands. In 1943, MGM signed DeHaven and June Allyson (another band singer), giving them a "speciality number" in the all-star Thousands Cheer, in which they sweetly sang In a Little Spanish Town in contrast to the stentorian rendering by the taller, deadpan Virginia O'Brien, whom they flanked.
In the same year, Allyson and DeHaven were together again as college kids in Best Foot Forward, with the latter having some of the wittiest lines. Variety thought she "grooves nicely in a supporting role". Playing sisters, June and Gloria then took the title parts, with Van Johnson, in Two Girls and a Sailor (1944), though DeHaven had less to do than Allyson and ended up with dull Tom Drake. As producer George Murphy's sister in Broadway Rhythm (1944), she sang Pretty Baby delightfully with the old-timer Charles Winninger. Arguably her best film was Rouben Mamoulian's glowing Summer Holiday (1948) in which she played Mickey Rooney's well-scrubbed girlfriend Muriel; they were charming together in the vibrant song- and-dance routine You Mustn't Be Afraid to Fall in Love, and she launches the exuberant number The Stanley Steamer.
In Yes, Sir, That's My Baby (1949), she finally got to play a wife and mother, leaving Donald O'Connor to babysit while she is studying at college. Almost four decades later, DeHaven and O'Connor, in the role of a dance host on a cruise ship, appeared together in Out to Sea (1997). The former soubrette plays the part of Vivian, an attractive 71-year-old widow and former book editor, who attracts the attention of Jack Lemmon.
DeHaven left MGM after playing farmer Judy Garland's stagestruck sister in Summer Stock (1950), moving on to 20th Century Fox, where she was cast as June Haver's sister in I'll Get By (1950), and in Down Among the Sheltering Palms (1953), on a Pacific island, giving a spirited rendition of All of Me. At Universal, in So This Is Paris (1955), she was glamorous as an American in the city posing as a Frenchwoman and singing I Can't Give You Anything But Love in French.
But with the demise of the classic Hollywood musical, DeHaven left films in 1955 for Broadway, where she and Ricardo Montalban, as Parisian dance-hall girl and sewer worker respectively, led a huge cast in Seventh Heaven, an ill-fated musical version (it ran for six performances) of the 1927 Janet Gaynor silent film classic. After retiring for a number of years, she guested in dozens of TV series and soap operas, but her return to films was rather inglorious, particularly in an ultra-cheap horror flick aptly titled Bog, made in 1978 but released in the US in 1984, though she showed some versatility in a double role.
In 1989, she relaunched her career as a cabaret singer at the Rainbow & Stars in New York, where she sang songs from her Hollywood days and talked of her vaudevillian parents. She also appeared in a show called Palm Beach Follies.
DeHaven was married four times. Her first husband was John Payne, another star of the golden era of film musicals; her second the real estate developer, Martin Kimmel; and her third Richard Fincher, whom she divorced in 1963, remarried in 1965 and divorced again in 1969. She is survived by a son and daughter from her marriage to Payne and a son and daughter with Fincher.
• Gloria DeHaven, actor and singer, born 23 July 1925; died 30 July 2016