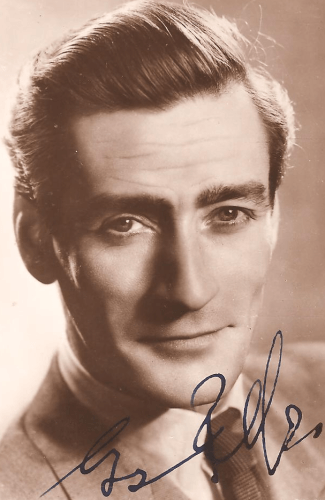 Guy Rolfe was a very tall, lean-featured English actor who enjoyed a lengthy career on film both in Britain and in Hollywood. He was born in Kilburn, London in 1911. His screen debut was in 1937 in "Knight Without Armour". He was particularily good at sneering villians and can be seen to good effect in "The Drum", "Hungary Hill","The Spider and the Fly", "Oddman Out", "Ivanhoe" and "Mr Sardonicus" in 1962. At the age of 80 his acting career got a major lease of life with his portryal of Andre Toulan in the "Puppetmaster" movies which began for him in 1991 with "Puppetmaster 3 – Toulans Revenge" and continued until Puppet Master 5″ in 1994. Guy Rolfe died in London in 2003.
Ronald Bergan's "Guardian" obituary:
Among screen villains, one of the most hissable was Guy Rolfe, who has died aged 91. Often sporting a goatee-beard Rolfe, with his aquiline nose, gaunt and saturnine appearance, had something of the night about him. Although most of the roles he played were irredeemable baddies with little room for nuance, Rolfe was able to bring some dash and plausibility to them.
If he had not gone sinister in the 1950s, Rolfe might have continued in British films as another character actor playing staunch officers, kindly doctors and dependable policemen. He first shone in Robert Hamer's atmospheric thriller The Spider And The Fly (1949) as a master thief turned spy.
He played a few romantic leads which might have been more convincingly taken by Stewart Granger or Dennis Price. In Prelude To Fame (1950), he was a philosophy professor who discovers an Italian boy who is a musical genius (Jeremy Spencer), only to regret the negative results of what fame has done to his protegé. Dance Little Lady (1952) saw him as a doctor falling for ballet dancer Mai Zetterling, whom he helps to walk again after an accident.
It was Hollywood, in the tradition of using British actors as well-spoken nasty types, which brought out Rolfe's evil side. It started with him cast as the sinuous Prince John pitted against Robert Taylor's Ivanhoe (1952). He had a lip-smacking moment when he condemned Elizabeth Taylor's Rebecca as a witch who was to be burned at the stake.
Rolfe did not actually get to Hollywood because the epic was mostly shot at Boreham Wood Studios. But the following year, he capitalised on his new wickedness by getting cast as the cunning Ned Seymour in Young Bess, filmed at MGM's Culver City Studios, and then browning-up as wily oriental characters in two examples of Hollywood exotica: King Of The Khyber Rifles in which Rolfe is Karram Khan, a rebel tribesman causing problems for British officer Tyrone Power, and Veils Of Bagdad as Kasseim, an evil vizier plotting against beefy Victor Mature.
Actually Rolfe was as British as they come. He was born in north London and after education at a state school, became a professional boxer and then a racing-car driver before deciding, aged 24, to take up acting. After provincial repertory came his walk-on film debut in Jacques Feyder's Knight Without Armour (1937).
After the second world war, Rolfe was offered the role of the consumptive retired army officer who falls in love with a dying fellow patient (Jean Simmons) in Sanatorium, the last of the Somerset Maugham stories in Trio (1950), but ironically had to pull out when he himself contracted TB.
Rolfe, who was always elegantly dressed, and would often arrive at the studios in his chauffeur-driven Rolls-Royce, overcame his illness and continued to be in demand into his 80s, when he gathered a cult following of fans of schlocky slasher movies. This new lease of life came about in 1987, when the director Stuart Gordon tracked Rolfe down to Spain, where the actor had retired since the early 1970s, to appear in his film Dolls.
Gordon had remembered Rolfe from a low-budget William Castle shocker, Mr Sardonicus (1961). As Sardonicus, a decadent 19th-century aristocrat whose face has frozen into a hideous grin as a result of a frightening experience, Rolfe kidnaps Audrey Dalton to compel her surgeon lover, Ronald Lewis, to operate on his face.
In Dolls, Rolfe is benign in comparison as an aged doll-maker who lives with his wife in a gloomy mansion. In typical "old dark house" fashion, a number of strangers seek refuge from a storm. As the night progresses, the dolls come to life to take revenge on those who are mean and no longer children at heart.
The film led to his role as the insane puppeteer Andre Toulon, in a series of six Puppet Master movies, the last of which appeared in 1999. In this Rolfe managed to bring dignity and credibility to the thoroughly dislikable character who manipulates living dolls to do his bidding.
Rolfe is survived by his second wife, Margaret Allworthy.
· Guy (Edwin Arthur) Rolfe, actor, born December 27 1911; died October 19 2003
The above "Guardian" obituary can also be accessed online
here.