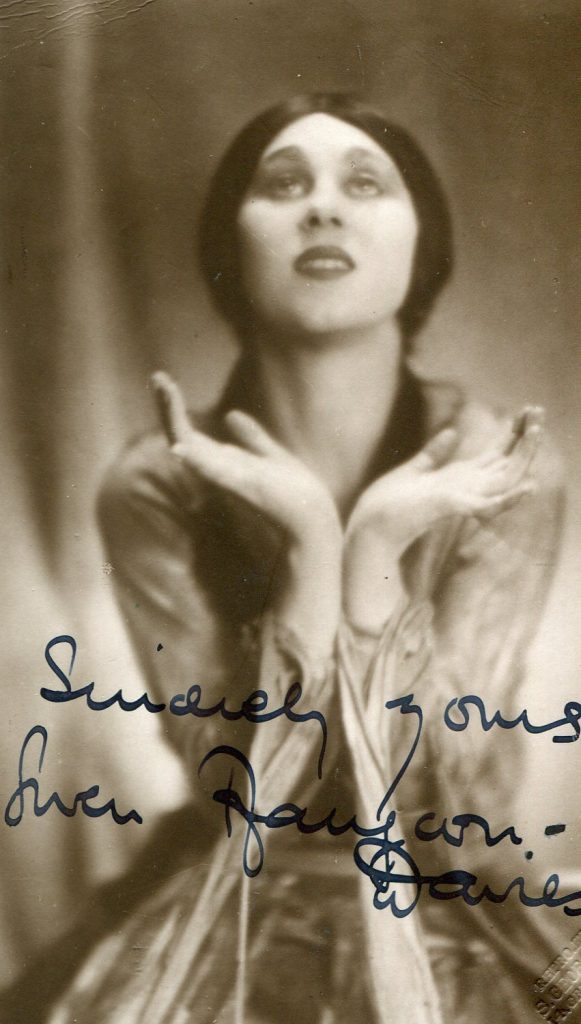 The longevity of Gwen Ffrangcon Davies was remarkable. She was born in 1891 and began her acting career in 1911 on the stage.Her film career was not extensive and her movie debut was in 1936 in "Tudor Rose". Her other films included "The Witches" in 1966 with Joan Fontaine and "The Devil Rides Out". She died at the age of 101 in 1992.
"Wikipedia" entry:
Dame Gwen Lucy Ffrangcon-Davies, DBE (25 January 1891 – 27 January 1992) was a British actress and centenarian. She was born in London of a Welsh family; the name "Ffrangcon" originates from a valley in Snowdonia.
She made her stage debut in 1911, as a singer as well as an actress, and received encouragement in her career from Ellen Terry. In 1924, she played Juliet opposite John Gielgud as Romeo, and Gielgud was grateful to her for the rest of his life for the kindness she showed him, casting her as Queen Anne in Richard of Bordeaux in 1934. n 1938, she appeared with Ivor Novello in a production of Henry V at Drury Lane. Later the same year she appeared as Mrs Manningham in the first production of Gas Light byPatrick Hamilton. She played Lady Macbeth for almost an entire year in 1942 opposite John Gielgud's Macbeth. She won the Evening Standard Award in 1958 for her performance as Mary Tyrone in Long Day's Journey Into Night.
She retired from the stage in 1970, but continued to appear on radio and television. In the 1980s, well into her 90s, she appeared on the Wogan chat show, in which she recited, word for word, the famous death scene of Juliet. She made her final acting appearance in a teleplay of the Sherlock Holmes mystery The Master Blackmailer at the age of 100. Her films included The Witches (1966) and The Devil Rides Out (1968), both for Hammer Films. She lived for many years in the village of Stambourne, Essex.
The above "Wikipedia" entry can also be accessed online here.