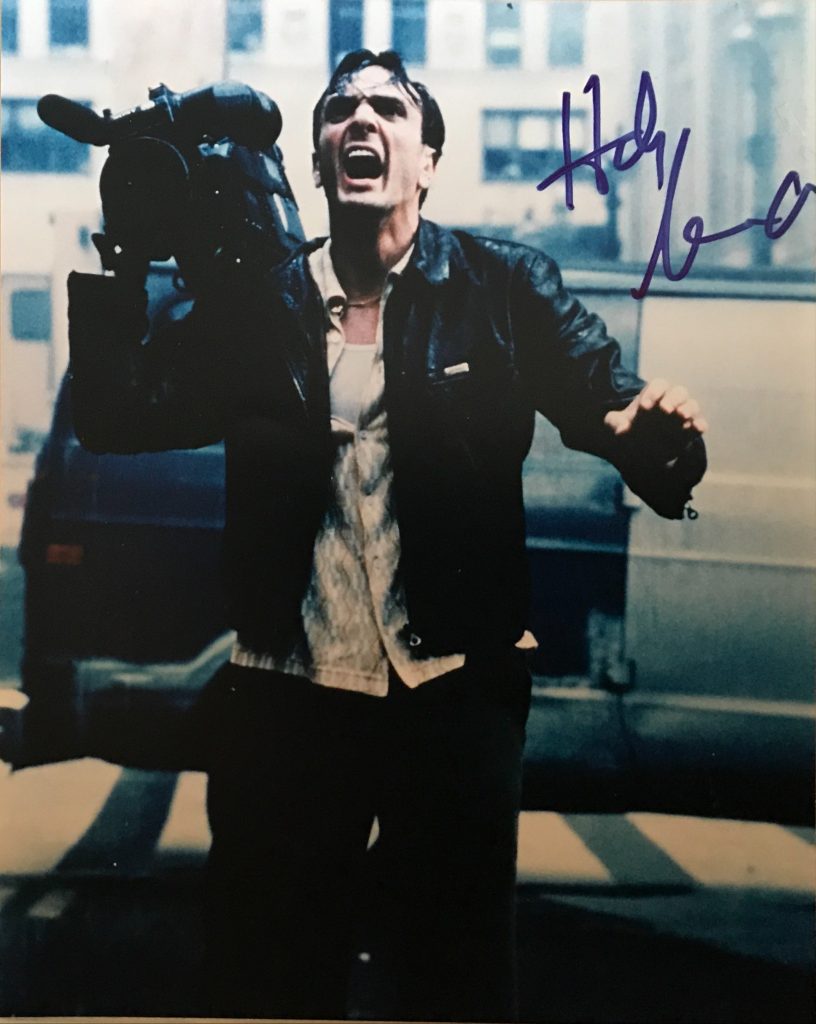 Hank Azaria was born in 1964 in Forrest Hills, New York. He has won four Emmy awards. His voice is well known on "The Simpsons" and he has featured in such films as "Pretty Woman,", "Quiz Show", "The Birdcage", "Grosse Pointe Blank" and "Godzilla".
TCM Overview:
Despite his initial intentions of becoming a stage performer, actor Hank Azaria turned his childhood talent for mimicry into a highly successful career, voicing many characters on the long-running animated comedy, "The Simpsons" (Fox, 1989- ). Thanks to his varied oddball interpretations of Moe the Bartender, Apu the Kwik-E-Mart owner, and Police Chief Wiggum, Azaria was able to transfer his success with animation into the live-action world. Following his breakthrough performance as a smarmy 1950s television producer in "Quiz Show" (1994), he stole the show from the likes of Robin Williams and Nathan Lane as a flamboyant houseboy in "The Bird Cage" (1996). Though he tried – and failed – to enter into blockbuster territory with "Godzilla" (1998), Azaria fared well with moving and award-nominated performances in "Tuesdays with Morrie" (ABC, 1999) and "Uprising" (NBC, 2001). Though he finally fulfilled his lifetime ambition with a triumphant performance as an effeminate Sir Lancelot in the Broadway smash "Spamalot" (2004-05), Azaria never strayed far from his steady and lucrative tenure on "The Simpsons," which culminated in a 2007 feature and solidified his standing as one of the most talented voice-over artists working in the business.
Born on April 25, 1964 in the Forest Hills neighborhood of Queens, NY, Azaria was raised by his father, Albert, who ran several dress-manufacturing businesses in the garment district, and his mother, a former publicist for Columbia Pictures-turned-housewife. Both his parents were avid lovers of show business, exposing their three children to theater, opera, film and television at an early age. When he was a child, Azaria discovered what he called a freakish ability to mimic just about anyone's voice, even after just having heard it for the first time. When he was 17, Azaria began making strides as a professional actor around the time he was still in high school at The Kew-Forest School, landing auditions and jobs on commercials. He moved on to study drama at Tufts University in Medford, MA, where he became fast friends with fellow actor Oliver Platt. The two worked on several college plays together, including memorable productions of William Shakespeare's "The Merchant of Venice" – Azaria played Salerio to Platt's Shylock – and Harold Pinter's "The Dumb Waiter." Though the life-long friends wanted to work together often and frequently, it would be another two decades before they had the right opportunity.
With his sights set on a stage career, Azaria moved back to New York City, where he furthered his dramatic studies at the American Academy of Dramatic Arts. But at 22, Azaria had a hard time finding parts off-Broadway, let alone on the Great White Way. He did, however, land several episodes of television, including a one-line part on the short-lived sitcom "Joe Bash" (ABC, 1986). Though his brief appearance was left behind on the cutting room floor, the experience did allow him to earn his Screen Actors Guild card. Armed with his union membership, he left the East Coast for Los Angeles, ditching the idea of working in theater for the seemingly more attainable world of television acting. After a short sojourn into stand-up comedy, Azaria landed small roles in an episode of "Family Ties" (NBC, 1982-1989) and the made-for-television movie, "Frank Nitti: The Enforcer" (ABC, 1988), a compelling look at the right-hand and eventual successor to famed mobster Al Capone. While he was making a living, Azaria had yet to make any meaningful strides.
Despite his unique talent for mastering a wide variety of voices, Azaria never considered a voice-over career. That all changed when he voiced the title character in the semi-animated, "Roger Babbit"-esque "Hollywood Dog." The casting director for that failed pilot was also casting for "The Simpsons" (Fox, 1989- ), the long-running, fully animated series about the comically dysfunctional Simpsons family. Initially brought in to replace the voice actor for Moe Szyslak, owner-operator of Moe's Tavern, Azaria created a colorful palate of characters over the years, most notably Chief Wiggum, Apu Nahasapeemaptilon – owner of the local Kwik-E-Mart – and the dubious Dr. Nick Riviera. Meanwhile, Azaria continued to make appearances onscreen, taking small roles in the romantic comedy classic "Pretty Woman" (1990) and on an episode of "The Fresh Prince of Bel-Air" (NBC, 1990-96). In the live-action world, he landed his first regular series role on "Herman's Head" (Fox, 1991-94), playing the smarmy best friend of an office worker (William Ragsdale) whose every decision is made with the help of the Greek chorus in his head representing four aspects of his personality. Aside from being the first show to ever air a condom commercial, "Herman's Head" was only notable for pairing Azaria with "Simpsons" colleague Yeardley Smith, who was the voice of Lisa Simpson.
On the big screen, Azaria gave his feature career a serious jolt with his supporting performance in "Quiz Show" (1994), Robert Redford's excellent examination of the game show scandal of the 1950s. The actor portrayed venal television producer Alan Freedman, who fed the answers to "Twenty One" champion, Charles Van Doren (Ralph Fiennes) with the help of his equally smarmy producing partner, Dan Enright (David Paymer). In one of his most outrageous performances, Azaria burned his way into the public's consciousness as a hot-pants-wearing, Gloria Estefan-worshipping, gay Guatemalan houseboy in Mike Nichols' "The Birdcage" (1996), stealing one scene after another from co-stars Robin Williams, Nathan Lane and Gene Hackman. Also that year, he joined the cast of "Mad About You" (NBC, 1992-99), which included then-girlfriend and star of the show, Helen Hunt, for the last few seasons. Meanwhile, he took his voice talents into the feature world for 20th Century Fox's first animated feature, "Anastasia" (1997), while turning in a humorous live-action performance as an awkward National Security Agency agent in the black comedy "Grosse Pointe Blank" (1997).
Azaria next co-starred as a news-hungry photographer chasing after a giant lizard making a wreck out of Manhattan in the abysmal summer blockbuster "Godzilla" (1998). Also that year, Azaria enjoyed a few wide-ranging roles in some films, including playing one of three hapless marijuana growers in "Homegrown" (1998), and the wealthy boyfriend of a young heartbreaker (Gwyneth Paltrow) in the contemporary remake of "Great Expectations" (1998). After playing a superhero able to wield spoons and forks with deadly accuracy in the ensemble comedy "Mystery Men" (1999), he was a high-profile sports writer who arranges for the New York Rangers to play a team of obsessive hockey fans in little-seen drama, "Mystery, Alaska" (1999). Azaria fared better as composer Marc Blitzstein in Tim Robbins' "Cradle Will Rock" (1999), which effectively captured the spirit of the 1930s in its recreation of the furor surrounding the production of a pro-union play and the government's attempt to shut it down.
Azaria offered perhaps his most layered and sensitive work of his career to date in "Tuesdays with Morrie" (ABC, 1999), portraying sportswriter Mitch Albom to Jack Lemmon's irrepressible, wheelchair-bound Morrie Schwartz, Albom's former college professor who was dying from Lou Gehrig's Disease. Reconnecting with Schwartz after seeing him interviewed by Ted Koppel, Albom finds not an embittered old man, but an inspired human being of "incredible clarity" teaching his "final course . . . in living." Their weekly sessions together prompt Albom to question the shallowness of his own existence and eventually write the best-selling account that would serve as the picture's source material. Azaria's performance earned him a Screen Actors Guild Award nomination for best actor. Meanwhile, Azaria also appeared as an academic who advocates tactical nuclear victory over the Russians in the compelling two-hour live broadcast of "Fail Safe" (CBS, 2000), adapted from the Cold War novel by Harvey Wheeler and Eugene Burdick. Following a public divorce from Helen Hunt in 2000 only a year after their marriage, Azaria delivered another finely crafted performance, playing the leader of a valiant, but ultimately unsuccessful Jewish rebellion against the Nazis in the Warsaw ghetto in "Uprising" (NBC, 2001).
Back on television, Azaria suffered the dismal failure of his Seth Kurland-created sitcom, "Imagine That!" (2002), which was canceled after only two episodes. He quickly rebounded on the big screen in parts both serious – such as his supporting role as principled, but deposed New Republic editor Michael Kelly in "Shattered Glass" (2003) – and comic, including his hilarious, but all-too-brief turn as the frequently nude scuba instructor, Claude, who cuckolds Ben Stiller in "Along Came Polly" (2004). Azaria also had a small, but well-cast bit in "Dodgeball: A True Underdog Story" (2004) as young Patches O'Houlihan, the flashback version of the Rip Torn's character. He tried once again to make a go of series television, starring as psychiatrist and family man Craig Huffstodt, who nosedives into a midlife crisis on the quirky dramatic comedy "Huff" (Showtime, 2004-06). Though highly promoted by the network and the recipient of glowing reviews, "Huff" failed to attract a substantial audience and was eventually canceled. Returning to his stage roots, Azaria headed to Broadway for a bravura performance as an out-of-the-closet Sir Lancelot in "Spamalot," Eric Idle's wild musical based on "Monty Python and the Holy Grail" (1975), which earned critical raves and record-breaking ticket sales.
After almost two decades on television, fans were finally treated to "The Simpsons Movie" (2007), the long-awaited film version of the animated show that featured deliberately imperfect hand-drawn animation. Azaria reprised many of his most famous and beloved characters from the series. In actor David Schwimmer's directorial debut, "Run, Fat Boy, Run" (2008), he was the arch-rival of a down-and-out overweight guy (Simon Pegg) who tries to win back the bride (Thandie Newton) he ditched at the altar years ago by running a marathon. After giving voice to Abbie Hoffman and Allen Ginsberg for the animated docudrama "Chicago 10" (2008), Azaria was the evil Pharaoh Kahmunrah – as well as the voice of The Thinker and Abraham Lincoln – in the weak, but successful sequel, "Night at the Museum: Battle of the Smithsonian" (2009). Reaching further back into history, he portrayed a comedic Abraham in the absurd "Year One" (2009).
Returning to contemporary times, Azaria played an unscrupulous doctor in the dramedy "Love & Other Drugs" (2010) and hammed it up mightily as the wicked wizard Gargamel, one of the live-action components of the CGI-heavy cartoon adaptation "The Smurfs" (2011). After lending his voice to the animated sequel "Happy Feet Two" (2011), he reprised Gargamel in "The Smurfs 2" (2013) and appeared in a radical different kind of film with his supporting role in the porn-oriented biopic "Lovelace" (2013), about the adult-movie star Linda Lovelace.
TCM overview can also be accessed online here.