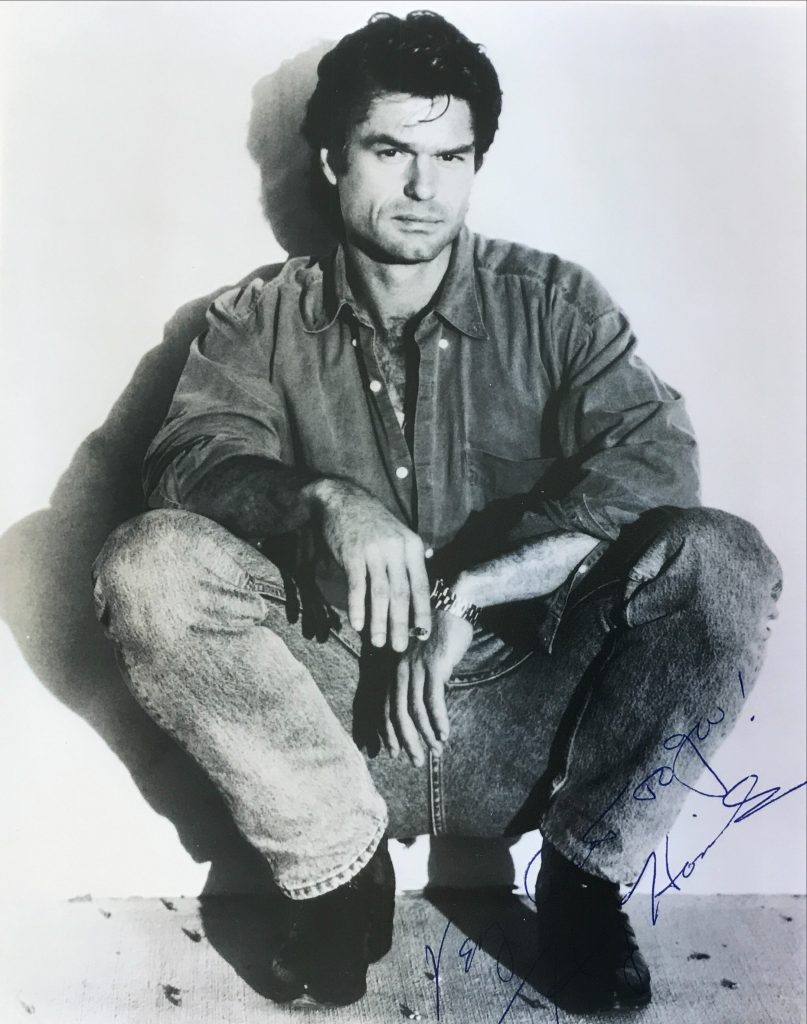 Harry Hamlin. TCM Overview.
Hamlin was born in 1951 in Pasadena, California. In 1979 he played the title role in the miniseries "Studs Lonnigan". In 1982 he starred with Michael Ontkean in "Making Love". Other films include "Clash of the Titans", "Movie, Movie" and was one of the stars of the very successfeul television series "LA Law".
TCM Overview:
With a résumé often overshadowed by his relationships with several Hollywood sex symbols, Harry Hamlin's acting career began promisingly and peaked with a hugely successful television series, but he ironically found its niche in the role of husband to a former soap opera star. After studying drama at Yale and earning his M.F.A. from San Francisco's American Conservatory Theater, Hamlin quickly made the leap to feature films, appearing in 1978's "Movie Movie," and nabbing the title role in the NBC miniseries "Studs Lonigan" (1979). He made a splash with the special effects-laden feature "Clash of the Titans" (1981), and went on to major stardom as part of a stellar ensemble on one of the biggest TV series of the 1980s, "L.A. Law" (NBC, 1986-1994). However, poor choices in both projects and women ultimately relegated Hamlin to sub-par direct-to-video fare and serving as fodder for the tabloids, respectively. Oddly enough, it was his celebrity marriage to onetime soap opera star Lisa Rinna that allowed Hamlin to once again enjoy both his offscreen life and the spotlight as one-half of a celebrity couple to a degree he had not known in well over a decade.
Born on Oct. 30, 1951, in Pasadena, CA, Hamlin attended the Flintridge Preparatory School in nearby La Cañada before continuing on to the prestigious boarding academy, The Hill School in Pottstown, PA. At the University of California, Berkley, Hamlin enrolled in the school's theater program only after the courses for his intended major were filled, but was soon enamored with the stage and chose to seriously pursue an acting career. In 1972, much to the dismay of his family, Hamlin transferred to Yale University where he earned a B.A. in drama in 1974. A scholarship to the American Conservatory Theater brought him back West to San Francisco, where Hamlin's real transformation into an actor occurred in the Advanced Actor Training Program. There, Hamlin starred in a production of "Equus," attracting the attention of director Stanley Donen, and receiving his M.F.A in acting in 1976. That year, he was awarded a Fullbright Scholarship, but turned it down after landing his first feature film role as naïve boxer Joey Popchick in Donen's nostalgic comedy "Movie Movie" (1978), starring alongside the likes of George C. Scott and Red Buttons. Barely out of college, Hamlin was already off to a promising Hollywood start.
Around this time, Hamlin began a four-year relationship with original "Bond Girl," Ursula Andress, with whom he would father a son, Dmitri, in 1980. The couple remained a favorite subject of the gossip columns throughout their May-September romance. On television, Hamlin won the title role in the miniseries "Studs Lonigan" (NBC, 1979), for which the young actor received favorable notices. With "King of the Mountain" (1981), Hamlin won his first leading role in a feature film. Unfortunately, the tale of illegal street racing on Mulholland Drive stalled at the box office. Hamlin's next feature, however, would secure him a place in the hearts of fantasy-loving fanboys for decades to come. As the mortal Perseus in the Greek mythology adventure epic "Clash of the Titans" (1981), Hamlin would once again share screen time with film legends such as Laurence Olivier and Burgess Meredith, in addition to girlfriend Ursula Andress, who, naturally, took the role of Aphrodite. His bare-chest-laden exposure in "Clash of the Titans" resulted in more feature offers, but 1982's "Making Love" proved to be a poor follow-up choice. Directed by Arthur Hiller, the drama focused on a loving husband (Michael Ontkean) suddenly realizing he is in love with another man (Hamlin) and the resulting emotional turmoil as he struggles to tell his wife (Kate Jackson). For all its good intentions, less-than-accepting audiences stayed away in droves, effectively killing Hamlin's movie career.
After one more stab at the big screen in the box office bomb "Blue Skies Again" (1983), Hamlin returned to television with two more literary-inspired miniseries, "Master of the Game" (CBS, 1984), based on the Sidney Sheldon melodrama, and "James A. Michener's 'Space'" (CBS, 1985). In a continuing theme, Hamlin's personal life would continue to outshine his career. His relationship with aging sex symbol Andress had ended a few years earlier, and in 1986 Hamlin married actress Laura Johnson, a regular on the primetime soap "Falcon Crest" (CBS, 1981-1990). It was a tumultuous romance that would end in a messy divorce a few years later, once again salaciously covered in the tabloids. Suddenly, everything changed for Hamlin when he was cast as the brooding, intense attorney, Michael Kuzak, on the breakout hit series "L.A. Law" (NBC, 1986-1994). The show became the prototype for what would be a mainstay of episodic television – the legal drama. Hamlin's character was considered the show's moral lynchpin. With his chiseled good looks and onscreen chemistry with co-star Susan Dey, Hamlin's popularity exploded overnight, culminating in him receiving the dubious honor of being named People magazine's "Sexiest Man Alive" in 1987. The personal and professional upswing would not last, however, when, shortly after his ugly split from Johnson, Hamlin chose to exit the vehicle that had made him a household name, leaving the cast of "L.A. Law" in 1991.
The intent for leaving a No. 1 program was invariably to go on to bigger and better projects, however, the decade that followed was anything but stellar for Hamlin. In 1991, he married for a second time to yet another primetime soap vixen, Nicollette Sheridan of "Knots Landing" (CBS, 1979-1983). It did not last, and by 1993 the couple was divorced quite acrimoniously, to the delight of tabloid editors. In fact Hamlin took the split exceptionally hard, particularly after his bombshell ex took up with singer Michael Bolton almost immediately. Over the course of the 1990s, the former TV heartthrob appeared in an uneven string of direct-to-video erotic thrillers like "Under Investigation" (1993); television movies of a similar vein, "Her Deadly Rival" (CBS, 1995); and failed attempts at headlining another episodic series, "Movie Stars" (The WB, 1998-2000). Still, there was one bright spot in this otherwise faith-shaking period for Hamlin.
Shortly after rebounding from his breakup with Sheridan, he began dating Lisa Rinna, another actress known for her roles on daytime and primetime soaps, particularly "Days of our Lives" (NBC1965- ) and "Melrose Place (Fox, 1992-99), respectively. Apparently, the third time was a charm for Hamlin, as the couple married in 1997 and produced two daughters, Delilah and Amelia. Art imitated life, when Hamlin and Rinna took on recurring roles as a celebrity couple on the critically acclaimed crime-drama "Veronica Mars" (UPN, 2004-07). After cheering on Rinna from the sidelines the previous season, Hamlin strutted his stuff in 2006 as a celebrity cast member on season three of "Dancing with the Stars" (ABC, 2005- ). However, his less than graceful moves failed to impress, and he was voted off much earlier in the competition than his wife. In 2009, Hamlin made a brief appearance in the torturous murder mystery "Harper's Island" (CBS, 2008-09). The following year, the low-key Hamlin and the extroverted Rinna capitalized on the interest in their celebrity marriage with the launch of a reality series "Harry Loves Lisa" (TV Land, 2010- ). Balancing out the good with the bad was the break in and burglary of the couple's Sherman Oaks boutique clothing store twice within the span of a week in early October 2010.
Hamlin returned to more credible television work with brief arcs on the military drama "Army Wives" (Lifetime 2007-2013) and the American adaptation of the black comedy "Shameless" (Showtime 2011- ). In 2013, he joined the cast of the Emmy-winning drama "Mad Men" (AMC 2007- ) as the straitlaced ad executive Jim Cutler, who clashes with the partners of Sterling Cooper Draper Pryce when his agency suddenly merges with theirs.
The above TCM overview can also be accessed online here.