Haya Harareet. IMDB.
=
Haya Harareet was born in 1931 in Haifa, Palestine and was one of Israel's best known actresses in the 1950's. She came to international fame in 1956 with the movie "Hill 24 Doesnt Answer". Her best known role came in 1959 as the lading lady of William Wyler's "Ben-Hur".
She starred opposite Stewart Granger in "The Secret Partner" which was made in England. In 1962 she went to the U.S, to make "The Interns". She stopped making movies in 1964. She was long married to the great English director Jack Clayton who died in 1995.
IMDB entry:
Born in Palestine before the inception of the Israeli state in the city of Haifa, she first distinguished herself by winning one of the first beauty contests in the nascent Israel. Haya Harareet (also spelled Hararit) made her debut in Thorold Dickinson's film Giv'a 24 Eina Ona (1955) ("Hill 24 Doesn't Answer").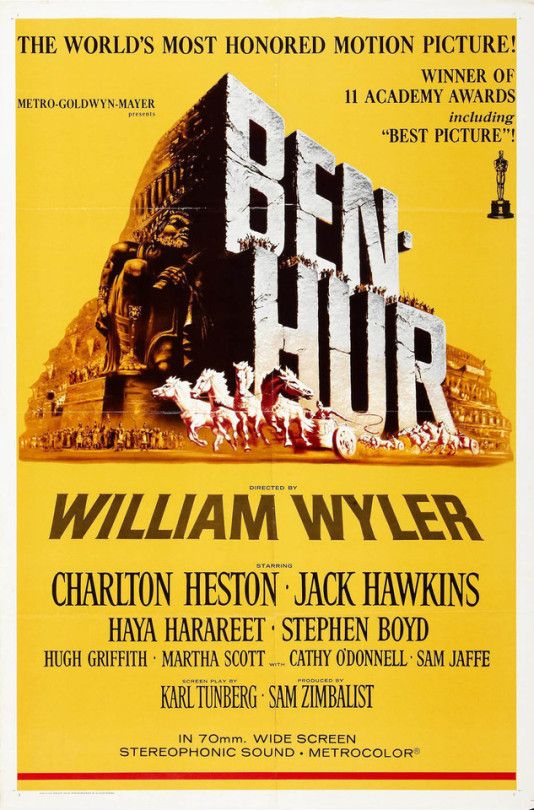 The landmark Israeli film, mostly in English, is also the first feature-length production to be shot and processed entirely in Israel, and made for international distribution.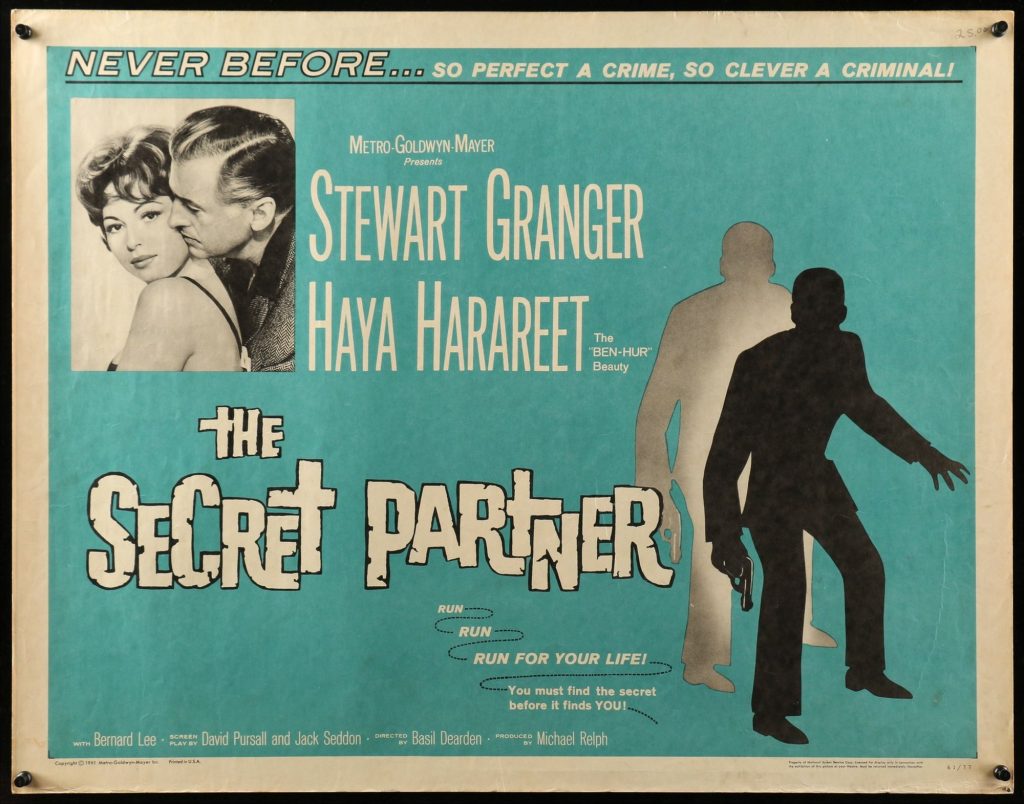 The film was an official selection at the 1955 Cannes Film Festival and Harareet won an award for her role in the film. She plays Miriam Mizrahi, a fourth generation, dark-eyed and beautiful Sabra, working for the underground.
Best-known for her role as Esther, opposite Charlton Heston in William Wyler's film classic Ben-Hur (1959), she also played in Francesco Maselli's The Doll That Took the Town (1958) ("The Doll that Took the Town") with Virna Lisi, _Edgar G. Ulmer"s Journey Beneath the Desert (1961) ("Journey Beneath The Desert", AKA "The Lost Kingdom")withJean-Louis Trintignant, and Basil Dearden's The Secret Partner (1961) with Stewart Granger. She cowrote the screenplay for Our Mother's House (1967) which starred Dirk Bogarde.
Ms. Harareet was also credited as a presenter for 'Best Special Effects' at the 32nd Annual Academy Awards in 1960.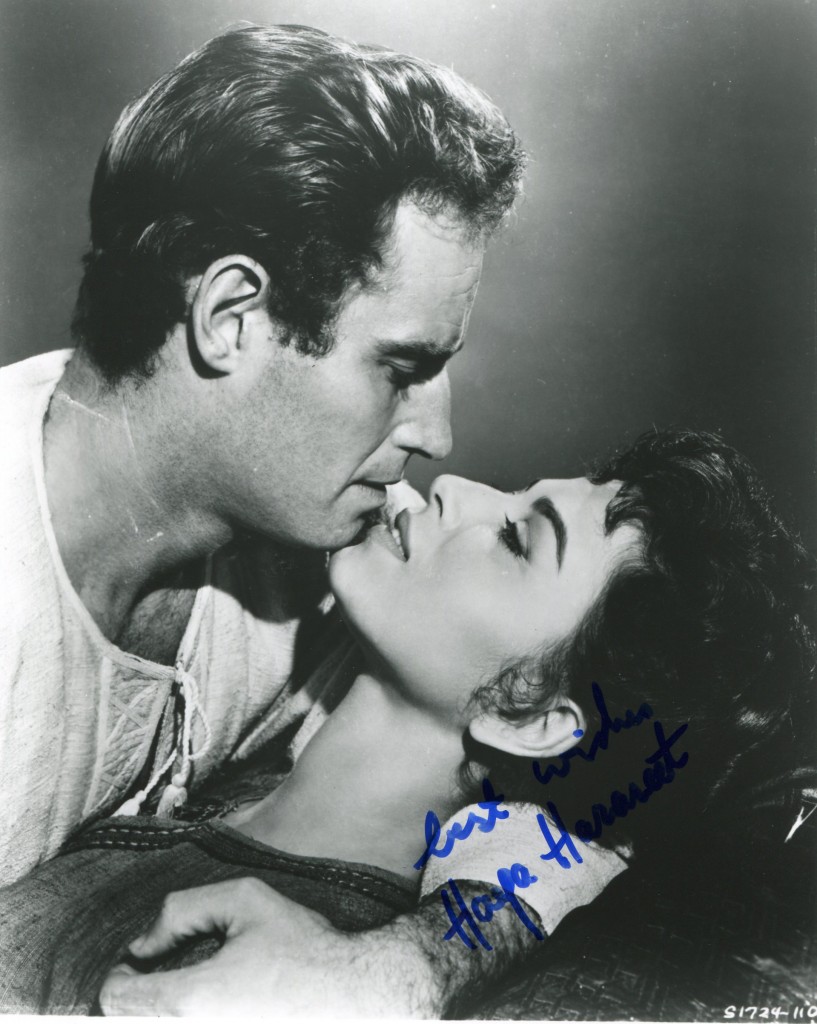 The above TCM overview can also be accessed online here.
She was married to the British film director Jack Clayton until his death in 1995.
– IMDb Mini Biography By: Dann
The Times obituary in 2021.
When William Wyler was searching for a female lead for his biblical epic Ben-Hur, his mind turned back to a beautiful young Israeli actress he had met two years earlier at the Cannes Film Festival.
He had already cast the title role but was struggling to find the right actress to play Charlton Heston's love interest, Esther. More than 30 names were considered, including Ava Gardner and Carroll Baker. None of them seemed right, and then the director remembered the little-known Haya Harareet.
Wyler had come across her at Cannes in 1955 when Hill 24 Doesn't Answer, in which she starred, had been nominated for the Palme d'Or. Directed by Thorold Dickinson, the film did not win but had its own place in history as the first feature-length production to be shot and produced in Israel for international distribution. Harareet shone in the film as a young Jewish woman working for the underground during the war for Israeli independence. When Wyler met her at a reception at one of the swanky hotels on La Croisette overlooking the Mediterranean, he was impressed by her sultry looks and her sharp intelligence.
Two years later Wyler could not remember her name but ordered his production team to "find that Israeli girl I met in Cannes". It took them weeks to track her down to Paris, where she was living, and when she arrived in Rome, where filming was due to start, he gave her the part on the strength of a 30- second screen test. She also signed a four-year contract with MGM, becoming the first Israeli actress to be taken on by a Hollywood studio.
She might easily have got lost in the epic grandeur of Ben-Hur. The movie cost $15 million to make and at the time was the most extravagant production in cinema history. The set for the film's climactic chariot race alone covered 18 acres, was five storeys high and took six months to build. More than 300 actors had speaking parts and the film deployed 10,000 extras, not to mention more than 200 camels and 2,500 horses.
Yet Harareet was not overawed and Wyler coached a career-defining performance from her. Variety hailed the emergence of "a performer of stature" and continued: "Her portrayal of Esther, the former slave, is sensitive and revealing. She has a striking appearance and represents a welcome departure from the standard Hollywood ingénue". The review also gave Wyler "considerable credit for taking a chance on an unknown".
The film was banned in several Arab countries because of Harareet's nationality but Ben-Hur was a box-office smash and became the biggest grossing film since Gone with the Wind. Adjusted for inflation, the film made $1.8 billion and to this day sits in the list of the top 20 money-spinning movies of all time. The film also garnered 11 Academy awards, a record until it was equalled by Titanic four decades later.
Harareet at the Cannes film festival in 1960GETTY IMAGES
Harareet became an overnight sensation and was photographed with Heston on the red carpet at glittering premieres in New York and Los Angeles. When she arrived in Britain for the European premiere she noted with satisfaction that the bathroom of her suite at Claridge's was larger than the entirety of the cramped lodgings she had occupied when living in London several years earlier.
Yet the epic scale of the movie came at a cost. The film's producer had a heart attack on set and died, and the production supervisor was also forced to retire with stress-related heart problems. Harareet's health survived the rigours of the nine-month shoot but her career did not. Despite a sheath of press cuttings hailing her as "Hollywood's brightest new star", she felt Ben-Hur had typecast her as an "exotic beauty".
I'm an actress who played the part of Esther. But that doesn't mean I have to go on playing her for the rest of my life," she complained. The roles she was offered on the back of Ben-Hur were "boring" and MGM wouldn't allow her to "grow up".
To negotiate her escape, she drew the studio's attention to her friendship with left-wing socialists. "You don't want to be associated with a communist, do you?" she told the studio provocatively. In truth she had never been a party member but the stink of McCarthyism still lingered in Hollywood. The ruse worked and she was released from her contract.
She was also keen to leave for another reason. At the 1960 Academy awards she met the British director Jack Clayton, whose film Room at the Top was up against Ben-Hur for several awards. It was love at first sight. The following morning he delivered 1,000 roses to her hotel room and as soon as her MGM contract was cancelled she moved to Britain to live with him.
They subsequently married and lived together in leafy Buckinghamshire until Clayton's death in 1995. They were inseparable for 35 years.
She was cast opposite Stewart Granger in the British-made thriller The Secret Partner in 1961 and appeared in one more Hollywood movie, playing a single mother training to be a doctor in David Swift's 1962 feature The Interns. After abandoning acting she wrote the screenplay for her husband's 1967 film Our Mother's House starring Dirk Bogarde and at the age of 40 took a degree in political science at the London School of Economics. A previous marriage to Nachman Zerwanitzer, an irrigation engineer, ended in divorce before she left Israel.
Haya Neuberg was born in 1931 in Haifa, in what was then the British mandate of Palestine. Her parents, Reuben and Yocheved Neuberg, were Jewish immigrants from Poland. At school she was given the name Hararit (later changed to Harareet), which means "mountainous" in Hebrew.
At 17 she left home without parental approval to join the Israeli Defence Forces' equivalent of Ensa, entertaining those fighting in the 1948 Arab–Israeli war. She also won one of the first beauty contests held in the newly formed state, which helped to launch her career as an actress at the Cameri theatre in Tel Aviv.
She left Israel in 1956 for Italy, where she befriended the directors Federico Fellini and Michelangelo Antonioni, who taught her Italian during long weekends on the island of Capri. From there she moved to London and then Paris, where she learnt French well enough to appear on the stage before Wyler tracked her down.
She made annual trips to Israel to see her family before finally returning one last time, having asked for her ashes to be scattered in the land of her birth.
Haya Harareet, actress, was born on September 20, 1931. She died in her sleep on February 3, 2021, aged 89