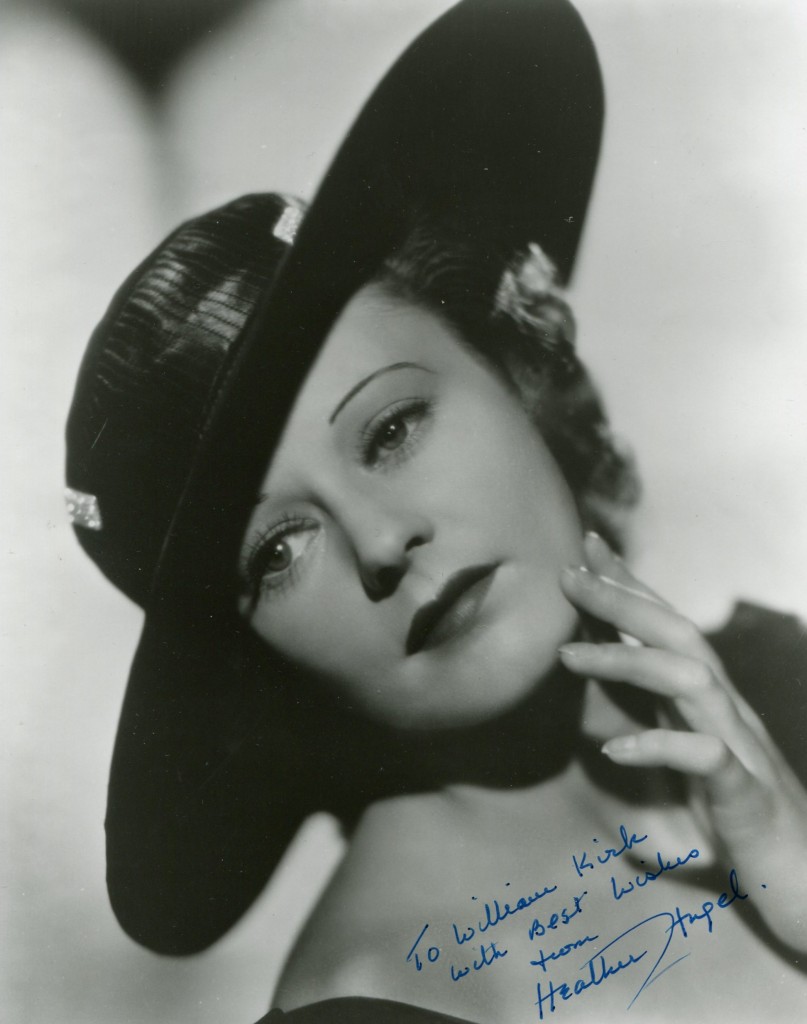 Heather Angel was born in 1909 in Oxford.   She began her stage career in 1926 at the Old Vic.   Her movie debut was in "City of Song" in 1931.   By 1933 she was in Hollywood and made such films as John Ford's "The Informer" with Victor McLaglan, "Pride and Prejudice", "Lady Hamilton", "Suspicion" for Alfred Hitchcock.   One of her later films is the cult classic "The Premature Burial" from 1962 with Ray Milland, Richard Ney and Hazel Court.   On television she was featured in the series "Peyton Place" and "Family Affair".   Heather Angel died in 1986 in Santa Barbara.
Her IMDB entry:
Heather Grace Angel was born in Oxford, England, on February 9, 1909. She dabbled on the stage for a time before coming to California to try her luck on the screen. Heather was 20 years old when she landed a bit part for the 1929 film, Bulldog Drummond(1929). Although she didn't know it at the time, she would become a staple of that particular series eight years hence. That movie would be her only foray onto celluloid for two years. When Heather did return, she did so in 1931's Night in Montmartre (1931). Not only did she land a part, but it was the leading role in the picture, starring as Annette Lefevre. Later that year, she again landed the leading role in the acclaimed The Hound of the Baskervilles (1932). Throughout the 1930s, Heather's services were in high demand. She kept very busy in such productions as Men of Steel (1932), Charlie Chan's Greatest Case (1933), Orient Express (1934), and Daniel Boone (1936). In 1937, she began playing Phyllis Clavering in the serial about Bulldog Drummond. Audiences delighted in catching the latest adventures of Drummond. After the last Drummond film,Arrest Bulldog Drummond (1939) in 1939, Heather went on her way in other films. Although she didn't have the leading role, she did appear in top movies such as 1940'sKitty Foyle (1940) and Pride and Prejudice (1940) and in 1943's Cry 'Havoc' (1943). AfterLifeboat (1944) in 1944, Heather wasn't seen again on the silver screen until The Saxon Charm (1948) in 1948. As with other actresses, Heather's time had come and gone. Her last appearance anywhere was in 1979's television mini-series, Backstairs at the White House (1979) when she played President 'Harry Truman"s mother-in-law. On December 13, 1986, Heather died in Santa Barbara, California, of cancer. She was 77 years old.
– IMDb Mini Biography By: Denny Jackson
Her IMDB entry can also be accessed online here.