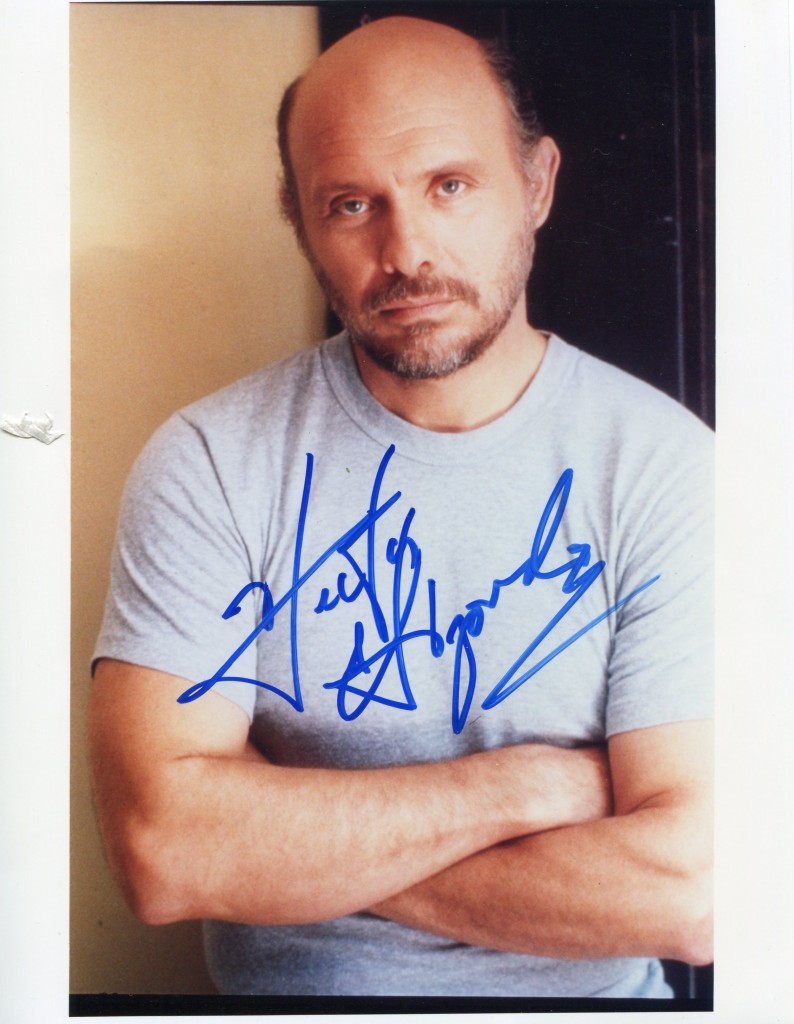 Hector Elizondo was born in 1936 inNew York City.   He studied dance at the Ballet Arts Company in Carnegie Hall in 1962/1963 and began acting on the stage.   In 1974 he won critical acclaim for his performance in "The Taking Pelham, One, Two, Three",   Other films include "Pretty Woman", "Runaway Bride" and "The Princess Diaries".
IMDB entry:
Hector Elizondo was born in New York and raised on the Upper West Side of Manhattan. Elizondo, the name is Basque and means "at the foot of the church". His lifestyle in his pre-acting days was as diverse as the roles he plays today. He was a conga player with a Latin band, a classical guitarist and singer, a weightlifting coach, a ballet dancer and a manager of a bodybuilding gym. In his teens, he played basketball and baseball and was scouted by the New York Giants and Pittsburgh Pirates farm teams. After a knee injury ended his dance career, he switched to drama. Since then, he has frequently appeared on Broadway, most notably with George C. Scott in Arthur Penn's production of "Sly Fox" for which he received a Drama Desk nomination and for his role as "God" in "Steambath", which won him an Obie Award. Other theatre credits include; "The Prisoner of Second Avenue"; "The Great White Hope"; "Dance of Death" with Robert Shaw and "The Rose Tattoo" opposite Cicely Tyson. Countless starring roles in television include: Foley Square(1985); American Playhouse: Medal of Honor Rag (1982); Casablanca (1983) (in which he recreated the Claude Rains role of police chief "Capt. Renault"); Freebie and the Bean(1974); Popi (1975) and as Sophia Loren's husband in the CBS special Courage (1986). Guest appearances include: Kojak (1973); Kojak: Ariana (1989); Columbo: A Case of Immunity (1975); Baretta (1975); All in the Family (1971); The Rockford Files (1974) andBret Maverick (1981). In addition, he also directed a.k.a. Pablo (1984), the first show to utilise seven cameras instead of the usual four. On the big screen, he has been seen in, among others, American Gigolo (1980); The Taking of Pelham One Two Three (1974);Cuba (1979); Valdez Is Coming (1971) and in four films directed by Garry Marshall: Young Doctors in Love (1982); The Flamingo Kid (1984); Nothing in Common (1986) andOverboard (1987). Elizondo starred with Dan Aykroyd and Michelle Pfeiffer in PBS' Great Performances: Tales from the Hollywood Hills: Natica Jackson (1987) (based on a collection of John O'Hara stories) and made his debut as a stage director with a production of "Villa!" starring Julio Medina. In addition, he performed in the 50th anniversary production of "War of the Worlds" co-starring Jason Robards and the TV-movie Addicted to His Love (1988) with Barry Bostwick.
– IMDb Mini Biography By: Anonymous
The above entry can also be accessed online here.