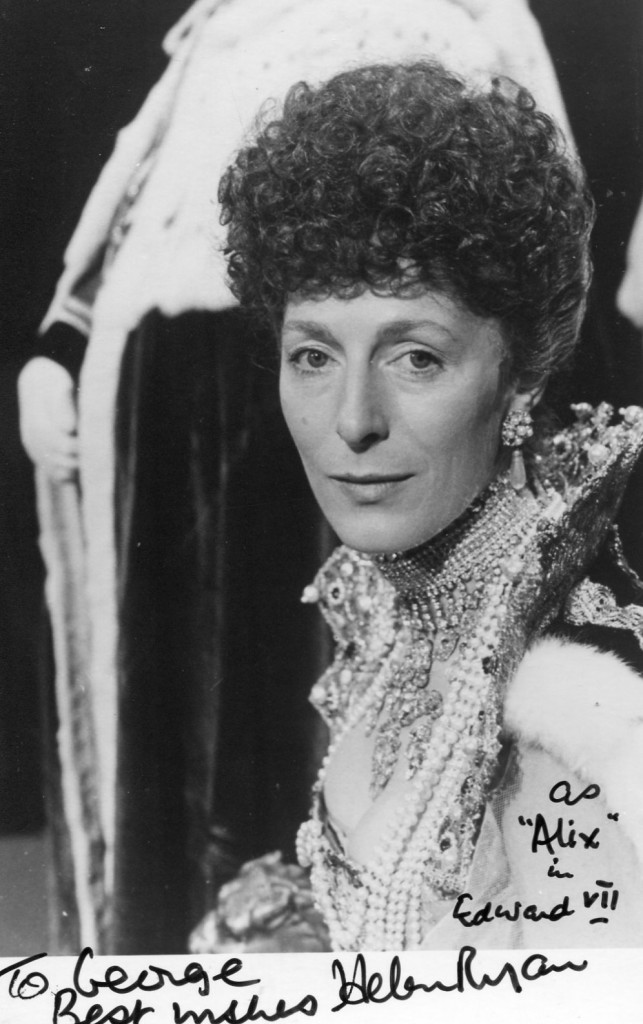 Helen Ryan was born in 1938 in Liverpool.   Her film debut in 1965 was in "The Lift".   Other films include "Misunderstood" and "The Hawk".   S
She gave a brilliant performance as Princess Alexandra in the television series "Edward the Seventh" in 1975.
Interview in "Coventry Telegraph" in 2014:
Actress Helen Ryan stars in the stage adaption of Tom's Midnight Garden, which comes to the Belgrade next week. She talks to Catherine Vonledebur about her long distinguished career
Helen Ryan first wanted to act as a young child after watching a production of Charles Dicken's Great Expectations.
But the RADA-trained actress very nearly suffered the same fate as Miss Haversham.
Helen, who is playing two roles – Mrs Bartholomew and Hatty's Aunt Grace – in David Wood's award-winning adaptation of Tom's Midnight Garden, explains: "Acting is something I have always wanted to do since I was seven and went to see Great Expectations with my mum.
"Two of my sisters were ill and when I got back I dressed up in my old christening gown and as I was twirling around the nursery I went up in flames just like Mrs Haversham. My mother threw my dad's great army coat on me and rolled me on the floor."
Philippa Pearce's classic children's story follows intrepid youngster Tom, who has always been told it's impossible to travel back in time.
But when the grandfather clock in the hallway chimes 13 times, Tom is magically transported to a secret garden from the past. Here he meets Victorian charity girl Hatty and together the pair enjoy fantastic adventures.
In this new adaptation, produced by Birmingham Stage Company, the talented cast conjure up everything from a flock of geese to a wayward dog to a skating party in the Great Freeze with barely a prop to hand. Helen says: "I play Mrs Bartholomew and Hatty's awful, nasty Aunt Grace – she's horrible." It is the second production of Tom's Midnight Garden that Helen has appeared in.   "This version is all music. Most actors play at least two instruments – one woman plays four – and the director has taken the garden on stage. It looks very beautiful.   "The best audiences are when it's a mix of children and parents.
"There is a lot of humour in the play. The children don't always get it – but the adults do. The children tend to sit on the edge of their seats – some get a bit frightened in the storm scene and when I shout."
Helen grew up in Liverpool but says she lost her accent when she went to boarding school in Germany.
Although she was encouraged to apply for RADA after leaving school she spent two months training as a mental nurse in Berlin – until she herself became ill.
She told her doctor she really wanted to be an actor not a nurse.
He gave her two months sick leave and instructed her "to do something about it".
Helen received a Bafta nomination in 1975 for Queen Alexandra in the British TV series Edward the Seventh. Another career highlight was performing in Peter Hall's 1978 The Cherry Orchard at The National Theatre with Albert Finney, Ben Kingsley, Dorothy Tutin, Susan Fleetwood and Ralph Richardson. "I played Charlotta who never stops playing tricks. I was taught by the great magician Ali Bongo.
"What I love about acting is the challenge, the people, you meet, the directors and the wonderful text."
Filming The Great Question with Oliver Reed and James Bolam in Baghdad was "extraordinary" and one of the actors she has most enjoyed working with was Sir Ian McKellen. "He's great and has the most wicked sense of humour," she adds.
Eleven years ago Helen toured with the RSC.
"I did an extraordinary Comedy of Errors tour.
"I played the Abbess. We went to Hong Kong, Perth in Australia and Taiwan. The icing on the cake is some of the trips."
She may be 74 but Helen is still in demand. She calls herself the "queen of take-overs".
"Last year I was back in The National in a wonderful play called 13. I was a jogging grandma. At 73 I learnt to play the piano, sit in a box on stage and sing a very racy Rihanna song.
"The Christmas before last when I was 72 I had to learn a part in three days – Old Money with Maureen Lipman at Hampstead Theatre.
They rang me and after another actress was unable to do the part said: 'Can you come in tomorrow?'
"I am the queen of take-overs.
"This was the seventh time it has happened to me. Five or six years before I was just finishing a run of the Scottish play and a great friend rang and said 'Helen – can you start rehearsals on Monday?' I am so glad at my age my memory is still working."
* Tom's Midnight Garden runs at the Belgrade Theatre, Coventry, from Tuesday until April 19. Recommended for ages four and above. Tickets are priced from £10. Ring 024 7655 3055 or go to www.belgrade.co.uk .
The "Coventry Telegraph" interview above can also be accessed online here.