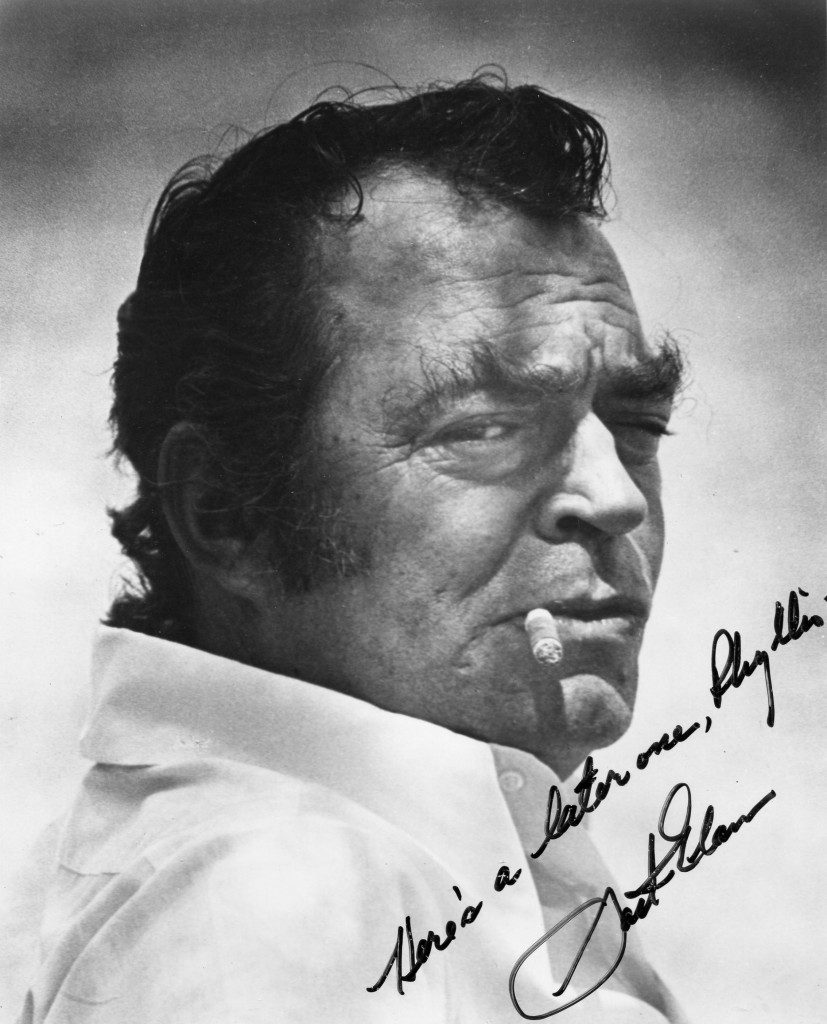 Jack Elam was born in 1918 in Arizona.   "A Ticket to Tomahawk" in 1950 was his first major film.   He made many Westerns including "Rawhide", "High Noon", "Rancho Notorious", "The Far Country" and "Cattle Queen of Montana".      He died in 2003 at the age of 84.
IMDB entry:
Colorful American character actor equally adept at vicious killers or grizzled sidekicks. As a child he worked in the cotton fields. He attended Santa Monica Junior College in California and subsequently became an accountant and, at one time, manager of the Bel Air Hotel. Elam got his first movie job by trading his accounting services for a role. In short time he became one of the most memorable supporting players in Hollywood, thanks not only to his near-demented screen persona but also to an out-of-kilter left eye, sightless from a childhood fight. He appeared with great aplomb in Westerns and gangster films alike, and in later years played to wonderful effect in comedic roles.
– IMDb Mini Biography By: Jim Beaver <jumblejim@prodigy.net>
The above IMDB entry can also be accessed online here.
"Guardian" obituary:
In Anthony Mann's classic 1955 western, The Man From Laramie, Jack Elam, who has died aged 86, introduces his character as follows: "I can't give you any references, but anyone can tell you Chris Boldt is not a man to be trusted." Later on, he tries to backstab James Stewart and winds up dead in a dark alley. That role, and many more like it, in over 50 other westerns, made Elam one of the best-known, and best-loved, character actors in the genre.
With his bony, stubbled face, beetle-brows looming over a dead left eye, and gravelly voice, he was the very embodiment of a skulking, no-account, two-bit varmint, and the relish with which he played his parts made every appearance, however fleeting, a pleasure.
Jack Elam, the son of an accountant, was born in Miami, Arizona, a small mining town outside Phoenix, in 1916 (though he would later suggest that he had added two years to his age in order to get work). As a child, he earned money gleaning cotton, and, at the age of 12, lost the use of his left eye in an accident at scout camp. After graduating from Phoenix Union high school, he moved to California where he completed business studies at Modesto and Santa Monica junior colleges, before working as a hotel manager, and then an accountant for Standard Oil.
Following two years' service in the US Navy during the second world war, Elam joined Willam Boyd's Hopalong Cassidy Productions as an auditor, while also doing outside work for other companies.
In 1948, Elam quit accountancy, after being warned that he was imperilling the sight in his right eye. He agreed to raise finances for three low-budget films in return for acting parts, and, in 1949, made his debut as The Killer in a short film entitled Trailin' West. Within three years, he had made his mark as a villain in Henry Hathaway's Rawhide (1951), and notched up appearances in Fritz Lang's flamboyant Rancho Notorious and Fred Zinnemann's classic High Noon (both 1952) – in the latter he had a brief scene as Charlie, the town drunk.
In 1954, he could be seen in Robert Aldrich's influential Vera Cruz, and Anthony Mann's The Far Country, in which, as baddie John McIntire's deputy, he is gunned down in the final reel by James Stewart, the usual fate of Elam's heavies, assuming they lasted that long.
In 1955, Elam cut an alarming figure in a floral-print shirt and shorts as one of Paul Stewart's henchmen in Aldrich's seedy and brilliant thriller, Kiss Me Deadly, as well as appearing in Fritz Lang's costume drama, Moonfleet.
By the mid-1960s, Elam was playing featured parts in big-budget productions. In 1968, he was seen in Vincent McEveety's Firecreek and, that same year, travelled to Spain for what would become his most celebrated role, as one of a trio of gunslingers in the opening sequence of Sergio Leone's magnificent Once Upon A Time In The West. Together with Woody Strode and Al Muloch (who had played a part rejected by Elam in Leone's earlier The Good, The Bad And The Ugly), Elam is seen killing time at Cattle Corner station. A fly crawls over his jowls. Elam tries to dislodge it but it keeps returning. Eventually, he traps it in his gun barrel, a sly, childlike grin on his face. A train arrives. Charles Bronson appears. Words are spoken. Guns fire, and Jack Elam bites the dust, a whole career encapsulated in one, unforgettable scene.
Elam's later roles tended towards the comic, partly as a result of his success in Burt Kennedy's comedy westerns, Support Your Local Sheriff (1969) and Support Your Local Gunfighter (1971), and partly as a result of his advancing age. He was in fine form, alongside Ernest Borgnine and Strother Martin, in the improbable Raquel Welch vehicle, Hannie Caulder (1972), as well as the TV mini-series The Sacketts (1979), but his last great part was probably in Sam Peckinpah's Pat Garrett And Billy The Kid (1973), in which he plays a lawman whose sense of duty forces him into a gunfight that he knows he cannot win. "Least I'll be remembered," he says before dying.
A gregarious man who enjoyed "cigars, Cutty Sark, and a good poker game", Elam is survived by his second wife and daughter, and a son and daughter from a previous marriage.
· Jack Elam, actor, born November 13 1916; died October 20 2003
The above "Guardian" obituary can also be accessed online here.