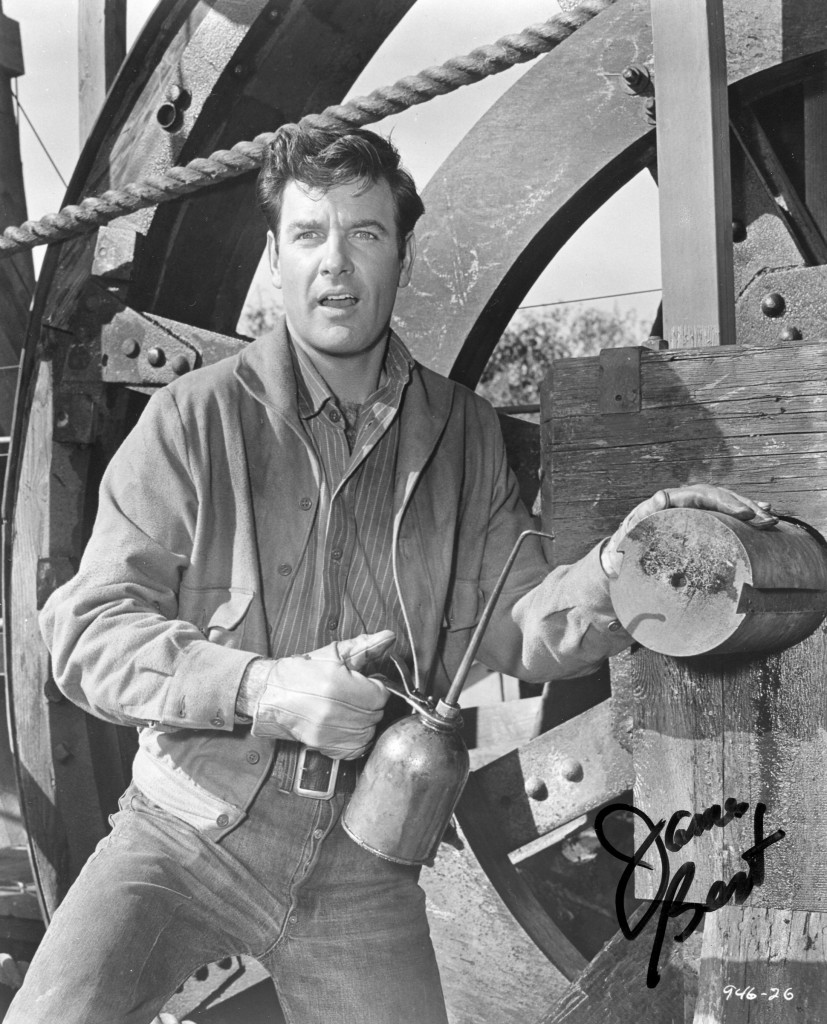 James Best was born in 1926 in Kentucky. He has appeared in many Westerns including "Winchester 73" in 1950 and "Kansas Raiders". He is though perhaps best remembered for his part in the long running television series "Dukes of Hazzard". He died in April 2015.
His "Independent" obituary:
longside the country soundtrack, cut-off jeans and car stunts that crowded the amiably silly TV series The Dukes of Hazzard (1979-85), a constant was the character actor James Best. His performance as the bumbling Sheriff Rosco P. Coltrane, constantly confounded in his attempts to run in the Duke boys, was enjoyably over the top.
Round-faced, sometimes squinting, and with a distinctive Southern twang, Best achieved his greatest prominence as Rosco, but it was an atypical performance for him. In his years as a sturdy support, frequently in Westerns and often in uniform, he could be fiery, impassive and sometimes sinister, doing some of his best work in episodes of dramatic anthology series.
He was born in the Kentucky city of Powderly; one of nine children, his real name was Jewel Franklin Guy. His mother's maiden name was Everly, and the Everly Brothers were his cousins. Following his mother's death, and time spent in an orphanage, he was adopted by a couple from Indiana named Best. In the latter part of the Second World War, he enlisted in the US Army Air Corps, eventually becoming a military policeman, and developing an interest in acting via productions by the Special Services.
His stage debut, under the auspices of the military and while stationed in Germany, was as a drunk in My Sister Eileen. The director was Arthur Penn, who subsequently cast Best as a friend and fellow outlaw of Billy the Kid (Paul Newman) in The Left Handed Gun (1958), based on a play by Gore Vidal that Newman had previously performed on live TV. A contract with Universal followed, where he was unsurprisingly cast in Westerns, including Winchester '73 (1950), starring a friend and mentor, James Stewart, and Seminole (1953) with fellow contractee Rock Hudson.
Leaving Universal, Best had top-billing in a low-budget sci-fi horror, The Killer Shrews (1959), in which the close-ups of the nominal creatures were actually hand puppets. More reputable, and uncompromising, was Raoul Walsh's film of Norman Mailer's The Naked and the Dead (1958). He found a kindred spirit in Samuel Fuller, for whom he relived his wartime continental experiences in Verboten! (1959), later appearing in the abrasive director's Shock Corridor (1963). Best thereafter concentrated on television, where many series still had southern or Midwest settings, especially the then proliferating Westerns.
Twice he played a would-be pop star on The Andy Griffith Show (1960 and 1961), rural Americana much loved in its homeland, but never shown in Britain. After supporting in three segments of Alfred Hitchcock Presents (1958-61), he appeared in an eerie, well-remembered 1964 episode of The Alfred Hitchcock Hour, bringing home a mysterious jar that horrifies and fascinates his fellow backwoods folks. Still in the supernatural anthology mode were three rural-themed segments of The Twilight Zone (1961-63), the first with Lee Marvin and the second involving Best awakening to find himself at his own funeral.
His first recurring role in a Western series was in Temple Houston (1963-64), as a horse thief who redeems himself by helping out the eponymous attorney (Jeffrey Hunter). When Jerry Lewis directed and played a (largely) straight part in the medical drama Ben Casey, he cast Best as a fellow doctor, then used him again the following year, with "Introducing" billing despite Best already being a familiar face, in his big screen comedy Three on a Couch (1966).
He was back in the saddle in 1963 and 1964 for Gunsmoke, before playing the title role of a racist outlaw in the episode "Charlie Noon" (1969). At the time of the first two episodes, the series' supporting regulars included Burt Reynolds, with whom Best acted again in a TV movie, Run, Simon, Run (1970), made just before Reynolds' elevation to the big screen.
The star subsequently called on Best again when he directed The End (1978), in which Best directed Reynolds' acting scenes, and when he played the stuntman title character in Hooper (1978). Best worked on the script of the latter as well as appearing as part of Hooper's coterie. Ode to Billy Joe (1976), derived from the Bobbie Gentry song, posited that the title character jumped off the bridge due to guilt over experimental sex with an older man, who was played by Best.
Sometimes spluttering a verbal tic that can be roughly transcribed as "gee-gee-goo-gee-got 'em now!", a regular feature of his performances as Rosco were the verbal slanging matches with his equally dubious but slightly smarter superior – the bald, obese Boss Hogg. Boss was played by Sorrell Booke, with whom Best particularly enjoyed working, later averring that many of their exchanges were improvised.
The series was popular in Britain. It was shown on BBC1 between 1979 and 1986 at a time when the channel was particularly reliant on US imports, and originally aired at 9pm before shuttling between early evenings on Saturdays and Mondays, better to reach a young audience.
Best also taught an acting and film technique course at the University of Central Florida, where students ranged from Glen Campbell to, startlingly, Quentin Tarantino.
His wife, son, two daughters and three grandchildren survive him.
Gavin Gaughan
Jewel Franklin Guy (James Best), actor, director and teacher: born Powderly, Kentucky 26 July 1926; married 1986 Dorothy Collier (two daughters, one son); died Hickory, North Carolina 6 April 2015.
The above obituary can also be accessed online here.