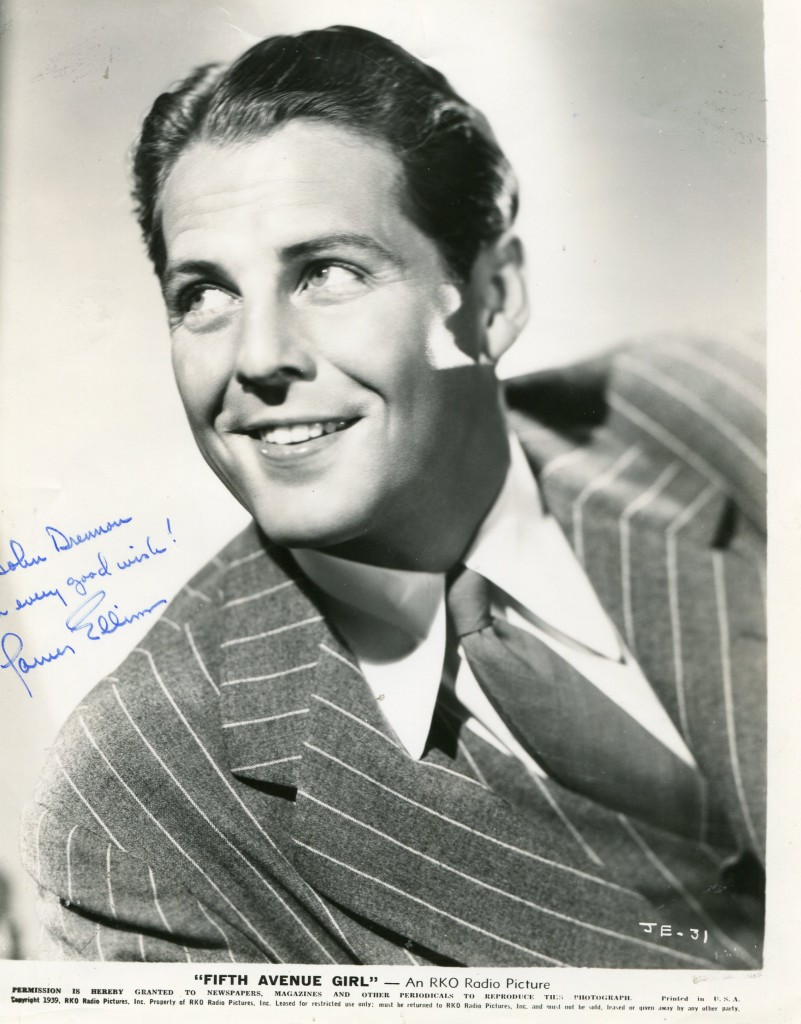 James Ellison was born in 1910 in Iowa. He made man Bmovie westerns in the 1930's including a stint as the sidekick of Hopolang Cassidy. In 1936 he starred in "The Plainsman" with Jean Arthur and Gary Cooper. He starred opposite Frances Dee in the Val Lewton classic "I Walked with a ZXombie". He also starred with Maureen O'Hara in "They Met in Argentina". He ceased acting in 1962 and worked in real estate. He died in 1993 at the age of 83.
"Independent" obituary by Dick Vosburgh:
James Ellison Smith, actor: born Guthrie Center, Iowa 1910; twice married (one son, two stepdaughters); died Montecito, California 23 December 1993.
ALTHOUGH James Ellison appeared in nearly 70 films over 20 years, his place in cinema history rests on eight low-budget westerns he made early in his career; from 1935 to 1937 he played the hotblooded young Johnny Nelson in the phenomenally successful Hopalong Cassidy series. After studying acting at the Pasadena Playhouse, Ellison was forced to take a job in the printing laboratories at Warner Bros. One day he was spotted on the lot and offered a screen test, which he had the unique experience of developing himself. The test led to a small role in the Warners tearjerker Play Girl (1932), but no studio contract.
Eventually MGM did sign him, but used him in only three films. When the contract ended, Ellison had little confidence in his acting ability, and applied to the National Parks Service for training as a forest ranger. Just as in a bad movie, fate suddenly took a hand: the producer Henry Sherman, who was about to bring the 'Hopalong Cassidy' novels to the screen, put him under contract. The role of Johnny Nelson brought him instant popularity, and he was borrowed by Cecil B. De Mille to play Buffalo Bill Cody in The Plainsman (1937), the romanticised story of Wild Bill Hickok and Calamity Jane, co-starring Gary Cooper and Jean Arthur. After leaving the Cassidy series, Ellison made a dozen films under contract to RKO, including Next Time I Marry (1939) and You Can't Fool Your Wife (1940) – both with Lucille Ball – and two with Ginger Rogers: Vivacious Lady (1938) and Fifth Avenue Girl (1940), a reactionary comedy in which Super Patriot Ginger sorted out the problems besetting a tycoon, one of which was Ellison, his rantingly communistic chauffeur. 'You haven't the courage to be a capitalist yourself,' Ginger shouts, 'So you try to drag everyone down to where you are]'
He also played Jack Chesney in the Jack Benny version of Charley's Aunt (1941), appeared in such horror films as The Undying Monster (1942) and I Walked with a Zombie (1943), and even made musicals; in The Gang's All Here (1944), when Alice Faye sang 'No love, no nothin' / Until my baby comes home . . .', Ellison played the soldier for whom she was saving herself. At the time he was chosen for the Cassidy series, his room-mate at the Los Angeles YMCA was a young film-cutter named Pate Lucid. When Ellison left the series in 1937, he was replaced by Lucid, now using the less Surrealist acting name of Russell Hayden. By 1950, the enormous success of the old Cassidy films on television had made both actors familiar to a new generation, and they capitalised on it by producing and starring in a series of six westerns which, although pretty dire, established some sort of record; they were made simultaneously, using the same supporting actors and settings. With the help of library footage, all six films were completed in a single month.
Two years later Ellison retired from the screen and devoted himself to real-estate development and a fuller family life.