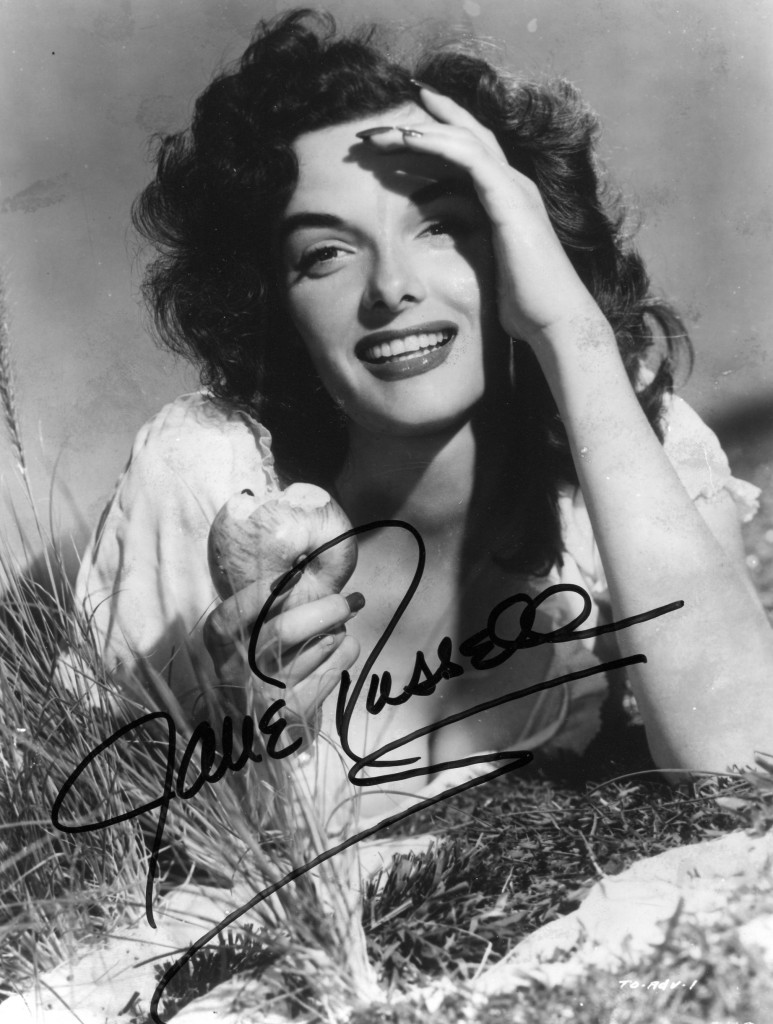 Jane Rusell was born in Minnesota in 1921.   She was under contract to Howard Hughes and made her film debut with the widely publicised "The Outlaw" which was released in 1946.   Over the next dozen years she starred opposite the most popular leading men of the period including Clark Gable, Robert Mitchum, Bob Hope, Frank Sinatra, Richard Egan and Cornel Wilde.   Her more popular films include "The Revolt of Mamie Stover", "The Paleface", "Gentlemen Prefer Blondes" and "The Tall Men".   She died in 2011.
Mark Cousin's obituary in "The Guardian":
The actor Jane Russell, who has died aged 89, was among the most desired women of the 20th century. She had great erotic force and great likability. Russell made just over 20 films, but only a handful of those are remembered: her first film, The Outlaw (1943); the comedy western The Paleface (1948), with Bob Hope; and the musical Gentlemen Prefer Blondes (1953), co-starring Marilyn Monroe.
The Outlaw, produced by Howard Hughes, was famously promoted with a series of publicity stills showing Russell lying in the hay, and bending down to pick up bales. The experience made her savvy about the vulgarity of the film industry. Her breasts were less covered and more fetishised, lit, photographed, designed and dreamed about than any woman's in the cinema had been until that time. Hughes even designed a special bra for her to wear in the film (although she chose not to use it). On the film's much-delayed nationwide release, it was denounced by the church. Surprisingly Russell, a devout Christian since childhood, was unperturbed. Later she would become one of the most regular church attenders in Hollywood and tried to convert Monroe, who went along to one service but said afterwards that it wasn't her thing.
Ernestine Jane Geraldine Russell was born in Bemidji, Minnesota. Her mother was an actor who became a lay preacher. Her father was an office manager whose family came from Inverness. At a young age, Russell moved to the San Fernando Valley in southern California with her parents. She was brought up on a ranch, with four brothers, horses and fruit trees. From the beginning she was a tomboy, preferring a plaid shirt and jeans to dresses; the theme of getting out of trousers and into something slinky, or vice versa, turned up in her more personal films, such as The French Line (1953) and The Fuzzy Pink Nightgown (1957).
Throughout her life Russell hated what she saw as feminine fussiness. She felt that women should be treated the same as men – no special privileges – yet insisted that she was in no way a feminist. "A man should be the head of the household," she once told me, "and a woman should be the heart."
In 1940, a nationwide search by Hughes for a new, voluptuous actress took Russell to Hollywood. She screen-tested, liked what she saw – Hughes and the director Howard Hawks photographed her from above the eyeline, in a way that minimised her solid jawline – and got the part of Rio McDonald, an Irish-Mexican girl caught in a Freudian love triangle between Billy the Kid and Doc Holliday, in The Outlaw.
After the agonising humourlessness of working with Hughes (who was obsessed with her and tried to sleep with her), it was a great relief to Russell to do a comedy, The Paleface, in which she played Calamity Jane. She loved the quick pace of the filming, was delightfully droll with her annihilating put-downs, and she and Hope became lifelong friends. It was he who cracked one of the famous jokes about her, introducing her as "the two and only Miss Russell".
She was next teamed with Robert Mitchum for two RKO films, His Kind of Woman (1951), in which she was entrancing, singing Five Little Miles from San Burdoo, and Macao (1952). He called her "Iron John", and she said that they were like brother and sister. Their shared dark good looks and big boned-ness made them appear alike.
Russell starred again with Hope in a sequel, Son of Paleface (1952), and also made another western, Montana Belle (1952). Her next important film, Gentlemen Prefer Blondes, based on the novel by Anita Loos, still dazzles because of the sisterliness of the friendship between Monroe and Russell, playing the showgirls Lorelei Lee and Dorothy Shaw respectively. They were, as the song put it, "just two little girls from Little Rock". Russell's performance is particularly generous and women loved her for it. Her song Ain't There Anyone Here for Love?, performed in a gymnasium against a backdrop of dancing athletes, gained her a large gay following. She later starred in Gentlemen Marry Brunettes (1955), based on another novel by Loos.
In 1943 Russell had married the American football player Bob Waterfield. As the result of an illegal abortion, she was unable to have children. The couple adopted an Irish boy, Thomas, and she became a campaigner for adoption, lobbying for the rights of Americans to adopt children from overseas. They later adopted another son, Robert, and a daughter, Tracy. In 1954, she and Waterfield set up an independent production company, Russ-Field. She read scripts, worked hard and her subsequent films were intelligent. The Tall Men (1955) with Clark Gable was one of the best of her nine westerns, and in the proto-feminist The Revolt of Mamie Stover (1956) she played a prostitute fighting her way.
In the delightful comedy The Fuzzy Pink Nightgown, Russell played a movie star who is abducted, grows to like her kidnappers, swaps dresses for jeans and a plaid shirt and says lines such as "That splendid career of mine? Don't mix me up with the girl in the movies … all that's only make-believe." Those in the know could see how personal it was, and how sardonic its comments were on Hollywood. The film flopped, Russell got fewer offers, turned down some good films, had an affair, started seeing a psychiatrist and closed down Russ-Field. She and Waterfield divorced and, in 1968, she married the actor Roger Barnett. Just three months after the wedding, he died.
The film industry had changed and Russell felt that she had been left behind. She started drinking and was briefly imprisoned for drink-driving. In the 70s, she also started to appear in Playtex bra advertisements on television, once more becoming a household name. She married her third husband, John Peoples, in 1974.
I got to know her in the late 90s when she and John came to Scotland. She was exactly as Mitchum described her: no-nonsense and down to earth. She did her make-up in five minutes, laughed a lot and was unforgettably generous with her time and stories. My first glimpse of her was in her hotel – no make-up, shower-cap over her head. She visited Edinburgh Castle and took a train to Inverness to see where her relatives came from. Over dinner she would talk about Mitchum and the director Raoul Walsh, and John, a Texan vegetarian, would tell stories of barbecues on the White House lawn for presidents. They were both fervently anti-Clinton Republicans and her last words to my girlfriend were "get married". Russell came to our home, drank iced tea and left her shocking pink lipstick on the glass, which I still have, unwashed.
Russell said that in the whole of her movie career she had had little creative satisfaction. She always worked with macho film-makers and wished she had worked with a "woman's director" such as George Cukor. When John died in 1999, she was on her own again. I asked her once how often she was happy. She replied: "Sometimes life is a valley of tears and sometimes it's the top of the mountain." How often the top of the mountain? "Oh, often, very often."
She is survived by Thomas, Tracy and Robert, and her grandchildren and great-grandchildren.
• Ernestine Jane Geraldine Russell, actor, born 21 June 1921; died 28 February 2011
The above "Guardian" obituary can also be accessed online here.