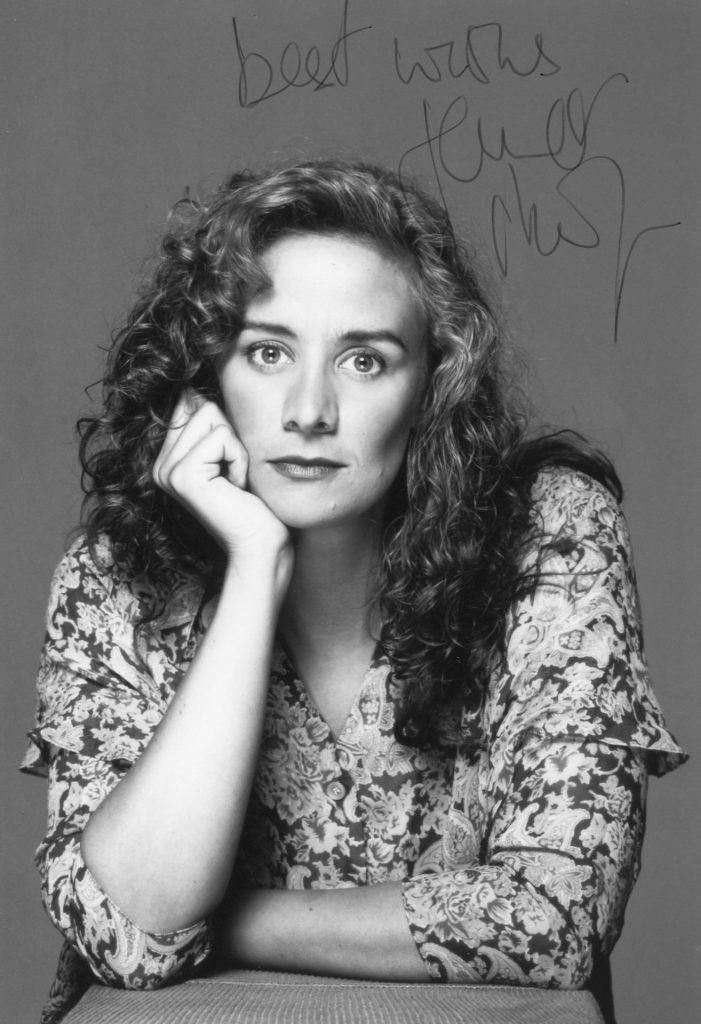 Janet McTeer was born in 1961 in Newcastle-on-Tyne.   She made her movie debut in 1986 in "Half Moon Street".   In 1997 she won a Tony Award on Broadway for her performance in "Hedda Gabler".   Two years later she was nominated for an Oscar for her performance in "Tumbleweeds".   She filmed "Albert Nobbs" in Dublin with Glenn Close.
TCM Overview:
Equally at home on stage or on camera in both period pieces and modern dramas, actress Janet McTeer proved to be one of the more versatile actresses to cross over from the U.K. to Broadway and American film. Having made a name for herself on the stages of London and on British television, McTeer found her breakout role when she was cast as Nora in a West End revival of Henrik Ibsen's "A Doll House" in 1996. The lauded production's move to Broadway the following year not only won the actress multiple awards, including a Tony, but also led to her being cast as the lead in the independently produced drama "Tumbleweeds" (1999), which earned her a Golden Globe. Another winning role came with the Sundance Film Festival favorite "Songcatcher" (2001), followed by turns in the Terry Gilliam-directed "Tideland" (2005) and such acclaimed miniseries as "Five Days" (BBC1, 2007) and "Into the Storm" (HBO, 2009). After earning more raves on Broadway in mountings of "Mary Stuart" and "God of Carnage," the actress stunned audiences and critics alike with her convincing portrayal of a woman posing as a man in Victorian-era London opposite Glenn Close in "Albert Nobbs" (2011). Undeniably talented and exceptionally adaptable, McTeer had rightfully earned her reputation as one of the most dependable actresses on either side of the pond.
McTeer was born May 8, 1961 in the Northeastern England city of Newcastle. Despite never having been on a stage during her youth, McTeer auditioned and was accepted into the Royal Academy of Dramatic Arts immediately following high school. She made her London stage debut in 1985 with an Olivier Award-nominated performance in the title role of "The Grace of Mary Traverse," and went on to build a résumé at the Royal Exchange Theater in "A Midsummer Night's Dream," "The Storm" and "Greenland." Meanwhile, McTeer landed a few guest appearances in TV dramas and made her film debut in a small role as a secretary in the thriller, "Half Moon Street" (1986), starring Michael Caine and Sigourney Weaver. McTeer continued to build the resume with a prominent role in a TV comedy set at a modeling agency called "Les Girls" (ITV, 1988), and delivered an outstanding turn when cast against type as the clumsy, unsure Hazel in Robert Ellis Miller's "Hawks" (1988). In a memorable starring turn, McTeer starred as an outcast-turned-heroine in rural 19th Century England in "Precious Bane" (PBS, 1989), based on the novel by Mary Webb.
Making her first significant big screen impression, McTeer enjoyed a sizable film role as Ellen Dean in the uneven 1992 remake of "Emily Bronte's Wuthering Heights," starring Juliette Binoche and Ralph Fiennes. She etched a memorable, feisty Vita Sackville-West in the 1990 BBC TV production, "Portrait of a Marriage" (PBS, 1992), and continued to appear on American television in British drama imports like "102 Boulevard Haussmann" (A&E, 1991) and "The Black Velvet Gown" (PBS, 1993). She was nominated again for an Olivier Award for playing Yelena in a 1992 London production of "Uncle Vanya" before returning to British television to star as a disliked prison matron set on rebuilding a facility nearly destroyed by riots in the series, "The Governor" (YTV, 1995-96). Continuing to alternate between stage and screen, McTeer made a spirited Beatrice in a West End production of "Much Ado About Nothing," prior to being cast opposite Emma Thompson and Jonathan Pryce in "Carrington" (1995), about British painter and member of the fame Bloomsbury artist colony, Dora Carrington.
That film won a Special Jury Prize at the Cannes Film Festival and McTeer scored another victory on the London stage with her portrayal of unsatisfied housewife Nora in Henrik Ibsen's "A Doll's House." Although the 6'1″ actress initially considered herself too tall to play Nora – a character often referred to as "petite" – McTeer flew in the face of convention and attacked the role with a vengeance, refusing to reduce her heroine to a proto-feminist, and bringing out all Nora's confusion, pain, and prodigious sexuality. The highly animated performance earned her an Olivier Award for her London run and Tony Award, Drama Desk, and Theater World Awards on her subsequent Broadway sweep. This highly visible success also helped launch McTeer's international movie career. In short order, she was tapped to provide the narration for Todd Haynes' "Velvet Goldmine" (1998) and to star in the indie drama "Tumbleweeds" (1999), as the peripatetic single mom of a 12-year-old girl. For her powerful portrait of a mother-daughter relationship, McTeer earned a Best Actress Oscar nomination and a Golden Globe win.
In her big screen follow-up, McTeer headlined the Maggie Greenwald film, "Songcatcher" (2001), portraying a turn of the century musicologist who travels to the Appalachian Mountains where she discovers and documents the region's largely unknown music culture. That film won a Special Jury Prize at Sundance and McTeer lingered on the American independent film scene to play opposite Billy Crudup in the romantic thriller, "Waking the Dead" (2000). McTeer hit the international film festival circuit with "The King is Dead" (2002), in which she played one of a bus full of tourists stranded in a remote African desert who stage a production of King Lear to pass the time, only to have the play mirror their own character flaws and fight for survival. In 2004, the actress co-wrote and starred in "The Intended" as one-half of a British couple stationed in the Malayan jungle to work in the 1920s ivory trade. The heavy melodrama did little to excite critics or draw audiences and McTeer returned to the small screen with a supporting role in "Miss Marple: The Murder at the Vicarage" (PBS, 2004-05).
In 2006, McTeer had a supporting role in Terry Gilliam's nearly universally panned childhood fantasy, "Tideland" (2006), and starred on the London stage as a uncompromisingly nonconformist Mary Queen of Scots in a revival of the 1800 drama, "Mary Stuart." She was also cast in the British drama series, "The Amazing Mrs. Pritchard" (BBC1, 2006) as a conservative politician who becomes an ally to the title character, a supermarket clerk (Jane Horrocks) whose populist outcry leads her to be elected Prime Minister of Britain. McTeer's television career continued to strengthen, with her leading role opposite Hugh Bonneville as a street-smart detective investigating the disappearance of a mother and two children in the HBO/BBC co-produced miniseries, "Five Days" (BBC & HBO, 2007).
McTeer appeared on the West End in 2008 in the comic "Gods of Carnage," and played Mrs. Dashwood in a BBC TV production of Jane Austen's "Sense and Sensibility" (BBC, 2008). Early the following year, McTeer reprised her role in the "Five Days" sequel, "Hunter" (BBC1, 2009). Returning Broadway, McTeer reprised her acclaimed take on Mary Queen of Scots in "Mary Stuart," earning a Tony nomination for Best Actress in a Play and taking home a Drama Desk Award. The same year, she earned an Emmy nomination for her supporting role as Clemmie Churchill, wife of Sir Winston (Brendan Gleeson), in "Into the Storm" (BBC & HBO, 2009), HBO's miniseries focused on Churchill during World War II. McTeer's performance earned the actress a Golden Globe nomination for Best Supporting Actress.
Following another successful run on Broadway in "God of Carnage" in 2009, McTeer continued to impress, even in little-seen efforts such as the action-adventure "Cat Run" (2011), in which she played a matronly assassin-for-hire. Theatrically released only in the United Kingdom, "Island" (2011) was an intense drama featuring McTeer as a mother who, after abandoning her child at birth, is confronted by the angry daughter (Natalie Press) decades later. The actress once again garnered acclaim for her performance in "Albert Nobbs" (2011) as a woman masquerading as a man in order to gain employment in 19th century England. Her work in the film, co-written by and starring Glenn Close in the title role – as a woman harboring a similar secret identity – garnered McTeer both Oscar and Independent Spirit Award nominations for Best Supporting Actress.
 This TCM Overview can also be accessed online
here.