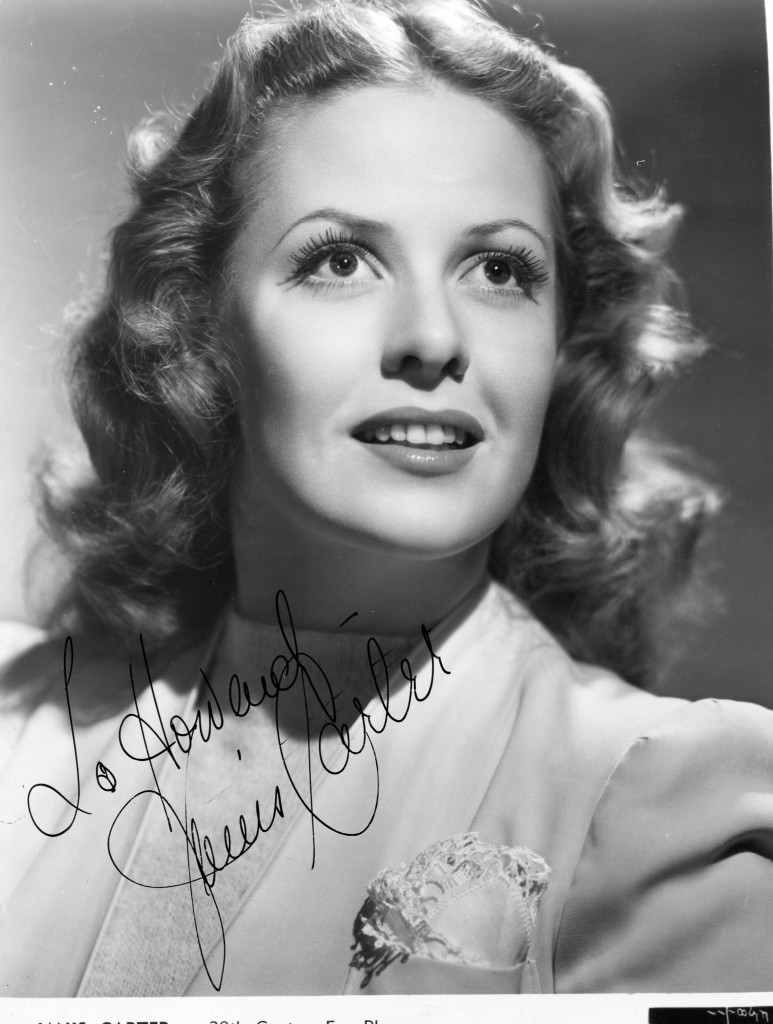 Janis Carter was born in 1913 in Cleaveland, Ohio.   She began her film career in 1941.   Her films include "Night Editor" in 1946 and "Framed" the following.   In 1951 she played opposite John Wayne in "Flying Leathernecks".   She died in 1994 aged 80.
"Independent" obituary by Tom Vallance:
Janis Dremann (Janis Carter), actress: born Cleveland, Ohio 10 October 1913; married first Carl Prager (marriage dissolved 1951), 1956 Julius Stulman; died Durham, North Carolina 30 July 1994.
A TALL, blonde beauty who could be glacially haughty or stylishly witty, Janis Carter was a welcome presence in films of the Forties, whether starring as duplicitous seductresses in 'B' thrillers or vamping the hero as the 'other woman' of major melodramas and comedies.
Her cool, high-toned composure, suggesting darker passions under the surface, made her an ideal film noir actress, and among her finer roles were those in William Castle's Mark of the Whistler (1945), a doom-laden tale based on a Cornell Woolrich story, and Richard Wallace's Framed (1947, called Paula in Britain), in which she used her seductive charms in a plot to have the innocent drifter Glenn Ford take the blame for murder and larceny. In Douglas Sirk's Slightly French (1949), an amusing comedy which starred Dorothy Lamour as a honky-tonk performer being passed off as a Parisian belle, Carter displayed such flair as a wise-cracking socialite that it is a pity this aspect of her talent remained under-used.
Born Janis Dremann in Cleveland, Ohio, in 1913, she studied opera in New York but after failing an audition at the Metropolitan turned to the musical stage. She was a showgirl in two Cole Porter musicals, Dubarry was a Lady (1939) and Panama Hattie (1940), both produced by the composer Buddy DeSylva, who became a constant escort during this period. She also became a successful model, and when John Robert Powers formed his agency she was one of the original 10 Powers Girls.
Signed by Twentieth Century- Fox, she took the professional name Carter and made her film debut in Cadet Girl (1941), followed by six other 'B' movies. In Secret Agent of Japan (1942), released just four months after Pearl Harbor and advertised as 'the first film to tell the inside story of the war', she made a brief but telling impact as a sleekly gowned spy in a Shanghai nightclub passing secrets in her cigarette case to her fellow conspirator Lynn Bari. But Fox were grooming several young actresses, including Bari, and at the end of a year let Carter go. After small roles in MGM's I Married an Angel (1942) and UA's Lady of Burlesque (1943), she was signed by Columbia, where she played in farces (Miss Grant Takes Richmond, 1949, A Woman of Distinction, 1950), musicals (Swing Out the Blues, 1944), swashbucklers (The Fighting Guardsman, 1945) and romantic comedies (Together Again, 1944, One Way To Love, 1945), but primarily thrillers, including episodes of the studio's Boston Blackie and Lone Wolf series. She also made notable appearances in two films in the superior, bleakly cynical 'Whistler' series, Henry Levin's Night Editor (1946), in which she was a socialite having an illicit affair with a married man when they witness a murder, and I Love Trouble (1948), as a glamorous suspects being investigated by the private eye Franchot Tone.
In 1949 Carter moved to RKO, where she had an effective role seducing John Agar into embracing Communism in Howard Hughes's contribution to the Cold War, I Married a Communist (later retitled Woman on Pier 13). She was a femme fatale again in My Forbidden Past (1951), but after colourless roles in a John Wayne war movie, Flying Leathernecks (1951), and two westerns, Santa Fe (1951) and The Half-Breed (1952), she gave up films. Ironically, it was in her last film that she sung solo for the only time in her film career. For two years she hosted a popular television quiz show, Feather Your Nest, and in 1955 was featured in a television version of Panama Hattie.
Her first marriage, to the composer-musician Carl Prager, had ended in 1951 and in 1956 she married the shipping and lumber tycoon Julius Stulman. The couple kept three homes – an apartment in North Carolina, a penthouse in New York, where Carter could be found during the opera season, and a magnificent condominium in Longboat Key, Florida, described by her friend the actress Ann Savage as 'lush outside and luxe within'. She was a director of the Ringling Brothers Museum in Florida and was active on the boards of theatre and opera houses in the state.
The above "Independent" obituary can also be accessed online here.