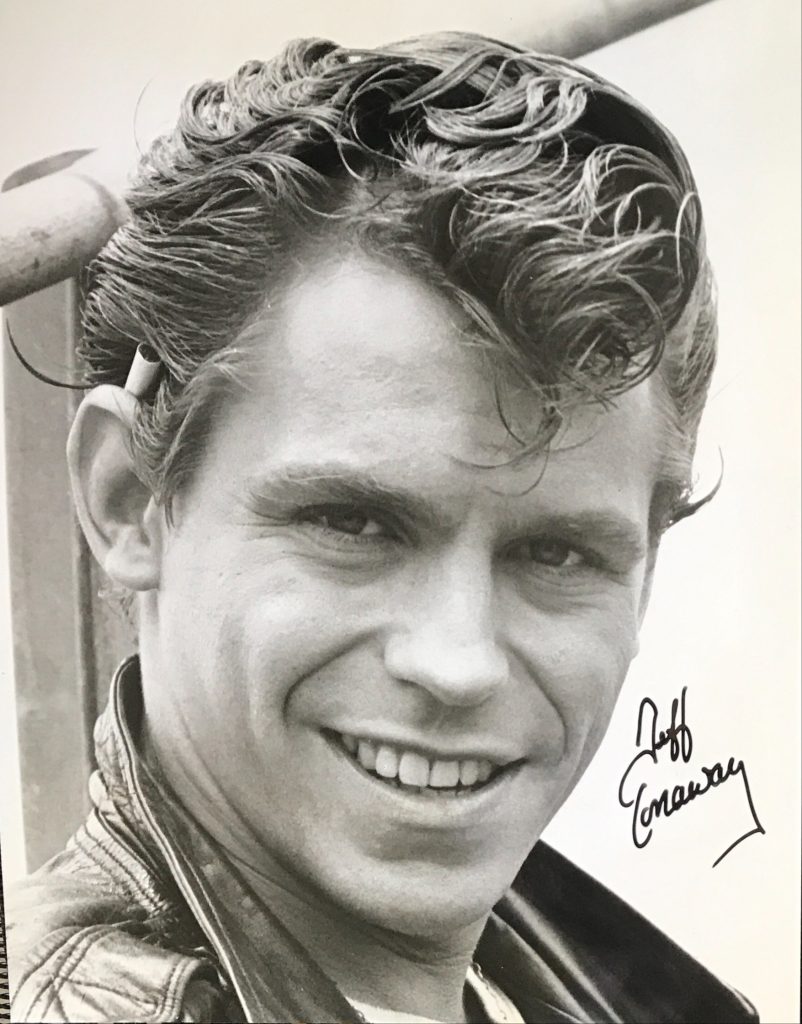 Ronald Bergan's obituary in "The Guardian":
In the late 1970s and early 80s, Taxi was one of the best American sitcoms. It won 18 Emmy awards and its stars, among them Jeff Conaway, who has died in hospital aged 60, became household names. Conaway played the narcissistic, "resting" actor Bobby Wheeler, one of the characters working for the Sunshine cab company, all hoping for better jobs to turn up. In a way, the role mirrored Conaway's own struggle for greater recognition as an actor, which was not helped by his having been addicted to alcohol, cocaine and analgesics since he was a teenager.
In Taxi, the handsome Conaway , sporting the feathered hairstyle popular in the 1970s, had to compete with more fascinating characters in the avuncular Alex Reiger (Judd Hirsch), obnoxious Louie De Palma (Danny DeVito), sexy divorcee Elaine Nardo (Marilu Henner), unvictorious boxer Tony Banta (Tony Danza), and English-impaired immigrant Latka Gravas (Andy Kaufman). Most of the cast of the popular show went on to bigger things, while Conaway's one moment of glory in the cinema was already in his past.
He first made an impact as Kenickie in Grease (1978), released a few months before his debut in Taxi. As John Travolta's sidekick in the high-school gang called the T-birds, Conaway is a finger-snapping, leather-jacketed greaser, a comb and a witticism always at the ready. He says things like "You're cruisin' for a bruisin' " and "A hickie from Kenickie is like a Hallmark card, when you only care enough to send the very best!" He also does some nifty acrobatic dancing, especially in Greased Lightning, on top of a car – this resulted in a back injury that dogged him for most of his life. The cast were too old to play high-school students, but Conaway, at 28, was more convincing than most.
Conaway had already played the Travolta part in the Broadwayproduction of Grease the year before, after starting as an understudy. In fact, Conaway had been on Broadway at the age of 10 in All the Way Home (1960) – based on James Agee's novel A Death in the Family – set in Tennessee in the early 1900s. The young Conaway, as a boy trying to come to terms with the death of his father in a car accident, was at the heart of the play. Although he was born in New York, the childhood summers spent with his South Carolina grandparents proved handy when auditioning for the part, because the director, Arthur Penn, wanted a boy with a southern accent.
He later enrolled in North Carolina School of the Arts, then studied drama at New York University. "I left three months before graduation," Conaway recalled. "There were hard feelings because I had the lead in a school production of The Threepenny Opera. But I was offered Grease on Broadway. Broadway! I couldn't turn it down."
After Taxi, Conaway was seldom out of work, though he found himself trapped in a vicious circle of trashy erotic thrillers in which he usually played a stud, and gradually, with age, detectives, fathers of teens (as in Jawbreaker, 1999) and strip-club owners as in Sunset Strip and It's Showtime (both 1993). His one directorial effort was Bikini Summer II (1992), a sex farce ending with a rock concert on the beach.
Conaway was much better served by TV, appearing in series such as Murder, She Wrote, Burke's Law and Matlock, and in 74 episodes of the science-fiction series Babylon 5 (1994-98) as Zack Allan, the tough security chief.
While he continued to act, Conaway was suffering from substance abuse problems, which came to a head in 1985 following his divorce from Rona Newton-John, the sister of Grease star Olivia, after five years of marriage. In 1990, he married Kerri Young, and had a subsequent fiery six-year relationship with Victoria Spinoza, a singer known as Vikki Lizzi. Earlier this year they filed restraining orders against each other, trading accusations of theft and violence, but were eventually reconciled.
Though Conaway sought treatment, he relapsed from time to time. In 2008 he appeared in the reality TV series Celebrity Rehab, in which he revealed his long-term addictions.
Conaway was found unconscious on 11 May due to a combination of legally prescribed painkillers to treat back problems and other medications. The adverse reaction caused him to contract pneumonia. He was put into a medically induced coma intended to aid his recovery, but was eventually taken off life support. He is survived by Vikki and his sisters Carla and Michele.
• Jeffrey Charles William Michael Conaway, actor, born 5 October 1950; died 27 May 2011
The above "Guardian" obituary can also be accessed online here.