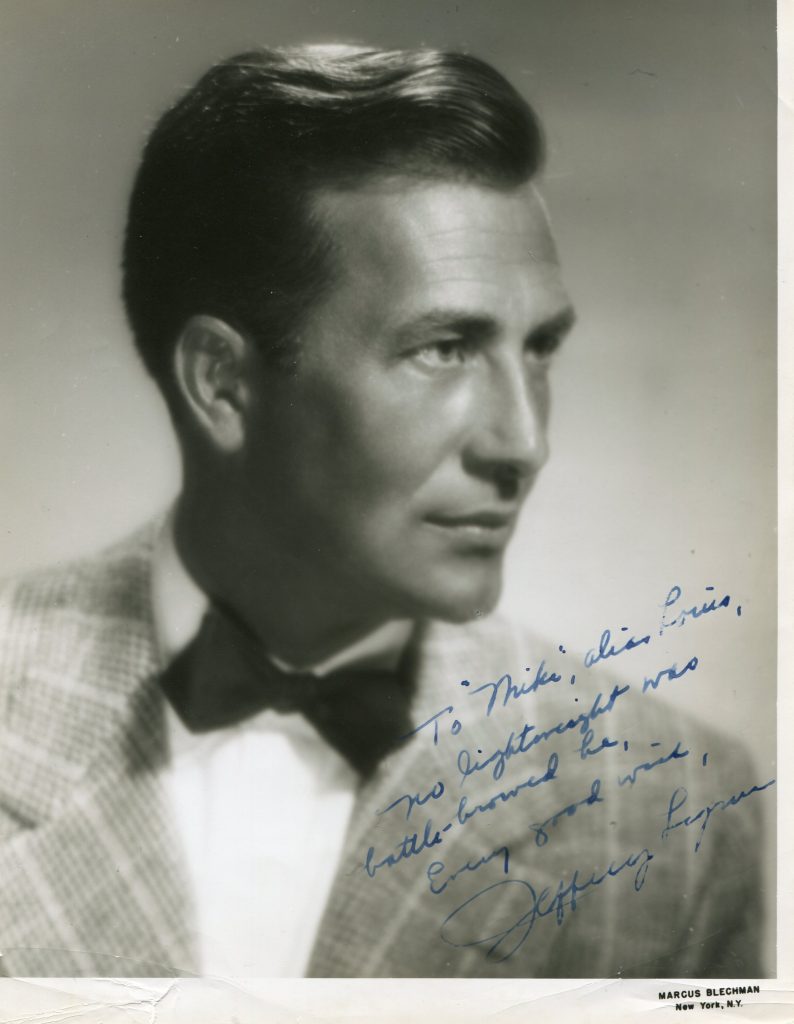 Jeffrey Lynn was born in 1909. He made his film debut in 1938 and among his films are "Four Daughters", "The Roaring Twenties" and "The Fighting 69th". Jeffrey Lynn died in 1995.
Dennis Gifford's "Independent" obituary:
Jeffrey Lynn was the tall, stalwart hero of many a Warner Brothers movie made during his seven-year contract span, which began in 1938 and was interrupted by war service. He never quite made it as a regular above- the-title star, but his good looks and sincere playing won him a place in the memories of all film fans of Hollywood's golden age.
He was born Ragnar Lind in 1909, in Auburn, Massachusetts, and took a BA degree from Bates College, Maine. The stage called, however, and he joined a New York stock company, touring in Brother Rat, a farce about three military school cadets and their flirty girlfriends. Curiously the play was bought and filmed by Warners, but without Lynn, despite the fact that they had tried him out in a Vitaphone short film. Instead he was given a small role in Cowboy From Brooklyn (1938), a Dick Powell musical in which the best song of a sorry bunch was Johnny Mercer's "Ride Tenderfoot Ride".
Lynn's manly presence registered well enough for Warners to award him a seven-year contract, and he was lucky to be cast in a strong supporting role in Four Daughters (1938). This excellent small-town soap opera starred Claude Rains as the musical father, the three Lane sisters (Rosemary, Lola and Priscilla) and Gale Page as the daughters, and a brilliant newcomer to films, John Garfield, as the shabby, self-pitying but fascinating drifter who upsets the hitherto happy family.
The film was Warners' hit of the season, and called for an immediate sequel. With the basic story exhausted (Sister Act, by Fanny Hurst), a new screenplay was contrived around the same cast, excluding Garfield's character who had "died". Entitled Daughters Courageous (1939), this sort- of sequel was another big success, with Lynn's role suitably enlarged. Warners, never the studio to retire quietly, promptly had the original film adapted once again and came up with Four Wives (1939). They followed this with a fourth film, Four Mothers (1940), each time Lynn's role becoming more central to the story.
Meanwhile Lynn was kept busy fulfilling his contract which in typical Warner style had him play supporting roles in big pictures – The Roaring Twenties (1939), with James Cagney and Humphrey Bogart in Mark Hellinger's terrific gangster story – and top roles in "B" pictures. He was the star of The Body Disappears (1941), in which the eccentric Edward Everett Horton makes Jane Wyman's body disappear – literally. He invented invisibility!
In 1941 Lynn was voted as one of the Top Ten Stars of Tomorrow, an exhibitors' poll organised by the Motion Picture Herald. He came in seventh, just two places behind Ronald Reagan. Meanwhile his films grew in stature: he supported Bette Davis and Charles Boyer in All This and Heaven Too (1940) and finally attained top billing as co-star of Underground (1942) with Karen Verne.
This was a war film, and with the United States' entry into the Second World War, Lynn swiftly volunteered for service in the US Army Corps, where he was made a Special Intelligence Officer. He was discharged with the rank of Captain in 1946. His contract was not renewed by Warners, but he did return to the studio in 1949 to appear in Whiplash, a tough boxing film starring Dane Clark. Although he had plenty of film roles in the post-war years, including the all-star A Letter To Three Wives (1949), written and directed by Joseph J. Mankiewicz at Twentieth Century- Fox, it seemed as if Lynn's heroic heyday was over, at least as far as cinema went. He returned to the stage and starred in many plays, including Two for the Seasaw and a revival of Dinner at Eight.
The hungry new medium of television beckoned, however, and from 1960 Lynn played the part of a rich newspaper editor in a popular daytime serial, The Secret Storm. This live television soap opera ran for five years. Roles in other series followed, including parts in Barnaby Jones and Murder She Wrote, the Angela Lansbury series which made a point of bringing back former favourites in small supporting parts. His last major work was once again for the stage; he produced The Diary of Anne Frank at the Centre Theatre, Los Angeles, in 1986.
Denis Gifford
Ragnar Lind (Jeffrey Lynn), actor: born Auburn, Massachusetts 16 February 1906; thrice married (one son, one daughter); died Burbank, California 24 November 1995.
The above "Independent" obituary can also be accessed online here.