Jeremy Irons. Overview.
Jeremy Irons was born in Cowes on the Isle of Wight in 1948. His breakthrough roles occured with "Brideshead Revisited" in 1981 and on film "The French Lieutenant's Woman" with Meryl Streep. He has several notable films to his credit including "Moonlighting", "Dead Ringers", "Damage", "M Butterfly" and is Oscar winning movie "Reversal of Fortune" with Glenn Close in 1990. He is married to Irish actress Sinead Cusack and has a home in West Cork. His son is the actor Max Irons.
TCM Overview:
Classically trained stage actor Jeremy Irons enjoyed one of the most varied international film careers of his peers, going beyond the expected costume dramas to offer award-winning performances as men of all eras and motives. Leveraging his rich, haunting voice for both good and evil, Irons elicited deep-seated discomfort in films like "Dead Ringers" (1988) and "Reversal of Fortune" (1990), but romanced with charming nobility in "The French Lieutenant's Woman" (1981) and "Being Julia" (2004). Irons earned two of his handful of Golden Globe nods while exploring British culture in the television miniseries "Brideshead Revisited" (ITV/PBS, 1981) and "Elizabeth I" (HBO, 2006), but was cast as everything from artists to executives by some of the most renowned directors in the international film community, including Louis Malle, Bernardo Bertolucci, Franco Zeffirelli and Wayne Wang. Irons made his mark in everything from period films to studio blockbusters to everything in between, playing one of the original Musketeers in "The Man in the Iron Mask" (1998), an over-the-top villain in "Dungeons & Dragons" (2000), Antonio in "The Merchant of Venice" (2004), and a cold-blooded investment banking CEO in "Margin Call" (2011). Meanwhile, he made a rare turn to the small screen to give an acclaimed performance as Pope Alexander VI on the widely hailed cable series, "The Borgias" (Showtime, 2011- ). Regardless of the role or medium, Irons could always be counted on to deliver still waters that ran deep – often deep into the realms of great emotional anguish.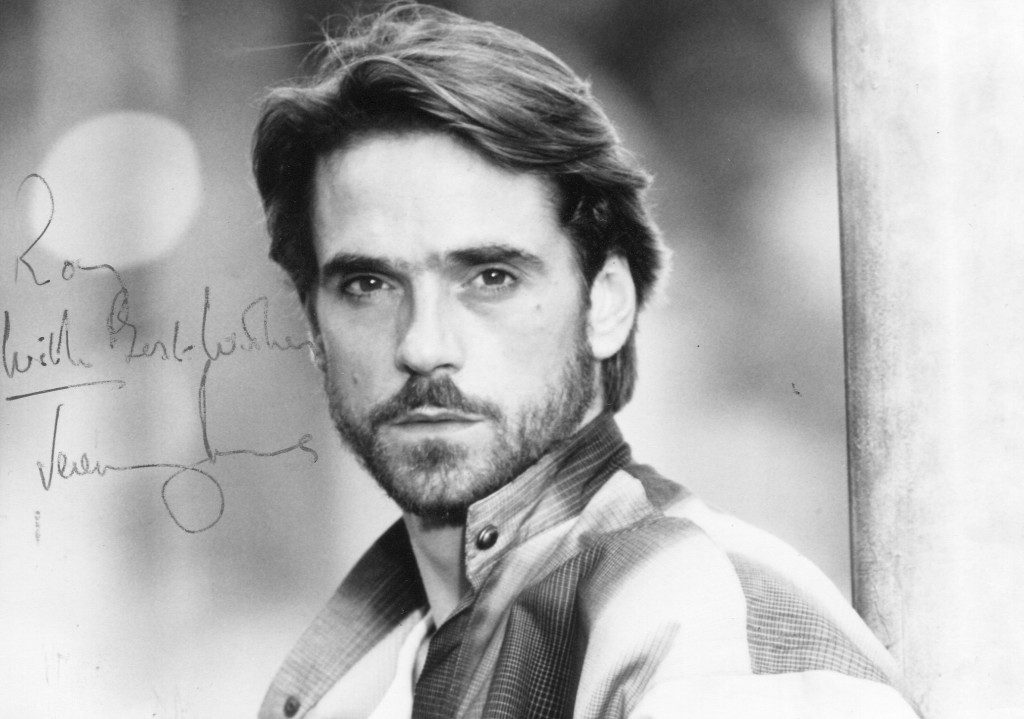 Irons was born on England's Isle of Wight on Sept. 19, 1948. While a boarding school student in Dorset, Irons could often be found performing, sometimes with his four-piece band (as the drummer) and sometimes in comedy skits for school events. He decided to pursue a future on stage and studied drama at the Old Vic Theatre School in Bristol, where he got his professional start as a member of the company beginning in the late 1960s. After several years of acting in modern dramas and Shakespeare alike, Irons made his London stage debut in 1971 playing John the Baptist in "Godspell," a role that employed the actor for two years. On screen, Irons first gained notice for his portrayal of classical composer Franz Liszt in the British miniseries, "Notorious Woman" (PBS, 1975). Following a starring role in the 1977 British television miniseries "Love for Lydia," Irons made a less-than-stellar big screen debut as Mikhail Fokine in Herbert Ross' biopic, "Nijinsky" (1980), but became internationally renowned when he was cast opposite Meryl Streep in the romantic drama, "The French Lieutenant's Woman" (1981), based on John Fowles' novel.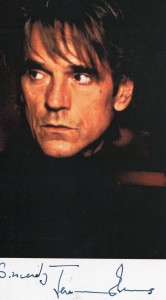 Hot on the heels of Irons' BAFTA-nominated performance in that film, he took the lead as observant narrator Charles Ryder in the TV adaptation of Evelyn Waugh's "Brideshead Revisited" (ITV/PBS, 1981). The international television event was one of the most lauded of the year, earning Irons his first Emmy and Golden Globe nominations. He went on to more eclectic roles, playing the caddish lover in David Jones' critically acclaimed adaptation of Harold Pinter's "Betrayal" (1983), but was miscast as Proust's hero in "Swann in Love" (1984). In 1984, Irons made his Broadway debut and took home a Tony Award for Best Actor for the Mike Nichols-directed "The Real Thing," written by Tom Stoppard and co-starring Glenn Close. Two years later, Irons appeared in a Royal Shakespeare Theater production of "The Winter's Tale" and was back in the film spotlight for his Golden Globe-nominated portrayal of an 18th century Jesuit priest touring South America in Roland Joffe's "The Mission" (1986).
After starring as Richard II on the London stage, Irons gave a bravura dual performance as deranged twin brother doctors in David Cronenberg's classic creeper "Dead Ringers" (1988). In another career highlight, Irons won Academy and Golden Globe Awards for his portrayal of real-life international playboy and suspected murderer Claus von Bulow in Barbet Schroeder's "Reversal of Fortune" (1990), which reunited him with Glenn Close. Irons' haughty, conniving performance made a strong impact, but Irons avoided villainous typecasting by displaying versatility with his leading role as a paranoid insurance clerk in Steven Soderbergh's psychological thriller, "Kafka" (1991), a history teacher haunted by memories of his childhood in "Waterland" (1992), and a conservative English politician undone by an obsessive affair with his son's girlfriend in Louis Malle's "Damage" (1992). Although he tried gamely, his reunion with Cronenberg for "M. Butterfly" (1993) failed to impress critics or audiences, and his second film with Streep and Close, "The House of the Spirits" (1993), unfortunately miscast the team of great thespians as South American aristocrats.
Irons rebounded with a box office and critical hit by providing the sinuous voice of the subtly villainous Scar in Disney's monster animated hit, "The Lion King" (1994). In an effective follow-up bad guy role, he was next cast as the action film cliché "evil foreigner" opposite Bruce Willis in the popular sequel "Die Hard With a Vengeance" (1995). The actor's next two roles were thematically linked. In Bernardo Bertolucci's "Stealing Beauty" (1996), Irons starred as an ailing writer reinvigorated when confronted with the voluptuous teenaged Liv Tyler, while in Adrian Lyne's remake of "Lolita" (1997), he was well-chosen to play classic literary character Humbert Humbert, also enamored of the pubescent title character (Dominique Swain). Irons' run of lovelorn leading roles also included director Wayne Wang's "Chinese Box" (1997), in which Irons was a leukemia-ridden, Hong Kong-based financial reporter who has long held a torch for a bar owner and former "hostess" (Gong Li) from mainland China.
Iconic in the role of Father Aramis in the adaptation of Alexander Dumas' adventure "The Man In the Iron Mask" (1998), starring Leonardo DiCaprio, Irons' talents were thereafter squandered in the legendary flop "Dungeons and Dragons" (2000). He balanced the scales with accomplished turns in higher-brow fare including the A&E miniseries, "Longitude" (2000), as a 20th century naval officer who discovers 18th Century clockmaker John Harrison's abandoned clocks and restores them. A widely praised portrayal of F. Scott Fitzgerald in the Showtime telepic "Last Call" (2002), about the tortured author's final months, was followed by a turn in director Franco Zeffirelli's biopic "Callas Forever" (2002), as opera legend Maria Callas' friend and former manager. The actor became entangled with another musician in "And Now…Ladies and Gentlemen" (2003), in which he starred as a dissatisfied criminal mastermind who sets out on a one-man sailing trip around the world to find meaning in his life and becomes caught up with a burned-out jazz singer (Patricia Kaas).
In 2004, Irons turned in a pair of particularly fine performances, first tapping into his considerable Shakespearean track record to play a disdainful Antonio arguing over the pound of flesh with Al Pacino's Shylock in "William Shakespeare's The Merchant of Venice" (2004). He then co-starred as the agreeably cuckolded husband-manager of an aging, diva-like 1930s stage actress (Annette Bening) who takes up a dalliance of his own in director Istvan Szabo's brilliant, "Being Julia" (2004). In director Ridley Scott's disappointing "Kingdom of Heaven" (2005), however, only Irons, in the role of the Jerusalem king's closest adviser, had a role juicy enough to withstand the film's otherwise furious scenery-chewing. "Casanova" (2005), director Lasse Hallstrom's fictionalized account of the legendary lothario (Heath Ledger) falling in love at last, was easily one of the most ill-conceived and disappointing films of the year, despite lavish production values and a game performance by Irons, who lustily attacked his role as the villainous Catholic Church inquisitor Pucci, who is out to execute the renowned libertine for heresy.
However there was plenty of positive attention on Irons the following year when he joined the cast of the lavish miniseries "Elizabeth I" (Channel 4 UK/ HBO, 2006). While Helen Mirren earned soaring reviews for her incomparable portrayal of the Virgin Queen, Irons matched her talent with his performance as Earl of Leicester, Elizabeth's lover and most trusted, if conflicted, confidant. The British production swept the Emmy and Golden Globe Awards that year, garnering two supporting actor trophies for Irons. Meanwhile, Irons appeared on movie screens as a film director in David Lynch's enigmatic "Inland Empire" (2006) and in the far more accessible but considerably less original family fantasy blockbuster, "Eragon" (2006). Returning to the London stage, Irons had a starring run playing conservative post-war British Prime Minister Harold MacMillan in "Never So Good" and went on to co-star on Broadway opposite Joan Allen in "Impressionism," which paired the two as world-weary artist and gallery owner who fall in love.
Allen and Irons coupled again on the small screen that year in the biopic "Georgia O'Keeffe" (Lifetime, 2009), which chronicled the early career of the famous painter (Allen) and her professional-turned-romantic relationship with influential New York photographer and art gallery owner, Alfred Stieglitz (Irons). Irons' absorbing performance led to Golden Globe and Screen Actors Guild nominations for Best Actor in a TV Movie. Also at the time, Irons returned to the stage opposite Allen in the Broadway production of Michael Jacobs' play "Impressionism" (2009). Back on screen, he starred in the well-received historical drama, "The Borgias" (Showtime, 2011), a series created by Irish filmmaker Neil Jordan that focused on the corrupt and murderous Italian Renaissance family headed by Roderic Borgia (Irons), who went on to become the debased Pope Alexander VI. The role earned Irons a Golden Globe nomination for Best Actor in a drama series. Also that year, he returned to features with "Margin Call" (2011), playing the CEO of a Lehman Brothers-like investment bank caught in the throes of the 2008 financial meltdown.
The above TCM overview can also be accessed online here.