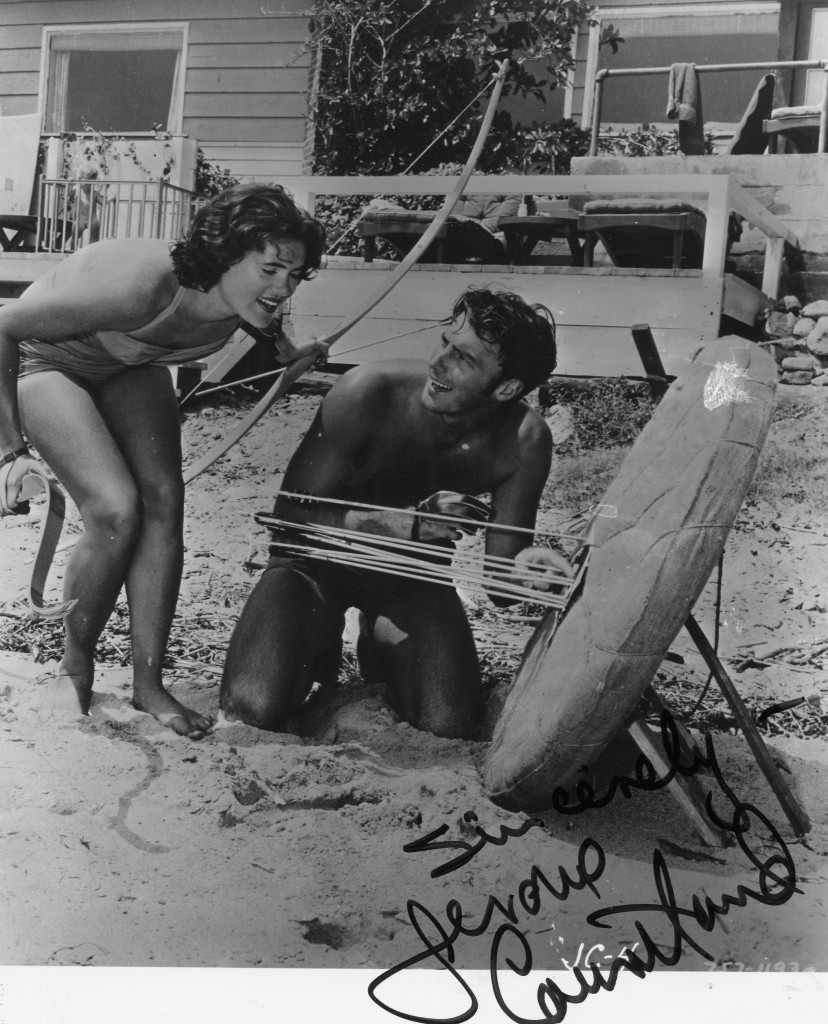 Jerome Courtland was born in Knoxzville, Tennessee in 1926. Among is films are "The Man from Colorado" in 1949, "Battleground" and "The Bamboo Prison".
Obituary from the Walt Disney Family Museum:
To those of a certain age, the name Jerome Courtland is that of a busy television director, long associated with mega-producer Aaron Spelling. Director Courtland's name sparkled on glamorous TV dramas such as Knot's Landing, Falcon Crest, and Dynasty. To another generation, he was an active producer, a name on the credits of familiar TV programs such as The Flying Nun and Here Come the Brides; and a strong affiliation with a string of popular Disney hits, such as Escape to Witch Mountain and Pete's Dragon. Still another generation remembers Jerome Courtland as an appealing and versatile young actor in a variety of feature films of the 1940 and early 1950s, as a western hero of late 1950s television—or perhaps even as the singing star of a Broadway musical. "He was a hell of a talent," his longtime colleague and friend Ron Miller, past CEO of The Walt Disney Company succinctly says.
Born Courtland Jourolman Jr. in Knoxville, Tennessee in 1926, a 17-year-old Courtland attended a Hollywood party with his mother, a professional singer. There, he met director Charles Vidor, who talked the youngster into a screen test at Columbia Pictures, where he was subsequently signed to a seven-year contract. His feature debut was in Vidor's 1944 screwball comedy Together Again, before he joined the military, seeing service in the Pacific. After the War, Courtland starred opposite Shirley Temple in Kiss and Tell, followed by a succession of more than a dozen westerns, war films, and musicals at Columbia; among them The Man From Colorado (1948), Battleground (1949), The Palomino (1950), The Barefoot Mailman (1951), and Take the High Ground (1953). In May of 1951, Courtland took the lead in the E.Y Harburg/Sammy Fain Broadway musical Flahooley, which—despite its creative pedigree and a cast including Ernest Truex, Barbara Cook (in her Broadway debut), Irwin Corey, Yma Sumac, Louis Nye, Nehemiah Persoff, and Ted Thurston (along with the puppets of Bil Baird and his wife Cora)—only ran for 40 performances. He returned to California and was frequently seen in guest roles on Westerns including The Rifleman, Death Valley Days and The Virginian.
Walt Disney cast Courtland in the lead of the short-lived 1957 Disneyland TV serial "The Saga of Andy Burnett," Walt's surrender to ABC TV for "more Westerns" after the smash success of the Davy Crockett series—and the preponderance of what the trade paper Variety had nicknamed "oaters" filling the TV airwaves then. "One of my first big assignments was as assistant director on 'The Saga of Andy Burnett,' and Jerry was the star," Ron Miller recalls. "We became great friends, and worked together again and again over the next 20-plus years." At Disney, Courtland—like a number of Walt's talented stable of actors—went on to other roles. He sang the Oliver Wallace/Gil George title song for the 1957 feature Old Yeller as well as on the hit record of the tune, played Lieutenant Henry Nowlan in the 1958 feature Tonka (starring Sal Mineo), and narrated the Academy Award®-nominated stop-motion animated short Noah's Ark. He left Disney, had his hair and beard dyed blonde, and starred in the 1959-1960 series Tales of the Vikings. Later feature credits include the musical O Sole Mio(1960), Queen of the Seas (1961), and Cafe Oriental (1962).
He returned to Disney and began his producing career as an assistant on the "Gallagher" series on Walt Disney's Wonderful World of Color TV program in the mid-1960s. He went on to produces such series as Here Come the Brides (1968),The Flying Nun (1968), The Partridge Family (1972) and The Interns (1970); as well as TV-movies such as Gidget Grows Up (1969) before returning to the Walt Disney Studio as a producer in the early 1970s. There, Courtland supervised more than a dozen successful TV films and features such as Escape to Witch Mountain (1975) and its sequel Return from Witch Mountain (1978), Ride a Wild Pony (1975), Pete's Dragon (1977) and The Devil and Max Devlin (1981). Courtland left Disney for a long collaboration with Lorimar Productions and Aaron Spelling, where he directed dozens of episodes of that organization's jewel box of glitzy 1980s nighttime dramas such as Knot's Landing, Falcon Crest, Hotel, The Colbys, Dynasty, The Love Boat, and Fantasy Island. He moved to Chicago in 1997, where he taught drama and film directing at Columbia College for five years.
"He was probably a great teacher," Diane Disney Miller says. "He was so knowledgeable, so articulate."
"And he had such an engaging energy," Ron Miller adds.
"Jerry was so gifted at so many things," Ron continues. "He had a natural ability as a performer, but was also a smart and savvy production man. He was also quite an athlete—there was a time when we were playing tennis at least three days a week—after a full day's work."
Diane Disney Miller remembers an even more remarkable "Disney connection" regarding Jerome Courtland. "Jerry's mother, Mary Sprackling, was one of my mother's best friends," Diane recalls. "Mother and Dad traveled with Mary and Bill Sprackling frequently…you see them in those photos from Salvador Dali's home in Spain."
Courtland died on Thursday, March 8 from heart disease. He was 85. A memorial service is scheduled for March 31.
"I was really saddened to hear of Jerry's death," Ron says. "We did so many things together, he was such a great talent, and we were great friends."
"I am truly amazed at his resume," Diane adds, "and Jerry was really such a lovely