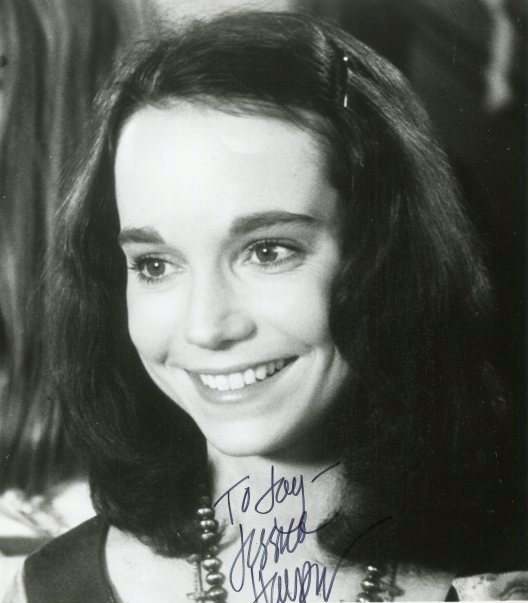 Jessica Harper was born in 1949 in Chicago.   Her film debut came in "Phantom of Paradise" in 1974.   Other films include "Inserts", "Love and Death", "Suspira" with Joan Bennett and Alida Valli in 1977 and "Stardust Memories".   Her last film was "Minority Report" in 2002.
Attractive, bright-eyed, and talented leading lady with a winning smile and a soothingly placid quality. Harper's early roles had her playing nice girls surrounded and eventually impinged on by corruption in several diverse genre films of the 1970s. She sparkled in Brian De Palma's initially underrated rock musical "Phantom of the Paradise" (1974) as Phoenix, an aspiring recording artist who willingly sells out to become a star. After a small part in Woody Allen's "Love and Death" (1975), Harper won positive notices for her performance in the largely reviled erotic period film "Inserts" (1975), as the girlfriend of a porno backer during 1930s Hollywood. She proved a hardy and resourceful heroine in Italian horror meister Dario Argento's "Suspiria" (1976) as a new student at a very odd school for girls.
Harper began appearing in TV-movies and miniseries in the late-70s, notably in period pieces ("Little Women" NBC, 1979 and "Studs Lonigan" NBC, 1979). She continued to appear regularly in features through the early 80s in films including Allen's "Stardust Memories" (1980), as one of his neurotic objects of desire, and "Pennies From Heaven" (1981), a surreal musical set during the Depression, as the unhappy wife of a brutish Steve Martin. "My Favorite Year" (1982) would be her last major film credit for over a decade. Harper received her widest exposure as first the girlfriend and subsequently the wife of comic Garry Shandling on "It's Garry Shandling's Show" (1990). She continued to appear on TV periodically and returned to features with a small role in the underperforming Matt Dillon vehicle "Mr. Wonderful" (1993) and as Lukas Haas' mother in "Boyz" (1996).
The above TCM overview can also be accessed online here.
TCM Overview: