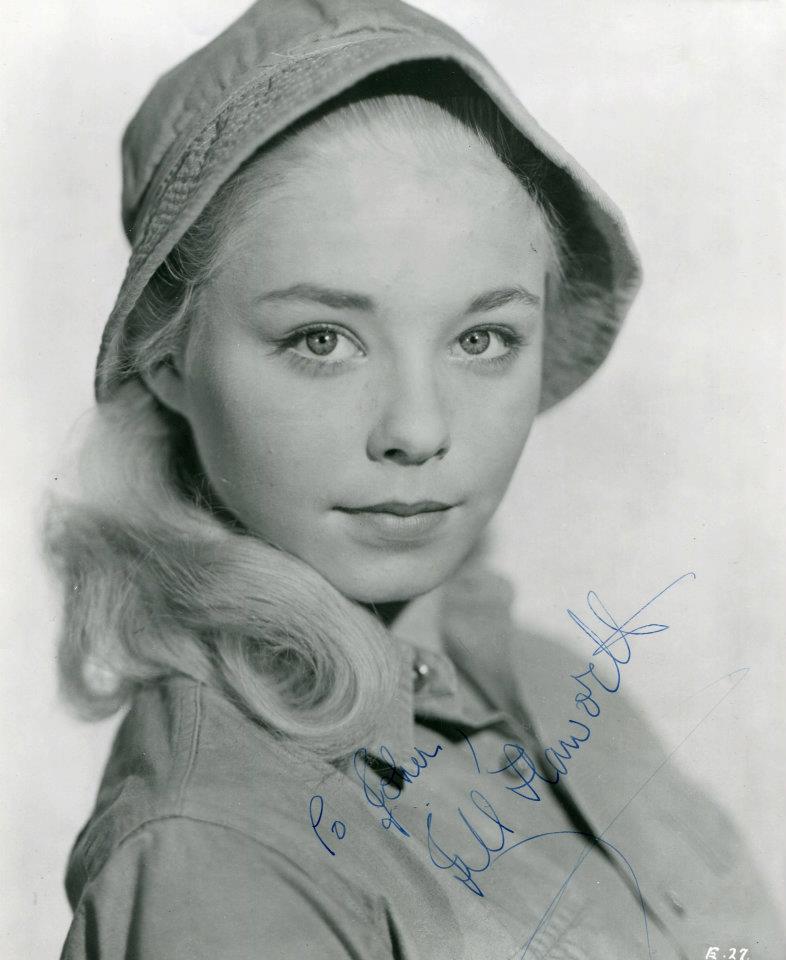 Jill Haworth obituary in "The Guardian" in 2011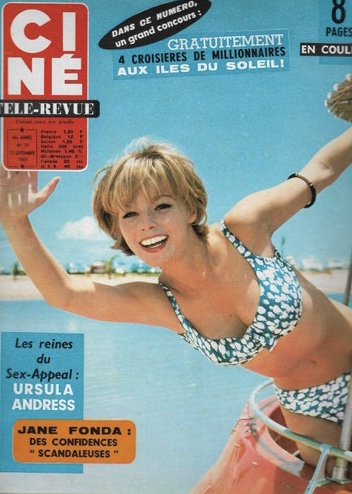 The producer-director Otto Preminger had an eye for blue-eyed blondes, casting two complete unknowns, the 19-year-old Jean Seberg in Saint Joan (1957) and the 15-year-old Jill Haworth in Exodus (1960), with mixed results. In Preminger's rambling, all-things-to-all-people saga about the birth of Israel, Haworth, who has died aged 65, played Karen Hansen, a young Danish-Jewish girl searching for her father, from whom she was separated during the second world war. She falls in love with a radical Zionist (Sal Mineo), but is killed during a raid and buried in the same grave as an Arab, a symbol of reconciliation between the two peoples. Despite a phoney accent and the fact that she had never acted previously, Haworth was cute and touching in the significant role.
She then appeared in two more of Preminger's overstretched epics on huge subjects: The Cardinal (1963), on the Catholic church; and In Harm's Way (1965), on the American military in the immediate aftermath of Pearl Harbor. In the former, she is a saintly French-Catholic girl (thankfully using her own, well-enunciated English accent) who devotes her life to helping the sick and the dying, and in the latter, she is a nurse who is raped by a naval commander (Kirk Douglas), which leads to her suicide.
Haworth's rather tragic appearances in these three Hollywood blockbusters, preceding her starring role as Sally Bowles in the hit John Kander-Fred Ebb Broadway musical Cabaret (1966-69), seemed to foretell a long and lustrous career in films and on stage. Somehow, it was not to be.
Valerie Jill Haworth was born into a wealthy family in Sussex, her father being in the textile business. Though the surname was pronounced "Hahworth", she consented to the Americans calling her Hayworth, "just as long as they don't spell it H-a-y," she insisted.
As a youngster, she had ambitions to be a ballet dancer like her mother, until Preminger changed all that. During the making of Exodus, there were rumours that she and Mineo had fallen in love. This seemed to be confirmed when she moved into his home in Beverly Hills, California, after the movie was finished, and stayed there for two years, although she soon discovered that Mineo was gay. They remained good friends.
Between the Preminger films, Haworth made three films in France, notably The Mysteries of Paris (1962), the seventh screen version of Eugène Sue's 19th-century melodramatic serial novel. Haworth was splendid as Fleur de Marie, a prostitute – still retaining her angelic looks – rescued from evil by Jean Marais as the swashbuckling hero, Rodolphe de Sombreuil.
At the same time, she made several appearances in television series such as Burke's Law and Rawhide, but she is best remembered for an episode of Outer Limits called The Sixth Finger (1963), in which she played the faithful Welsh girlfriend of David McCallum, who is a victim of an experiment to speed up evolution.
Although Haworth had never sung a note professionally, she was chosen out of more than 200 applicants for the role of Sally Bowles, the British expat singer at the Kit Kat Klub in pre-war Berlin, in Cabaret. Despite mixed reviews – including a particularly bad one from the influential Walter Kerr of the New York Times, who noted that "the musical's one wrong note is Jill Haworth, worth no more to the show than her weight in mascara" – she stayed with the show for almost two years, gaining a following.
Actually, Haworth, wearing a dark wig, was much closer to Christopher Isherwood's Sally in his Goodbye to Berlin than Liza Minnelli was in the 1972 film version. Minnelli was much too good a singer to be found in such a seamy club. Isherwood described Sally in the book thus: "She had a surprisingly deep, husky voice. She sang badly, without any expression, her hands hanging down at her sides – yet her performance was, in its own way, effective because of her startling appearance and her air of not caring a curse of what people thought of her." That was exactly Haworth's performance, especially in the gutsy title number.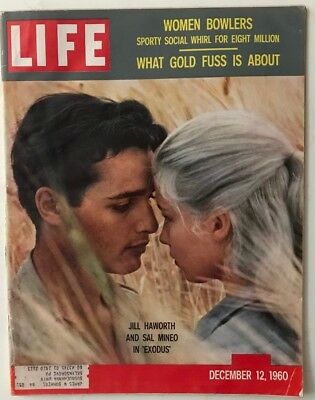 After Cabaret, her career entered another stage, that of a "scream queen" in low-budget horror movies. She had taken the first steps previously in It! (1967), a risible updating of the golem legend, in which Roddy McDowall, as a deranged museum curator, lusts after his assistant, Haworth. He manages to bring a giant ancient Hebrew statue to life, bringing about the "monster carries girl" climax, a cliche of the genre.
Haworth is threatened again in The Haunted House of Horror (1969), in which she is a mini-skirted swinger who goes ghost-hunting with her "groovy" friends in an old, deserted mansion. In Tower of Evil (1972), she is chased around a lighthouse by someone or something with a sharp weapon. In Home for the Holidays (1972) – a television film scripted by Joseph Stefano, the screenwriter of Psycho – she is killed with a pitchfork, and in Mutations (1974), inexplicably directed by the great cinematographer Jack Cardiff, she is a student who gets involved with the unspeakable acts of a scientist (Donald Pleasence) who crosses humans with plants.
Haworth, who never married, had lived in New York since 1967, in an apartment bought during her time in Cabaret, which she considered the peak of her career.
• Valerie Jill Haworth, actor, born 15 August 1945; died 3 January 2011
For "The Guardian" Obituary on Jill Haworth, please click here.
Tribute
2014
Petite English actress Jill Haworth had an interesting if unsatisfactory screen career. Like so many other talented young actresses, what began as a promising start in big budget pictures, later settled into mainly low budget horror flicks, certainly unworthy of her natural acting abilities.
Valerie Jill Haworth was born in Hove, Sussex, on August 15th 1945, and as a child had no ambition for acting, preferring ballet instead. During a worldwide talent search though, she was spotted by Otto Preminger who gave Haworth the role of doomed refugee; Karen, in his 1960 epic 'Exodus', alongside Paul Newman and future on-off boyfriend Sal Mineo. Signing a three movie contract for the notoriously difficult producer-director, Jill had minor roles in Preminger's other epics 'The Cardinal' ('63), and 'In Harms Way' ('65) with John Wayne, of whom she said was the meanest, nastiest man she ever worked with. The following year Jill was lusted after by Roddy McDowell in the silly but enjoyable horror film 'It!' ('66). While she hated the movie, Jill loved working with McDowell. That same year Jill won the role of Sally Bowles in the original Broadway run of the smash musical 'Cabaret', a part she would play for over two years. Unfortunately, by the time Bob Fosse directed the 1972 movie version; Jill's short-lived fame had diminished considerably, and she was passed over in favour of the up and coming Liza Minnelli.
Back in the UK Jill looked stunning as a thrill-seeking teen in Michael Armstrong's directorial debut 'The Haunted House of Horror' ('69). A pretty lame 'old dark house' fright flick, she at least enjoyed working with co-star Frankie Avalon, but was never keen on being in these cheap horror movies. After appearing in episodes of 'Mission Impossible' ('70) and 'Bonanza' ('71), Jill played a mini-skirt wearing archaeologist in Jim O'Connolly's silly but fun horror 'Tower of Evil' ('72). A better movie that year, albeit a television one, was the wonderful thriller 'Home for the Holidays' ('72) with Eleanor Parker, Jessica Walter and Sally Field. It told the story of four sisters who are reunited one Christmas to visit their dying father, unaware that there's a murderer in their midst. I think it's one of the best of the many Seventies TV thrillers, and provided strong roles for both Jill and her female co-stars.
Another horror followed when she played a pig-tailed student terrorised by her mutated boyfriend, in Jack Cardiff's messy 'mad scientist' movie 'The Mutations' ('74). By now Haworth's film career was in a rapid decline, although she would continue acting in regional theatre. After a small role in the 1981 oddity 'Strong Medicine', Jill concentrated on doing voice-over work, only coming out of retirement for the 2001 independent film 'Mergers & Acquisitions', which would be her final screen appearance.
Never married, Haworth died in her sleep of natural causes, in New York on January 3rd 2011. She was 65 years old. An elegant blonde beauty with a marvellous throaty voice, Jill Haworth had moderate success on both stage and screen, but never found the roles and acclaim she deserved. Instead, Jill will be mostly remembered for her appearances in low-grade British horror, which, while she was never keen to appear in, to her many genre fans, this is no bad thing.
Favourite Movie: The Cardinal
Favourite Performance: Home for the Holidays