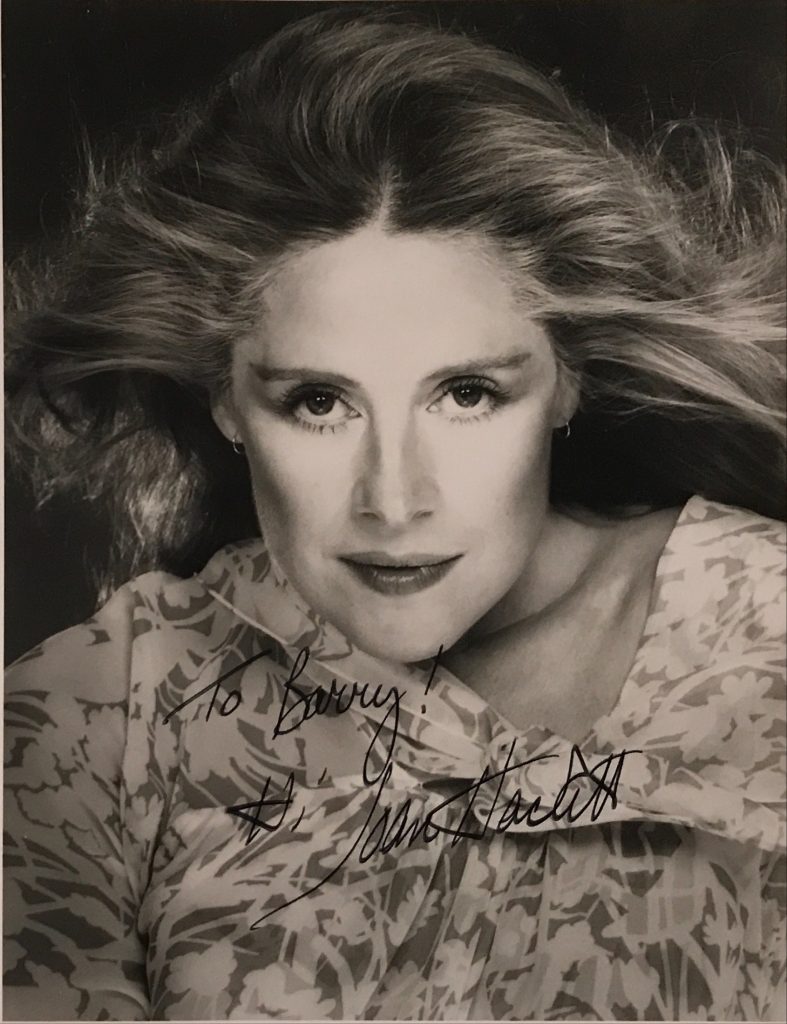 Joan Hackett was born in 1934 in New York City of Irish and Italian extraction. She made her television debut in 1959 in "Young Doctor Malone". She made her film debut in 1966 in "The Group" with other aspiring young actresses including Shirley Knoght, Joanna Pettet, Jessica Walter and Candice Bergen. She won critical acclaim for her lead performance opposite Charlton Heston in the Western, "Will Penny" in 1967. Other cinema highlights were "Support Your Local Sheriff" opposite James Garner and "Only When I Laugh" in 1981. She had a very distinctive voice and was a brilliant young character actress. She died in 1983 at the age of 49.
TCM Biography:
Slender, gentle-featured lead and supporting actress of the 1960s and 70s, most typically in nonglamorous roles. After experience as a model and acting training under Lee Strasberg and others, Hackett gained notice off-Broadway with her award-winning work in "Call Me by My Rightful Name" (1961). She became prominent in TV work soon thereafter, copping an Emmy nomination for an episode of "Ben Casey" and playing Robert Reed's girlfriend on the first season of the popular father-and-son lawyer drama, "The Defenders". Hackett's quiet intensity suited her well for a TV adaptation of "Rebecca" (1962) in which she played the mousy second Mrs. DeWinter. By 1964 she was playing leads in two feature-length installments of "The Bob Hope Chrysler Theatre", "Echo of Evil" and "The Highest Fall of All".
Hackett moved to feature work soon thereafter with an excellent debut in Sidney Lumet's ensemble study of female college classmates, "The Group" (1966), in which her wide emotional range as an actress was given full scope. Her subsequent screen work was intermittent but occasionally interesting (e.g. "Will Penny" 1968) but, beginning with the intriguing "The Last of Sheila" (1973), Hackett began alternating supporting roles with leads. TV-movies, often melodramas or thrillers, kept her busy, and included "Lights Out" (1972), "The Possessed" (1977) and "Paper Dolls" (1982). "Pleasure Cove" (1979) and a failed sitcom, "Another Day" (1978), did not properly exploit her potential for comedy, but, in one of her last feature roles, she brought a grim, rueful humor to her Oscar-nominated role as Marsha Mason's vain, edgy girlfriend in "Only When I Laugh" (1981). Divorced from actor Richard Mulligan, Hackett succumbed to cancer in 1983.
Her TCM Biography can also be accessed here.
Article on Joan Hackett in "Tina Aumont's Eyes" website:
A perfectionist capable of playing anything from snooty socialites to nervy housewives, Joan Hackett had an interesting and varied screen career before her untimely death at just 49. A fine, one-of-a-kind dramatic actress, Joan appeared in some award-winning pictures, memorable TV thrillers, and the occasional comedy.
Born in New York on March 1st 1934, Joan began on Broadway before making her movie debut in Sidney Lumet's engaging soap opera 'The Group' ('66). Playing the nervous and insecure Dottie alongside such burgeoning talents; Joanna Pettet, Shirley Knight and Elizabeth Hartman, Joan more than held her own, giving one of the films best performances. Hackett was then impressive in the realistic western 'Will Penny' ('68), as a single mother struggling in the frontier, who is ultimately deserted by Charlton Heston's aging cowboy. Another western followed, this time a comedy; 'Support Your Local Sheriff!' ('69), and it was good one. Starring James Garner as an ultra-calm newcomer to a lawless gold-laden town, Joan was great fun as the fiery daughter of the mayor who is battling with greedy bandits who have taken over the place. After playing Anthony Perkin's fiancé in the 1970 TV thriller 'How Awful About Allan', Joan was a widow whose insane, jealous son (Scott Jacoby) doesn't take too warmly to his mother's new beau, in the obscure oddity 'Rivals' ('72).
The following year, Hackett was the alcoholic wife of Richard Benjamin's aspiring screenwriter, in one of her best movies, the superb ensemble thriller 'The Last of Sheila' ('73), a puzzle of a movie that must be seen more than once to (if ever!) fully understand it. Another television movie came next; 'Reflections of Murder' ('74) with Tuesday Weld and Sam Waterston. It was a decent remake of the twisty French horror 'Les Diaboliques' ('55), and Joan played her nervous, abused wife character to the hilt, in this atmospheric 'missing body' thriller. A Disney movie followed with the rather forgotten adventure 'Treasure of Matecumbe' ('76), a buried booty tale co-starring Peter Ustinov and Robert Foxworth.
Hackett would spend the next few years mainly in television, during which time she appeared in the genuinely scary 'Bobby' segment of Dan Curtis's TV anthology 'Dead of Night' ('77). In it, she stars as a grieving mother who wishes her dead son back to life, much to her regret. The last few seconds of this segment are terrifying and once seen, never forgotten. After playing Paul Simon's bored wife in the dreary drama 'One-Trick Pony' ('80), Joan was back on form as Marsha Mason's flawed socialite best friend, in Neil Simon's 'Only When I Laugh' ('81), earning a Golden Globe and Academy Award nomination. Already suffering from cancer, the movie proved to be Hackett's last great performance, and we are only left to imagine how her career could have soared, had she lived. Her final movie was a small role in the 1982 drama 'The Escape Artist', noted for its beautiful score by Georges Delerue.
Married from 1965 to 1973, to her one-time co-star; Richard Mulligan, Joan died of ovarian cancer in California, on October 8th 1983, aged 49. An always interesting actress, with a wide smile and sometimes nervous demeanour, Joan Hackett succeeded on stage, screen and television, bringing to life some memorable and often complex characters. A true one-off who radiated on screen.
Favourite Movie: The Last of Sheila
Favourite Performance: Support Your Local Sheriff!
The above article can also be accessed online here.