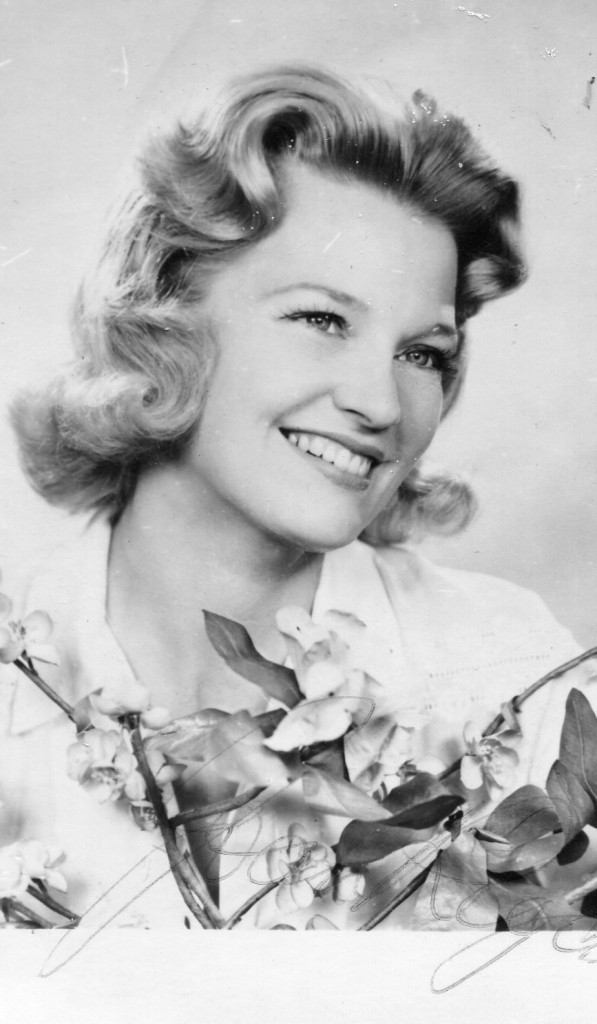 Joan Regan was a very popular singer in Britain in the 1950's. She was born in Romford, Essex in 1928. Her film appearances include in 1955 "A Prize of Gold" and "A Santa for Christmas". She died in 2013.
Dennis Barker's obituary in "The Guardian":
Though there may have been a rather old-fashioned element in the sort of blonde, blue-eyed wholesomeness projected by the singer Joan Regan, who has died aged 85, it clearly worked to her advantage. Her first release, Till I Waltz With You Again, sold 35,000 copies – highly unusual for an unknown singer in the early 1950s. Soon she was able to sell 250,000 copies of Till They've All Gone Home, another number in which sentiment was never allowed to become cloying. Ricochet (1953) sold 8,000 within days of its release and reached No 8 in the charts.
"I don't profess to be a sexy sort of person," she said as her career was taking off. "It makes me feel good to draw the whole family, rather than just the teenagers." Some fans thought she took after Vera Lynn, the famous wartime forces sweetheart, who kept up the morale of the troops by singing about stable relationships back home, while she reminded others of Gracie Fields.
Regan's smile, revealing flashing white teeth, suggested high spirits rather than roguishness. Of her stage manner, one commentator said that she "sings the abominable lyrics of the modern pop songs with rapt sincerity". Once she had established herself, albums and television work followed.
Born in Romford, Essex, to parents who had come from Ireland, Regan married an American serviceman, Dick Howell, at the age of 17, and for a time lived with him in Burbank, California. They had three children, but the middle one died and the marriage broke down.
Depressed and wanting the reassurance of being back with her own family, she returned with her two sons to London. She was 22, and dreamed of being what was then called a crooner.
For a time she worked in the office of her fruiterer brother-in-law. By chance she told their bank manager that as a child she had sung publicly and had won two talent contests as a teenager, but that she saw little point in a housewife and mother hoping to become a singing star. The bank manager happened to know Keith Devon, who worked for the then Bernard Delfont agency, and told him that there was a girl driving him mad with her determination to be a singer, and would he please talk her out of it? Devon arranged for a demo disc to be made and was playing it in his office one day when his boss walked in. Delfont was impressed.
The result was that Regan began to record for the Decca label. The disc jockey Jack Jackson's enthusiasm for her recording of I'll Always Be Thinking of You was one of the factors that helped make her well known even before becoming a regular stage performer. By 1954, when If I Give My Heart to You reached No 3, she was earning £10,000 a year, a great deal at the time, and had a fan club of 7,000.
Once she had begun to appear in variety, she took the strains with apparent ease – though two days after her debut she bent low when taking her bow at the front of the stage, was knocked unconscious by the descending safety curtain and had to be carried off. She decreed that her sons should be allowed to see her only once during any stage run – she did not want them to grow up thinking she was an "extraordinary" person.
When the television producer Richard Afton staged the first series of his Quite Contrary programmes, she was away on tour. But in 1954, she joined the second series and became a firm favourite. Explaining her unselfconscious attitude to television cameras, she recalled that in the US after the war, she and her husband were home-movie fanatics. When the television cameramen turned their big zoom lenses on her, she was at ease. For Quite Contrary, she regularly worked from her 10am call to the transmission time of 9.15pm.
Her first appearance in cabaret was the result of a good-natured gesture to her friends the Beverley sisters – Joy, Teddie and Babs – who were appearing in cabaret at the Pigalle nightspot when they were also due to start their own television series Three Little Girls in View. She offered to do their first slot at the Pigalle for them, so they could be whizzed back in time for the second.
Regan appeared in a number of shows at the London Palladium in the late 1950s and early 60s, toured internationally and had four series of her own BBC TV show, Be My Guest. In 1957 she married Harry Claff, the Palladium's joint general manager, but divorce followed his conviction in 1963 for fraud.
She married Martin Cowan, a doctor, in 1968, and they lived in the US and Britain. In 1984, a fall in the shower led to a brain haemorrhage, but she eventually recovered, and three years later her old piano accompanist Russ Conway encouraged her to return to the stage.
Martin predeceased her, and she is survived by the two sons of her first marriage and the daughter of her second.
• Joan Regan, singer, born 19 January 1928; died 12 September 2013
The above "Guardian" obituary can also be accessed online
here.