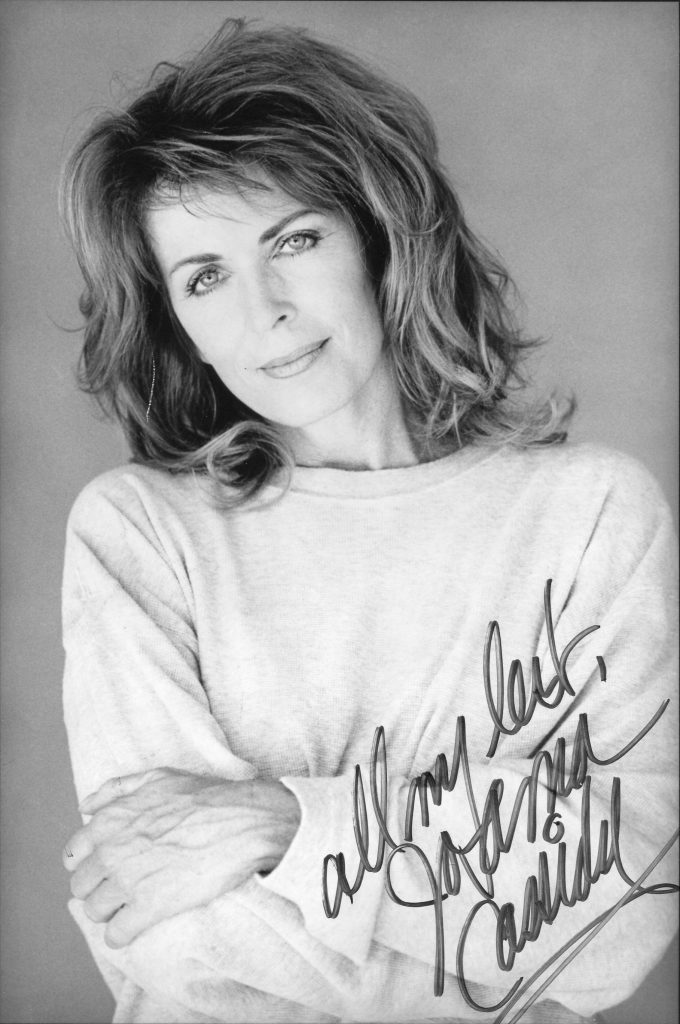 Joanna Cassidy was born in 1945 in New Jersey.   She was featured in the 1976 film "Stay Hungary" and went on star in "Blade Runner" in 1982, "Under Fire" and "The Fourth Protocol".
Gary Brumburgh's entry:
The very lovely, vivacious and smart-looking Joanna Cassidy was born in Camden, New Jersey, and raised in nearby Haddonfield, a borough located in Camden County. She grew up in a creative environment as the daughter and granddaughter of artists. At an early age she engaged in painting and sculpture and went on to major in art at Syracuse University in New York. During her time there she married Kennard C. Kobrin in 1964, a doctor in residency, and found work as a fashion model to help work his way to a degree. The couple eventually moved to San Francisco, where her husband set up a psychiatric practice; Joanna continued modeling and gave birth to a son and daughter. Following their divorce ten years later, she decided to move to Los Angeles in a bid for an acting career.
In between modeling chores and occasional commercial gigs, the reddish-haired beauty found minor, decorative work as an actress in such action fare as Steve McQueen's thrillerBullitt (1968), the Jason Robards drama Fools (1970), The Laughing Policeman (1973) starring Walter Matthau and The Outfit (1973) with Robert Duvall. Her first co-starring role came opposite George C. Scott in the offbeat comedy caper Bank Shot (1974).
Television became an important medium for her in the late 1970s, with guest parts on all the popular shows of the time, both comedic and dramatic, including Dallas (1978).Trapper John, M.D. (1979), Taxi (1978), Starsky and Hutch (1975), Charlie's Angels(1976), Lou Grant (1977) and a recurring role on Falcon Crest (1981). A regular on the sketch/variety show Shields and Yarnell (1977), which showcased the popular mime couple, Joanna languished in three failed series attempts–The Roller Girls (1978), 240-Robert (1979) and The Family Tree (1983)–before hitting the jackpot with the sitcomBuffalo Bill (1983) opposite Dabney Coleman, in which she finally had the opportunity to demonstrate her flair for offbeat comedy. The show became that's season's critical darling, with Coleman playing a vain, sexist, obnoxious talk show host (a variation of his popular Nine to Five (1980) film character) and Joanna received a Golden Globe for her resourceful portrayal of Jo Jo White, the director of his show and romantic foil for Coleman, who stood toe-to-toe with his antics.
The 1980s also brought about positive, critical reception for Joanna on film as well, especially in a number of showy portrayals, notably her snake-dancing replicant in the futuristic sci-fi thriller Blade Runner (1982), her radio journalist involved with Nick Nolteand Ed Harris in the political drama Under Fire (1983) and her co-starring role in a wacky triangle with Bob Hoskins and a hyperkinetic hare in the highly ambitious part toon/part fantasy film Who Framed Roger Rabbit (1988). Back on the TV front she was seen in recurring roles on L.A. Law (1986), Diagnosis Murder (1993), The District (2000) andBoston Legal (2004).
Since then Joanna has juggled a number of quality film and TV assignments, a definitive highlight being her Emmy-nominated recurring role as a quirky, capricious mother/psychiatrist in the cult cable series Six Feet Under (2001). More recently she has taken part in more controversial film work that contain stronger social themes such asAnthrax (2001), a Canadian political thriller whose storyline feeds on the fear of terrorism; The Virgin of Juarez (2006), which chronicled the murders of hundreds of Mexican women; and the gay-themed pictures Kiss the Bride (2007) and Anderson's Cross(2010).
Off-camera Joanna is devoted to her art (painting, sculpting) and is a dedicated animal activist as well as golfer and antique collector. She presently resides in the Los Angeles area with her dogs.
– IMDb Mini Biography By: Gary Brumburgh / gr-home@pacbell.net