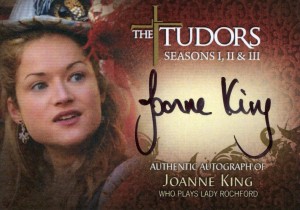 Joanne King was born in Dublin in 1983. She is best known for her roles on TV's "Casualty" and "The Tudors". Her films include "Massive" in 2008.
"Mirror" article:
As Casualty's sexy new paramedic, she's setting millions of male pulses racing every Saturday night. But if actress Joanne King hadn't managed to sneak off for the audition during her lunch break, life could have been very different. Joanne was working part time as a #10-an-hour tour guide at the BBC when she cheekily stole her chance to nip away. "It was a bit of a rush and I had to quickly dash back because I was leading a tour in the afternoon," says the 23-year-old. "But I remember my agent calling me a few days later and saying, 'I'm really sorry but you've got to pack your bags and move to Bristol.' So it was worth the effort." She can't quite believe it now but, just a few months ago, she was about to give up her acting dream. After two years of scrimping and saving in London, desperately trying to get her big break in the theatre, Dublin-born Joanne was beginning to wonder if she should have followed her mum's advice and gone to university. But then she received the phone call which would change her life. Within a week she had left her dingy London flat and was filming her first scenes for the Bristol-based hit BBC1 medical drama. "It all happened so fast I didn't have time to think about it," she says in her gentle Irish lilt. "I was honestly starting to think that my mum was right. I should have gone to university and got a proper job. "Life was hard. I moved to London determined to become a successful actress but it's not that simple and I had so many jobs just to get by. "I was sweeping up hair at a hairdresser's, packing bags at a supermarket and working nights at a pub in North London. "I was sharing a flat with a friend and we had to get out in a hurry because we couldn't afford the rent. London has so much to offer young people but I couldn't be part of that because I had no money. Every penny counted. "I really didn't think it was worth the heartache anymore. All I wanted was to act but it's tough and I've done some ridiculous jobs to see me through." When she heard she'd won the part of paramedic Cyd Pyke, Joanne was about to start a new job dressing up as a fairy for children's parties. "Can you imagine?" she laughs. "I was due to start training to be a fairy when Casualty came up. It was all a bit mad." Joanne can afford to splash out on the odd designer outfit now, but you're more likely to find the thrifty actress rummaging around charity shops. She remembers how miserable life on the breadline was and still lives on a strict budget. "I love a bargain," she says. "When something's half-price I get all excited about it. I like vintage clothes and get a lot from secondhand shops.
"Moneywise, things are more stable for me now but I'm not at the stage where I can go out and buy a Hollywood mansion. "I don't live a glamorous lifestyle. I'm more at home in my trackies than I am getting dressed up. When I'm off work I don't bother wearing any make-up. Maybe I should start making more of an effort now I'm on TV." Although she's been on our screens since September, it's only now that Joanne is getting her teeth into a meaty storyline, finding herself at the centre of a lesbian love triangle. Millions of viewers have watched Cyd's developing romance with hospital hunk Greg Fallon, played by Aussie Kip Gamblin. Unbeknown to Cyd, her best friend Kathleen "Dixie" Dixon, is in love with her and wracked with jealousy over her relationship with Greg. Tonight viewers will see Dixie try to sabotage the couple's affair. Joanne says: "Cyd's totally oblivious to Dixie's feelings but I think Greg's starting to cotton on to it now. When I started on the show I had no idea I'd be caught up in a lesbian storyline but it's been a nice little challenge."
One "challenge" most women would relish would be having to snog gorgeous ex-Home And Away actor Kip on a daily basis. But, surprisingly, Joanne isn't too keen. "It's weird kissing him because I remember him from that show," she smiles. "Kissing him for the first time was scary with the crew there. All these people standing around, watching you kiss. "Luckily I get on really well with Kip and I know his wife and kids so that's helped put me at ease. But I've been told that love scenes never get any easier. My first day on set is a blur now. I was so nervous. But the cast are so lovely they made me feel really welcome and I'm one of the family now. We have a great craic." The second of four children, Joanne grew up in Dublin with her accountant father Ronan and volunteer teacher mum Adele. Although she has settled easily in both London and now Bristol, her heart remains firmly in Ireland. "I don't get home often enough," she says. "I love it back in Dublin. We have the most beautiful theatres and wonderful people. I love going back." She might boast a perfect figure and model looks but Joanne is currently single – and happily so. I'm not prepared to just settle for Mr OK," she adds. "He has to be Mr Right. "I prefer my men to be a bit scruffy – I'm not into the clean-cut look. But talent is very sexy as well. "Kelly Jones from the Stereophonics is gorgeous and I think James McAvoy is lovely, but he's already been snapped up. Mind you, a relationship with another actor could be a recipe for disaster. It'd be very dramatic. "I'm happy being single for now but I'd love to settle down one day and have a big Irish family." Regular yoga sessions help keep Joanne in trim and she makes sure she eats healthily. And she insists she won't get sucked into the size zero brigade. "It's a horror story, a very worrying trend," she says. "We need to wake up and take responsibility. People are suffering with eating disorders because of it. Personally, I like good food and lots of it. I don't believe in denying yourself treats. I hate the gym but yoga is brilliant. It's part of me." Joanne is staying tight-lipped about how long she plans to stick around in Casualty. But she makes no secret of her ambitions to move into films and follow in the footsteps of another ex-Casualty star. "Kate Winslet is my inspiration," says Joanne. "She started out in an episode of Casualty so who knows? I think she's a great actress and has picked her jobs so well. I'd love to have a crack at America. "But my first love will always be theatre and it would break my heart not to go back to that sometime. "Casualty is an amazing training ground and I'm so grateful. But I'll finish my storylines and then probably say goodbye to Cyd."
CASUALTY is on BBC1 tonight at 8.35pm.
The above "Mirror" article cn also be accessed online here.