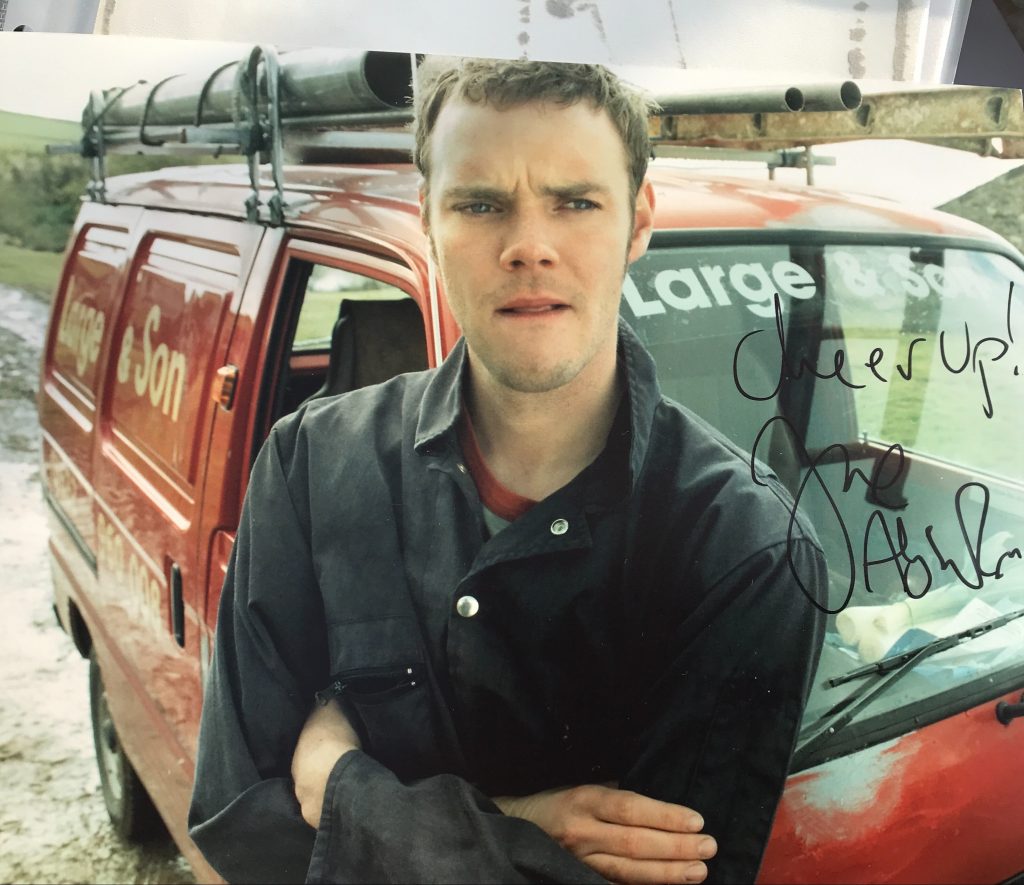 Joe Absolom is one of the best young actors working in Britain to-day. He was born in 1978 in Lewisham, London. He made his acting debut in the 1991 movie "Antonia & Jane". His other credits include "Long Time Dead" and the television series "Vincent" with Ray Winstone and "Doc Martin" with Martin Clunes.
2011 "MailOnline" interview:
What drew you to Doc Martin?
The blue skies and the surfing-golf-work ratio. Plus the chance to work with lovely people such as Martin Clunes, Ian McNeice [his screen father Bert] and Dame Eileen Atkins [who has joined the cast as Martin's Aunt Ruth]. Eileen has so many theatre anecdotes. And she's met the Queen.
So why did you swap the Cornish sun for the Arctic in last year's celebrity challenge series 71 Degrees North?
Because my dad said that when I'm 60 I'll want to talk about the things I've done rather than the ones I haven't. It was an amazing, life-affirming experience – even when my beard froze and there were six of us huddled in a tent for warmth.
How do you relax on set?
My Doc Martin scenes [as Al Large, who owns the local restaurant with his dad] aren't shot every day, and there's lots of waiting around between takes. So I play my guitar and listen to my favourite Who or Oasis tracks.
What was it like adjusting to life after soap stardom?
After I left EastEnders [from 1997 to 2000 he played Matthew Rose, who was framed for murder by gangster Steve Owen], I spent six months thinking, 'What the hell am I doing?' because I left a regular income without a job to go to. But I'm enjoying the variety of being a jobbing actor.
What is your USP?
I'm punctual. I'm good at getting to a job on time and also at leaving on time; it's the middle bit I struggle with.
Plan B, career-wise?
I'd be a postman – because I'm good at getting up early.
Anything you're not so good at?
I'm useless at laughing on camera. I end up with a rather forced har-har-har guffaw that sounds as if I'm imitating Sid James in the Carry On films – handy if I'm ever cast as a middle-aged lecher.
What did you want to be when you were ten years old?
A skateboarder. I was inspired by Tony Hawk, the American professional skateboarder who invented most of the modern tricks. I became an actor instead after my father, who's an artist, sent photos of me and my baby sister to a children's acting agency. I was so shy at first that I didn't realise the catering on film sets was for everyone – I just watched other people eat the food.
Can you remember your first kiss?
Yes, it was on top of a garden shed in Brockley, South London, when I was nine. It felt momentous at the time, but the shed didn't move.
Your partner Liz is a great cook, so who are your dream dinner party guests?
Rock and rollers such as Jimi Hendrix, Keith Richards, Keith Moon and Noel Gallagher, and the jazzman Miles Davis. They'd bring great music and great times. And I would get Keith to bring some pretty ladies along, too.
You and Liz share childcare for Lyla, five, and Casper, one. What makes a good parent?
Listening to children – they mean what they say 100 per cent; they are not talking rubbish like adults sometimes do. And being patient, which I find difficult at times! I enjoy fatherhood a lot more the second time round; I was always petrified I was going to drop Lyla when she was a baby.
What's the secret of a happy relationship?
Listening and patience – the same tactics as with children – and laughing a lot. Seeing Liz's eyes light up when she laughs always makes me smile.
Your worst nightmare to be stuck in a lift with?
Smug people such as Piers Morgan or Simon Cowell. But my dream lift companion would be Cindy Crawford – I've always had a thing about her.
How would you like to be remembered?
I won't care, because in the afterlife, I will be up there jamming on my guitar.
The above "MailOnline" interview can also be accessed online here.