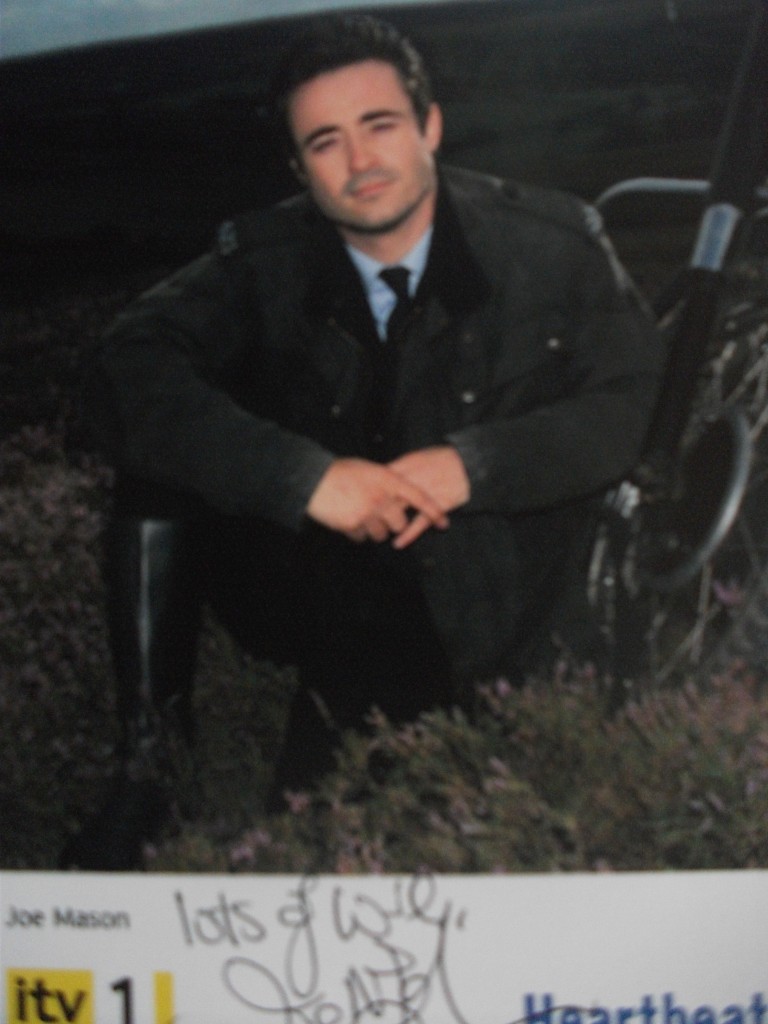 Joe McFadden was born in 1975 in Glasgow. He appeared in such TV dramas as "Take the High Road" and "Taggert" as a child actor. Films inclide "Beginer's Luck" in 2001. Best known for his role as PC Joe Mason in "Heartbeat" which he played from 2007 until 2009.
"Daily Record" article:
FOR 26 years, his boyish good looks and doe eyes have made Joe McFadden a TV favourite in shows such as Heartbeat and Cranford.
But the Scot, who will turn 39 in October, has admitted those attributes have been something of a mixed blessing.
And Holby City's new hunky doc confessed that he's glad his face has finally caught up with his age.
Joe said: "I'm lucky, I suppose, that I can still look quite young. I don't moisturise or drink lots of water.
"But, in a way, it's a curse as well because for years I wasn't playing my age and was playing people younger.
"Eventually, I've caught up with myself."
He's laughing and this isn't a moan. The face has kept him on our telly screens since a role in Taggart in 1988.
After high-profile roles including Scots soap High Road, The Crow Road and film Small Faces, Joe this week joined Holby City as Raffaello "Raf" di Lucca – a highly driven registrar who specialises in cutting-edge resuscitation techniques. Not the kind of role you could give to someone if they looked 12.
Joe is glad but he is still slightly apprehensive about approaching 40.
He said: "I kind of feel like there's no getting away from it, so I've just got to accept it. I'm kind of OK with it.
"Someone said, 'You should be happy you are the age you are because some people don't get to that age and some die before they get to 40', which puts a whole new slant on it.
"I'm quite happy in my life and where I am. I really wouldn't want to go back 10 years."
For a start, Joe now has grown-up responsibilities. He has a seven-month-old at home.
That's a seven-month-old cockapoo puppy, Douglas.
He laughed: "He's Doug the Dug – although they don't appreciate that where I live as much as you would in Scotland."
Doug the Dug is just back from the vet to sort out an ear infection. And, while Joe likes to keep his private life just that, he's bursting with pride at Douglas. He said: "He's lovely. Cockapoos are good because they don't shed and have loads of energy. They are tireless and are always wanting walks, which gets you out of the house.
"But I didn't realise there were so many around north London, where I live."
An added bonus of his new job on Holby City is that it's only half an hour to Elstree, where it's filmed, from the home he now shares with Douglas.
He said: "If I'm filming all day, he goes to a nursery daycare near Elstree. He loves it because he loves all the other dogs.
Although Joe appeared as Raf on screen for the first time last week, he has been filming since October last year.
He has a year's contract and is looking forward to the response of viewers but he is hoping none of them asks him for medical help if he's around when something goes wrong.
Laughing, he said: "I'll end up killing people.
"I suppose there's a lot of common sense, although I wouldn't know what to do with a pregnant woman. After hot water and towels, it would be, 'Call the midwife'.
He added: "You're making me want to do a first aid course in case someone sees me in Holby and calls on my services."
Joe has had experience on the other side of the fence. Sadly, his mum died of cancer six years ago and, dealing with his real grief, he then had to act it, too, as his Heartbeat character PC Joe Mason's mum also died.
Time heals but it doesn't make you forget. Being in a hospital hasn't made him think about his own loss.
He said: "It's not a real hospital. Nothing feels that real. It's not real blood and you are usually dealing with a prosthetic person. I don't have any flashbacks." He thinks for a moment. "I suppose what is clear is you are meeting people on the worst days of their lives in many occasions and people are so vulnerable.
"My character is supposed to be very sensitive and tries to reassure people."
And Joe has needed medical assistance himself.
Back in his 20s, while doing a play in Wales, he ended up with a kettle of boiling water going all over his feet.
He said: "Luckily, there was a first-aider there who knew to get my feet into water and get clingfilm on.
"I've got no scarring. It's amazing how it's healed."
Working on Holby City has given Joe a new-found respect for the NHS and what they can do.
He said: "I was lucky to get to watch some open-heart surgery and it was just incredible to see this amazing stitching the surgeon was doing.
"He was putting a valve into this person's heart and I was just thinking, 'We are so lucky we are alive today that they can do these amazing things'.
"They can stop your heart and put you on bypass and get a machine to breathe for you and something to make the blood pump.
"We should treasure the NHS and hold on to it."
His character also has to do some surgery and Joe revealed he had been "stitching someone's bowel this week".
As well as sitting in on an operation, Joe has been getting pointers on his new screen career as a doctor, watching lots of 24 Hours in A&E, Nurse Jackie and Grey's Anatomy.
It's not the first doctor Joe has played. He was Dr Dan Pemberton in Zig Zag Love, alongside Robert Carlyle. And it's not the first Italian called Raf he's played, having starred in Raphael: A Mortal God, a drama about painter Raphael Santi.
His latest Raf is a Scots Italian and, while he hasn't based him on anyone, Joe has taken something of his brother-in-law.
He said: "My sister is married to an Italian guy.
"It's not based on him but they are quite serious people. They don't say a lot and what they do is quite considered and well thought out.
"They have a real passion."
With Joe joining the show, it's taking on a tartan hue, with John Michie and Michael Thomson already part of the cast.
Although Joe has been working on the show since October, he admitted he had been keen to make his first screen appearance this week.
He said: "You never feel like you've actually joined the show until you've been on screen.
"I went out with some of the cast on a Christmas night out and I hadn't realised how popular the show was. People were coming up to the other cast members all the time."
His last long-term telly job was Heartbeat, which was axed in 2010. Since then, he's been treading the boards with the National Theatre of Scotland and touring the Alan Ayckbourn play Haunting Julia.
He has a year's contract for Holby City and is looking forward to being a telly face again.
He said: "I've had offers since Heartbeat but there was nothing that I was right for or particularly wanted to do.
"I was getting such great theatre roles, so I did them instead.
"But Holby is great. Every week is different. There's a new ailment or new medical jargon and medicines to try to get your tongue around."
I'm going to say it – Holby City really is just what the doctor ordered.
The above "Daily Record" article can also be accessed online here.