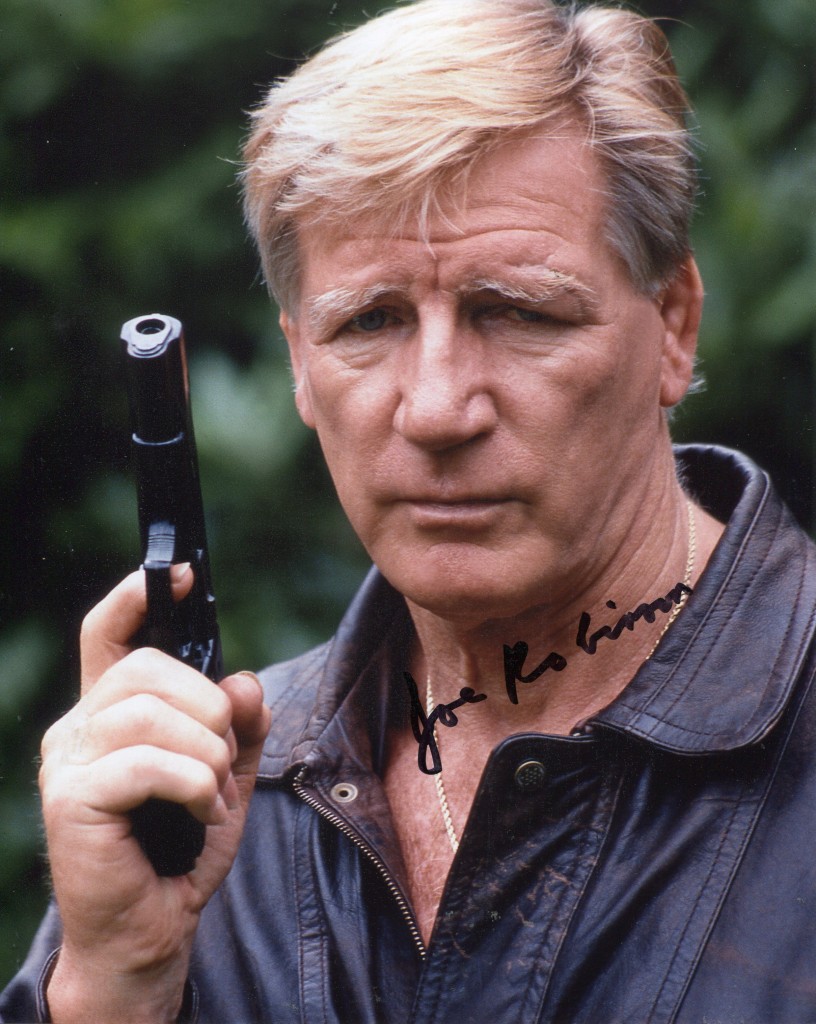 Joe Robinson was born in Newcastle-on-Tyne in 1927 and comes froma family of wrestlers.   He made his film debut in 1955 in "A Kid for Two Farthings" as Diana Dors's boyfriend.His other films include "The Lonelieness of the Long Distance Runner", "Carry On Regardless" andin 1971 "Diamonds Are Forever".
His IMDB entry:
Born in Newcastle-upon-Tyne in 1927 (not 1929 as some references give) Joe Robinson came from a famous family of wrestlers. Both his father Joseph Robinson Senior and grandfather John were world champions. Following in their footsteps Joe Junior won the wrestling European Heavyweight Championship in 1952, beating Axel Cadier in London. At that time he was billed as Tiger Joe Robinson. He was also interested in acting and studied at R.A.D.A. After injuring his back wrestling in Paris, Joe decided to concentrate on acting, and after a few bit parts in films his first leading role came in the keep-fit documentary Fit as a fiddle (1952). He also played Harry "Muscles" Green in the musical Wish You Were Here (1952) on the West End stage. His most memorable film role was in A Kid For Two Farthings (1955) in which he wrestled Primo Carnera. Like most muscular actors he was invited to Rome in 1960 where he appeared in five Italian epics. At the same time, Joe and his younger brother Doug Robinson became popular stunt arrangers, particularly on the James Bond films. Joe and Doug, together with Honor Blackman co-authored the book "Honor Blackman's Book of Self-Defence" published by Andre Deutsch in 1965. Joe was also a judo champion and black belt at karate, and opened a martial arts centre in Brighton where he is now retired.
– IMDb Mini Biography By: Jim Marshall
The above IMDB entry can be accessed online here.
He died in Brighton in 2017 at the age of 90.
Joe Robinson's obituary in The Times in 2017.
Saturday July 15 2017, 12.01am BST, The Times
With his grandfather and father both wrestling champions, it was always likely that the 6ft 2in Joe Robinson would follow them on to the mat.
Born in Newcastle in 1927, one of eight children, as a child he went to South Africa, where his father ran a gymnasium. As he grew up Robinson would help to keep the gym clean and, encouraged by his father, would take part in amateur wrestling and body-building contests.
Initially there were visits to England and he enrolled at Rada at the same time as beginning a career as a professional wrestler. He appeared in Levenshulme in October 1948 against Ron McLarty and then, settling in London, after 1950 he worked mainly for the soi-disant "Blue Blood of the Mat", the promoter Sir Atholl Oakeley. When the then European heavyweight champion Bert Assirati left for a tour of the Far East in 1951, Oakeley promoted what he saw as a tournament for the vacant title. In it Robinson met the Spaniard Gonzales the Gorilla, billed as The Apeman, and in later years Robinson would say that when the referee told him to shake hands he refused to do so until Gonzales spoke, confirming he was human.
In the title match Robinson defeated Axel Cadier, the Swede who had won the gold medal in light heavyweight Greco-Roman wrestling at the 1936 Berlin Olympics. A crowd-pleasing blue-eye, whose speciality was a flying drop-kick, Robinson continued to work for Oakeley until the latter retired. He was nicknamed Tiger after being pictured posing on a tiger-skin rug. However, in the days when the so called hard-holds from which it was difficult and painful to escape were the norm, he was not generally regarded as an uncompromisingly hard shooter and in turn was forced to retire after he sustained a serious neck injury in a Paris ring.
His first film appearance was in a keep-fit documentary, Fit as a Fiddle, in 1952 and the next year he appeared on the West End stage as the holiday camp sports director Harry "Muscles" Green in the British production of the musical Wish You Were Here. During the run, when fellow actor Christopher Hewett was knocked unconscious after being thrown into the onstage swimming pool, Robinson realised what had happened and dived in to rescue him.
He went on to play the wrestler Charles in the Old Vic's 1959 production of As You Like It, which starred Maggie Smith and Barbara Jefford, and the next year appeared with the comedian Terry-Thomas in the farce It's In The Bag.
Robinson with Terry-Thomas in It's In The Bag
He had signed a five-year contract with Sir Alexander Korda's London Films and starred as body builder Sam with Diana Dors in A Kid for Two Farthings (1955). Originally the backers had wanted Kenneth More to play Sam, but the director Carol Reed insisted on Robinson. The film, with regular shots of Sam (who cannot buy a ring for his longstanding fiancée and who may even be in the closet) in a singlet flexing, had considerable homo-erotic undertones and Robinson unwittingly became a gay icon. Dors said she thought Robinson looked like Burt Lancaster. In his turn Robinson said that he thought kissing her on screen was one of the most exciting things he did in his life.
The next year he was invited to the Cannes Film Festival, where the film was shown as the British entry and where he gave a demonstration of judo on the beach and Gene Kelly joined him. Now mixing with the stars, he met his hero Errol Flynn, with whom he later played a part in The Master of Ballantrae, as well as Lancaster, Kirk Douglas and Frank Sinatra, who made him spaghetti. Something of a ladies' man, it was at Cannes he said he danced with Esther Williams, Grace Kelly, Ava Gardner and Brigitte Bardot on the same night. A tireless raconteur, his family assumed his accounts of his exploits had been somewhat coloured, until his stories turned out to be true.
His second wife, Annie, would not believe he met Marlene Dietrich until, years later, they were dining in the same restaurant in Brighton. When he stood up Dietrich called out: "Joe, what are you doing here?"
In 1956 he declined an offer to feature as Rank's Gongman and, more seriously, on Reed's advice, turned down a part in Alexander the Great (1956), which would star Richard Burton. In 2004 Robinson admitted: "I thought I was a big star and success went to my head." During the fallow periods he appeared as the cowardly boxer managed by Freddie Mills in Carry on Regardless and in television shows such as The Saint, The Avengers and an episode of Hancock's Half Hour, in which he is too shy to enter a body-building contest until the very end.
The 1960s were the heyday of Italian sword-and-sandals movies and with his 50in chest he regularly appeared in films, including the biblical epic Barabbas. Robinson was often uncredited or as a "Bearded Gladiator" or "Tall Soldier", but in 1961 he starred as the title character opposite the Japanese actress Yoko Tani in Ursus and the Tartar Princess. Two years he later would have joined Johnny Weissmuller and Lex Barker among the actors who have played Tarzan, but for the estate of Edgar Rice Burroughs objecting that this was an unauthorised use of the name. So before the film was released Tarzan became Thaur. Back in England he was in the rather more prestigious The Loneliness of the Long Distance Runner, which starred Tom Courtenay."
Meanwhile, he and his brother Douglas, both good stuntmen and stunt arrangers, ran a gymnasium in Old Compton Street in Soho, teaching actors how to fall and avoid injuries in action sequences, as well as instructing them in judo. Their pupils included Sean Connery, Brian Blessed, Peter Bowles and Honor Blackman, and the brothers collaborated with her to create Honor Blackman's Book of Self Defence.
In 1963 Robinson had hoped to get the part of Grant, the Russian killer in the second James Bond film, From Russia with Love, but it went to Robert Shaw. Robinson believed it was because he was Connery's golfing partner and that Connery felt bad about it. In 1971 Robinson did, however, get the part of the diamond smuggler Peter Franks in Diamonds are Forever and Connery managed to get his fee raised from £2,000 to £9,000. His fight, which he staged in a lift with Connery and in which he is getting the better of Bond until he is doused with foam from a fire extinguisher and then thrown six floors down, is regarded as one the best of the Bond fight sequences. He would tell the story of how when he landed he found the beautiful Jill St John was bending over him and he could not help but open an eye. "Joe, you're dead," said Connery. Robinson was often fêted at Bond fan reunions.
Always devoted to martial arts, and profiting from the kung fu films of the time, he opened a martial arts dojo in Brighton. The centre ran for 20 years and one early pupil was Brian Jacks, who became Britain's first judoka to win a medal at a world championship. Robinson also taught at Roedean and other schools across Sussex. He was not good at saying no to work, his daughter Kate recalled. "If someone wanted a lesson at ten o'clock at night off he would go to give it."
A popular and warm man always willing to pose for photographs and sign autographs, Robinson toured the world in retirement, attending trade fairs and conferences. For some reason he was often shy about his age. "I was born the same day as Clint Eastwood [but three years earlier] and I'm younger than Roger Moore," he said in 2004.
While visiting relations in South Africa, in his seventies, he was attacked by half a dozen muggers armed with a baseball bat and knives on a street corner. He broke the arm of the first with a judo throw, drop-kicked another and, as they scattered, he "then ran like hell". He later admitted that he had suffered a good deal of trauma. "I used to wake up screaming."
He married twice, the first time when young and then in 1961 to the model Annie Alliston. They separated, but remained friends and she visited him in hospital with their daughter Kate shortly before he died. He is survived by her and his four children, Joe and Lisa from his first marriage and, with Annie, Kate and Polly Hardy-Stewart, who became British women's judo champion in 1990. Of his 11 grandchildren, Kyra is an IBJIF jiu-jitsu champion, while Phoebe is a fitness model and stuntwoman. She recently appeared in Wonder Woman. Not surprisingly, he felt rather proud of her for that.
"Tiger" Joe Robinson, wrestler and actor, was born on May 31, 1927. He died after a short illness on July 3, 2017.