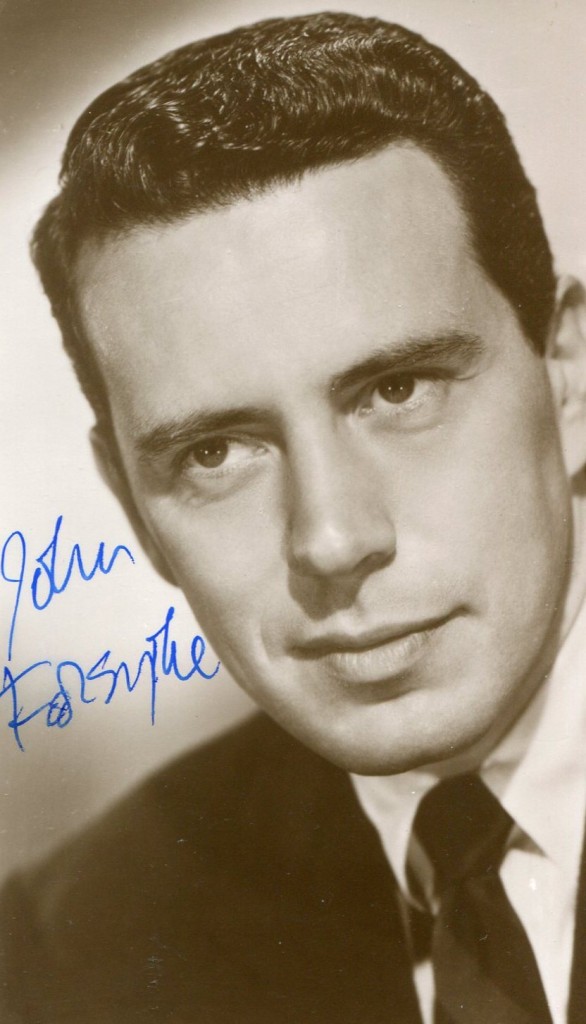 John Forsyth was well into his sixties when he acheived his greatest fame in the television series "Dynasty" as oil magnate Blake Carrington. He was born in 1918 in New Jersey. He served with the U.S. military in World War Two. In 1955 Alfred Hitchcock cast him opposite Shirley MacLaine in "The Trouble with Harry". His other films of note are "Madame X" with Lana Turner and "And Justice for All" with Al Pacino. John Forsythe died in 2010 at the age of 92.
Ronald Bergan's obituary in "The Gurdian":
If the name of the American actor John Forsythe, who has died aged 92, is not immediately recognisable, then that of his character Blake Carrington – the tanned and handsome silver-haired billionaire oil magnate in the long-running television series Dynasty – certainly is. The show, known for its opulent atmosphere, lavish sets and costumes, and preoccupation with the problems of the wealthy, ran alongside Ronald Reagan's years as US president, 1981-89. It made Forsythe internationally famous and rich. During the second year of the run, Forsythe remarked: "I can't afford to bulge. Being a 64-year-old sex symbol is a hell of a weight to carry."
With his earnest demeanour, Forsythe, as the patriarch plagued by a scheming ex-wife (Joan Collins), a bisexual son, and other tribulations ranging from murder and greed to lust and incest, held the series together while attempting to do the same with the Denver family. Unlike Larry Hagman's JR, his counterpart in Dallas, Forsythe as Blake exuded suavity and upper-class elegance. In fact, it was a persona he had perfected for many years on television.
Forsythe may have had a famous face, but his voice alone became equally well-known in a previous popular TV series, Charlie's Angels (1976-81), in which he played the unseen Charlie Townsend, who directed his young women's crimefighting operations over a speaker- phone. Because Forsythe recorded his lines in an audio studio and was never on set, he rarely met any of his co-stars. Some years later, he bumped into Farrah Fawcett-Majors at the tennis courts. "I was coming off the court when she came up to me and said, 'Charlie! I finally met Charlie!'" Forsythe recalled.
Forsythe was offered the Charlie role in a panicky late-night phone call from producer Aaron Spelling after the original choice, Gig Young, showed up too drunk to read his lines. "I didn't even take my pyjamas off – I just put on my topcoat and drove over to Fox. When it was finished, Aaron said, 'That's perfect.' And I went home and went back to bed."
Born John Lincoln Freund in Penns Grove, New Jersey, Forsythe determined to become an actor despite the opposition of his Wall Street businessman father. From Abraham Lincoln high school, Brooklyn, he went to the University of North Carolina. There he excelled in dramatics as well as at baseball, and his first job was as a radio broadcaster with the Brooklyn Dodgers. In 1943, while serving in the US army air corps, Forsythe made his Broadway debut in Moss Hart's production of Winged Victory, among many other future stars. That same year, he was brought to Hollywood by Warner Bros, where he was immediately cast in the small role of Sparks in the submarine drama Destination Tokyo, starring Cary Grant.
However, he did not return to the big screen for another nine years, and even then his film appearances were only sporadic. Instead, Forsythe concentrated on television and the stage. In 1947, he took over from Arthur Kennedy as the disillusioned son in Arthur Miller's first produced play, All My Sons, on Broadway, and then replaced Henry Fonda in the title role of the long-running naval comedy-drama Mister Roberts in 1950, sounding uncannily like his predecessor.
In 1953, he created the role of the well-meaning Captain Fisby in John Patrick's The Teahouse of the August Moon. The character (played by Glenn Ford in the movie), who attempts to bring American-style democracy to the natives of Okinawa, was portrayed by Forsythe with a splendid mixture of ingenuousness and self-righteousness. In between his two stage hits, Forsythe made dour appearances in a few films, notably Robert Wise's The Captive City (1952), in which he was a small-town newspaper editor fighting widespread corruption; and John Sturges's Escape from Fort Bravo (1953), where, as a Confederate prisoner, he is conveniently killed by Indians at the end to allow William Holden to get his girl (Eleanor Parker). In fact, Forsythe, a rather wooden film actor, was a sub-Holden type.
Nonetheless, Alfred Hitchcock must have liked him, because he cast him in two of his films: the black comedy The Trouble With Harry (1955) had three people each believing they had killed a man, one of them being Forsythe as a painter; and Topaz (1969), where he is convincingly dull as a CIA man. In The Happy Ending (1969), Jean Simmons, while watching Humphrey Bogart and Ingrid Bergman in Casablanca, comments to Forsythe, as her boring commuter husband, "They're more alive than we are." There is no truer line in the picture.
Television suited his personality much better, as he proved in the series Bachelor Father (1957-62). As playboy Hollywood attorney Bentley Gregg, responsible for raising his orphaned niece, he gained stardom. This led to The John Forsythe Show (1965-66), in which he played father to his own real daughters, Brooke and Page Forsythe, by his second wife, Julie Warren, whom he had married in 1943; by his first marriage, to Parker McCormick (1938-40), he had a son, Dall. Other sitcoms in which Forsythe starred were Rome With Love (1969-71) and the political satire The Powers That Be (1992-93).
In the cinema, he was seen as establishment figures: in Kitten With a Whip (1964) he was a politician being blackmailed by delinquent Ann-Margret; he was a politician again, married to Lana Turner, in the fifth remake of the melodrama Madame X (1966). In Cold Blood (1967) had him as an investigator of the bloody murders, and in And Justice For All (1979), he played a judge. One of his last big screen portrayals was as the modern-day equivalent of Marley's Ghost in Scrooged (1988).
After Julie died of cancer in 1994, Forsythe, renowned as a "nice guy" in the industry, went into semi-retirement, devoting much of his time to the United Nations Association, the American National Theatre and Academy, and the American Cancer Society. He is survived by his three children and his third wife, Nicole Carter, whom he married in 2002.
• John Forsythe (John Lincoln Freund), actor, born 29 January 1918; died 1 April 2010
The above obituary from the "Guardian" can also be accessed online here.