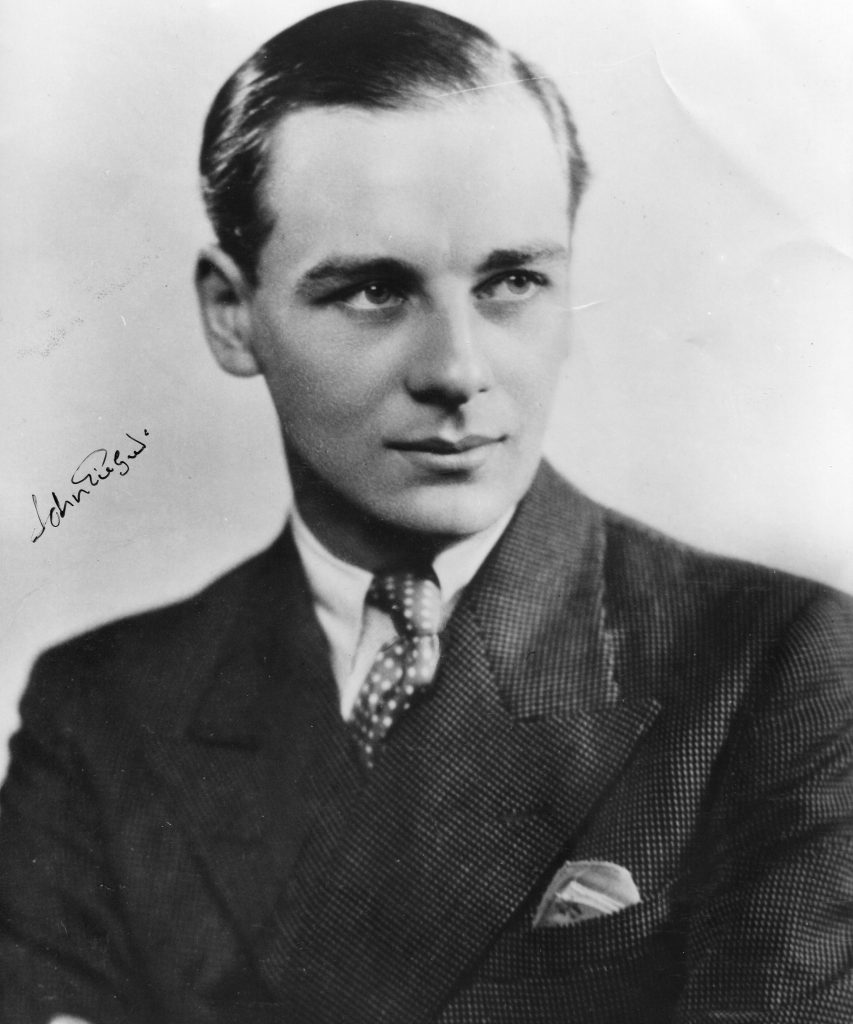 John Gielgud was born in 1904 in South Kensington, London.   He was the great-nephew of the famous actress Ellen Terry.   He had great success on stage in London and New York.   His first major film was "The Good Companions" with Jessie Matthews in 1933.   In 1936 Alfred Hitchcock cast him opposite Madeleine Carroll in "Secret Agent".   In 1941 he starred in "The Prime Minister" but did not film again until he made "Julius Caesar" in 1953 with Marlon Brando in Hollywood.   He then began his  fim career in earnest and mase such movies as "The Barretts of Wimpole Street" with Jennifer Jones, "Saint Joan", "Becket", "The Loved One", "Arthur" and "The Shooting Party".   John Gielgud died at the age of 96 in 2000.
His "Guardian" obituary by Nicholas De Jongh:
John Gielgud, who has died aged 96, blazed a glorious trail through the English theatre of the 20th century and left an indelible imprint upon it. He was the first classical actor of his generation to discard antique modes of Shakespearean interpretation and performance. His Hamlet, Richard II, Leontes, Angelo, Lear and Prospero were acclaimed as thrilling recoveries and discoveries of roles on which the dreariness of convention had long since settled in handfuls of star-dust. "You have to spin it out of yourself, like a spider. It is the only way," he said in 1961, and not until extreme old age did he lose that air of effortless spider-like facility.
He was not, however just the starriest actor for high strung, tragic heroes half in love with painful suffering, deploying that famous tenor voice of his which Alec Guinness once nicely apostrophised as being "like a silver trumpet muffled in silk". He set new standards in the playing of the artificial high comedy of Congreve, Wilde and Sheridan to which he brought the breath of naturalness. He revelled in suave villainy and hauteur, in the elegantly drawn out repartee of these periods, sometimes deliciously parodying aspect of his tragic demeanour and voice. He was in his glorious element playing doomed heroes and dandies, neurotics and aesthetes.
As a source of inspiration and influence upon his profession he was unrivalled by any actor in his time except for Laurence Olivier. For, in youth and middle age alike, Gielgud was a modern pioneer working to fulfil the actor's dream of working in a permanent ensemble, performing plays of high quality where profit was neither motive nor stimulus. So the famous companies of first-class actors, designers and directors that Sir John formed and acted with in his historic seasons in the 1930s, 1940s and 1950s became inspirational blue prints for ensembles like the Royal Shakespeare and National Theatre companies years later.
The other astonishing aspect of Gielgud's awesomely long career, which spanned more than 75 years, lay in his ability triumphantly to recreate and extend himself as fashion and circumstance demanded. He was socially and politically conservative. As an exquisite raconteur and conversationalist, scattering his aperçus, indiscretions and gossip with gay abandon he may have been the acme of unconventionality. But theatrically speaking the shock of the new often did shock him. Since he was also a restless seeker, he learned to rise above the prejudice of his first impressions and to cast aside hide-bound convictions.
In the 1950s when the new wave of dramatists broke excitedly upon the London theatre, when Bertolt Brecht and theatre of the absurd began to threaten the hold of the upper-middle class drawing room comedy and the regimen of the well-made play, Gielgud was at first left bothered and bewildered, though he did confess himself thrilled by Osborne's Look Back in Anger and Pinter's The Caretaker. Unlike Peggy Ashcroft and Laurence Olivier he did not join the avant-garde at the Royal Court in the 1950s and by the early 1960s he was beginning to look a thoroughly traditional figure, marching in time with the derriere garde.
This isolation from the new theatrical movement did not, however, last that long. Gielgud adjusted, adapted and learned. Critics and commentators have suggested he discovered an ideal point of mediation between the old theatre and the new with Alan Bennett's 1968 Forty Years On, a revue-like play which regards the totems of England's early 20th-century society with a mixture of mockery and nostalgia. But in fact John's Broadway performance four years earlier, as a lay brother laid low after being persuaded to marry the richest man in the world in Edward Albee's mystifyingly symbolic Tiny Alice marked the point at which he threw in his famous lot with the nouvelle vague.
From then on his theatrical career revived. Performances in the plays of Edward Bond, Charles Wood, and most memorably as Spooner in Pinter's No Man's Land and one of the old inmates of Home from Home followed.
It was in this phase, too, that he began to disprove the old slur that he was only able to give a single performance in one voice. In No Man's Land, his sly and slovenly literary vagrant in search of a billet – the model of bohemian seediness with a cigarette forever between his lips – he cast off the familiar Gielgud persona as thoroughly as he did for his 1936 Merchant of Venice and the 1961 Othello.
When his ability to memorise parts for the theatre began to falter in his mid-seventies, while playing, in Julian Mitchell's Half Life, an archaeologist disturbed by excavations into his own past – Gielgud turned to the world of film, which unlike Olivier, Richardson and Redgrave he had largely ignored. He adapted his personality and his style to the medium and fashioned an indian summer career – notably as the conductor-hero of Resnais' Providence, an all-embracing, ancient Prospero conveyed in Peter Greenaway's astonishing version of The Tempest. He delighted in the suave malice of the narrator's father in the famous television version of Bridehead Revisited as well. These were indian summer triumphs which confounded the idea that elderly theatre actors have nothing to offer except their memories.
There was also a last stage performance. At the age of 84 he took on the role of Sir Sydney Cokerell, the museum curator in Hugh Whitemore's Best of Friends, and had a field day with the character's mellow urbanity. Even in his nineties, though vocally reduced and restricted, he capered nimbly through the musical reaches of Shine.
The essential Gielgud did not greatly change from first maturity to old age – his capacity for speaking his mind at the wrong time in the wrong way was a life-long joy for all except those who suffered the cold blast of truth. When he visited the mildly ailing Emlyn Williams one day in the 60s, he took his leave abruptly after an hour. "When I visit the sick I always stay too long, I sat for ages with poor Arthur Macrae, but I was glad I'd been. He died next day."
Arthur John Gielgud may have been born into the heart of the conventional upper middle classes of Edwardian England. But this third child of an Edwardian stock-broker had the theatre in his blood and his family tree positively blossomed with actors. On his mother's side he was directly descended from the 19th-century theatrical aristocracy – the Terry family. Ellen Terry, Irving's leading lady and the late Victorian theatre's prime actress was his great aunt. His grandmother Kate played Cordelia at 14 and became an instant star. His great uncle Fred Terry, made his name with the Scarlet Pimpernel and nothing else.
This Terry connection may be quite misleading. Some people convincingly have argued that Gielgud's acting and looks bore no trace of his Terry ancestors. They suggest Sir John style of acting bears the imprint of his father's Lithuanian forbears, and of his thespian Polish great grandparents who were renowned for their Shakespearian acting. Certainly, even in his thirties, Gielgud – remarkable for his great, domed forehead and aquiline nose – did not look English. Ronald Harwood has convincingly suggested that "the fusion of the Anglo Saxon and the Slav to be one of the clues to understanding Gielgud's qualities both as an actor and as a man."
Stage-struck and star struck in a childhood during which the "nervous, frail and sensitive" tags were attached to him, he became a willowy young man – quick and sharp with a butterfly mind, who liked to dress in silk socks, broadband black hats and with fluffy hair which barbers used to wave. He had played no school games and walked in stiff self-consciousness – "like a cat with rickets" said one of his first drama teachers. There was nothing outstandingly masculine about him. In a theatre which celebrated bluff maleness and matter-of-fact understatement from its leading actors it would have seemed he was the man least likely to take the West End theatre at all, let alone by storm.
When he played his first leading role in London as Romeo to Gwen Ffrancgon Davies's Juliet in 1924 the critics were loud in their scorn. "Scant of virility," accused Ivor Brown, "with the most meaningless legs imaginable." But perhaps the "orange" make up, coal-black centre-parted wig and white tights did not help much.
It may have been his little known Slavic heritage that saved him from sinking after this. For it was in the then almost unknown Anton Checkhov that Gielgud made his name. "Perfection itself," said James Agate, the most influential critic of the period about his Trofimov, the young trevolutionary in The Cherry Orchard. His Kontantin in The Seagull and the doomed Tusenbach in, remarkably, the first English production of The Three Sisters were almost as eye-catching.
So it was that the 25-year-old John Gielgud arrived at the Old Vic at the end of the 1920s as leading man and walked almost straight into theatrical history. In the next 19 months he worked fantastically without more than a flicker of strain, taking on more Shakespeare leads than any subsequent actor has attempted in twice the time. He was all ages and all types – Romeo and Lear, Orlando and Prospero, Macbeth and Malvolio, Antony and Benedick. One of these roles, his Richard II – "A tall willowy figure in black velvet.. the pale agonised face set beneath a glittering crown," was the making of him.
Critics had already remarked upon Gielgud's voice, that fabulous piece of machinery which a few detractors have claimed to be capable of making vocal music and little more. The old records of Gielgud's stage roles disprove that charge. They reveal him as master architect, building and shaping character minutely. In Shakespeare he composed a serious intellectual music. His grief-struck Richard, riddled with hauteur and vulnerability, showed up both Gielgud's Slavic and Anglo Saxon aspects – his monarch was a beautiful lover, struggling to keep his emotions in check.
The Hamlet that followed was more remarkable still – a Prince for all seasons, contemporary in its sense of disgust and outrage instead of traditional ponderous nobility, fresh in its Oedipal stresses and strains. It was, for an age accustomed to mature 40-something Hamlets, disconcertingly young. It was for an age familiar with understatement riven with emotion, "hysteria and self-lacerating sensitivity." James Agate called it "the highwater mark of English Shakesperian acting in our time."
Four years later his second Prince – bringing Shakespeare daringly into the West End – was less hysterical, more thoughtful and prone to flashes of humour. It was even more feted. The critic J C Trewin, writing half a century later said it was the best of the 70 Princes he had seen in his long theatre going time. And even when Gielgud played the role in his forties the likes of the youthful John Mortimer were bowled over all over again.
It was, however, in a new, slight costume piece about Richard II – Gordon Daviot's Richard of Bordeaux – that Gielgud really became a West End star. "Yes I know it's vulgar, but I can't resist," he said to a friend as he sat signing picture postcards of himself after a performance. It was a mark of Gielgud's essential seriousness that he did not succumb to the frippery and shallowness of the 1930s West End. Instead, supported by the impresario Bronson Albery, he set about creating his own company of players in classical drama in St Martins Lane.
It was typical of his eagerness to encourage the new that he cast the young Laurence Olivier to alternate with him the roles of Romeo and Mercutio to Peggy Ashcroft's Juliet. It was not supposed to be a theatrical contest. But so it proved and Olivier, unsurprisingly, was a love-possessed Romeo from the finger tips to the heart and other more dangerous partswhile Gielgud's Romeo was all surface and no sensuality. When it came to Mercutio, however, Olivier was second-bested. "John's extraordinary darting imagination made him the better," Ashcroft said.
Gielgud may have felt pangs of jealousy but they never loomed large – he was always far more of a team player than Olivier, and far more willing to test himself against his best contemporaries than Sir Laurence ever was. So Sir John's dandyish Trigorin to Edith Evans's grand dame Arkadina a year later was reckoned by the critics of the day to be too unstarry. But Gielgud was not interested in projecting himself in that luminous way.
His famous 1937 season at the Queens, with Peggy Ashcroft as his leading lady, and a repertoire of Richard II, The Merchant of Venice, The School for Scandal and The Three Sisters, directed by Michel Denis, marked his second attempt to create an ensemble of classical players. But then, tiring of the producer's role, Gielgud was diverted by Binkie Beaumont, who was about to become the most powerful of London impresarios, into a Dodie Smith drawing room romance.
Beaumont, an uneducated man who was admired for his way with stars and urivalled capacity to assemble handsome revivals of classics, was a mixed blessing in Gielgud's career. Gielgud always oscillated between the radical and the conventional. He worked with directorial pioneers like Komisarjevsky , Michel St Denis, Tyrone Guthrie and Peter Brook, but was always liable to succumb to the call of Beaumont offering him some old-fashioned new play.
At least under Beaumont aegis he was given the chance of launching a bold 1945 season at the Haymarket which might have been designed to show the ease with which he scaled both the heights of tragedy and comedy. There was his fourth Hamlet and the abominably cruel Ferdinand in The Duchess of Malfi, ranged with what the fledgling critic Kenneth Tynan delightedly called his "tongue-in-cheek and hand-on-heart Valentine in Love for Love."
In 1953 Beaumont gave him another chance – at the Lyric, Hammersmith – to run his own classical company again. Astutely choosing Paul Scofield as his co-star Gielgud resuscitated Thomas Otway's tremendous restoration tragedy, playing the role of the wracked Jaffier in a dazzle of torment and nobility.
In the 1940s Gielgud consolidated more than he advanced. He was more larch than oak when he played an admired, too youthful Lear, an unwarrior-like Macbeth and a new Italianate Prospero. But there were people who criticised what someone called his "divine coldness" – it was as if there were something remote and aloof about his acting.
These reservations were set aside in his annus mirabilis at Stratford on Avon in 1950 when he cast aside inhibition and intraversion. His fire and ice Angelo in Peter Brook's Measure for Measure astonished everyone. He was no longer courting sympathy or exuding an easy romanticism. He and Peggy Ashcroft turned Much Ado about Nothing into an exquisite war of words. Anthony Quayle directing him as Cassius in Julius Caesar persuaded him to do away with lyricism and softness and Gielgud achieved a pugilistic fury that astonished the critics who were not quite as thrilled by a harsh, hard Lear. His Leontes in Peter Brook's A Winter's Tale confirmed his new found confidence in playing unsympathetic roles. "Dressed in hectic red, tall and tortured and rigid he commands the bare black stage like a fury," John Barber wrote.
A year later, in the Coronation honours, he was awarded a long delayed knighthood for which Olivier and Richardson had had to lobby the Prime Minister, Winston Churchill. Gielgud's homosexuality, which was a well known fact of life within the theatrical profession, had been the bar to this honour. Then irony and disaster struck in a double action. Just a few months later, when the government was in the midst of a witch hunt against homosexuality and homosexuals, Sir John was charged with persistently importuning for immoral purposes. He admitted his guilt and was fined.
The repercussions were great and awful for a man of Gielgud's temperament and character. It was said he briefly contemplated suicide. "You can't imagine what it was like," he said to me years later. But in his weeks of stress and humiliation much of the generosity and kindness that he had shown to his fellow actors was returned in full measure. Sybil Thorndike, who was acting with him in A Day by the Sea, led those determined to give support. A move made by a minority on the Equity Council to have him expelled from the Union – and thereby barred from acting – was defeated by a large majority.
For a time the case may have turned Gielgud back to the safe, reassuring old world of Binkie Beaumont and HM Tennent. But not for long. His surreal, space age Lear in 1956 was the quintessence of experiment. A year later his "grizzled ascetic" Prospero, in whom the fires of revenge and recrimination still blazed brought an outburst of applause. "It's the best Shakespearian acting I have seen," Richardson wrote to him. And even though miscast as Othello in Zeffirelli's Royal Shakespeare company production, with a 1961 first night rich in falling scenery and collapsing reputations, Gielgud emerged not that much scathed from the disaster to play a delectable Gayev in The Cherry Orchard – all wistful solemnity as he lightly mocked his own pompousness.
This ability to ignore set-back and disappointment, to rise to new challenges characterised the last 20 years of his life in the theatre. He may have had too few chances to play the classics – his last Lear was given when he was little more than 50; his final, necromancing Prospero was something of a come-down. His Julius Caesar and Sir Politick would be unremarkable. But there were at least two great performances. In Home, as a mental patient with nothing left to look forward to but the keeping up of appearances, Gielgud was sheer magic: voice maintaining a false air of patrician calm, while tears streamed down. His Spooner in Pinter's No Man's Land was even more of a departure. It marked a feat of self disguise and impersonation that he had not attempted since his early acting days. Seedily dishevelled, with an air of chronic scruffiness, Gielgud prowled through the action slyly on the make and the look-out, eyes behind gold rimmed glasses registering next to nothing, that velvet voice relishing its grand insincerities.
John Gielgud served the stage unstintingly. He was a master of acting in an age of great English actors. He was not versatile in Olivier's chameleon fashion. But in his acting he encompassed everything from the tragic to the comic ridiculous. He was so old and had worked so long that there will be hardly anyone left alive who can remember our theatre without his magic presence. Those who knew him even a little will lament the passing not just of the actor but the man who was such infinite, mischievous fun. But preserved on disc and cassette, in infinite recorded conversations, there will always remain the essential glimmerings of his rare, bright star.
• Arthur John Gielgud, actor, born 14 April 1904; died 21 May 2000
The above "Guardian" obituary can also be accessed online here.