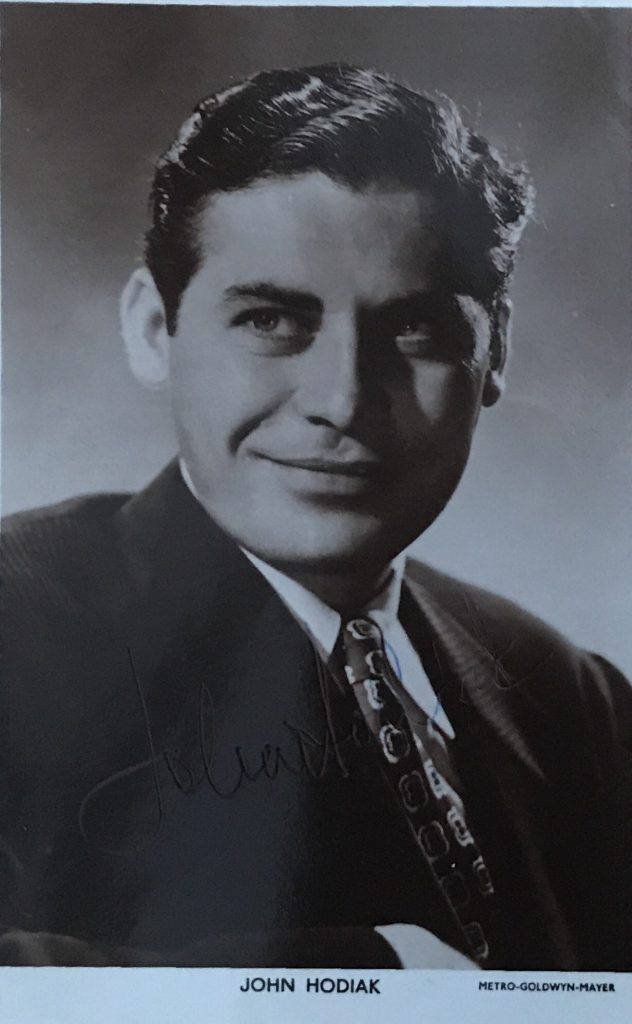 John Hodiak was born in 1914 in Pittsburgh.   He came to fame with Alfred Hitchcock cast in "Lifeboat" in 1944.   He starred opposite Gene Tierney in "A Bel for Adano", opposite Judy Garland and Angela Lansbury in "The Harvey Girls" and "Battleground".   He died suddenly at the age of 41 in Tarzana, California in 1955.
Gary Brumburgh's entry:
Pittsburgh-born John Hodiak was one of several up-and-coming male talents who managed to take advantage of the dearth of WWII-era superstars (MGM's Clark Gable,Van Johnson, Robert Taylor and James Stewart, among others) who were off serving their country. John's early death at age 41, however, robbed Hollywood of a strong player and promising character star.
Born on April 16, 1914, the eldest of four (one daughter was adopted), John was eight years old when his middle-class family moved to a thriving Polish community in a suburb of Detroit, Michigan. His father, Walter, was born in the Ukraine and his mother, Anna, was Polish. Expressing interest in music and drama at an early age, he was encouraged by his father who had appeared in amateur shows. He found roles in school plays (done in Hungarian or Polish), sang in the Ukranian church choir, played the clarinet, and even took diction lessons. Not to be outdone, his athletic skills were also put on display. At one point, he was considered by the St. Louis Cardinals for their farm league but he declined the offer in favor of pursuing an acting career.
Following high school, John found work as a golf caddy and stockroom clerk (at a Chevrolet company) before breaking into radio (WXYZ) in Detroit and (later) Chicago. His more notable roles was as the title figure in "L'il Abner" (a role created on radio) and in the serials "Ma Perkins" and "Wings of Destiny". While in Chicago he was noticed by MGM talent agent Marvin Schenck and signed. Proud of his heritage, he refused to change his name to a more marquee-friendly moniker despite mogul Louis B. Mayer's concerns. Hodiak made his debut as a walk-on in A Stranger in Town (1943), and had a bit part in one of Ann Sothern's "Maisie" series Swing Shift Maisie (1943) before becoming her leading man in a subsequent entry (Maisie Goes to Reno (1944)) the following year.
His inability to sign up for military duty due to his high blood pressure ended up giving him a starring career. Attention started being paid after he played Lana Turner's soldier husband in Marriage Is a Private Affair (1944). An interested Alfred Hitchcock then borrowed John for the role of Kovac, the torpedoed ship's crew member, in one of his classic war dramas Lifeboat (1944) starring the irrepressible Tallulah Bankhead at 20th Century-Fox. The studio was so impressed with John's work in this that it cast him in two other quality films: Sunday Dinner for a Soldier (1944) and A Bell for Adano (1945), both of which showed off his quiet but rugged charm.
In the former he played the patriotic title role and co-starred with Anne Baxter. No sparks as of yet between these two, but a year or so later they reconnected at a party and started dating. They married on July 6, 1946. The second film, the exquisitely sensitive and moving war picture A Bell for Adano (1945) made him a star by Hollywood standards. Co-starring a rather miscast Gene Tierney (as a blonde Italian village girl) andWilliam Bendix, John was more than up to the challenge of playing the role of U.S. Major Joppolo, originally created on Broadway by Fredric March. The irony of it all is that the actor never found better roles (at MGM) than the ones he filmed while lent out to Fox.
Back at MGM, John went through the usual paces. He was overlooked in the rousing Judy Garland vehicle The Harvey Girls (1946), but seemed much more at home in the film noirSomewhere in the Night (1946) and in the WWII drama Homecoming (1948) that starredClark Gable and Lana Turner, with John and wife Anne Baxter serving as second leads.
With MGM's male roster of talent back home now from the war, John was unceremoniously relegated to second leads that supported the top-tier actors, including Gable, Spencer Tracy, Robert Walker, James Stewart and Robert Taylor. While several of his subsequent post-war films drew desultory reviews, notably the Greer Garson "Miniver" sequel The Miniver Story (1950), Hedy Lamarr's so-called tale of intrigue A Lady Without Passport (1950), and the Clark Gable western Across the Wide Missouri (1951), John did manage to co-star in two of MGM's more stirring war pictures — Command Decision(1948) and Battleground (1949). Occasionally deemed "glum" and "wooden" by his harsher critics, John's MGM contract expired in 1951 and he began to freelance. Most of the work that followed were starring roles in low-budget entries. Battle Zone (1952) had John and Stephen McNally as two Korean war photographers distracted by the lovelyLinda Christian, and Conquest of Cochise (1953) featured a miscast John as the famed Indian warrior.
John reaped better rewards on the stage during this time. Receiving excellent reviews following his 1952 Broadway debut as the sheriff in "The Chase" (he received the Donaldson Award), the actor returned to Broadway as Lieutenant Maryk in "The Caine Mutiny Court Martial (1954) co-starring Henry Fonda. He was extremely disappointed when former fellow MGM player Van Johnson was cast as the lieutenant in the acclaimed film version starring Humphrey Bogart as Captain Queeg.
The father of daughter Katrina Baxter Hodiak, who was born in 1951, John and Anne's varied backgrounds (he was middle class and she more high society — her grandfather being the renowned Frank Lloyd Wright) and their busy film careers created significant problems. They divorced on January 27, 1953. John later built a home for his parents and younger brother in Tarzana, California and eventually lived there with them. His later years grew difficult and were plagued by self-doubt, a diminishing career and an equally diminishing social life.
John's key Broadway success in "Mutiny" led to a fine comeback role on screen as a prosecuting attorney in Trial (1955), finding "guest artist" work on dramatic TV as well. What might have led to a strong resurgence, however, was sadly cut short. On the morning of October 19, 1955, 41-year-old John suffered a coronary thrombosis and died instantly while shaving in the bathroom of his home. He was on his way to the 20th Century-Fox lot to complete final work on his last film, On the Threshold of Space (1956), when he was stricken.
The movie was released posthumously with John's role left intact. No previous record of a heart ailment was ever uncovered. It was an extreme shock to lose someone so relatively young, and even sadder for those he loved and left behind, including his 4-year-old daughter. Katrina Hodiak later became a composer, an actress and a theater director). John was interred at the Calvary Cemetery in Los Angeles.
– IMDb Mini Biography By: Gary Brumburgh / gr-home@pacbell.net