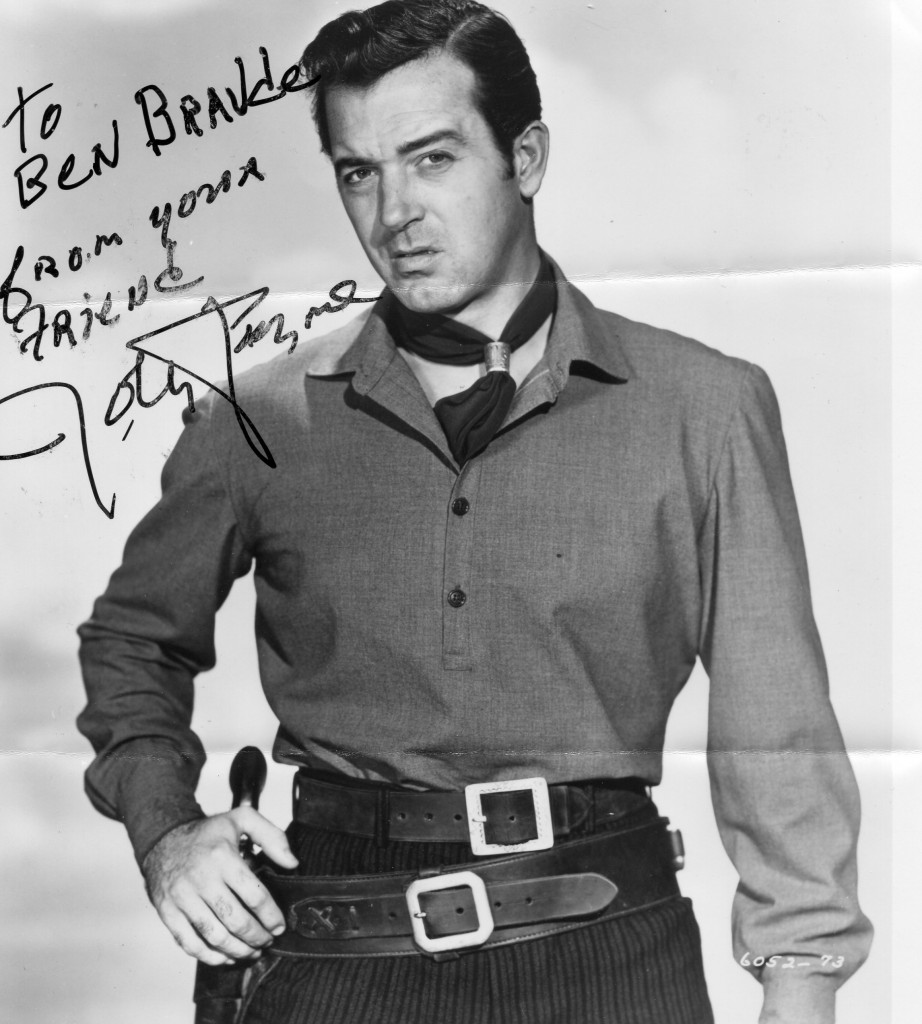 John Payne was born in 1912 in Virginia.   A very underrated actor, his career is in definite need of reappraisal.   His films of note include "The Razor's Edge" with Tyrone and Gene Tierney in 1946, two with Maureen O'Hara, "Sentimental Journey" and the classic "Miracle on 34th Street", "Slightly Scarlet" with Rhonda Fleming and Arlene Dahl and "Hold Back the Night".   John Payne died in 1989 aged 77.
His IMDB entry:
Perhaps not so surprisingly, John Payne maintained that his favorite movie of all time was one of his own — Miracle on 34th Street (1947) — simply because it reflected his own strong and spiritual belief system. It was Payne, in fact, who pressured his studio (20th Century-Fox) to film it while putting up his own money! Today, of course, the film, which co-stars beautiful Maureen O'Hara, Oscar-winning Edmund Gwenn as Kris Kringle and little non-believing scene-stealer Natalie Wood, is a perennial holiday favorite.
Born John Howard Payne on May 23, 1912, he was the middle son of three boys (Peter and Robert were the others). His parents, businessman George Washington Payne and former Met singer Ida Hope (ne Schaeffer) Payne were quite well-to-do and came from a rich heritage. John was named after an ancestor who wrote the song, "Home, Sweet, Home." The boys grew up privileged on a Roanoke, Virginia estate complete with equestrian stables and swimming pools. At his mother's request, John took singing lessons in order to curb an extreme shyness problem. During his teens, the boy was shipped off to Mercersburg Academy, a prep school in Pennsylvania, and later was studying at Roanoke College at the time his father died. John was forced to give up his studies in an effort to help support his family, finding work as a male nurse and, better yet, a radio singer at a local station. Eventually, he was able to return to his studies, enrolling at the Pulitzer School of Journalism at Columbia University. John continued to find work as a singer and even earned some extra cash as a boxer ("Tiger" Jack Payne) and wrestler.
The tall (6'4″), dark and handsome Payne, in his mid-20s, eventually turned to the stage and, while understudying Reginald Gardiner in the musical "At Home Abroad," was spotted by Samuel Goldwyn during a performance signed for film work. Billed initially as John Howard Payne, he made his debut with a minor role in Dodsworth (1936), but nothing else came of it and he was released. Freelancing in minor musicals and comedies, he appeared in a starring role (billed now as John Payne) opposite soon-to-be acting guru Stella Adler in Love on Toast (1937), and also teamed up vocally with Betty Grable on a radio show. Payne met actress Anne Shirley during this time and the couple married in August of 1937. Three years later they had a daughter, Julie Payne, who would become an actress in her own right. The happiness for John and Anne wouldn't last, however, and the couple divorced in 1943.
In 1937, Paramount took over the actor's interest with a featured part in Bob Hope'sCollege Swing (1938). Warner Bros. then signed him up briefly, allowing him a third-billed role in the Busby Berkeley musical Garden of the Moon (1938) starring Pat O'Brienand Margaret Lindsay in which he sang the title song as well as the tune "Love Is Where You Find It," among others. Again, John didn't have the right studio fit until 20th Century-Fox came along in 1940. Then it all began to happen for him. Co-starring roles opposite Alice Faye in the musicals Tin Pan Alley (1940) and Week-End in Havana (1941), and with popular skating star Sonja Henie in Sun Valley Serenade (1941) and Iceland(1942) started the ball rolling. But it was a starring role in the war tearjerker Remember the Day (1941), in which he was romantically paired with Claudette Colbert, that secured his place as a dramatic actor and gave him one of his best career showcases.
After co-starring with former radio partner Betty Grable in Springtime in the Rockies(1942), John served a two-year hitch (1942-1944) with the Army. Upon his discharge he went right back to courting Betty Grable in the musical film The Dolly Sisters (1945) and met 18-year-old singer/actress Gloria DeHaven during its shoot. The twosome wed in 1945 and a daughter and son were born within three years. Problems arose when Gloria insisted on continuing her career and the couple, after on and off separations, finally divorced in 1950. John's early post-WWII work offered some of his finest roles with significant non-singing parts coming in the form of Sentimental Journey (1946) withMaureen O'Hara which was a project he bought for himself, the glossy epic The Razor's Edge (1946) co-starring Gene Tierney, Miracle on 34th Street (1947), again paired up magically with O'Hara, and Larceny (1948) with Joan Caulfield.
When John left 20th Century-Fox, his film vehicles grew more routine. Crimers, war drama, and westerns became the norm but a smart and lucrative business arrangement (that included a seven-picture deal) with action producers William H. Pine and William C. Thomas (Pine-Thommas Productions) compensated greatly. As such John appeared in El Paso (1949), Tripoli (1950), Passage West (1951), Kansas City Confidential (1952). 99 River Street (1953), Silver Lode (1954) and ended the deal with Slightly Scarlet (1956). A shrewd businessman, Payne also obtained rights to these films in the aftermath. In 1953, he entered into his third and final marriage to Alexandra ("Sandy") Crowell Curtis, the former wife of actor Alan Curtis. In addition to returning to his singing roots with Las Vegas showroom engagements, John went on to star in his own western TV series The Restless Gun (1957) which lasted two seasons. Daughter Julie appeared in one episode.
A very serious 1961 accident, however, in which John was hit by a car in New York City, slowed him down considerably. It took well over two years for him to recover enough from his leg fractures and facial/scalp wounds to return to acting. In 1964, he co-starred on Broadway with Lisa Kirk in the Broadway musical "Here's Love". A decade later he returned to the arms of Alice Faye when they reunited on stage with a Broadway revival of "Good News". Unfortunately he had to leave the show prematurely as the dancing required was re-aggravating his leg pain. His 70s career ended with TV roles on such shows as "Gunsmoke," "Cade's Country" and "Columbo".
Retiring in 1975, John focused quietly on reading, writing short stories, flying and cooking. In addition to daughter Julie, two of his grandchildren went on to become actresses as well — Katharine Towne and Holly Payne. Payne died on December 6, 1989 at his Malibu home of congestive heart failure. A reliable and steady leading man who may not have been a great mover or shaker on screen, he nonetheless brought tremendous entertainment to his fans both musically and dramatically in a career that lasted four decades.
– IMDb Mini Biography By: Gary Brumburgh / gr-home@pacbell.net
The above IMDB entry can also be accessed online here.