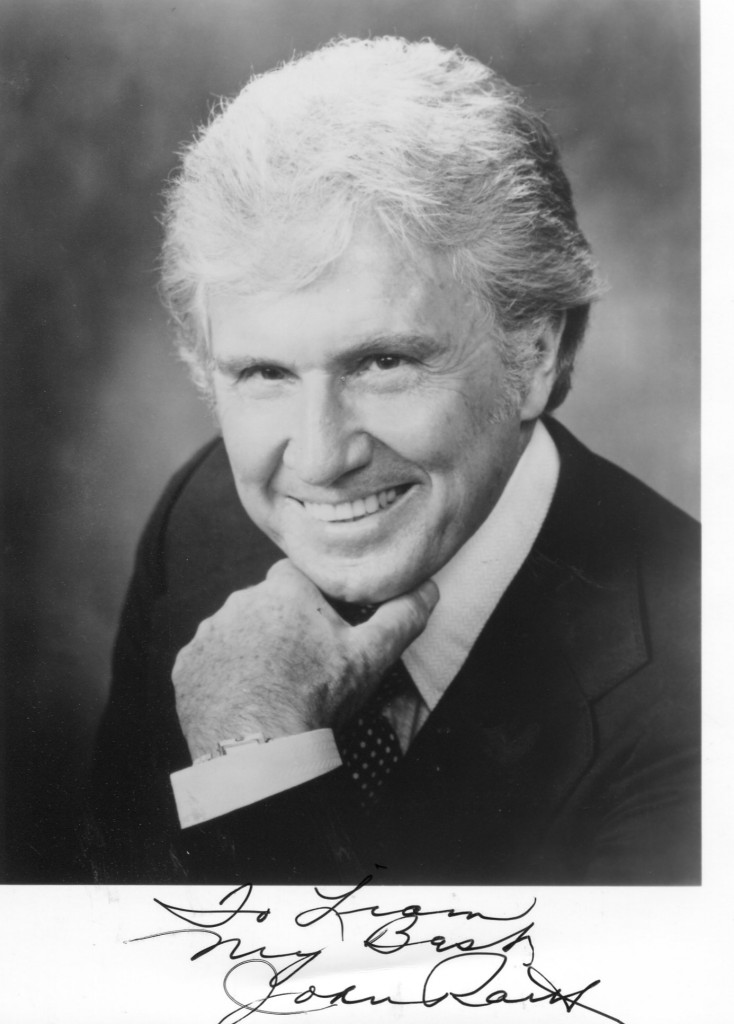 John Raitt was born in Santa Anam California in 1917.   He was a major Broadway star and a popular singer.   He made only one film, but it was a choice one, "The Pajama Game" with Doris Day in 1957.   His daughter is the singer Bonnie Raitt.   John Raitt died in 2005.
Gary Brumburgh's entry:
 One of the top Broadway baritones of the post WWII period, John Raitt maintained an incredibly resilient career that spanned over 60 years, showing remarkable power, range and stamina for a man who defied the odds by concertizing well into his 80s. He was born in Santa Ana, California in 1917, the son of Archie John Raitt and Stella Eulalie Walton, and graduated from the University of Redlands. Studying legit with Richard Cummings in his early years, one of his first appearances would be in 1940 in the chorus of HMS Pinafore with the Los Angeles Civic Light Opera Company. The following year he played the roles of Figaro and Count Almaviva in the Pasadena Civic Auditorium production of "The Barber of Seville," as well as Escamillo in "Carmen." At this time he earned an MGM contract and was seen without much fanfare in such pictures as Flight Command (1940), Little Nellie Kelly (1940) and Ziegfeld Girl (1941). 1944 proved to be John's breakthrough year after winning the role of Curly in the Chicago production of the new big hit musical "Oklahoma!" Critics took notice of the man's robust presence, sturdy pipes and unfailing confidence. The virile man with the sly flash in his eye then made his Broadway debut originating the role of the tormented Billy Bigelow in the now-classic musical "Carousel." He never had to look back. His powerful rendition of the "Soliloquy" number helped him to clinch the prestigious New York Drama Critics and Donaldson Awards. John continued to impress in the musical forum with lead parts in "Magadalena," "New Moon," "Carnival in Flanders" and "Three Wishes for Jamie" (title role). In 1954, he found his second signature role as foreman Sid Sorokin in "The Pajama Game" oppositeJanis Paige. Here, he introduced the classic ballad "Hey There" for which he is probably best known. So ideally suited was he in this role that John was asked to transfer Sid to film, this time opposite Doris Day. Although it was an unqualified success, musical films were on their way out and he did not find any more work in the area of cinema. For the next few decades he continued to tour in roles audiences had grown to love (Curly, Billy, Sid). Other suitable vehicles would include "Shenandoah," "1776," "South Pacific," "Man of La Mancha," and "Kismet." By this time he had also grown in stature as a concertist. Back in the 1940s John married pianist Marjorie Haydock. One of their children grew up to become singer/songwriter Bonnie Raitt (born 1949), who inherited the vocal/instrumental talents of her parents but took a different, uncompetitive path as a blues-rock guitarist. Despite their polar musical styles, father and daughter performed frequently together on the live stage. John and wife Marjorie would later divorce and he remarried. Seldom on TV, the live stage would be John's invaluable legacy to the music world. He died in 2005 of complications from pneumonia at age 88.
– IMDb Mini Biography By: Gary Brumburgh / gr-home@pacbell.net
"Guardian" obituary:
Though the singer John Raitt was one of the great leading men of Broadway's golden age, his reputation rests on surprisingly few hits: Carousel (1945) and The Pajama Game (on stage in 1954, and on film in 1957). Yet Raitt worked nearly continuously from 1940 almost up to his death at the age of 88. In 1995, he recorded the album John Raitt: The Broadway Legend, and sang some duets with daughter Bonnie Raitt as recently as last January. .
The qualities of his talent were thrown into particularly high relief during the father-daughter duets. Bonnie's voice is consciously untrained, used in a style that generates an overall emotion in any given phrase, but letting the words take care of finer shades of meaning. Her father had a cultivated, operatic voice (with a more sure sense of pitch) that he used with great specificity, bordering on deliberation
A typical Raitt touch was heard in the song If I Loved You, sung by the carnival barker Billy Bigelow in Carousel; Raitt's emphasis on the word "if" in every statement underlined the character's ambivalence – a trait that would set off a chain reaction contributing to Billy's demise. Not a member of the method-acting generation, Raitt was likely to deliver such things from instinct rather than analysis – or, even better, by conferring with the authors.
It is said that Raitt's vocal prowess – which he demonstrated to songwriters Richard Rodgers and Oscar Hammerstein upon replacing Alfred Drake in Oklahoma! – inspired the famous seven-minute dramatic tour-de-force Soliloquy from Carousel. Not so much a song as a musical scene depicting the contemplation of impending fatherhood, Soliloquy was a breakthrough in Broadway theatre for its length, operatic weight of expression and emotional nakedness, virtually unheard of for male characters in this genre.
Though Raitt's career peaked with Carousel, his performances were remarkably consistent, often despite substandard material, such as the ambitious, idiosyncratic Heitor Villa-Lobos musical Magdalena in 1948 (which Raitt revisited some 40 years later in a concert version in New York), Three Wishes For Jamie (1952) and Carnival In Flanders (1953). The only post-Carousel hit he originated was The Pajama Game.
That, plus a primitive television version of Annie Get Your Gun, with Mary Martin, were Raitt's only major screen appearances, and it is hard to say why. Though he mastered the more subtle art of screen acting, his wide-spaced eyes played oddly from some camera angles, magnifying a vaguely ethnic look that may have challenged the white hegemony of 1950s Hollywood.
In any case, Raitt was a servant of the theatre. His looks and voice made him a natural candidate for Las Vegas, which he resisted, according to Bonnie, because he disliked the unwholesome atmosphere of such engagements. More likely, he was of a generation when the singer was the messenger of song and characters, and may have simply been at a loss to adapt to the kind of self-aggrandising song styling that was customary in 1960s Las Vegas.
I n time, the Broadway Raitt had come to define turned away from him. The invasion of artificial amplification meant voices like his were no longer really needed. Also, Broadway subject matter was leaving him behind. When, in the mid-1970s, he toured with a minor musical entitled Seesaw, he admitted to being so frustrated with his vocal under-utilisation that he performed a mini-concert of his old standards after every show. Because he kept his fees low enough to be a viable hire for summer theatre seasons, he took on roles that strayed far from his romantic leading-man image, such as Fiddler On The Roof and Zorba The Greek.
Little in his background or early life pointed to such future dedication to show business. Just as easily, Raitt might have become a sports coach, having distinguished himself with track and field skills in Santa Ana, California, where he was born and grew up. His singing began in chorus work at the Los Angeles Civic Light Opera, graduating to less light opera such as the Barber Of Seville – an aria from which he sang at his first Rodgers and Hammerstein audition.
Though Raitt had three children by his first wife, Marjorie Haydock (they divorced in 1971) – Bonnie, Steven and David – he had a particularly close rapport with Bonnie. During a free day from a Broadway tour, he would drive to the next city where she had a tour stop. When her 1989 comeback album, Nick Of Time, swept the Grammy awards, he was with her at the ceremony. They sang at each other's weddings, she at his third marriage, to Rosemary Kraemer, in 1981, and he at her 1991 wedding.
Rosemary and his children survive him.