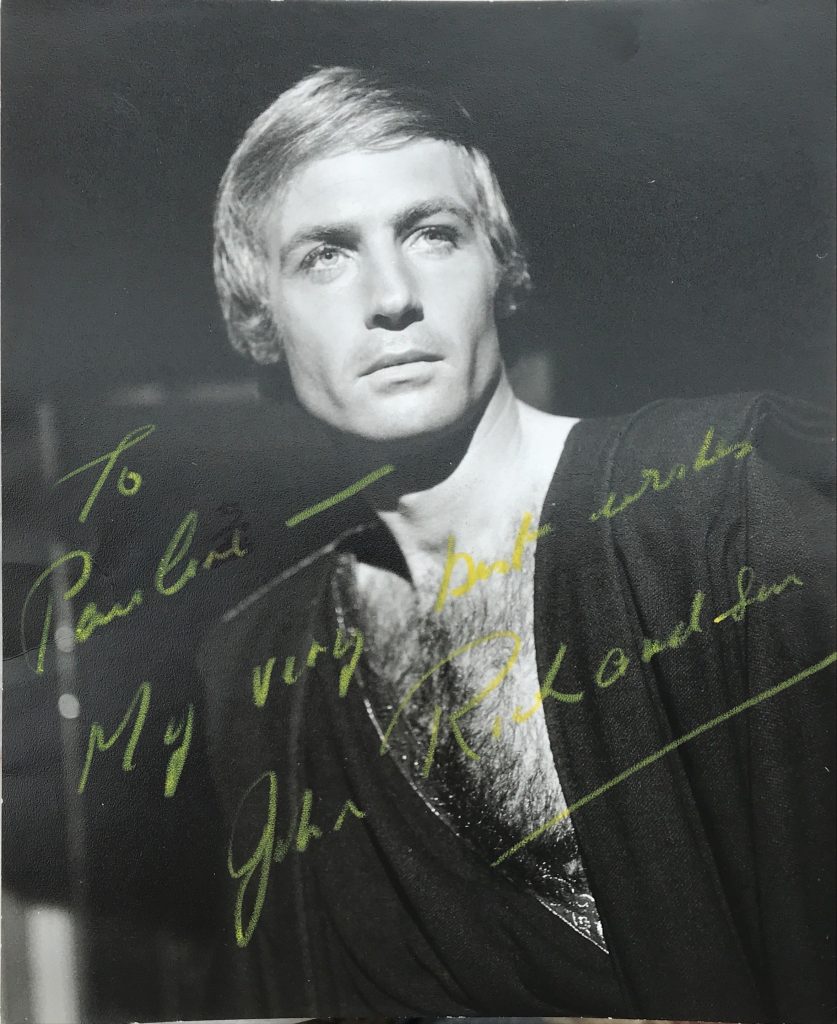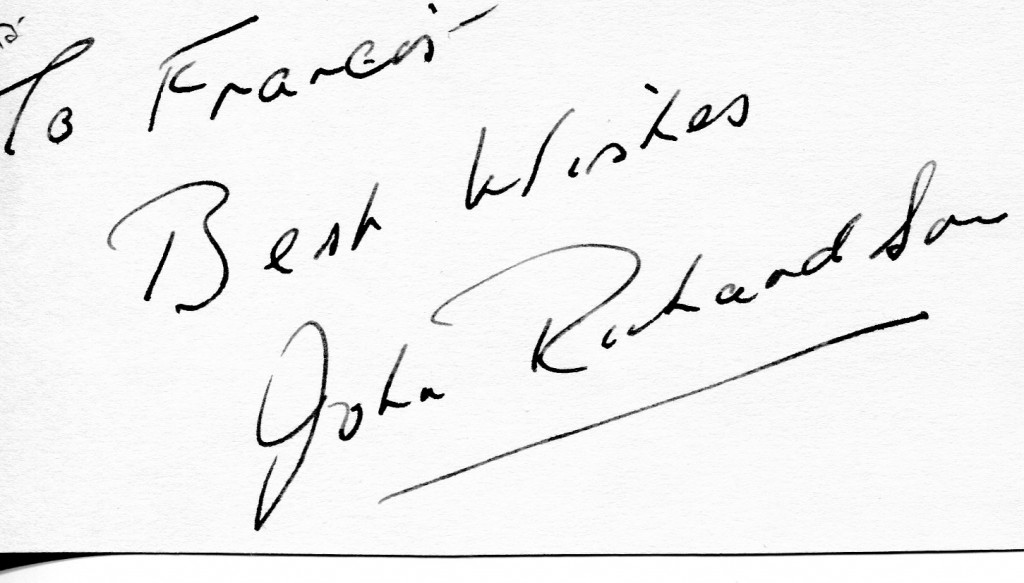 He was born in Worthing in 1934.   His movie debut was in "Bachelor of Hearts" as a university student in 1958 with Hardy Kruger and Sylvia Syms.In 1965 he starred in "She" and in 1969 was in "On A Clear Day You Can See Forever".   His most recent film was "La Chiesa" in 1989.   John Richardson was a very handsome leading man in British and European movies of the 1960's.   He had the good fortune to star opposite such leading ladies as Ursula Andress, Raquel Welch and the two Barbara's – Steele and Streisand.   John Richardson died in 2021 aged 86.
"IMDB" entry:
Classically handsome John Richardson began his career with small roles in British movies at the end of the 50s. His big success was Don Chaffey's One Million Years B.C. (1966) with Raquel Welch, produced by Hammer films. Later, following the steps of some other actors, he went on to appear in various Italian movies such as Umberto Lenzi's horrorEyeball (1975), Michele Soavi's The Church (1989) and many others. Richardson's great passion was collecting automobiles and he sometimes appeared in films as long as a car was included in the contract. But his recent movies filmed in the 80s convinced him to quit acting completely. Now, he is a noteworthy photographer with no interest whatsoever in looking back on his career in cinema. He is now living in a small town somewhere in the United Kingdom.
– IMDb Mini Biography By: Tzvetislav Samardjiev <tzvetislav@abv.bg> director 
The above "IMDB" entry can also be accessed online here.
"Hollywood Reporter" obituary in 2021:
John Richardson, the British actor who starred opposite Ursula Andress in She and Raquel Welch in One Million Years B.C., died Tuesday of COVID-19 complications. He was 86.
His death was reported by Cinema Retro writer Mark Mawston.
In Mario Bava's credited feature directorial debut, Richardson portrayed a doctor's assistant whose blood inadvertently brings a vampiric witch (Barbara Steele) back to life in the Italian horror classic Black Sunday (1960).
He screen-tested for James Bond after Sean Connery relinquished the role, but model George Lazenby was hired to play Agent 007 opposite Diana Rigg in On Her Majesty's Secret Service (1969).
For Hammer Films and Seven Arts producer Ray Stark, Richardson played an archeologist who discovers a lost city ruled by the immortal queen Ayesha (Andress), who believes he is her reincarnated lover, in She (1965), also featuring Peter Cushing and Christopher Lee.
He then donned a loincloth to star with Welch amid stop-motion dinosaurs animated by Ray Harryhausen in One Million Years B.C. (1966), another movie for Hammer.
Richardson also starred in the spaghetti Westerns John the Bastard (1967), Execution (1968) and A Candidate for a Killing (1969) and had a supporting turn in Vincente Minnelli's On a Clear Day You Can See Forever (1970), starring Barbra Streisand.
Born in Sussex on Jan. 19, 1934, Richardson started out with small roles in such notable films as A Night to Remember (1958), the Kenneth More-starring 1959 remake of The 39 Steps and The League of Gentlemen (1960).
Back in England after Black Sunday, he had uncredited roles in Tender Is the Night (1962) and Lord Jim (1965) before breaking out in She. (He later returned, minus Andress, for a 1968 sequel, The Vengeance of She.)
Richardson spent most of the '70s working in Italy in such films as Frankenstein '80 (1972), Torso(1973), Eyeball (1975), Reflections in Black (1975), Duck in Orange Sauce (1975), Nine Guests for a Crime (1977) and War of the Planets (1977).
Richardson, who last appeared onscreen in 1994 and focused on photography in his later years, was married to actress Martine Beswick (One Million Years B.C., From Russia With Love) from 1967 until their 1973 divorce