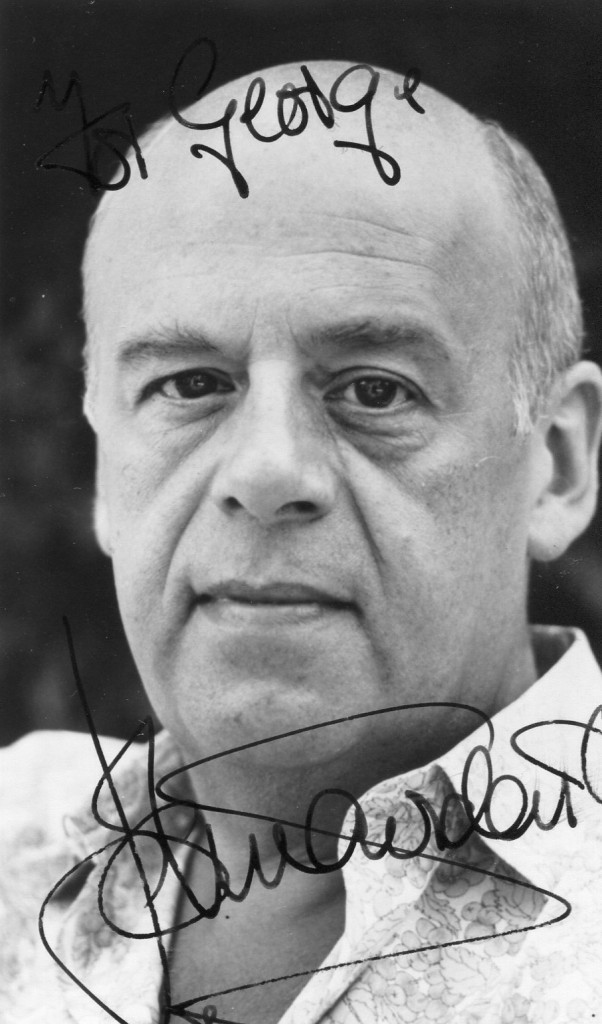 John Savident was born in 1938 in Guernsey, Channel Islands. He is best known for his role as Fred Elliott in "Coronation Street". His films include"Battle of Britain" in 1969, "A Clockwork Orange" in 1971 and "Mountains of the Moon" in 1990.
Article in "MailOnline":
Coronation Street star John Savident notched up roles in cinema classics and Hollywood blockbusters before finally finding fame for his larger-than-life character in Britain's longest-running soap.
Although a familiar face for his string of minor roles on screen, it was butcher Fred Elliott who made him a household name after 30 years in acting.
He was born in Guernsey, to a father who was a local fisherman and a Swiss mother. They moved when Savident – whose real surname is Joseph – was just three years old, settling in Ashton-under-Lyne, near Manchester.
Before finding his feet on the stage, the star pounded the beat as a policeman in Manchester for six years, training alongside John Stalker who went on to become Deputy Chief Constable of Greater Manchester.
During those days he suffered a stabbing injury when he tried to break up a vicious gang fight, taking an injury to the arm. "I thought I'd had it," he recalled.
He pursued his acting ambitions through amateur productions but a chance remark in a pub led to him quitting the force to treat the boards full-time.
Discussing his desire to turn professional in a pub while appearing in South Pacific, a producer overheard him and offered him a part as Robin Hood in a London panto. He went on to star in numerous stage productions, embracing the West End and Royal National Theatre.
Early film roles included parts in Battle Of Britain, Stanley Kubrick's controversial A Clockwork Orange – banned for years at the director's insistence – and later Gandhi.
His skills also brought him to the attention of Hollywood producers, with roles in the Bruce Willis film, Hudson Hawk, and Loch Ness. Savident's vaguely menacing demeanour made him perfect for TV villains, such as the blackmailer Raffles in the BBC dramatisation Middlemarch. He was also lined up to play disgraced publisher Robert Maxwell in a stage production but legal problems scuppered the show. Away from the Street the actor's real voice is rather more refined than the broad Lancashire accent he adopts for the part. "I made Fred speak like the loud Lancashire people you used to meet in pubs – you could hear them from the other side," he once recalled. I've got that booming voice anyway. I'm forever getting told at home, 'stop booming John'." In the Street the butcher's love life has been an ongoing saga. He has long had his eye on Audrey Roberts and recently proposed, but was turned down. Elliott also wooed Rita, and the pair have remained good friends. He married Maureen in 1997 but she eventually ran off and left him.
In real life, Savident is married to theatrical director Rona with two grow-up children.
The above "MailOnline" article can also be accessed online here.