Judy Campbell was born in Grantham in 1916.   She made her stage debut in 1935 in "The Last of Mrs Cheyney".   Her film debut was in 1940.   Her films include "Convoy", "East of Picadilly", "Green for Danger" and "Bonnie Prince Charlie".   She was the mother of Jane Birkin and grandmother of Charlotte Gainsbourg.   She introduced "A Nightingale Sang in Berkley Square" to the London stage.   She died in 2004.
"The Independent":
Judy Mary Gamble (Judy Campbell), actress: born Grantham, Lincolnshire 31 May 1916; married 1943 Lt-Cdr David Birkin (died 1991; one son, two daughters); died London 6 June 2004.
Tall, with her elegant carriage and swan-like neck and voice of smoky allure, Judy Campbell epitomised much of the glamour of a sleek West End between the wars and into the following decades. Most famous for her haunting rendition of Eric Maschwitz's standard "A Nightingale Sang in Berkeley Square" (which she introduced in a wartime revue) and for her association with Noël Coward, this witty and intelligent actress was equally successful in Shaw, O'Neill and Arthur Miller.
Campbell seemed destined for a stage career. She was born Judy Gamble, in 1916, into a theatrical family: her mother was briefly a Gaiety Girl and her father, J.A. Campbell, as he styled himself, was an actor-dramatist (his daughter too subsequently took occasionally to the typewriter) who for several years successfully ran the Theatre Royal in Grantham. It was there that she made her professional début, aged 19 in the high comedy (a field in which she always shone) of Frederick Lonsdale's The Last of Mrs Cheyney (1935).
It was often later assumed that she was catapulted to instant early West End success, but in fact Campbell served a rigorous apprenticeship in the repertory-theatre world so flourishing in the 1930s (Liverpool and Coventry as well as a demanding Cambridge season of Shakespeare and Shaw) before some less than dazzling London opportunities.
Campbell's big break came, as she liked to explain, by accident. When she was cast in the revue New Faces (Comedy, 1940), originally her solo spot was planned, somewhat vaguely, to be a monologue written by Dorothy Parker. This failed to arrive as scheduled and so at such short notice she had little time to be nervous of her unplanned musical début when performing the substituted "A Nightingale Sang", standing quite still in a foamy white dress in a single spotlight; her intimate, almost sprechgesang, delivery captivated wartime audiences for the show's long run.
One of those entranced was Noël Coward, also a dab hand at making the most of a number with limited vocal resources ("It takes talent," he said to Campbell, "to put over a song when you haven't got a voice"). In 1942-43 she created the contrasted roles of the ambitious vamp Joanna in his Present Laughter and the dolefully adenoidal Ethel in his family chronicle This Happy Breed on tour and subsequently at the Haymarket.
Well aware that despite his fondness for many of his leading ladies Coward was not interested in women "in that way", as he put it, Campbell was understandably startled when, during their love scene in Present Laughter on tour one night in a particularly freezing wartime theatre, she felt her co-star's hands slip inside her dress to cup her breasts. Any thoughts of leading Coward into new paths of dalliance were dispelled when he subsequently apologised, explaining that his hands had been so cold it was the only way he could think of to warm them.
After a string of mostly lacklustre West End roles, usually in forgettable comedies – with the striking exceptions of her feisty Mirandolina in a version of Goldoni's La Locandiera (Arts, 1944) or her mischievously glinting Elvira (replacing Kay Hammond) in Coward's Blithe Spirit (Duchess, 1943) – it was Coward who provided Campbell's next rewarding role. The Hollywood star Miranda Frayle, prospective fiancée of an earl in Relative Values (Savoy, 1951) may have been another "outsider" role, a variation of Present Laughter's Joanna, but, cleverly seizing on the character's fictionalisation of her origins, Campbell was hilarious in her progressively outrageously embroidered picture of an upbringing as a cockney guttersnipe.
By now happily married to a distinguished naval lieutenant-commander (who later took up farming) and settled in Chelsea with a young family, Campbell was content to put her career somewhat on the back burner. She returned on occasion to the theatre, most rewardingly in the frivol of Book of the Month (Cambridge, 1954) or as the daffy mother coping with the problems of "The Season" in William Douglas-Home's The Reluctant Debutante (Cambridge, 1956), in which she replaced Celia Johnson.
Later she chose work which could give her more stretching roles than most of her West End career had provided. She was in captivatingly imperious form as Hesione Hushabye in a first-rate Oxford Playhouse revival of Heartbreak House (also Wyndham's, 1961) and, with immense good spirits, she survived to make considerable impact amid the utterly misguided first London production of an Alan Ayckbourn play as the dotty Lady Slingsby-Craddock in Mr Whatnot (Arts, 1964). Another Shaw saw her as a fine, redoubtable Mrs Clandon opposite Sir Ralph Richardson's William in You Never Can Tell (Haymarket, 1964), while a return to the adventurous arena of the Arts gave her an unusual chance to take on a huge, meaty role as Christine in the Eugene O'Neill epic reworking of the House of Atreus in Mourning Becomes Electra(1967).
Ayckbourn's first West End success, Relatively Speaking (Duke of York's, 1967), had an ideal role for Campbell (again taking over from Celia Johnson) as Sheila, the seemingly scatty, abstracted Home Counties wife in a household with more than one secret. She was also wonderfully cast as the Venus-flytrap hothouse bloom of Judith Bliss, the monstre sacrée actress-mother in Coward's Hay Fever(Cambridge Theatre Company, 1971), swooping on prospective suitors and weekend guests alike with cascading theatrical panache. A return to the Oxford Playhouse surprised many when she gave a moving, touchingly and truthfully detailed performance as Linda Loman in Miller's Death of a Salesman (1975).
Campbell continued to work regularly through the 1980s and 1990s. Her Chichester appearances were, sadly, in mediocre productions although her regal Grand Duchess, dripping with velvets and jewels in Peter Rice's sumptuous costumes (Campbell wore period costumes with particular flair), in Rattigan's The Sleeping Prince (1983) opposite a subdued Omar Sharif had a welcome comedic edge. Never one to demand the trappings of stardom, she was quite happy to share the communal dressing-room with its single, less-than-inviting lavatory at the King's Head in Islington for a fringe revival of Vivian Ellis's Bless the Bride (1999), in which she sang (or, rather, half-talked and half-sang) "This is My Lovely Day".
"The Independent" obituary can also be accessed here.
Alan Strachan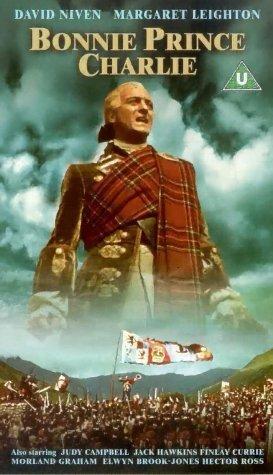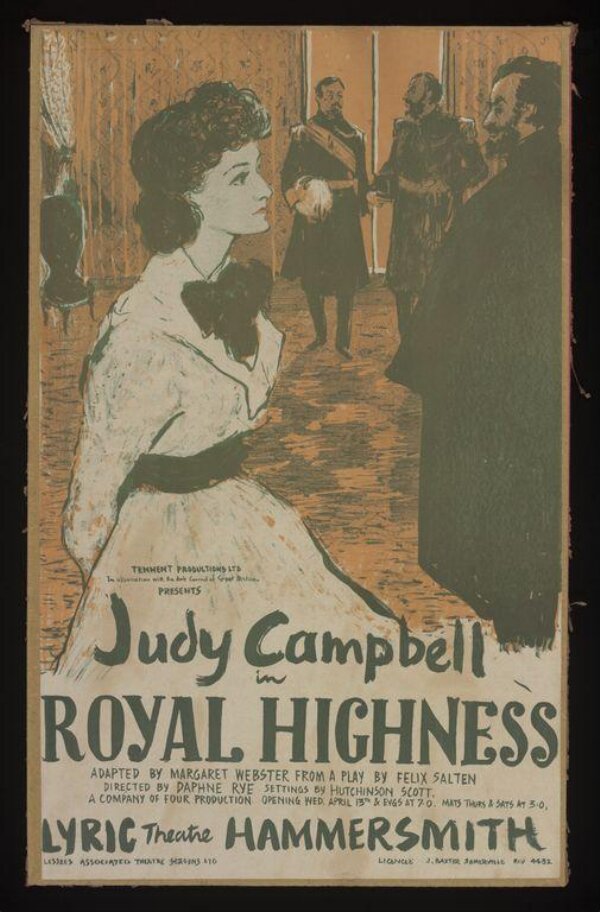 At the age of 85 Campbell made her National Theatre début as Grandmère, a compellingly spectral, lace-gowned presence in Harold Pinter's version of Proust as Remembrance of Things Past (2001). She was still driving, somewhat alarmingly, if less so than her close friend and Chelsea neighbour Constance Cummings who gave up the wheel slightly earlier; to their families' relief most of their regularly intrepid theatre visits in their later years were on the no 19 bus. And in 2003 she made a final stage appearance (having recently finished work on the remake of The Forsyte Saga for television), accompanied by the pianist Stefan Bednarczyk, in a compilation named (after a Coward song) Where Are the Songs We Sung?(Jermyn Street Theatre, 2003). Inevitably its highlight, sung still in her inimitable voice, its distinctive timbre only slightly touched by the years, was "A Nightingale Sang".
During her best years, a time when British cinema provided few interesting chances for women, films rarely gave Campbell worthwhile roles. Often cast in pallid "love-interest" parts – Clementine Walkinshaw in the garish Technicolor Bonnie Prince Charlie (1948) was especially dim – she sparkled whenever possible, most enjoyably perhaps in the black comedy Green for Danger(1946). She also had a supporting but sharply telling part opposite Peter Sellers in There's a Girl in My Soup (1970).
On television Campbell played countless grandes dames or dowagers, regularly guesting on such series as Bergerac or Inspector Morse. She had some rich roles in later years; she was memorable as Saki's basilisk Aunt Augusta in a version of Shredni Vashtar (1981), in icily imperious control as Countess Vronsky in Anna Karenina (1985) and, in perhaps her most popular small-screen part, a redoubtable Dowager Duchess of Broughton in the BBC series Nanny (1982-83).
A woman of stylish verve, self-deprecating humour and charismatic charm, Campbell was devoted to her husband and family. She remained immensely proud of the achievements of her children, including the actress-singer Jane Birkin and the film-maker and writer Andrew Birkin, and grandchildren, including the actresses Charlotte Gainsbourg and Lou Doillon. Jane's colourful life and her success with Serge Gainsbourg on " Je t'aime . . . moi non plus", a song sensation worlds away from "A Nightingale Sang", fazed her not at all; she used to describe the family as "like the Redgraves, except we all have different names".