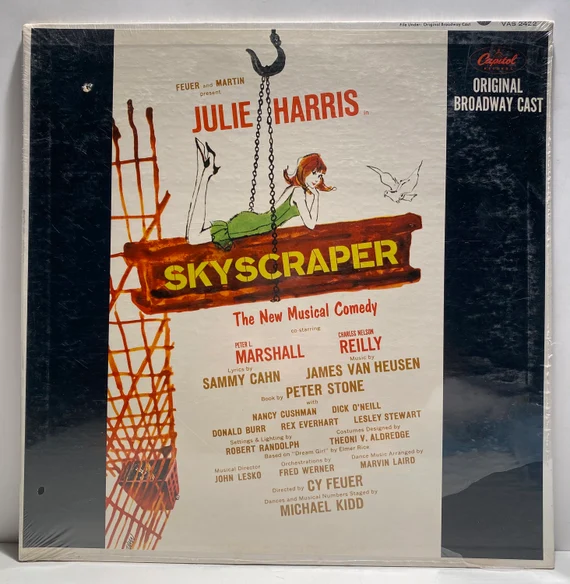 "Probably the only people who have not minded the infrequency of Julie Harris's film appearances are New York theatregoers.   In that city one is likely to find her on the boards gratifyingly often.   She is not perhaps a great actress but she is perhaps a witch, a skinny Lorelei calling to the smitten with a giggle and a coo like a love-sick dove.   She casts a spell in films as well but her parts have been uneven." – David Shipman in "The Great Movie Stars – The International Years". (1972)
Julie Harris was born in 1925 in Grosse Pointe, Michigan.   She is regarded as one of Broadway's greatest stars having won five Tonys, a tie with Angela Lansbury.   Her screen debut in 1932 was a repeat of her stage triumph in "Member of the Wedding" with Esther Waters and Brandon de Wilde and based on Carson McCuller's novella.   She played opposite James Dean in "East of Eden" in 1955, "Harper" with Paul Newman in 1966 and "Reflections in a Golden Eye" with Marlon Brando in 1967. She was part of the regular cast of "Knot's Landing" for a few years.   She died in 2013.
"The Guardian" obituary by Brian Baxter:
Unable to make sufficient money from her novels, the great American writer Carson McCullers took advice from Tennessee Williams and allowed one of her masterpieces to be adapted for the theatre. The resultant success of The Member of the Wedding (1950) widened her fame, and made a Broadway star of Julie Harris, who has died aged 87.
The play's main character is Frankie Addams, a gawky 12-year-old who longs for companionship and the "we of me". Although the second juvenile role, in what is essentially a three-hander, went to a child actor, Brandon de Wilde, the complex part of Frankie fell to Harris, who was then 24. Born in Grosse Pointe Park, Michigan, and trained at the Yale School of Drama, Harris had made her Broadway debut in It's a Gift in 1945, but enjoyed only modest success until she made Frankie her own vulnerable creation.
In 1952 Fred Zinnemann directed the film version of the play, in which, once again, Harris was supported by the incomparable De Wilde and Ethel Waters. She received an Oscar nomination as best actress and it mattered little when she lost out to Shirley Booth, since in the interim between play and film, she had triumphed again on Broadway, as the nightclub singer Sally Bowles in I Am a Camera (1951), based on Christopher Isherwood's Goodbye to Berlin. Harris won a Tony award for best actress (the first of a record five) and was lauded by the critic Brooks Atkinson as an "actress of genius".
In 1955 that play too graduated to the screen with Harris as the outlandish heroine. Although the rest of the film proved a dismal affair, Harris had shown that she could adapt to the more intimate demands of cinema. Her brilliance led the director Elia Kazan to cast her as Abra, opposite James Dean, in East of Eden (1955), but much of the screen work that followed immediately afterwards was feeble, including a British comedy, The Truth About Women (1957) and Sally's Irish Rogue (1958).
Requiem for a Heavyweight (1962) was an inferior film version of Rod Serling's TV drama and Harris seemed adrift in the part originally played by Kim Hunter. She fared slightly better on television in an adaptation of Graham Greene's The Power and the Glory (1961), playing the priest's mistress, and as Ophelia in Hamlet (1964).
Happily, the 1960s yielded three more enduring screen roles, includingRobert Wise's classic horror film The Haunting (1963), shot in Britain. Harris was perfectly cast as the timid Eleanor, prey to the terrors of the haunted mansion. In 1966 she played Miss Thing in Francis Ford Coppola's inspired comedy You're a Big Boy Now and the following year was reunited with the genius of McCullers in the best film of her career.
In Reflections in a Golden Eye she played the vulnerable Alison, tended by a fey Filipino house-boy, while neglected by her adulterous husband. In the hothouse atmosphere of a southern army camp, Alison is a highly strung instrument playing as part of a discordant quartet, comprising also Brian Keith, Elizabeth Taylor and Marlon Brando, giving his greatest performance as the Major. Harris held her own in this illustrious company, but never again encountered such a heady cocktail of the director John Huston, a superb screenplay and three such co-stars.
Not that she remained idle, making dozens more films, innumerable television appearances and always returning to her first love, the theatre. Stage roles of note included Joan of Arc in The Lark (1955, for which she won another Tony); a musical, Skyscraper (1966); the comedy Forty Carats (1969, a third Tony); The Last of Mrs Lincoln (1972), which although it was not a success won her a fourth Tony; and in 1976 the one-woman show The Belle of Amherst (her fifth Tony), based on the poems and secluded life of Emily Dickinson. She toured extensively in this production, including a trip to London. I vividly recall her command of the inner strength and beauty both of the character and the poetry. A filmed version of the show was seen on British television in 1978.
Harris was also well-suited to the role of the wife in On Golden Pond, in which she starred on stage during 1980, although Katharine Hepburn took the role in the film the following year. During the 1990s she enjoyed success in a stage version of Driving Miss Daisy, a tour of Lettice and Lovage and a New York revival of The Glass Menagerie. While appearing in a production of Fossils in 2001 in Chicago, she suffered a stroke.
On screen she was proud of her Mrs Greenwood in the adaptation of Sylvia Plath's The Bell Jar (1979). Although not a commercial success, it was more to her taste than Harper (1966), in which she was tortured by Robert Webber, or The People Next Door (1970), where she suffered at the hands of a drug-addicted daughter. She faced an even worse fate in two factually based features. In The Hiding Place (1975) she played, with great commitment, Betsie ten Boom, one of two Dutch sisters who gave refuge to Jewish people and suffered the consequences in a concentration camp. A year later in Voyage of the Damned she was a member of an all-star cast playing German Jewish refugees on a ship seeking sanctuary in 1939 but refused a port of call and eventually sent back to Germany.
These films and television dramas, notably House on Greenapple Road (1970), a Columbo feature, Any Old Port in a Storm (1973), the lead in a film version of The Last of Mrs Lincoln (1976) and in 1979 The Gift and then Backstairs at the White House, playing Helen Taft, kept her busy. But the temptation of complete security led to the longest stint of her career. In 1980, having appeared in an early episode of the TV soap opera Knots Landing, she accepted the role of a singer, Lilimae Clements, and stayed for the next seven years of its run, moving from her home in Massachusetts to take temporary residence in Los Angeles. Apart from an uncredited cameo in Crimewave (1985) and the voice of Claire in the ballet film Nutcracker (1986) she was absent from the big screen until 1988, when she returned as the third lead as Roz Carr in Gorillas in the Mist.
She worked non-stop for the next decade, with three TV films in 1988 and an average of one a year after that, from miniseries such as Scarlett (1994) to features such as Ellen Foster (1997) in which she played Grandmother Leonora. She had an enjoyable big screen role in the comedy HouseSitter (1992), and went to Rome to star in a tranquil two-hander, Gentle into the Night (1998), declaring the director Antonio Baiocco the "nicest" of her career. She played Dennis Hopper's dying mother in Carried Away (1996), then a doctor in Bad Manners (1997) and the key role of Carlotta in The First of May (1999).
One of her great attributes was a distinctive, silvery voice, an almost musical intonation and impeccable diction. Combined with sharp intelligence and an interest in the arts, this led to voiceover and documentary work. She appeared in works about her famous co-star, James Dean, including The First American Teenager (1976) and James Dean, a Portrait (1996). She was her favourite poet in Emily Dickinson: A Certain Slant of Light (1978). Her interest in literature (she researched historical characters such as Mrs Lincoln thoroughly) led her to make recordings of plays, the poems and letters of Dickinson and readings of Out of Africa and Frankenstein, among others. She also found time to co-author a book, Julie Harris Talks to Young Actors (1971). In 2002 she received a special lifetime achievement Tony award.
Harris was married and divorced three times. She is survived by a son, Peter.
• Julie Harris (Julia Ann Harris), actor, born 2 December 1925; died 24 August 2013
The above "Guardian" obituary can also be accessed online here.