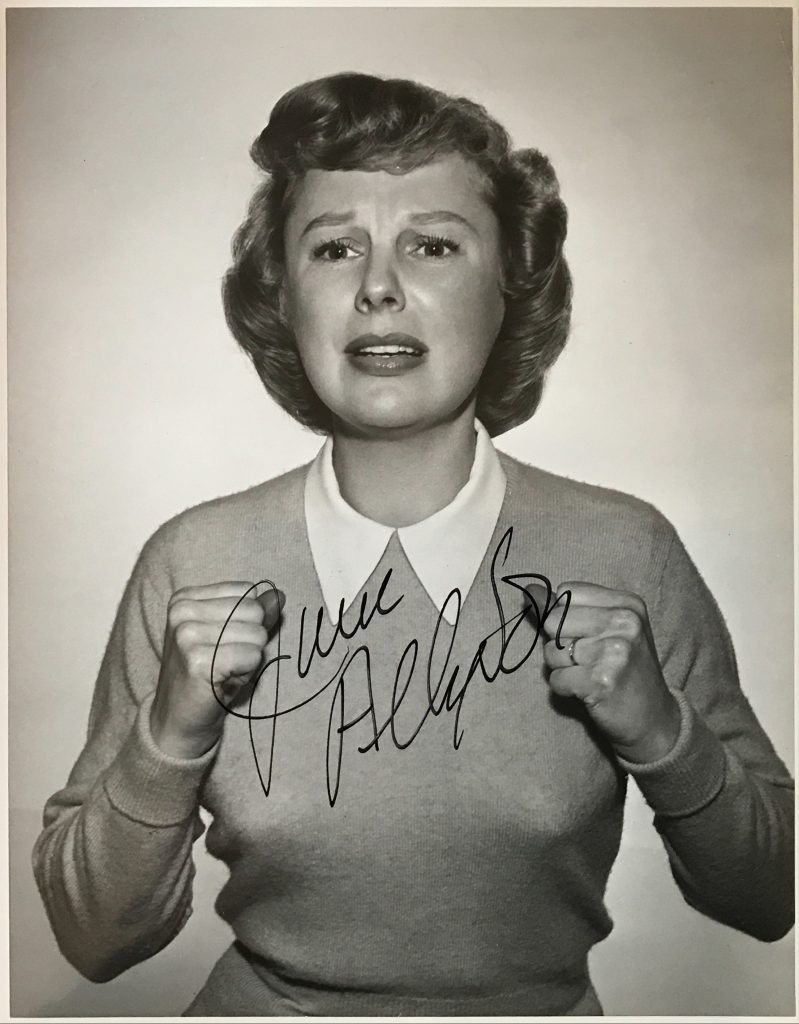 In her heyday June Allyson seemed just about the nicest thing on two legs.
June Allyson was born in 1917 in The Bronx, New York. She starred in many MGM musicals during the 1940's including "Thousands Cheer", "Music for Millions, Good News" and "Words and Music". She also acted in dramas such as "The Three Musketeers" and "Little Women".

Her career highpoint was opposite James Stewart in "The Glenn Miller Story" in 1953. She was long married to Dick Powell. June Allyson died in 2006 at the age of 88.
June Allyson obituary in "The Guardian" in 2006.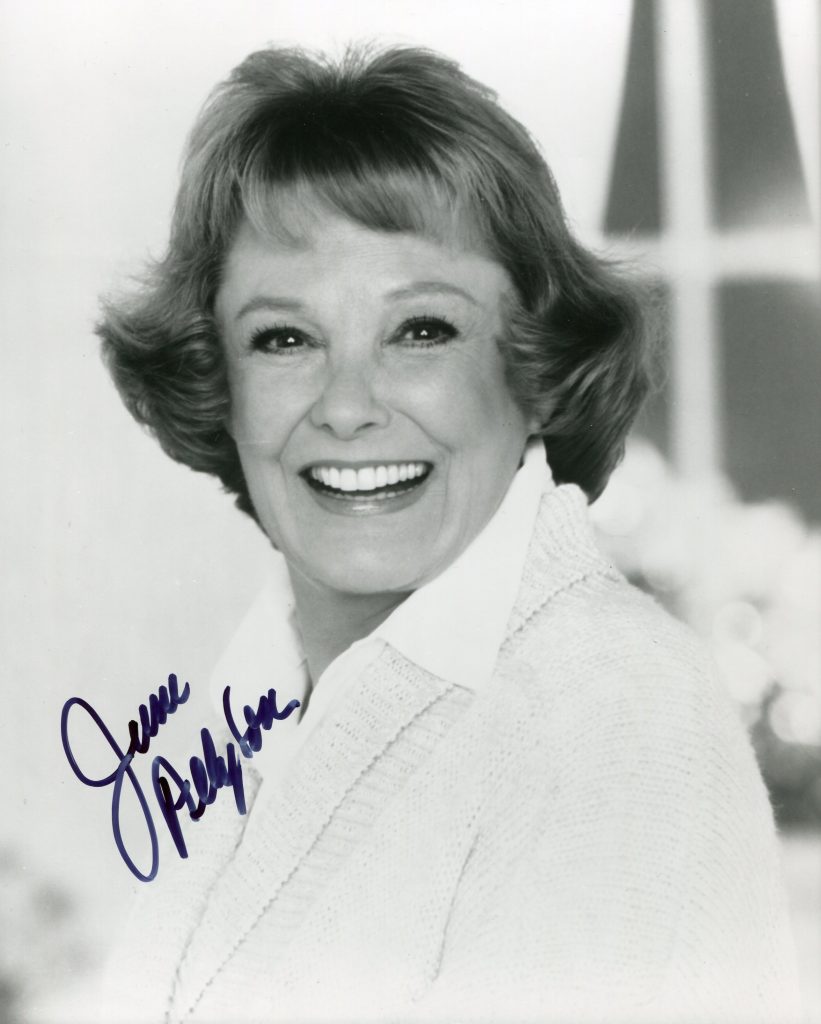 Hollywood star June Allyson, who has died aged 88, was the screen embodiment of sweetness and light, whether enlivening MGM movies in the 1940s with her sunny personality or playing the faithful, lip-quivering wife in the 1950s. In a less cynical age than today, audiences found her irresistible, particularly when she was teamed up as James Stewart's wife, patiently waiting for him to return home: in The Stratton Story (1949), The Glenn Miller Story (1954) and Strategic Air Command (1955).
When Allyson was cast against type – as, for example, José Ferrer's shrewish wife in The Shrike (1955) – 90% of the audience at a preview wrote on their cards that they would never accept her in a wicked role.

As a result, the film ending was re-shot with the character seeing the error of her ways, though it was not enough to appease the fans and the film flopped. After that she returned to more exemplary uxorial roles.
In her first three musicals, Allyson had to be content with speciality numbers, among them In a Little Spanish Town, sung with Gloria DeHaven in Thousands Cheer (1943), and Treat Me Rough, in Girl Crazy (1943), which also involved violently throwing Mickey Rooney around. The following year, she got her first top billing, in Two Girls and a Sailor (with DeHaven and Van Johnson), the movie that established her girl-next-door persona and gave her a historic jazz number, Young Man with a Horn, with trumpeter Harry James.
Allyson was born Ella Geisman in the Bronx, New York, the daughter of a building superintendent. Because of a bad fall at the age of eight, she was forced to wear a back brace for four years. She then took up swimming and dancing lessons to strengthen her limbs, and was soon good enough to enter dance competitions. "I used to cut school to go and see Fred Astaire and Ginger Rogers," she recalled. "I would brag that I could dance as well as them, so when an ad appeared in the papers for dancers, my friends dared me to audition." Years later she missed her chance to star opposite Astaire in Royal Wedding (1951) because she was pregnant.
While still a teenager Allyson got work in the chorus of nightclub shows, on Broadway and in a few short films, the first of which was Swing for Sale (1937). In 1940 she understudied Betty Hutton in Two for the Show. When Hutton contracted measles, Allyson took over for a few performances and was seen by producer George Abbott, who put her in Best Foot Forward, which earned her a part in the 1943 movie version and an MGM contract.
This was followed by Music for Millions (1945) and Two Sisters from Boston (1946), in both of which she played the responsible older sister to Margaret O'Brien and Kathryn Grayson, respectively. She made notable guest appearances in two biopics, singing the Jerome Kern title song of Till the Clouds Roll By (1946), and Rogers and Hart's Thou Swell, dwarfed between the rangy Blackburn twins in Words and Music (1947). By far her best role in a musical – and possibly her best film – was as a college girl in Charles Walters' campus caper Good News (1947), teaching Peter Lawford in The French Lesson and smiling through the dance finale, The Varsity Drag. She was also effective in such non-musicals as High Barbaree (1947), opposite Van Johnson, and as Constance to Gene Kelly's D'Artagnan in The Three Musketeers (1948).
Allyson admitted to liking Louis B Mayer (a rare claim) because "my own father died when I was six months old, and I looked on him as a father". None the less, in 1949, when she told him she was going to marry Dick Powell, a twice-divorced man 13 years her senior, Mayer threatened to suspend her, a position he moderated only when Allyson asked him to give her away at the wedding. In spite of that he would not loan her out to play the title role in All About Eve (1950) at 20th Century Fox.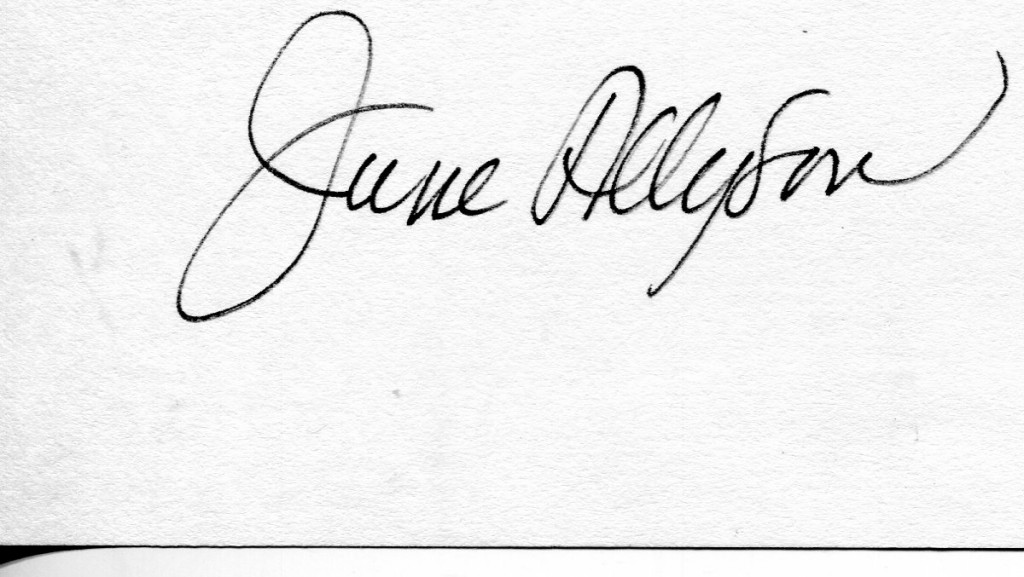 Allyson co-starred with her new husband twice in 1950, in The Reformer and the Redhead and Right Cross, neither of which provided as many sparks as her work with James Stewart. After Strategic Air Command she looked up at the sky again in The McConnell Story (1955), as husband Alan Ladd tested jets, and exuded wifely support to Cornel Wilde in A Woman's World (1954) and William Holden in Executive Suite (1954).
Curiously, Allyson appeared in more remakes than any other star in cinema history, and inevitably suffered by comparison with those who previously took the roles. Exceptions could be made for Good News, in the Bessie Love part, and in The Opposite Sex (1955), the musical remake of The Women, in which she was less anaemic than Norma Shearer. She was a spunky Jo in Little Women (1949); the runaway heiress in You Can't Run Away from It (1956), a lame musical directed by Powell; the rich girl falling for her butler in My Man Godfrey (1957); and an American tourist involved in a doomed affair in Munich in the soppy Interlude (1957). But although she gave a good account of herself in all of them, she could not obliterate the memory of Katharine Hepburn, Claudette Colbert, Carole Lombard and Irene Dunne.
During their 18-year marriage Allyson and Powell had several public breakups, but were reconciled before his death from cancer in 1963. Allyson soon remarried, though it lasted barely a year. Her third marriage, in 1976 to dentist David Ashrow, lasted until her death.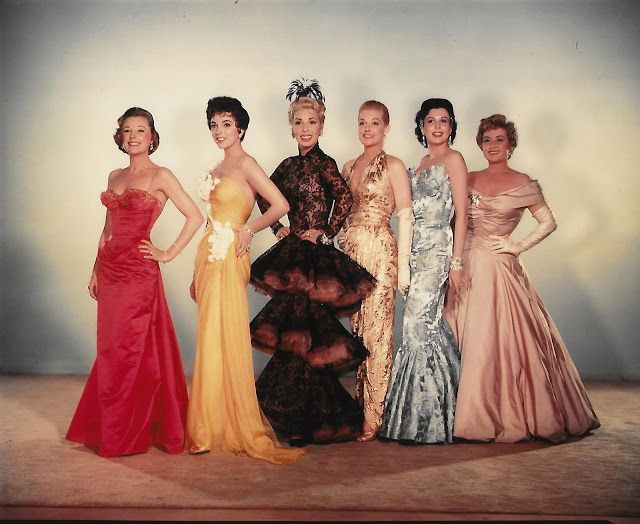 Nine years after retiring in 1963, she returned to the screen in They Only Kill Their Masters, a whodunit in which she delighted in playing a bitter murderess, the sort of role she would never have been allowed to take on in her younger days. She appeared in only one other film, Blackout (1978), as a woman terrorised by criminals during a power failure in New York.
Visiting England in 1985 to plug the reissue of The Glenn Miller Story, Allyson looked almost the same as in those MGM musicals. When asked why she gave up show business, she said that the only roles she was being offered were as psychologically disturbed older women wanting younger men. She is survived by her husband, her son and her daughter.
· June Allyson (Eleanor Geisman), actor, born October 7 1917; died July 8 2006
This article can also be accessed online here.